Talk to most coaches all over the island and they'll tell you Aiea is loaded with talent.
Go to Twitter and watch video highlights that at least a handful of the proud Aiea players post themselves and you'll see that coaches are not just jibber-jabbering about Na Alii.
A 41-17 victory over Kapaa in the season-opening game Saturday is another indication that Aiea is the real deal.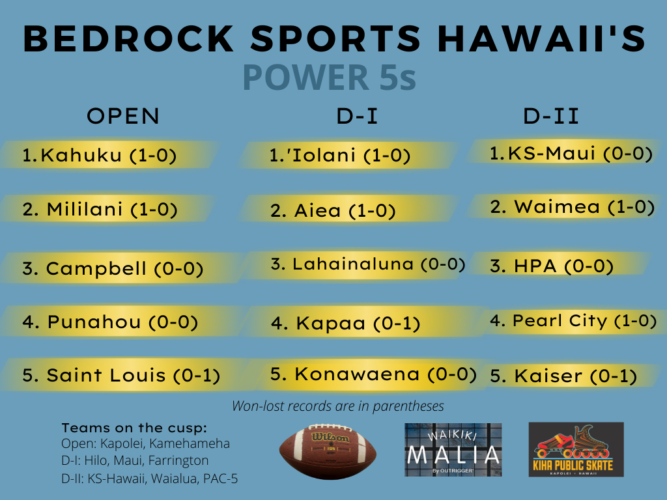 Yes, Na Alii won the OIA Division I title last season and came into the season expected to be a contender. But that first win was impressive and it came against a team that is out to try to prove they can compete at the D-I higher level after going all the way to the D-II state championship a year.
Saturday's win lifted Aiea to the No. 2 spot in the D-I (middle tier) portion of Bedrock Sports Hawaii's Power 5s this week. The Power 5s (see accompanying graphic) are voted on by a panel of media personnel from around the state.
Only defending D-I champion 'Iolani is ranked higher in that division. The Raiders, who beat Aiea 21-0 in the state semifinals in 2021, opened the season with a 67-27 victory over D-II Kaiser.
Two teams entered the Power 5s this week  (Punahou in the Open Division and Waimea in D-II) and two teams dropped out (Kamehameha from the Open and Kamehameha-Hawaii in D-II).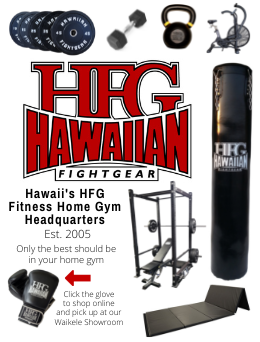 https://hawaiianfightgear.com/collections/barbell
Here is a capsule look at the movement since the initial Power 5s was published last week:
Last Week's Power 5s (Movement This Week In Parentheses)
Open
>> 1. Kahuku (no movement)
>> 2. Mililani (no movement)
>> 3. Saint Louis (dropped one spot)
>> 4. Campbell (climbed one spot)
>> 5. Kamehameha (dropped from rankings)
D-I
>> 1. 'Iolani (no movement)
>> 2. Kapaa (dropped two spots)
>> 3. Aiea (climbed one spot)
>> 4. Lahainaluna (climbed one spot)
>> 5. Konawaena (no movement)
D-II
>> 1. Kamehameha-Maui (no movement)
>> 2. Hawaii Prep (dropped one spot)
>> 3. Kaiser (dropped two spots)
>> 4. Kamehameha-Hawaii (dropped from rankings)
>> 5. Pearl City (climbed one spot)
—–
ALSO AT BedrockSportsHawaii.com:
5 VIDEOS Of Kahuku's New-Field Christening 49-0 Shutout Of Kamehameha