SECOND IN A MULTI-PART SERIES
We started out with Part I of this refresher course/starter kit on Led Zeppelin with a song called "Communication Breakdown" from the band's self-titled debut album. That tune is pretty much straight rock and roll, fast and driving and bone on bone, so to speak.
As we move on to Part II of the series today, we get a little bluesy with "Bring It On Home" from Led Zeppelin II. Actually, it's a Willie Dixon cover and, at the beginning and end of the song, it's full-on Blues. But the middle is knock-your-socks-off stuff, with Jimmy Page's scorching electric guitar with a dynamite rhythm section of bassist John Paul Jones and drummer John Bonham pushing the pulse.
Singer Robert Plant shows his versatility with his deep, brooding vocals during the Blues parts and a complementing harmonica that fits right in with Jones' ambling bass line to give listeners an indelible essence of, as Plant croons, a "train rollin' down the track."
Well, that train arrives with a bang and you then get the sense that it's really moving and shaking and, pardon the pun, locomoting. Not only that, but the lyrics speed up to tell the tale of how a man can't get home quick enough to his woman.
There is excellent interplay with Page's guitar and Jones' bass riffing off of each other, but everything is moving so fast, it's hard to tell where one stops and the other takes over.
All the while, Bonham is bomp-bomp-bomping and tic-tic-tac-tac-bashing-slam-slamming away.
So, as a reminder, we at 97X (a division of BedrockSportsHawaii) promise to get your rock and roll blood flowing, whether you're getting back into it, just want to reminisce, or have never heard these songs before. Take a good listen to the songs featured in this multi-part series, from start to finish and from first to last, and you will some insight into how Led Zeppelin not only grew over the years but also how they wore the tag of the world's greatest rock and roll band with pride.
And remember, these songs in this series (except for one, which peaked at No. 16 on the charts) were not huge radio hits. Rather, these are tunes that are still under the radar, but every bit as powerful and in most cases even more amazing than what is overplayed on the radio.
Click on the album cover below to hear "Bring It On Hone." Playing it LOUD is required.
———————
"BRING IT ON HOME"
Led Zeppelin II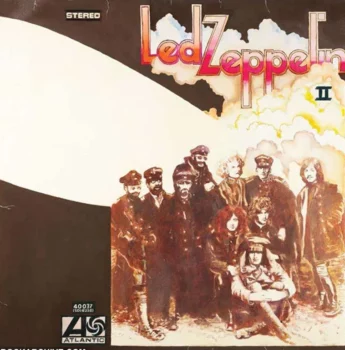 CLICK BELOW FOR PART I OF THE SERIES:
Been A Long Time Since You Rock & Rolled? 97X's Led Zeppelin Series May Be The Perfect Ointment