Author's note: BIIF coaches can submit results via email to [email protected].
—-
Partial results from the BIIF wrestling mini tournament at Pahoa on Saturday, Jan. 29, follows.
Coach Ivan Louis from Kealakehe was impressed with the performance of at least one of his wrestlers — Elizabeth Warren, who is showing steady improvement against Hilo's Lilliane Toledo, one of the state's top wrestlers in the 225-pound class.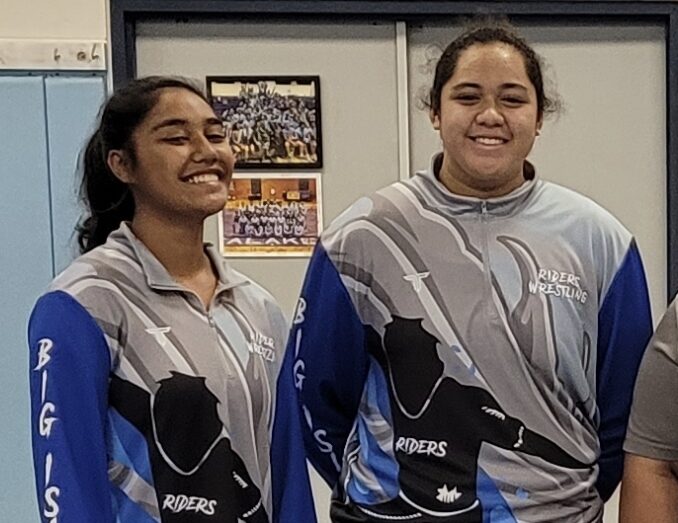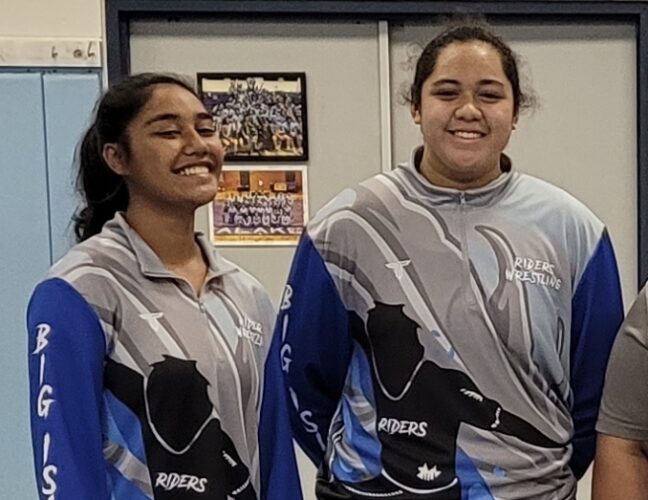 Kealakehe's Elizabeth Warren, right, with teammate Tylanna Abraham.
"For my team, the match of the day was Toledo and Warren," Louis told Bedrock Sports Hawaii. "It was good to see the change one week can make. Hopefully we can keep these two young ladies wrestling at each tournament."
On Saturday in two matches between the two girls, Warren took Toledo to overtime in a loss by decision and then she lost by fall at 3:04.
One week earlier, in two matches at Keaau, Toledo pinned Warren in 20 seconds and then in 1:04.
"We worked really hard this week on Elizabeth's mental toughness," Louis added. "We told her she could do it and were pushing the positive and the strengths that she had. That Toledo, she's a tough cookie, but she had to work. In overtime, Elizabeth went for the big throw, but she missed and that's how she lost."
Toledo, who is No. 9 in Bedrock Sports Hawaii's girls pound-for-pound rankings, placed fourth at the state tournament in 2020.
MINI TOURNAMENT AT PAHOA
>> Girls 145 Round 1: Tylanna Abraham (Kealakehe) def. Trinity Ann Kim (Kamehameha-Hawaii), fall, 1:45
>> Girls 145 Round 2: Abraham def.. Marie Burdova (Hawaii Preparatory Academy), fall, 0:31
>> Girls 225 Round 1: Lilliane Toledo (Hil0) def. Elizabeth Warren (Kealakehe), overtime, decision score unavailable
>> Girls 225 Round 2: Toledo def. Warren, fall, 3:04
>> Boys 220 Round 1: Jhalil Pearson (Kealakehe) def. Robert Gamble (Keaau) fall, 2:58
>> Boys 220 Round 2: Ekela Livingston (Hawaii Preparatory Academy) def. Jha, fall, 0:48
>> Boys 285 Round 1: Gasetoto Apisala (Kealakehe) def. Gabriel Aiona (Hawaii Preparatory Academy), fall, 3:06; Filipo Liufau (Kealakehe) def Riley Silva (Keaau), fall, 0:28
>> Boys 285 Round 2: Apisala def. Dohyun Kwon (Hawaii Preparatory Academy), fall, 0:43; Liufau def. Isaiah Soares (Pahoa), 1:06
—––
ALSO AT BedrockSportsHawaii.com: