—–
A catch-all place for the sights
and sounds, impressions and overheard
things out in the field while covering
the colorful world of high school football
—–
Unbelievable.
Yes, that's right. You could call it hyperbole, but unless you were there at Waipahu's topsy-turvy 36-25 nonleague football victory over Leilehua at Hugh Yoshida Stadium on Friday night, then you won't know for sure if I'm exaggerating or not.
And I am talking about one player in particular. His name is Liatama Uiliata and he is a PLAYAH!!!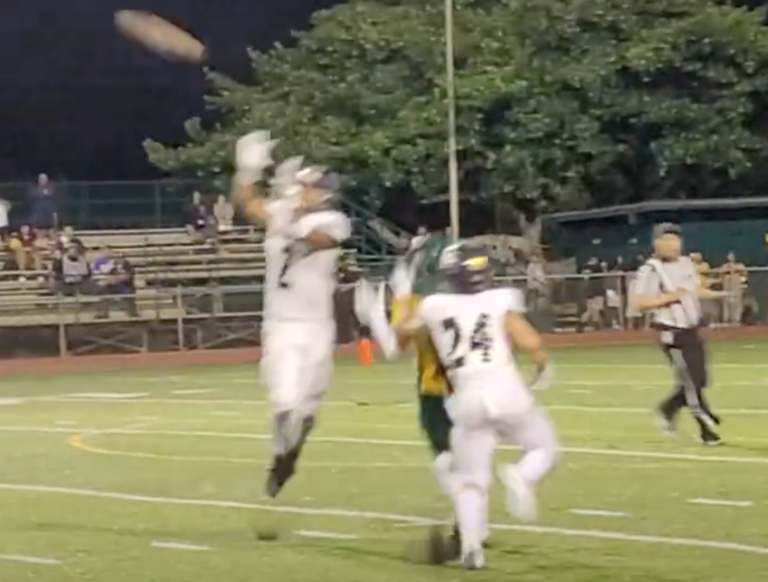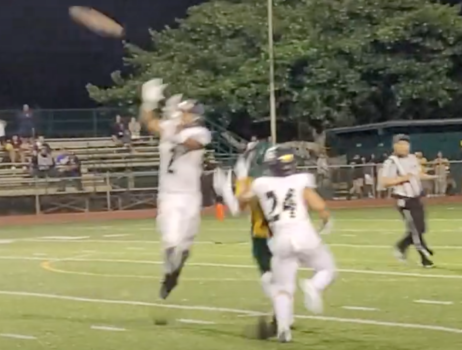 We'll give you some middling highlights first before we get to the big stuff he did on both sides of the ball:
>> Intercepted a pass from his safety position (think: tracking down balls from far away in center field) in the first quarter.
>> Intercepted another pass in the first quarter, but it was nullified on a penalty.
>> Threw a two-point conversion pass to teammate Faapaia Fualema, also in the first quarter.
>> Caught three medium-range passes from quarterback Joshua Manu that were right on the sideline that appeared uncatchable. He went up, snagged the ball anyway with defenders draped on him each time and came down — slightly out of bounds.
>> Caught a long cross-field lateral from Manu and turned to throw, but was greeted immediately by a Mules defenders. It looked as though he would surely be tackled, but instead, he sidestepped the Mule and got the ball off, incomplete, somehow.
And now, here's the portion of the broadcast (if this were on radio) where you get a voice over from Marauders coach Bryson Carvalho. But wait, your reception is bad, so there is some static, for effect:
…… crackle, hiss, crackle …… hiss, crack, ack ……
"He's been noticed before, but this was his way of introducing himself (as a senior)," Carvalho, indeed, said afterward. "We know he is an excellent player and we are trying to get him an offer to play at the next level. We feel like he can do it."
No doubt, although his size is a factor — 5 feet 9, 176 pounds.
And now on to Uililata's more brilliant highlights:
>> Sprinted down the right sideline for an over-the-shoulder grab of a Manu pass for a catch-and-run 70-yard touchdown to break a scoreless first quarter tie.
>> Finished with 10 catches for 228 yards, which is 21 off the school record.
And we haven't gotten to the piece de resistance (the most important or remarkable feature, when translated from French) yet.
For this, it would help if you use your imagination and pretend you are listening to a radio announcer calling it:
"OK folks, it's Waipahu 29, Leilehua 25. Five and half minutes to go. Mules quarterback Dustin Chow takes the snap and rolls right. He gets it off. It's high. Oh boy, here HE comes. It's Uiliata speeding over from the left. He jumps and comes down with it. And he's off going the other way. He weaves, changes direction, stutter steps. Man, he's making them miss. And he's in the clear now. He's going to score. That's a 79-yard touchdown interception return. And that is going to make it really hard for those Mules with 5:15 left."
That play came only a few minutes after Leilehua hit Waipahu with a punch in the gut in the form of Camren Flemister's 99-yard kickoff return.
Here is Bedrock Sports Hawaii's video of Uiliata interception return, something he called a "game-breaker" in a postgame interview:
"We needed it," Uiliata said. "So I wanted to do what had to be done and thanks to my D-line, with a lot of pressure, he (Chow) had no choice but to throw the ball and I was in the right place at the right time.
"They're an Open team and we're in Division I and its shows we really can compete on that level."
Note: See more in "Six Points" below on the fact that Leilehua is competing in the state's highest division for the second season in a row.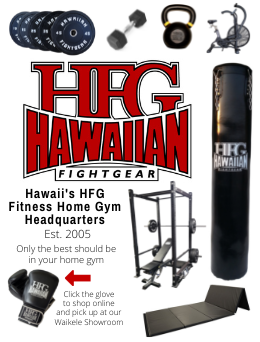 Six Points
Six points of news, opinion or analysis for reflection:
1)
Sacrificial lambs. Farrington played that role in the Open Division for a few seasons before going down to Division I (middle tier) for the first time this year.
Last year, Leilehua made a move up — ready or not — to the Open and is embarking on its second season there.
This year, Moanalua is in the Open for the first time and will get a glimpse of the reality of it all Saturday night in a nonleague game at home against Punahou.
One social media commenter Saturday morning on ESPNHonolulu.com was blunt: "Leilehua does not belong in the Open Division."
I would have to agree. But the OIA has a rule that after two years, some teams will move up and some will go down. It's based on overall regular-season won-lost records over that two-year period.
Maybe the Mules (and Na Menehune) will show they belong on the field in the Open this year. But it's not looking so good right now after Leilehua's loss to D-I Waipahu.
Speaking of Waipahu, when the Marauders won the D-I state title in 2018, coach Bryson Carvalho immediately mentioned his intent to get his program up to the Open some day. Perhaps this would have been a good year for them to try.
Maybe the rule shouldn't be so cut and dried. You can't really pinpoint what a team's strength will be from year to year with players graduating and transferring. So, if a team goes 15-0 in two years of a particular division, maybe it would be on a track to go 0-7 the next year in the SAME division. Moving up would be the wrong timing.
There is a possible exemption that OIA teams can get for one year if they don't feel ready to make the move up. Not long ago, Radford did that. The Rams were supposed to go up to D-I from D-II in 2021, but got the exemption and didn't get to the higher level until this year.
Here's a suggestion for classifying teams and you (whoever you may be) can take it for whatever it's worth:
Instead of basing the movement up or down on won-lost record, how about creating standards that programs have to meet to be in a particular division: That's what separates college D-I from D-II and D-III.
Instead of looking at the size of budgets and the quality of facilities like they do in college, at the high school level the criteria could be things like: number of players in the program, won-lost record against higher and lower division teams, number of tickets sold, stadium condition, locker room condition, number of camps and clinics offered, and quality of the feeder programs.
Eh, it's just an idea. Some of it might not work as an indicator of strength.
But the way it is now, there WILL BE some sacrificial lambs. And even teams like Kapolei and Waianae, who have occasionally risen fairly high come playoff time at the Open level, have fallen way short on the field during the regular season.
There has been some really good correction (so to speak) in classifications within the last few years, with some D-II powers moving up to where they now seem to fit really well in D-I — 'Iolani, Lahainaluna, Konawaena and Kapaa.
And that D-I middle group has had fantastic competition the last few years. One indicator of that was the OIA final standings a year ago: Moanalua 4-1, Aiea 3-2, Waipahu 2-3, Roosevelt 2-3, Kailua 2-3, Castle 2-3.
And Aiea prevailed in the playoffs.
That's what you call BALANCE. Leilehua, obviously, would be a perfect fit there. The jury is still out on the Open fit for Waianae and Moanalua, and even Kapolei.

2)
Hawaii is 0-2 in games so far this season against mainland teams.
On Saturday, Mission Viejo (California) got off to a quick start and held off Mililani 34-21 at John Kauinana Stadium.
Also on Saturday, Granger (West Valley City, Utah) topped visiting Konawaena 40-7.
3)
It's exactly 1:02 p.m. and Saint Louis is just about to kick off against Kapaa on the Garden Island.
One media observer said he thought the Warriors would get routed.
I lived on Kauai and reported on sports there for 10 years. It's a proud island.
Just my opinion: I think Kapaa will do well.
UPDATE: Well, so much for that. At 1:33, ScoringLive.com shows that Saint Louis leads 21-0 in the first quarter.
Often, for me anyway, one must ask themselves: "What do I know?"
4)
Moanalua coach Vince Nihipali scouted Kahuku's opening 49-0 win at home against Kamehameha last week.
Bedrock Sports Hawaii caught up with him briefly and he mentioned one healthy stat. At that point, there were 73 varsity Na Menehune players. He said they were short three uniforms and that he might have to stop accepting new players.
The Moanalua JV team has a solid number (more than 50) as well.
Too many players? Not a bad problem to have at a public school.
5)
Darkness on the edge of Hugh Yoshida stadium.
One thing that puts reporters at a disadvantage to get the best possible story is the fact that, generally speaking, when a game is done and the handshake line is over, the coaches direct their team to get on the bus and out of there as fast as possible.
I get it. Get those players home for some needed sleep.
But, let me just say that if anyone complains about this photo, the reason it's so dark is because the bus at Leilehua parks in an unlighted area. Not a great spot for postgame media access. You can barely see Uiliata, the star of the show, in the photo. Oh well. That's just the way it goes.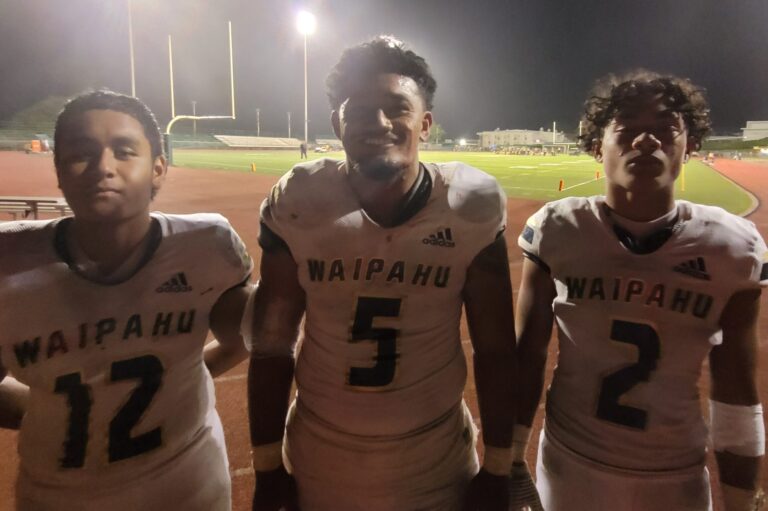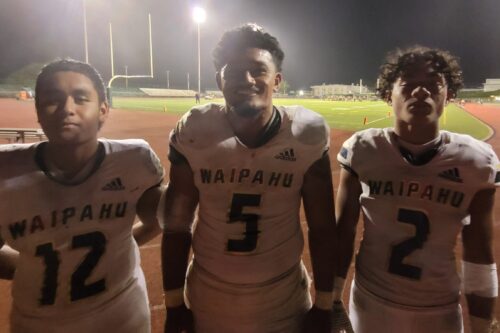 Fortunately, Bedrock got this screenshot of the kid right after he went to get a ball out of bounds that went off of his fingertips: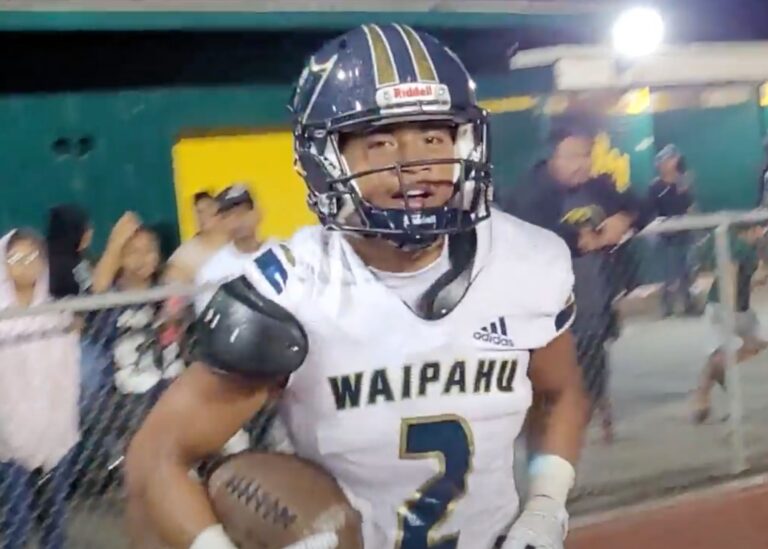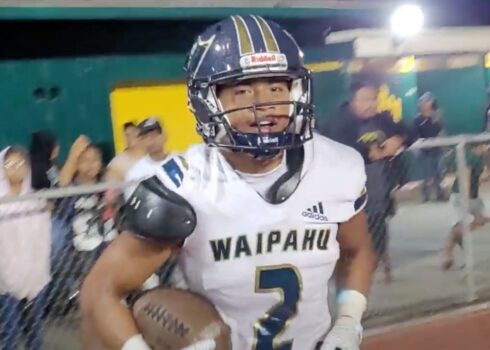 6)
It will certainly be interesting to see how Kapolei does in the Open this year, especially after their first two nonleague blowout wins: 70-0 over Kealakehe in the opener at home last week and 42-0, also at home, over Kailua on Friday night.
There will be two more D-I tests for the Hurricanes — at home next Friday against Aiea, and at Kailua on Aug. 6 — before the Hurricanes visit Waianae on Sept. 2 for their first Open matchup of the season.
—–
CLICK BELOW TO SEE UPDATED STANDINGS, ALL OF THE SEASON'S SCORES, A MASTER SCHEDULE, LINKS TO TEAM PAGES, THE POWER 5s AND MORE: