It was a painful Saturday morning for Leonard Ah You.
The Kahuku linebacker woke up only to remember that the enormous upset that his Red Raiders had in mind and that had come so close was, in the end, not to be. In the end, St. Frances Academy (Baltimore), the No. 3 team in MaxPreps' national rankings, walked away with a 22-15 win Friday night on the North Shore.
After all of the toil that Ah You and his teammates put in, it was reduced to a realistic dream that slipped away in the final minute of a game many people in Hawaii will be talking about for a long, long time.
To set the situation: Kahuku led 15-14 with just 1:45 left.
In Ah You's mind, this is the time to clamp down. This is what defensive guys live for.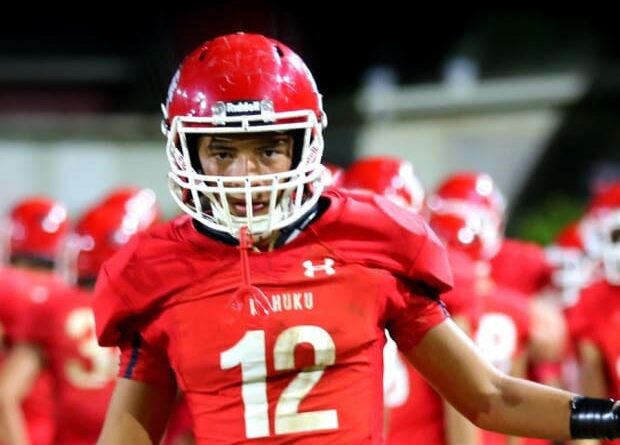 "That last drive, they shouldn't have scored," Ah You told Bedrock Sports Hawaii on Saturday morning. "We tried our best, but we slacked off a couple of plays. We'll learn from it and move on."
Asked to clarify what he meant by "slacked off," Ah You said, "We watched the film this morning. You see a lot of people getting lazy and not doing our responsibilities."
Sounds like finger pointing, right? No way.
That finger was pointing mostly at himself.
"I was jogging to the play," he added. "Everything matters."
The Kahuku fans were going wild, anticipating the possibility of the big finish. But an 84-yard drive, capped by Michael Van Buren's 10-yard touchdown pass to Kyree Benton with just 39 seconds left made the final difference for the Panthers and spoiled what would have been a massive celebration.
One thing is for sure, the whole state would be completely buzzing right now if Kahuku had won. Actually, it would have reverberated around the country in the high school football scene.
"The Red Sea was there for us and our families and I really wish we could have won for them," said Ah You, who is an uncommitted D-I college recruit. "It was a close game and we just didn't finish, but you can't do anything about it now. I really wanted to win one of these games against nationally ranked teams (Kahuku lost to MaxPreps No. 1 St. John Bosco 34-7 in Bellflower, California, on Sept. 17)."
When asked about the significance of coming so close, Ah You added: "It shows that we have a seat at the table — that we had it in our hands and didn't finish."
The senior will always remember one of the great plays a teammate made.
"Fale Atuaia's interception was huge," he said. "For a sophomore to make a play in that type of game, it just says it all."
That pickoff came on the Panthers' second to last possession when they were still trailing 15-14. Had Kahuku won, that play would have gone down as a game-clincher.
With the win, St. Frances (5-0) has now beaten teams from five different states — Florida, Illinois, Texas, South Carolina, and now, Hawaii.
The Red Raiders (6-2, 4-0 OIA Open) have already clinched a league playoff spot. They return to action Oct. 7 at Moanalua (2-4-1, 1-3).
—–
Bedrock Sports Hawaii's game story:
National No 3 St. Frances Rallies Back To Foil An Incredible Football Upset Attempt By Kahuku
Updated standings, the Power 5s, all of the season's scores, master schedule and all of Bedrock's previous 2022 high school football stories: