All 10 of the wrestlers in Bedrock Sports' first Hawaii high school girls pound-for-pound wrestling rankings of the season are state placers from last season.
Of the 10, only one has a known loss so far this winter.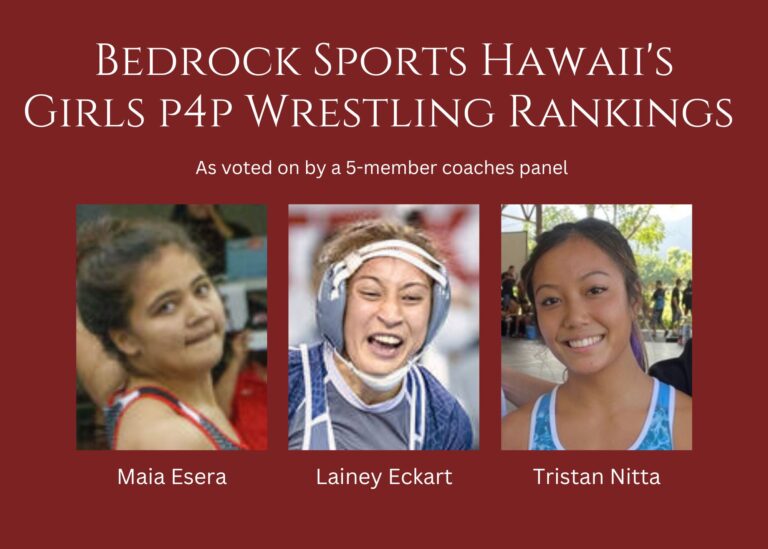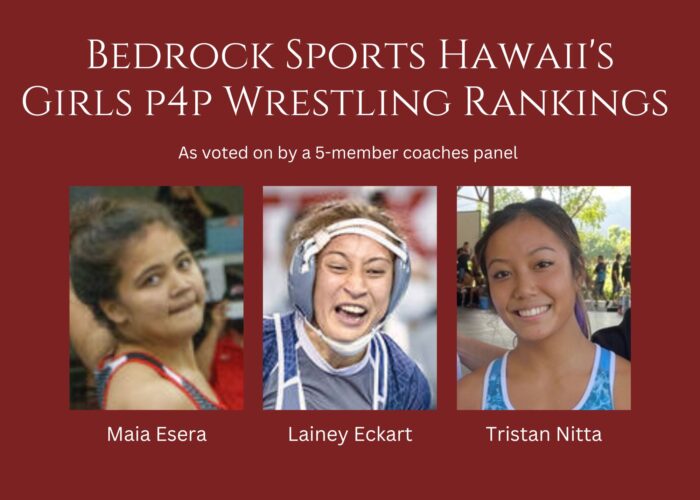 Kahuku junior Maia Esera heads the list, which was voted on by a trusted and knowledgable panel of five coaches. Esera, the 225-pound returning champ, continues to dominate the division, winning handily at the Officials and Paani Challenge tournaments.

Kamehameha-Hawaii's Lainey Eckart, who captured the 127-pound state title a year ago, is a close second, followed by Mililani's reigning 102 state champ Tristan Nitta, who is off to a solid start in 2022-23.
One thing for all wrestlers to keep in mind is that it's what you do on the mat that matters and not where you are in the rankings or even if you are in the rankings. Pound-for-pound lists, by nature, are mainly done to promote the sport and fuel a healthy discussion of wrestlers' merits.



The girls p4p rankings (weight class shown subject to change; an asterisk means a wrestler with a known loss):
>> 1. Maia Esera, 225, Kahuku junior (2022 225 state champ; 2022-23 225 Officials champ; 2022-23 Paani champ)
>> 1. Lainey Eckart, 138, Kamehameha-Hawaii senior (2022 127 state champ; 2020 127 state fourth place)
>> 3. Tristan Nitta, 102, Mililani senior (2022 102 state runner-up,2022-23 102 Officials champ; 2022-23 102 Paani Champ)
>> 4. Taydem Uyemura, 132, Pearl City sophomore, 2022 122 state runner-up; 2022-23 Officials champ)
>> 5. Jax Realin, 127, Kamehameha sophomore (2022 127 state runner-up; 2022-23 127 Officials champ; 2022-23 127 Paani champ)
>> 6. Valynn Kwan, 138, Mid-Pacific senior (2022 138 state third place; 2022-23 138 Officials champ; 2022-23 138 Paani champ)
>> 7. Rayden Kukahiwa, 155, Hilo junior (2022 145 state runner-up; 2022-23 155 Officials champ)
>>8. Isabelle Asuncion*, 117, Moanalua senior (2022 117 state champion, 2020 102 state third place; 2022-23 117 Officials champ)
>> 9. Jasmine Adiniwin, 184, Moanalua senior (2022 184 state runner-up; 2022-23 Officials 184 champ)
>> 10. Naiomi Kulukulualani-Sales, 107, Lahainaluna senior (107 state runner-up, 2020 97 state fourth place; 2022-23 107 Paani champ)
—–
Others receiving votes or honorable mentions:
>> Catherine Asami* 184, Lahainaluna junior (2022 184 state champion; 2022-23 184 Paani champ; 2022-23 Gardner Ivey Maui Invitational champ)
>> Jahlia Miguel*, 155, Baldwin sophomore (2022 145 state champ; 2022-23 155 Paani champ; 2022-23 155 Garner Ivey Maui Invitational champ)
>> Teani Medeiros-Maielua*, Lahainaluna sênior (2022 132 state champion; 2022-23 132 Garner Ivey Maui Invitational champ)
>> Riley Nishida, 122, Kamehameha sophomore (2022 132 state third place; 2022-23 122 Paani champ)
>> Adriana Daoang*, 97, Moanalua freshman (2022-23 97 Officials champ; 2022-23 97 Paani champ)
>> Kayce Dudoit, 107, Lahainaluna junior (2022 102 state third place; 2022-23 107 Officials champ, 2022-23 107 Garner Ivey Maui Invitational champ)
>> Kanoelani Kekiwi-Jones*, 107, King Kekaulike junior (2022 107 state third place; 2022-23 107 Paani champ; 2022-23 112 Garner Ivey Maui Invitational champ)
>> Eloise Woolsey*, 132, Kapolei freshman (2022-23 132 Paani champ)
>> Leila Esera, 168, Kahuku freshman (2022-23 168 Officials champ)
>> Nohilani Kukonu, Moanalua sophomore (2022 145 state sixth place; 2022-23; 2022-23 145 Officials champ; 2022-23 145 Paani champ)
Here are a few thoughts by coaches and other observers (who will remain anonymous) on some of the wrestlers mentioned above:
>> "I think Maia Esera is going to pin everyone."
>> "Tristan Nitta is maybe the best technical wrestler in the state. She pinned Daoang and (Leilehua's Emma-Grace) Cabinian."
>> "Valynn Kwan is a dark horse in this group. She medaled up two weight classes last season and she has looked stellar all season."
>> "Jax Realin is a great kid, extremely young and has a really high ceiling."
>> "You can never count out the ladies from Lahainaluna. They are so tough, so technical and just impressive all around."


—–
ALSO AT BedrockSportsHawaii.com:
>> Scotty Dikilato And Tyger Taam Are Tied At No. 1 In Bedrock's Boys p4p Wrestling Rankings