The way the Kamehameha teams performed, rolling to girls and boys titles under first-year head coach Dave Chew at Kekuhaupio Gym, was the overriding story at Saturday's ILH Wrestling Championships.
And those two Warriors teams will certainly get their due in the bulk of this story.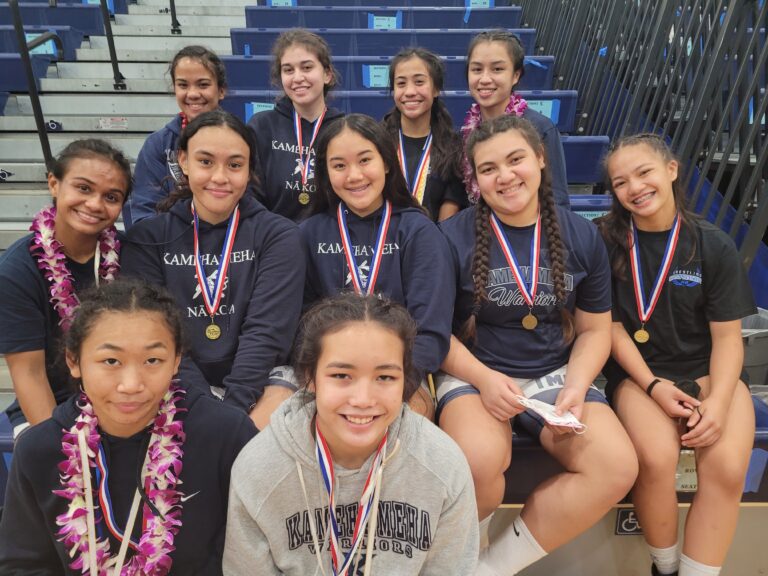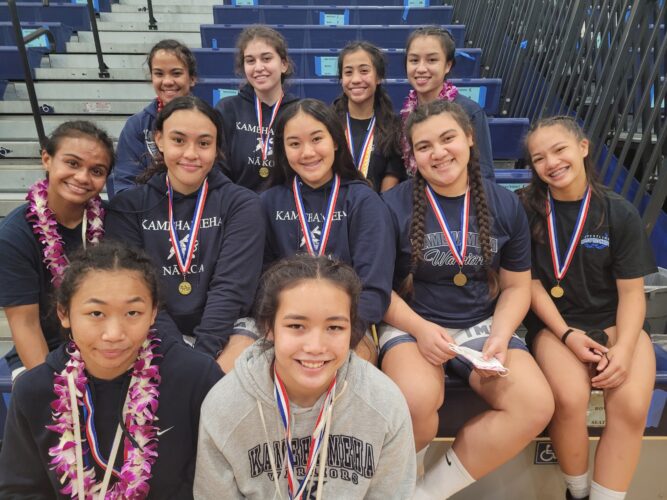 Kamehameha's individual 2022 ILH champions are, bottom row left to right, Haley Narahara and Rylie Nishida. Second row: Nohea Moniz, Kaleikoa Mannering, Huali Hudgens, Alana Bartley and Aliya Takano. Back row: Joy Jeremiah, Kylee Bartholomew-Tangaro, Mehana Kapoi and Jax Realin.
Let's first, though, talk about some of the incredible individual battles in weight-class finals:
184 POUNDS: Boston Opetaia 3, Will Straton 2
You don't have to go to Kamehameha to be a "WARRIOR." And these two guys proved it.
Saint Louis' Opetaia, who was wearing protective wraps on his shoulder and leg from football injuries and who recently returned to competition, held strong, barely beating Straton 3-2.
Bedrock turned to the loser of this match to get some insight:
"I've been working my butt off," Punahou's Straton said. "I didn't get the right calls. I felt like I had two and the refs didn't call it. I think I could have pushed the pace a little more. Boston's a good wrestler. His advantage is just kinda stay low, sit in the middle and conserve energy. I gotta be the opposite. I gotta work my tail off to move him. I feel like it's going to be a good match coming at states."
It is possible that they could meet again when all of the state's best wrestlers hit Blaisdell Arena for the big one, March 4-5.
It was a grueling day for Opetaia, who nudged past Kamehameha's Connor Hackbarth 4-2 in the semifinals.
Opetaia is out to finish one place higher at states than he did as a sophomore — second place at 170 — in 2020.
With the win at 184 pounds for Opetaia, the Crusaders sent a message that they've got the higher classes well stocked.  Blaze Holani and Zachary Kaliko, at 197 and 222, were also among five Saint Louis individual champions on the day.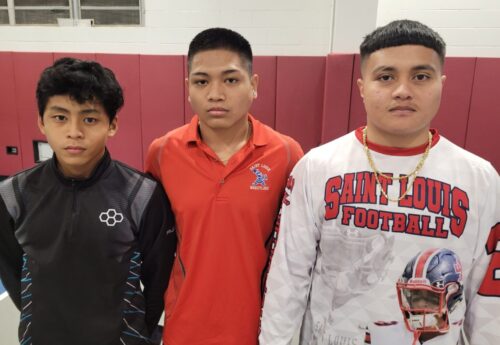 Cyrus Bucsit, Dreddin Villalpando and Boston Opetaia are three of Saint Louis' five 2022 ILH wrestling champions.

147 POUNDS: Kai Yawata 2, Justyce Mercado 1
Talk about intensity. This one could have gone either way, but it was 'Iolani's Yawata edging Punahou's Mercado in the end.
Both wrestlers were coming off very close semifinals matches, with Yawata topping Saint Louis' Zion Amerson 4-0, and Mercado tipping Kamehameha's s Jesse Jeremiah 4-2.
Yawata and a teammate came up just short on the"KAI DOUBLE." The Raiders' Kai Sekigawa made the 134-pound class final, but lost by fall to Saint Louis' Dreddin Villalpando, who is No. 6 in the Bedrock p4p and a third-place finisher at states two years ago at 126 pounds.
Cyrus Bucsit at 115 pounds joined Villalpando, Opetaia, Holani and Kaliko in the mix of Saint Louis' ILH champions.
128 POUNDS: Kaistin Vasquez 3, Tanner Higa 1
Punahou's Vasquez, Bedrock's No. 2 p4p wrestler, had his hands full against Higa and barely scraped by at end to win.
Watch out if these two guys meet again.
140 POUNDS: Akoni Kaaialii 8, Josiah Lum 6
Much like the Vasquez/Higa matchup, this one went right down to the wire, with Kamehameha's Kaaialii getting the necessary points when it mattered most against PAC-5's Lum.
There's a certain vibe about the Wolfpack wrestlers this year. No sign whatsoever of "GIVE UP."
Case in point: PAC-5 Xander Erolin wrestled to the 154-pound ILH championship, beating 'Iolani's Kailer Lee by fall in the final.
122 POUNDS: Logan Lau 6, Dylan Landford 3
The last time these two met, Mid-Pacific's Lau won 8-0, so Kamehameha's Landford closed the gap.
Lau, a sophomore who competes successfully at the national level, is No. 8 in Bedrock's Top 10 pound-for-pound rankings. He is a league champion for the first time.
"He got better," Lau said. "So I gotta keep training hard and next time beat him by more. I could have done better, but overall, it's a good feeling."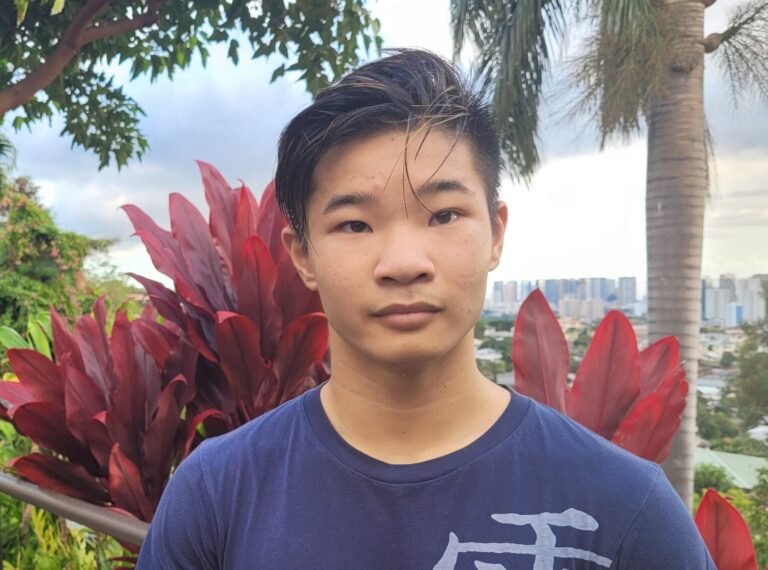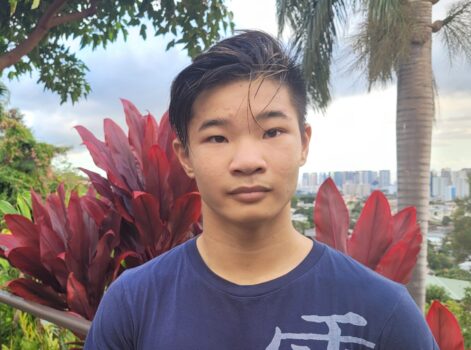 Logan Lau of Mid-Pacific won his first ILH wrestling championship Saturday.
109 POUNDS: Joy Jeremiah 5, Faith Inatsuka 3
PAC-5's bid for a girls title fell just short, but Inatsuka held on to the end — just like her Wolfpack counterparts on the boys team.
104 POUNDS: Charlotte Campbell 12, Tatiana Paragas 10
The two Punahou wrestlers duked it out in the final, thanks to Paragas' upset by fall of second-seeded Kelcie Ito of 'Iolani in the semifinals.
Campbell prevailed, allowing the Buffanblu to grab the rare non-Kamehameha championship on the day. The only other non-Warriors girls to win titles were Punahou's Nanci Nakagawa at 99 pounds and 'Iolani's Emma Wharton-Hsieh at 140.
KAMEHAMEHA WINS 16 OF 28 FINALS
The parade of champions for Kamehameha was something to see Saturday, and they all got to celebrate the team titles on a senior night gathering afterward in Kekuhaupio Gym.
Eleven girls Warriors and five boys Warriors ended the day with an ILH title.
"It's senior year," said Haley Narahara, who won the 124-pound title and is Bedrock's No. 2 p4p wrestler. "It's fun and I'm super happy what we've accomplished so far. They (boys and girls teammates) work so hard, everybody works so hard. Even though we compete separately, everybody is one team and are so supportive."
In 2020, Narahara won states at 112 pounds after a fourth-place finish in 2019.
And Narahara said this about one of her teammates: "Nohea is probably one of the best wrestlers that I know."
She was talking about Nohea Moniz, a two-time state placer who recently dropped out of the p4p Top 10 but is wrestling like she belongs back up there.
Moniz won the 114-pound class Saturday, topping up-and-coming sophomore Angelina Daoang of Punahou by fall in the final.
"Going into states, I think we can take it." Narahara added. "Both (boys and girls). But there's always going to be a lot of good teams that will give us good competition."
Aside from Jeremiah, Moniz and Narahara, the other Warriors girls who won ILH titles on Saturday are Aliya Takano (119 pounds), Jax Realin (129), Rylie Nishida (134), Kylee Bartholomew-Tangaro (147), Mehana Kapoi (157), Huali Hudgens (170), Kaleikoa Mannering (186), and Alena Bartley (225).
The Warriors boys and girls teams are two-time reigning (2019 and 2020) state champions.
Aside from Kaaialii, the Kamehameha boys who won ILH titles Saturday are Evan Kusumoto (108), Ayden Coronil (162), Ramsey Nishida (172) and Scotty Dikilato (287).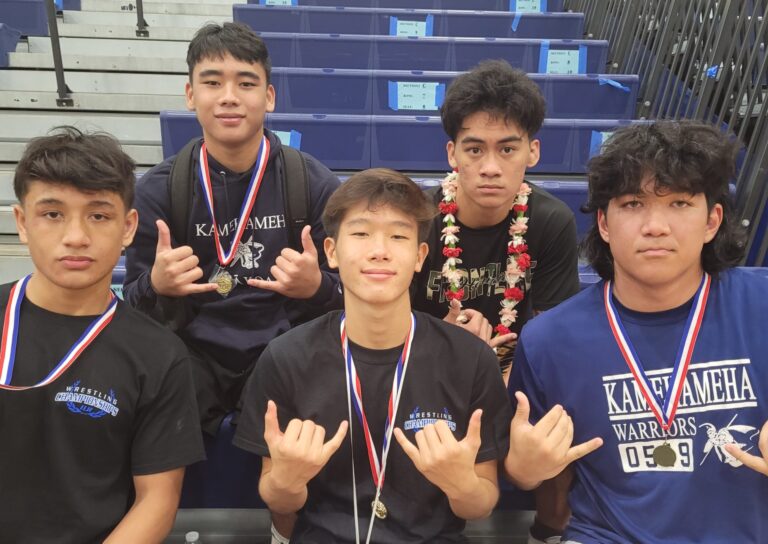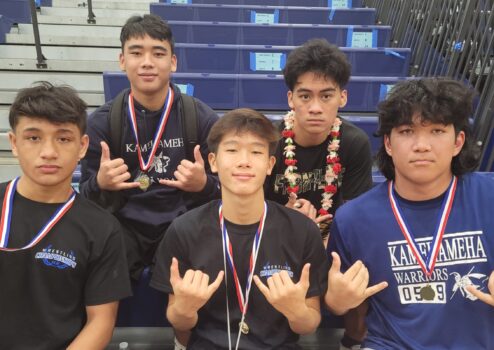 Kamehameha's 2022 ILH boys wrestling champions: Akoni Kaaialii, Ramsey Nishida, Evan Kusumoto, Ayden Coronil and Scotty Dikilato.
"For the boys team, we won overall because of heart and dedication to this sport because without that we wouldn't have gotten this far," Coronil said. "No matter win or lose, we stick together as a team and we push together as one. For me personally, I didn't give up no matter how strong or technical my opponent was. I listened to my coaches and stuck to what I was taught and I was able to push through."
2022 ILH WRESTLING CHAMPIONS
Girls
>> 99: Nanci Nakagawa, Punahou
>> 104: Charlotte Campbell, Punahou
>> 109: Joy Jeremiah, Kamehameha
>> 114: Nohea Moniz, Kamehameha
>> 119: Aliya Takano, Kamehameha
>> 124: Haley Narahara, Kamehameha
>> 129: Jax Realin, Kamehameha
>> 134: Rylie Nishida, Kamehameha
>> 140: Emma Wharton-Hsieh, 'Iolani
>> 147: Kylee Bartholomew-Tangaro, Kamehameha
>> 157: Mehana Kapoi, Kamehameha
>> 170: Huali Hudgens, Kamehameha
>> 186: Kaleikoa Mannering, Kamehameha
>> 225: Alena Bartley, Kamehameha
Boys
>> 108: Evan Kusumoto, Kamehameha
>> 115: Cyrus Bucsit, Saint Louis
>> 122: Logan Lau, Mid-Pacific
>> 128: Kaistin Vasquez, Punahou
>> 134: Dreddin Villalpando, Saint Louis
>> 140: Akoni Kaaialii, Kamehameha
>> 147: Kai Yawata, 'Iolani
>> 154: Xander Erolin, PAC-5
>> 162: Ayden Coronil, Kamehameha
>> 172: Ramsey Nishida, Kamehameha
>> 184: Boston Opetaia, Saint Louis
>> 197: Blaze Holani, Saint Louis
>> 227: Zachary Kaliko, Saint Louis
>> 287: Scotty Dikilato, Kamehameha
ILH CHAMPIONSHIP RESULTS
GIRLS 99
>> Semifinals: 2. Tehya Romero ('Iolani) def. Aliya Quillopo (PAC-5), 4-1|
>> Final: 1. Nanci Nakagawa (Punahou) def. Romero, major decision, 16-2
GIRLS 104
>> Quarterfinal: Kawailani Molina ('Iolani) def. Faith Libarios (PAC-5), fall
>> Semifinals: 1. Charlotte Campbell (Punahou) def. Molina, fall; Tatiana Paragas (Punahou) def. 2. Kelcie Ito (PAC-5), fall
>> Final: Campbell def. Paragas, 12-10
GIRLS 109
>> Quarterfinals: Sarai O'Day (Kamehameha) def. Erika Olkowski (Punahou), fall; Joy Jeremiah (Kamehameha) def. Haley Lau (PAC-5), fall
>> Semifinals: 1. Faith Inatsuka (PAC-5) def. O'Day, fall; Joy def. 2. Miya Nishikawa ('Iolani), DQ
>> Final: Jeremiah def. Inatsuka, 5-3
GIRLS 114
>> Semifinal: Angelina Daoang (Punahou) def. 2. Lillie Awaya ('Iolani), fall
>> Final: 1. Nohea Moniz (Kamehameha) def. Daoang, fall
GIRLS 119
>> Quarterfinal: Jadelyn Retuta (Mid-Pacific) def. Blessing Arias-Kealoha (Damien), fall
>> Semifinals: 1. Aliya Takano (Kamehameha) def. Retuta winner, fall; Kelly Ichimura (Punahou) def. 2. Elle Mizue ('Iolani), 7-3
>> Final: Takano def. Ichimura, major decision, 12-1
GIRLS 124
>> Quarterfinals: Jada Love Jose-Santiago (Kamehameha) def. Jaydlin Chong (Mid-Pacific), 12-4; Maya Rose DeAngelo ('Iolani) def. Grace Shinto (Punahou), fall
>> Semifinals: 1. Haley Narahara (Kamehameha) def. Jose-Santiago winner, fall; DeAngelo def. 2. Kaliko Meyer (Punahou), major decision, 14-4
>> Final: Narahara def. DeAngelo, fall
GIRLS 129
>> Final: 1. Jax Realin (Kamehameha) def. Chloe Pimauna-Kanoa (Kamehameha), fall
GIRLS 134
>> Quarterfinal: Olivia Hirayama (Kamehameha) def. Emma Ito (Punahou), default
>> Semifinals: 1. Rylie Nishida (Kamehameha) def. Nahe Quartero (PAC-5), major decision, 14-1; Hirayama def. 2. Ayla Prather (PAC-5), fall
>> Final: Nishida def. Hirayama, fall
GIRLS 140
>> Semifinals: 1. Emma Wharton-Hsieh ('Iolani) def. Taira Lum (Kamehameha), fall; 2. Zoe Mia (Kamehameha) def. Valynn Kwan (Mid-Pacific), fall
>> Final: Wharton-Hsieh def. Mia, fall
GIRLS 147
>> Semifinals: 1. Kylee Bartholomew-Tangaro (Kamehameha) def. Kimi Nelson (Mid-Pacific), fall; Hinamaikalani Wolfgramm (Kamehameha) def. 2. Pua Beebe (PAC-5), fall
>> Final: Bartholomew-Tangaro def. Wolfgramm, fall
GIRLS 157
>> Semifinals: 2. Sunshine West ('Iolani) def. Veda Garg (PAC-5), fall
>> Final: 1. Mehana Kapoi (Kamehameha) def. West, fall
GIRLS 170
>> Champion: Huali Hudgens (Kamehameha), unopposed
GIRLS 186
>> Champion: Kaleikoa Mannering (Kamehameha), unopposed
GIRLS 227
>> Champion: Alena Bartley (Kamehameha), unopposed
BOYS 108
>> Final: 2. Evan Kusumoto (Kamehameha) def. Brendan Choy (Mid-Pacific), technical fall, 17-2
BOYS 115
>> Semifinals: 1. Cyrus Bucsit (Saint Louis) def. Jake Hamadon (Mid-Pacific), fall; Miles Cobb-Dumlao (Kamehameha) def. 2. Evan Endo ('Iolani), fall
>> Final: Bucsit def. Cobb-Dumlao, technical fall, 17-0
BOYS 122
>> Quarterfinals: Nalu Chinen-Zablan (Damien) def. Zach Ing (PAC-5), fall; Brendan Sekulich def. Ethan Goo ('Iolani), fall
>> Semifinals: 1. Logan Lau (Mid-Pacific) def. Chinen-Zablan, fall; 2. Dylan Landford (Kamehameha) def. Sekulich, 7-4
>> Final: Lau def. Landford, 6-3
BOYS 128
>> Quarterfinals: Zayvien Balisacan (Saint Louis) def. Titus Gibson (Kamehameha), 9-5; Dustin Bajarin-Freitas ('Iolani) def.. Tyler Geronimo (Damien), fall
>> Semifinals: 1. Kaistin Vasquez (Punahou) def. Balisacan, forfeit; 2. Tanner Higa (PAC-5) def. Bajarin-Freitas, major decision, 11-3
>> Final: Vasquez def. Higa, 3-1
BOYS 134
>> Quarterfinal: Micah Shibuya (PAC-5) def. Drasen Mizusawa (Punahou), major decision, 13-1
>> Semifinals: 1. Kai Sekigawa ('Iolani) def. Shibuya, fall; Dreddin Villalpando (Saint Louis) def. 2. Samson Paaluhi (Kamehameha), fall
>> Final: Villalpando def. Sekigawa, fall
BOYS 140
>> Quarterfinal: Kahi Cobb-Adams (Saint Louis) def. Kela Meyer ('Iolani), 3-0
>> Semifinals: 1. Akoni Kaaialii (Kamehameha) def. Cobb-Adams, 9-2; 2. Josiah Lum (PAC-5) def. Oliver Nishikawa (Punahou), 4-2
>> Final: Kaaialii def. Lum, 8-6
BOYS 147
>> Quarterfinal: Zion Amerson (Saint Louis) def. Kela Chinen-Zablan (Damien), fall
>> Semifinals: 1. Kai Yawata ('Iolani) def. Amerson, 4-2; 2. Justyce Mercado (Punahou) def. Jesse Jeremiah (Kamehameha), 4-2
>> Final: Yawata def. Mercado, 2-1
BOYS 154
>> Quarterfinals: Ikaika Chock (Kamehameha) def. Logan Geronimo (Saint Louis), 8-4; Cody Yamashita (Damien) def. Connor Furuta (Punahou), 9-4
>> Semifinals: 1. Xander Erolin (PAC-5) def. Chock, 7-3; 2. Kailer Lee ('Iolani) def.. Yamashita, major decision, 10-0
>> Final: Erolin def. Lee, fall
BOYS 162
>> Quarterfinal: Kameron Arizumi (Punahou) def. Justin Fukuroda (Mid-Pacific), fall
>> Semifinals: 1. Ayden Coronil (Kamehameha) def. Arizumi, 2-0; 2. Connor Creech (Saint Louis) def. Casey Honbo ('Iolani), 5-2
>> Final: Coronil def. Creech, fall
BOYS 172
>> Semifinals: 1. Ramsey Nishida (Kamehameha) def. Ethan Ito (Punahou), major decision, 11-2; 2. Joshua Arcayena (PAC-5) def. Kolt McCreadie (Saint Louis), 10-6
>> Final: Nishida def. Arcayena, default
BOYS 184
>> Quarterfinals: Boston Opetaia (Saint Louis) def. Zion Junk ('Iolani), fall
>> Semifinals: 1. Will Straton (Punahou) def. Jensen Tanele (Damien), fall; Opetaia def. Connor Hackbarth (Kamehameha), 4-2
>> Final: Opetaia def. Straton, 3-2
BOYS 197
>> Semifinal: David Soong (Kamehmaeha) def. 2. Noah Sagon (Punahou), fall
>> Final: 1. Blaze Holani (Saint Louis) def. Soong, fall
BOYS 222
>> Quarterfinal: Aka Malina (Damien) def. Jayse Uemura (Mid-Pacific), fall
>> Semifinals: 1. Zachary Kaliko (Saint Louis) def. Malina, major decision, 9-1; 2. Kainoa Gonzales (Kamehameha) def. Jonah Takayama ('Iolani), forfeit
>> Final: Kaliko def. Gonzales, technical fall, 18-3
BOYS 287
>> Semifinal: 2. Anelu Lafaele (Saint Louis) def. Skyden Hanisi (Punahou), 6-4
>> Final: 1. Scotty Dikilato (Kamehameha) def. Lafaele, fall
BOYS 287
>> Semifinal: 2. Anelu Lafaele (Saint Louis) vs. Skyden Hanisi (Punahou)
>> Final: 1. Scotty Dikilato (Kamehameha) vs. Lafaele/Hanisi winner