—–
Konawaena's Ro'onui Satta-Ellis and Kauai High's Emma Burgess are this year's winners of the $1,000 Hawaii Heisman High School Scholarship.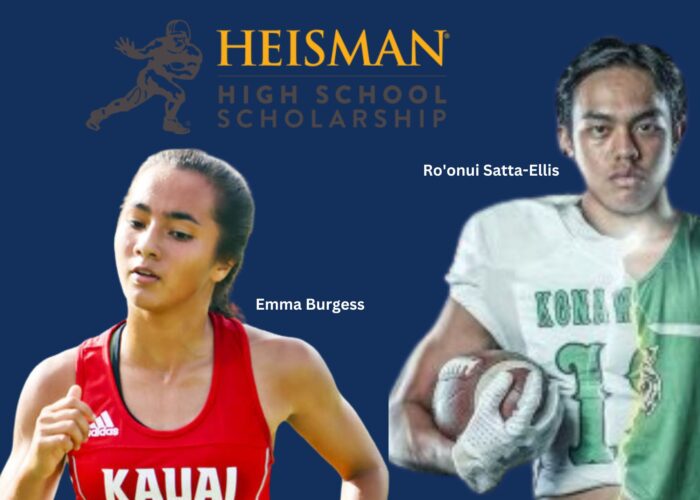 Satta-Ellis is a senior football player and track and field athlete for the Wildcats. He will be on his home field with the school's football team in the Division I semifinals of the First Hawaiian Bank/HHSAA Football State Championships on Nov. 19 against the winner of this weekend's Aiea at Lahainaluna first round game.
In addition, Satta-Ellis finished fourth in the triple jump and fifth in the long jump in last year's state track and field meet.
Burgess is a senior cross country and track and field athlete for the Red Raiders and she is preparing to compete in her senior season this spring.
In the state cross country championship race last month, Burgess finished eighth.
As a junior at the state track and field meet last spring, she placed fifth in the 1,500-meter run and ninth in the 3,000.
To be selected for the honor, student-athletes must be leaders and role models for underclassmen and hold at least a 3.0 grade-point average,
Bedrock Sports Hawaii caught up with Satta-Ellis via Twitter on Tuesday night to get his reaction to the honor.
"This recognition is simply all about how this community has raised me," Satta-Ellis, who is also a fireknife dancer, wrote about his West Hawaii upbringing. "I was so blessed to have caring coaches in the many different sports I've been involved in like judo, jiujitsu, tennis, basketball, track, soccer, futsal and finally football. I learned discipline and respect through my  short stint with martial arts. I learned teamwork and footwork through AYSO and HYSA. Basketball taught me how defense wins games. Track is something I've been involved in with my family since I was 4 … and it has taught me about true commitment. When I finally got around to playing tackle football right before high school, I got to be challenged by different coaching methods. Football taught me perseverance and challenged me to keep my character. Finally, my continued passion of fireknife dancing has been the fuel to my flame of remaining disciplined and not being too over-confident or the result is to be burned. I also have to mention that my personal life challenges such as my father having colon cancer and losing my uncle and just recently my cousin also taught me to remain strong and keep family close to make them proud and honor traditions."
Along with those two Hawaii state winners are a bunch of individual school winners.
They are:
>> Desiree Leigh Agustin (McKinley)
>> Kai Briggs (Kapolei)
>> Jenna Casem (Mililani)
>> Coby Chang (Moanalua)
>> Liv Deeley (Kalaheo)
>> Sydney Europa
>> Spencer Fleming (Mid-Pacific)
>> Brock Fonoimoana (Kahuku)
>> William Gomez (Thompson Academy)
>> Kai Hayashida (Hilo)
>> David Kalili (Nanakuli)
>> Katherine Jo Misailidis (Punahou)
>> Kacey Miura (Kalani)
>> Christopher Rapozo (Kapaa)
>> Leah Tacadena (Waipahu)
>> Mele Taumoepeau (Kahuku)
>> Taejah Ray Telles-Kuwahara (Radford)
>> Kaylee Yamada (Hilo)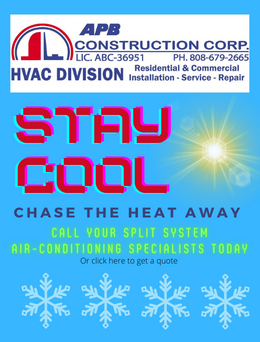 Hawaii Heisman High School Scholarship Winners
Through the years:
2022
>> Emma Burgess (Kauai)
>> Ro'onui Satta-Ellis (Konawaena)
2021
>> Noah Bartley (Kamehameha)
>> Taylor Fukunaga (Waipahu)
2020
>> No state winners (source: HeismanScholarship.com)
2019
>> No state winners (source: HeismanScholarship.com)
2018
>> Sophia Cash (Honokaa)
>> Christopher Kal (Guillermo (Mililani)
2017
>> Alison Day (Campbell)
>> Darrian Cremer (Baldwin)
2016
>> BreeAnn Cabayan (Waimea)
>> David Tupper (Campbell)
2015
>> Brandee Schiller (Mililani)
>> Devin Griffith (Leilehua)
2014
>> Carlyann Butz (Radford)
>> BJ Hosaka (Hawaii Baptist)
2013
>> Norlyn Cabonce (Lanai)
>> Joie Rhon Cascayan (Farrington)
2012
>> Brittany Jackson (Radford)
>> Reece Foy ('Iolani)
2011
>> Michelle Fainberg (University)
>> Samuel Spengler (Le Jardin)
2010
>> Kayla Grimmett (Radford)
>> Daniel Wagner (Mid-Pacific)
2009
>> Sayo Tsukamoto (Kealakehe)
>> Louis Turbeville (Kamehameha-Maui)
2008
>> Jacqueline Owens (Lahainaluna)
>> Christian Putegnet (Campbell)
2007
>> Stephanie Chu (Hilo)
>> Kevin Donahue (Saint Louis)
—–
ALSO AT BedrockSportsHawaii.com:
Kamehameha Pole Vaulter, Athlete Tatum Moku Commits to Washington State