By a wafer thin margin, Mililani's Erin Hikiji edged Kamehameha's Haley Narahara to finish the season as Bedrock Sports Hawaii's No. 1 pound-for-pound girls wrestler.
The two began the year at Nos. 1 and 2 and that's where they finished after impeccable seasons.
Bedrock expected a close race and it came true. When the votes from 13 coaches started pouring in via email, it was nip and tuck through seven voters with barely any separation. The final six voters went Hikiji's way.
Overall, Hikiji received nine first-place votes and no second-place votes. Narahara got three nods for first-place and eight for second. No other girl was picked for the top spot.
One voter had Hikiji and Narahara tied at the top, and despite a tiny bit of pressure to make a choice, refused to budge either way.
The only way Narahara was going to pass Hikiji was if the Trojans' senior stumbled in some way.
It didn't happen. Now a three-time state placer and two-time champion, Hikiji (12-0) spent a total of 6 minutes, 41 seconds on the mat at states with three wins by fall in securing the 97-pound title.
The path for Narahara (11-0) at the season-ending event was even more impressive, with pins in 0:57, 0:45, 1:56 and 1:20. Like Hikiji, the Warriors' senior is now a two-time state champion and three-time state placer.
One voter who put Narahara first had this to say: "Narahara is an animal and deserves the top nod. She's so good that it's hard to appreciate without better competition."
Another voter, underscoring just how close this particular race was, said, "Narahara could be interchangeable with Hikiji at No. 1, but Hikiji came into the tournament as No. 1 and pinned her way through."
Six of the wrestlers in the next eight p4p slots finished the season as undefeated state champions — No. 3 Liana Ferreira of Baldwin (9-0), No. 4 Nohea Moniz of Kamehameha (10-0), No. 5 Isabelle Asuncion of Moanalua (16-0), No. 6 Lainey Eckart of Kamehameha-Hawaii (17-0), No. 8 Aubrie Molina of Pearl City (13-0), and No. 10 Mehana Kapoi of Kamehameha (9-0).
Now a three-time state placer, Ferreira, a senior for the Bears, showed her mettle early in the season en route to the 102-pound MIL title by beating two tough Lahainaluna sophomore competitors — Naiomi Kulukukalani-Sales (the eventual 107-pound state runner-up) and Kayce Dudoit (eventual state third-place finisher at 102).
But Ferreira's signature moment came in the state 102 final, where she edged then-No. 9 pound-for-pound and previously unbeaten junior Tristan Nitta of Mililani, 3-2.
Moniz, a Warriors senior who became a three-time state placer, did not come close to losing throughout the season and finished off the 112-pound state championship with three straight wins by fall.
"She was expected to pin all her (state) opponents and she did," said one coach.
Said another: "Very strong technically."
Asuncion, a junior for Na Menehune, started the year on the outside looking in to the p4p rankings, and she also never wavered on the way to the 117 crown — the same division she placed third in at states as a freshman in 2020.
By far, Asuncion's biggest test came in the 117 final, where she got past previously unbeaten ILH champion Aliya Takano of Kamehameha, 4-1. Takano, a senior and a state placer in 2020, came super close to breaking into the p4p rankings all year long.
"Asuncion bumped up a weight class to really prove what p4p means," said one coach.
It may have been more of a "pick your poison" situation because lurking at the top of the 112 class was Moniz if Asuncion didn't move up.
"Asuncion showed why she's one of the best," said another voter. "Consistency is key for her."
Only a junior, Eckart was also just outside of the Top 10 for most of the season and clinched her spot with an outstanding state tournament that included a tough 9-8 semifinal win over Moanalua senior Rachel Oshita, who was No. 7 p4p and undefeated at the time.
Then, in the 127 championship match, Eckart overcame the adversity of an early deficit to beat promising Kamehameha freshman and previously unbeaten Jax Realin by fall in 1:45.
For Chargers sophomore Molina, a 3-1 overtime sudden victory over Campbell senior Anissa Wright in the 145 final saved an undefeated year and secured a place on the p4p list. She also nudged past Wright — who finished in second place at states at 145 two years ago — for this year's OIA title, 5-4.
Kamehameha's Kapoi was the last girl standing in a tough 155 bracket. The senior dispatched Moanalua senior and OIA champion Taryn Titcomb 4-0 and then upended up-and-coming Campbell sophomore Bethany Chargualaf 7-5 in the title match. Chargualaf showed she was no fluke in her semifinal match, when she edged then-No. 4 p4p and previously unbeaten senior Kaycelee Pua of Baldwin, 1-0.
Pua wound up earning third place to become a three-time state placer.
Only two of the girls in the pound-for-pound Top 10 suffered losses during the regular season — Lahainaluna junior Teani Medeiros-Maielua (15-4) at No. 7 and Kahuku sophomore Maia Esera (9-2) at N0. 9.
At 225 pounds, the Red Raiders' Esera went on to dominate at the OIAs and at states, prompting one coach to say that he was so impressed that it was hard to picture Esera losing in the next two years.
The Lunas' Medeiros-Maielua won four straight state tourney matches by fall, including a pin in 2:45 in the 132 title match against OIA champion Kianna Chargualaf, a Campbell senior who is now a two-time state placer with credentials that also include a third-place state finish at 138 in 2020.
Girls Champions Not In The Top 10 Rankings
Four girls state champions did not crack the Top 10 list:
>> Lahainaluna sophomore Catherine Asami (13-0) pinned all three of her opponents on the way to the 184-pound title
>> Baldwin freshman Jahlia Miguel went 4-0 at states with two pins en route to the 145 crown
>> Moanalua senior Madison Kalamau, who is now a two-time state placer, saved her best for the end of the season. After three regular season losses, she won three state matches by fall before winning by 8-0 major decision over the aforementioned Kulukukalani-Sales of Lahainaluna for her first state title.
>> Moanalua senior Jadyn Crisostomo, who also had losses in the regular season, got to the 168 final by tipping the highly regarded Atinaeleila Fonoti of Mililani (state fifth place at 225 in 2020 who eventually took fourth at 168 this year). Crisostomo then got past Kamehameha-Hawaii's Kealohilani Grace 6-3 for her first state championship.
One Loss Kept These Girls From The Top 10
Some of the the following wrestlers have been mentioned earlier in this post, but are being included below in a list of those who came close to either a championship or cracking the Top 10:
>> Mililani's Nitta (16-1), whose one loss came in a 3-2 102 final to Ferreira
>> Kamehameha's Takano (11-1), whose one loss came in a 4-1 117 final to Asuncion
>> Kamehameha's Realin (10-1), whose one loss came by fall in the 127 final to Eckart
>> Lahainaluna's Alicia Frank (20-1, previously No. 5 p4p, and now a three-time state placer), whose one loss came by fall to Realin in the 127 semifinals
>> Hilo's Lilliane Toledo (12-1, previously No. 10 p4p, and now a two-time state placer), whose one loss was by a 6-5 count in overtime (sudden victory) of the 184 semifinals to Farrington's Teizannaho Paleafei
>> Baldwin's Pua (16-1), whose one loss came in a 1-0 155 semifinal to Bethany Chargualaf
>> Kamehameha's Rylie Nishida (12-1), whose one loss was a 5-1 decision in the 132 semifinal to Kianna Chargualaf
In addition, OIA 168 champion Sarah Balbarino (16-3) of Kalani was flying high before states, having defeated Mililani's Atinaeleila Fonoti in the OIA West and OIA Championships, but in the state semifinal against Grace, the Falcons' senior tapped out while ahead 11-0. She finished 2-0 this season against Crisostomo, the division's eventual state champ.
2022 BEDROCK FINAL TOP 10 POUND-FOR-POUND GIRLS WRESTLERS
>> 1. Erin Hikiji, senior (Mililani) 2022 97 state champ 2020 97 state champ, 2019 97 state fourth place … (12-0)
>> 2. Haley Narahara, senior (Kamehameha) 2022 122 state champ, 2020 112 state champ, 2019 112 state third place (11-0)
>> 3. Liana Ferreira, senior (Baldwin) 2022 102 state champ, 2020 97 state runner-up, 2019 97 state third place … (9-0)
>> 4. Nohea Moniz, senior (Kamehameha) 2022 112 state champ, 2020 107 state third place, 2019 107 state fourth place … (10-0)
>> 5. Isabelle Asuncion, junior (Moanalua) 2022 117 state champ, 2020 102 state third place … (16-0)
>> 6. Lainey Eckart, junior (Kamehameha-Hawaii) 2022 127 state champ, 220 127 state fourth place … (17-0)
>> 7. Teani Medeiros-Maielua, junior (Lahainaluna) 2022 132 state champ … (15-4)
>> 8. Aubrie Molina, sophomore (Pearl City) 2022 138 state champ … (13-0)
>> 9. *-Maia Esera, sophomore (Kahuku) 2022 225 state champ … (13-0)
>> 10. Mehana Kapoi, senior (Kamehameha) 2022 155 state champ (9-0)
*-After this story was posted, a change was made above to reflect Esera's correct W-L record. We were unable to correct Esera's record in the graphic below.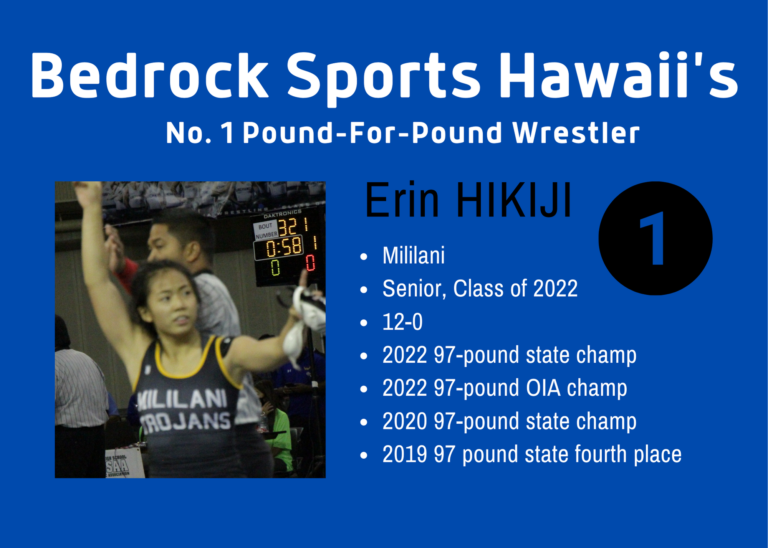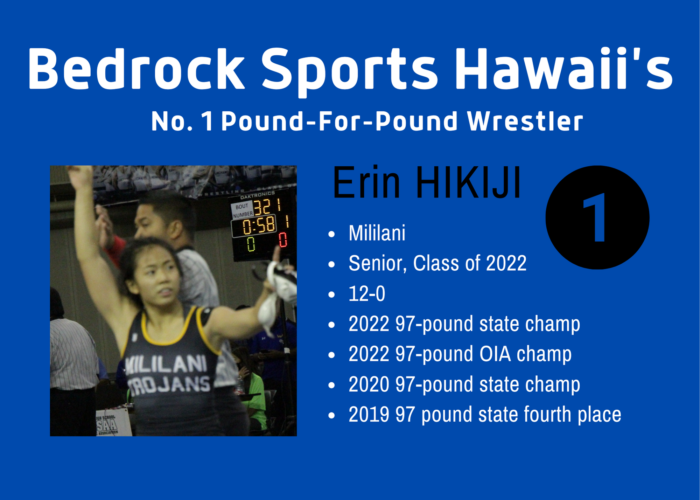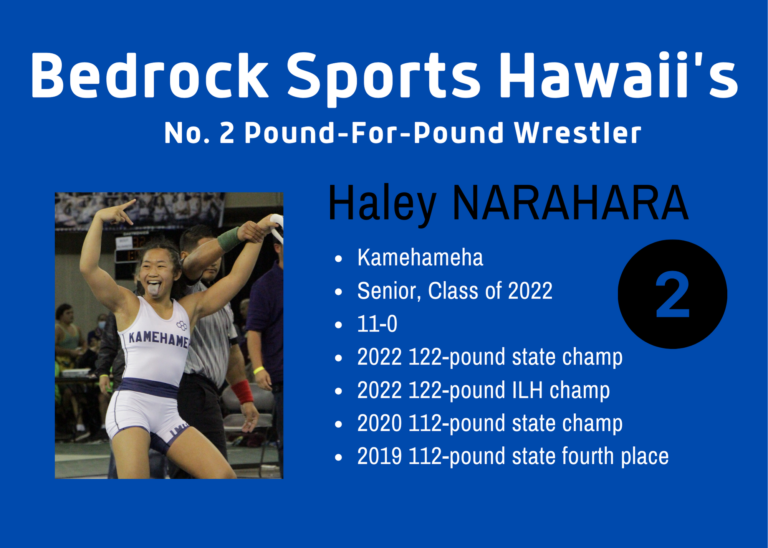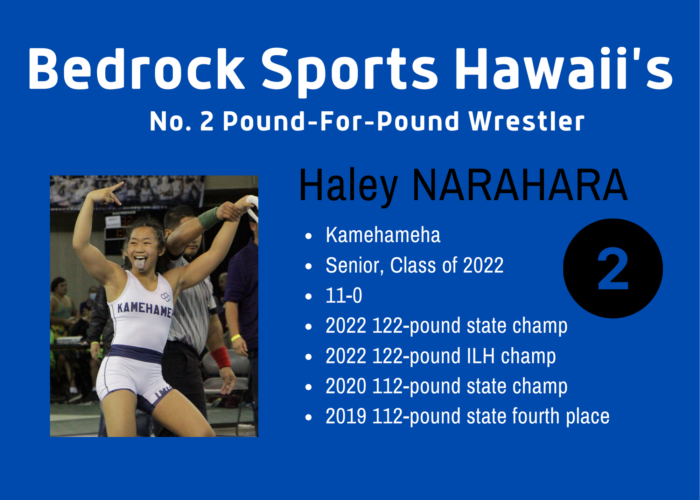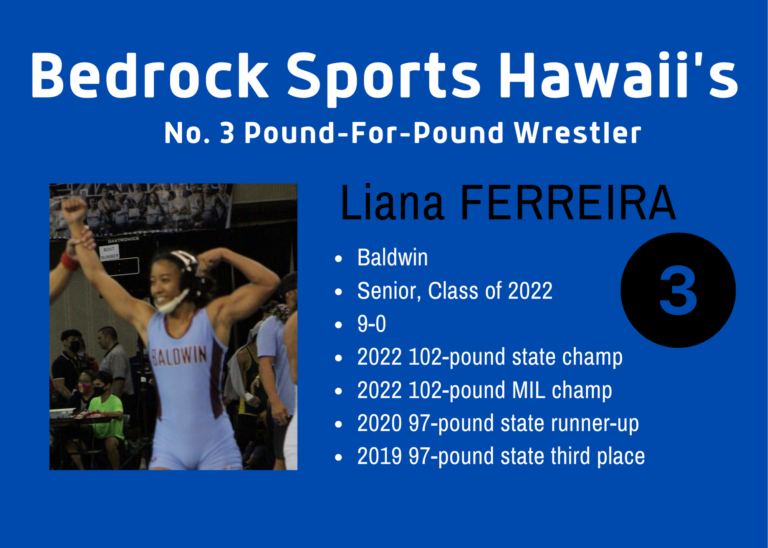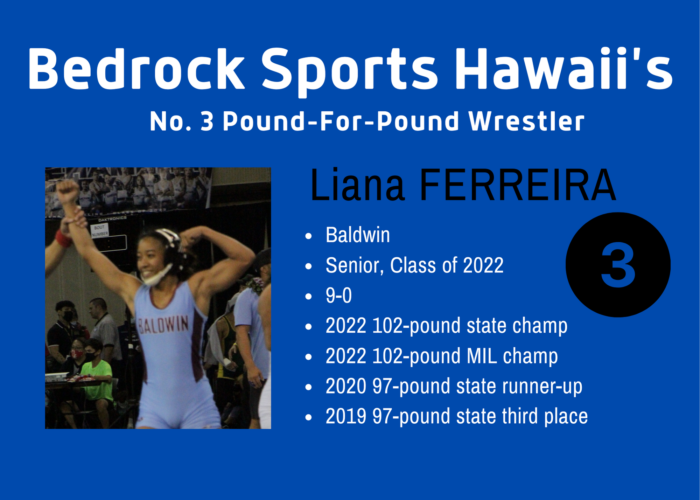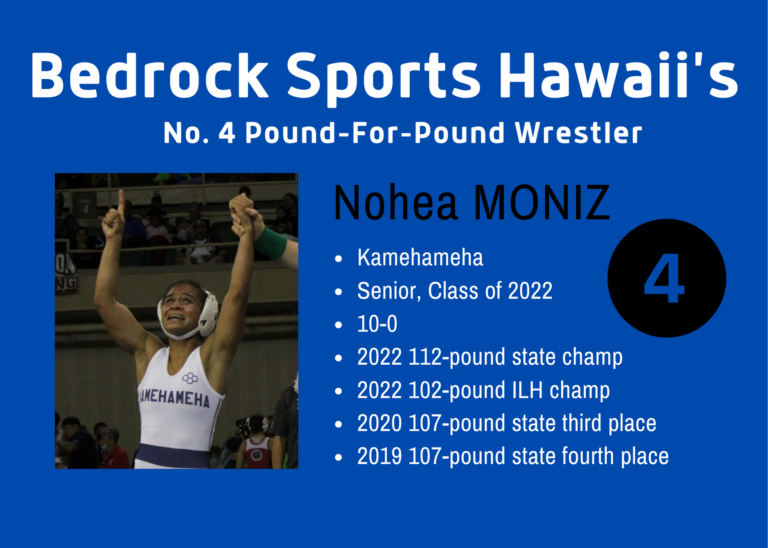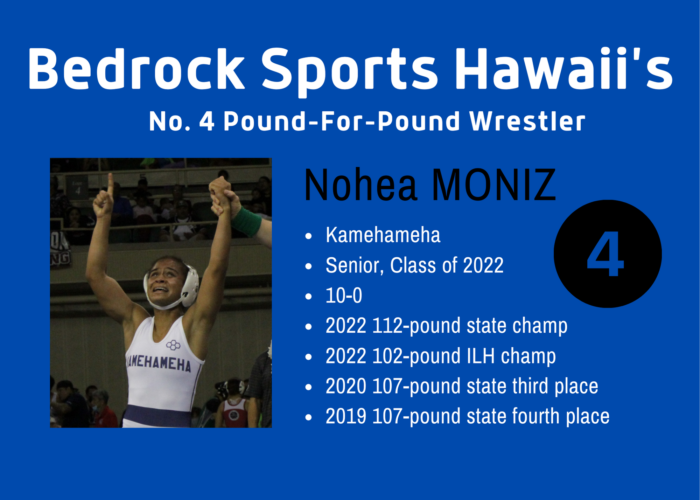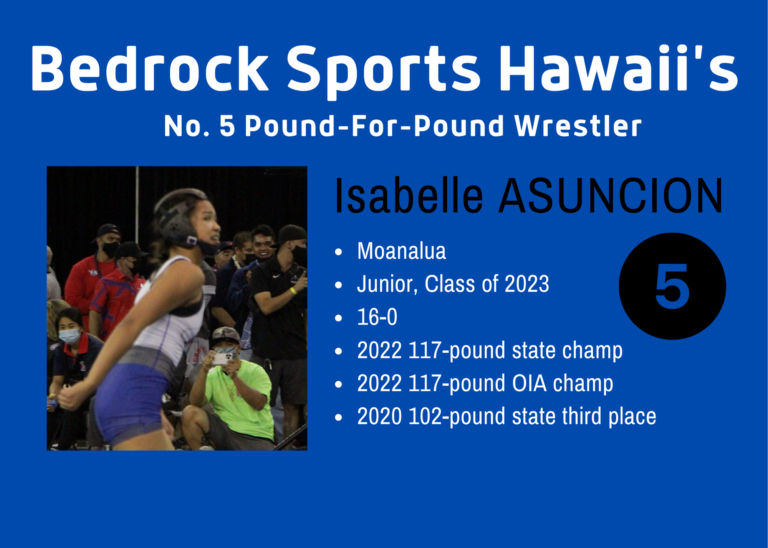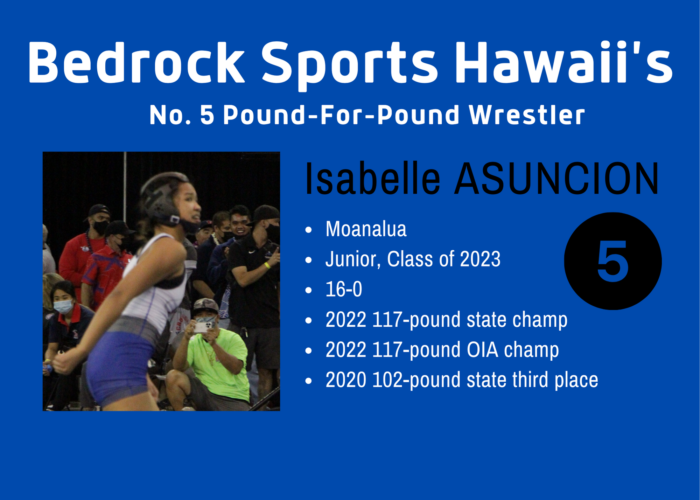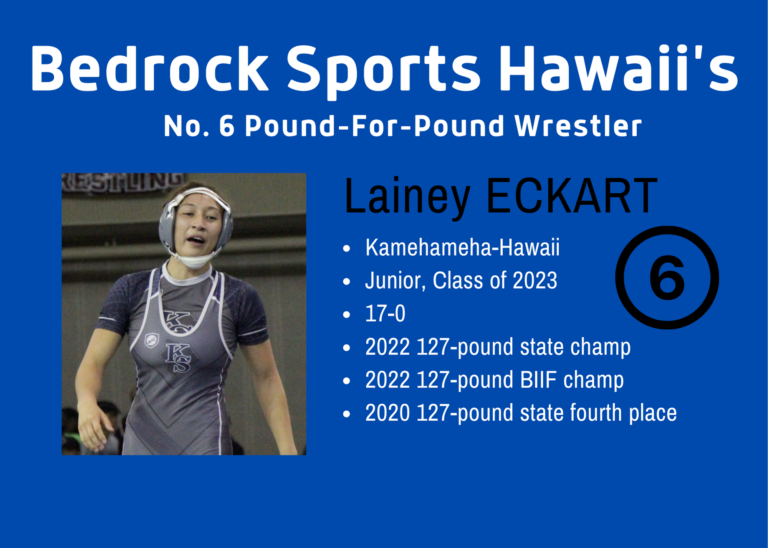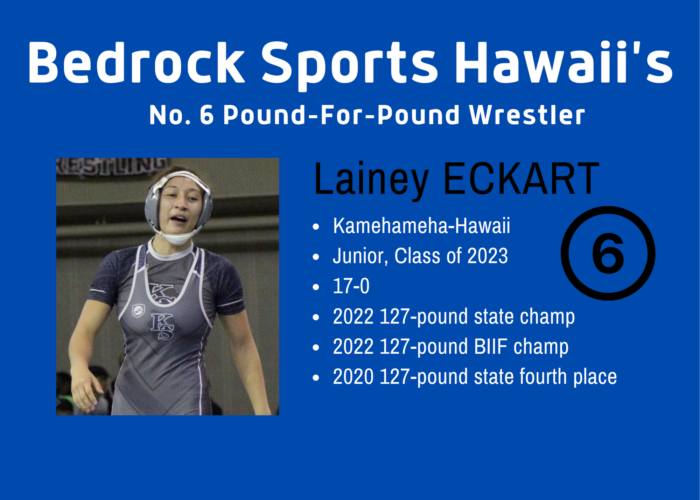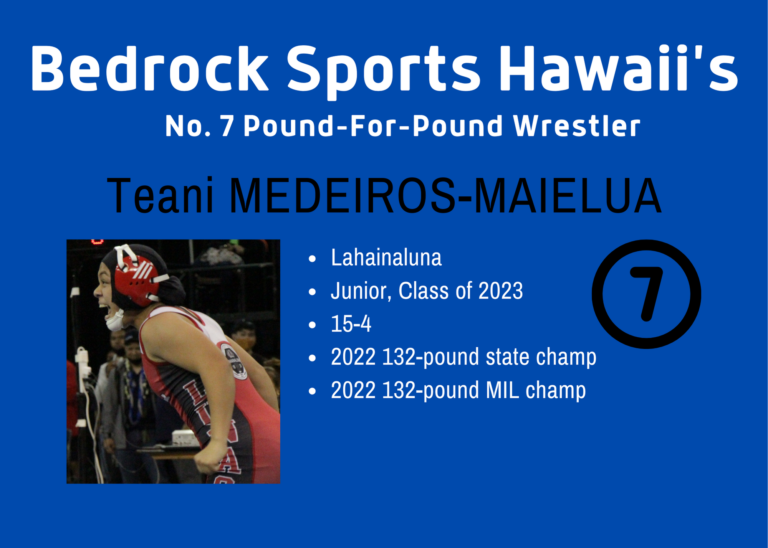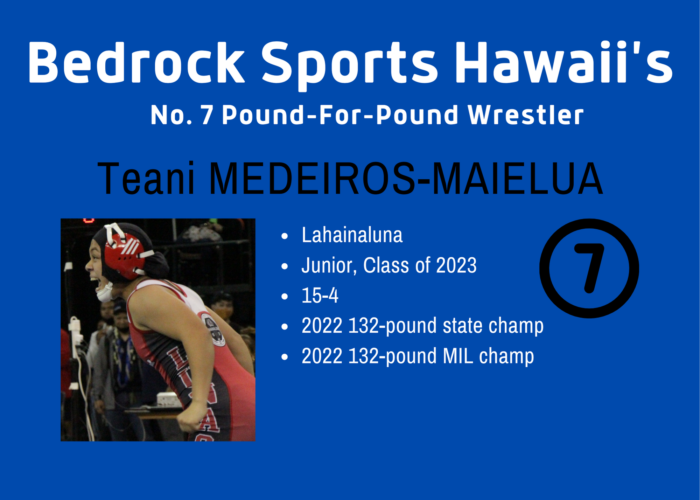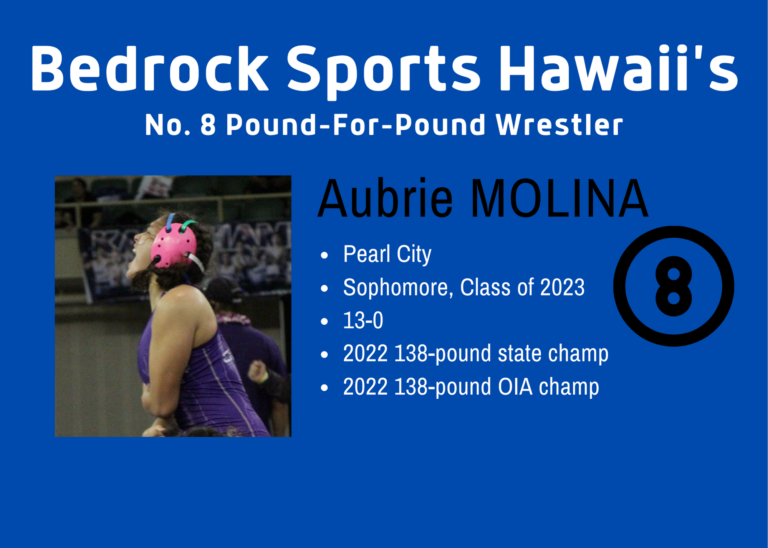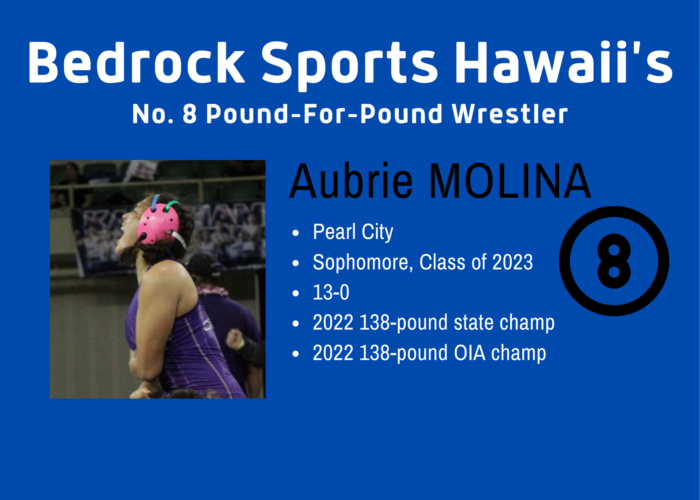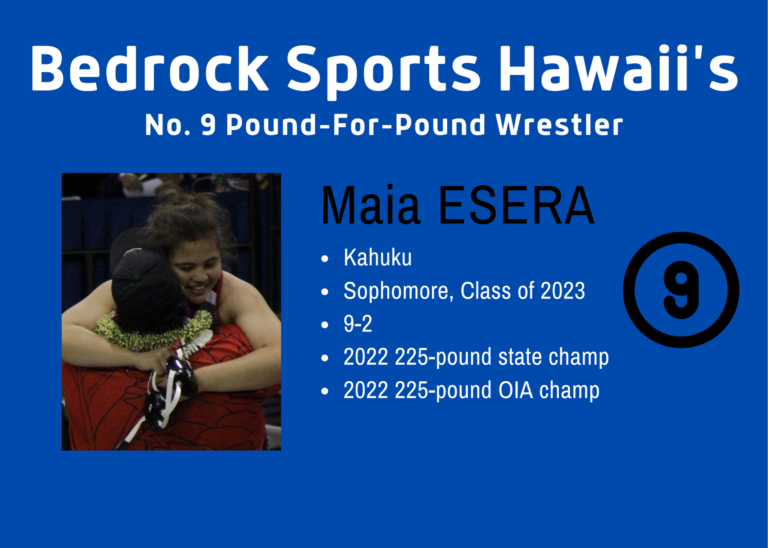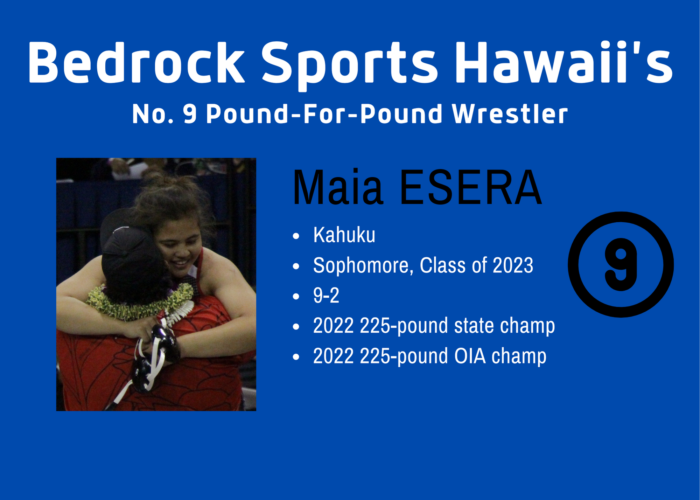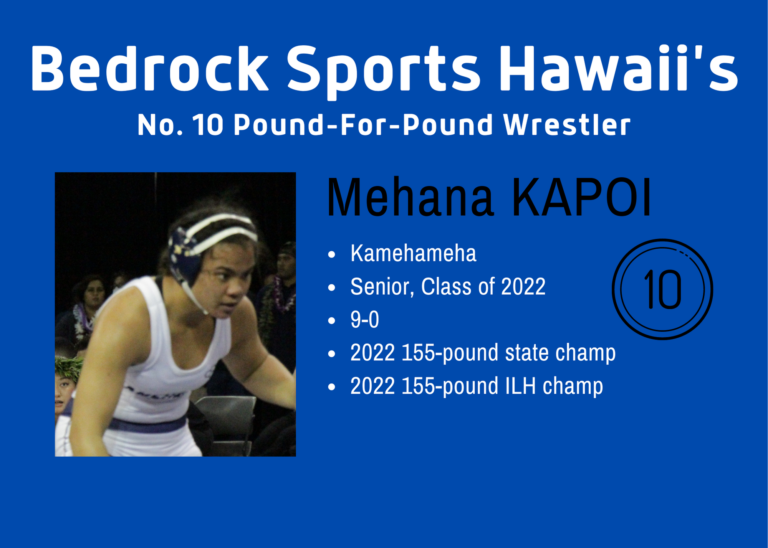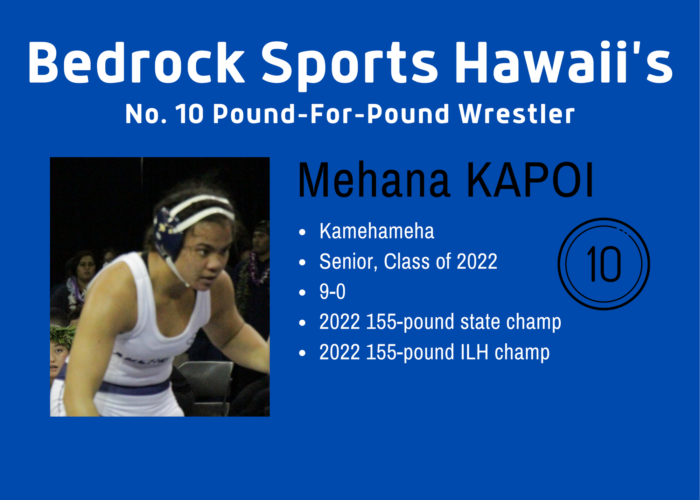 ALSO AT Bedrock Sports Hawaii:
Moanalua's Karter Nitahara And Blaze Sumiye Are Bedrock's Nos. 1 And 2 Pound-For-Pound Wrestlers For 2022