Results from the OIA's three round-robin wrestling sites — Farrington, Waianae and Waipahu — on Saturday, Jan. 29 follow.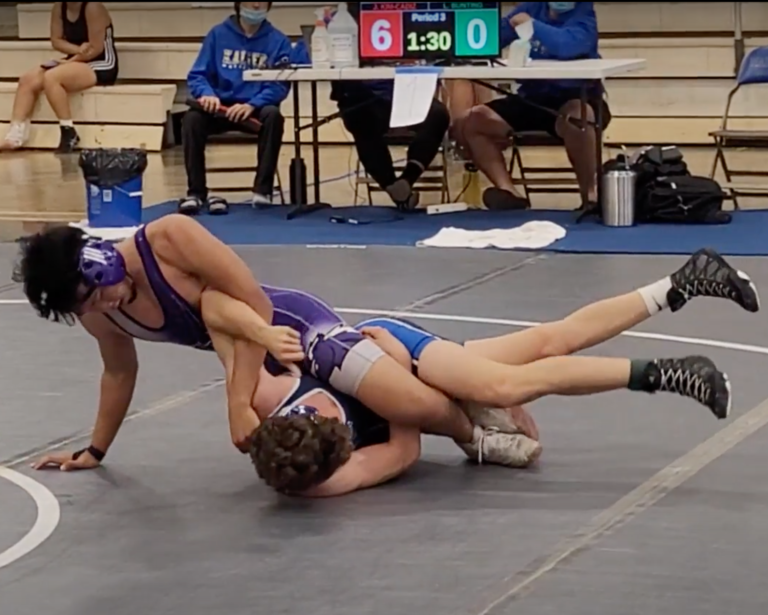 Pearl City's Jace Kim-Cadiz won this match by major decision, 9-0 against Kailua's Landon Bunting at Waipahu on Saturday.
In one minor upset, Kapolei's Brycen Pagurayan defeated Moanalua's Blaze Sumiye 8-3 at 170 pounds at Farrington.
Pagurayan, Bedrock Sports Hawaii's No. 9 pound-for-pound wrestlers placed fifth at 145 pounds at states in 2020. Sumiye, ranked No. 2 in the p4p, took the state crown in 2020 at 145 pounds.
Farrington Round-Robin Results
GIRLS 102
>> Final standings: Sage Beltran (Moanalua); 2. Angelina Godoy-Holt (Kapolei); 3. Kacie Teruya (Moanalua)
>> Round 1: Beltran def. Teruya, fall, 3;30
>> Round 2: Godoy-Holt def. Teruya, 3-1
>> Round 3: Beltran def. Godoy-Holt, fall, 1:05
GIRLS 112
>> Final standings: 1. Madison Kalamau (Moanalua); 2. Isabelle Asuncion (Moanalua); 3. Linda Lam (Roosevelt)
>> Round 1: Asuncion def. Lam, fall, 1:13
>> Round 2: Kalamau def. Lam, fall, 0:1
GIRLS 117
>> Final standings: 1. Caelin Balansag (Roosevelt); 2. Hailey Perez (Moanalua)
>> Round 1: Balansag def. Perez, fall, 4:46
>> Round 2: Balansag def. Perez, fall, 0:36
GIRLS 127
>> Final standings: 1. Keirynmae Kanae (Kapolei); 2. Kaira Iona (Farrington); 3. Lexi Tokuda (Moanalua); 4. Ciera Shiraishi (Moanalua)
>> Round 1: Kanae def. Tokuda, fall, 1:40; Iona def. Shiraishi, fall, 1:36
>> Round 2: Kanae def. Iona, fall, 1:54; Tokuda def. Shiraishi, fall, 1:00
>> Round 3: Kanae def.  Shiraishi, fall, 1:30; Iona def. Tokuda, fall, 4:51
GIRLS 138
>> Final standings: 1. Rachel Oshita (Moanalua); 2. Reese Nishida (Moanalua); 3. Lily Polvado (Kahuku); 4. Kanada Belief (Kahuku)
>> Round 1: Nishida def. Belyeu, fall, 1:59; Oshita def. Polvado, fall, 2:39
>> Round 2: Oshita def. Belyeu, fall, 1:25; Nishida def. Polvado, fall, 2:33
GIRLS 155
>> Final standings: 1. Kaui Lee-Tynan (Kapolei); 2. Eden Baguio (Moanalua); 3. Alexis Webster (Moanalua); 4. Sage Horcajo (Kahuku)
>> Round 1: Webster def. Sage Horcajo, fall, 4:23; Lee-Tynan def. Baguio, fall, 3:03
>> Round 2: Baguio def. Webster, fall, 0:54; Lee-Tynan def. Horcajo, technical fall, 19-3
>> Round 3: Lee-Tynan def. Webster, fall, 2:48; Baguio def. Horcajo, fall, 1:20
GIRLS 168
>> Final standings: Aurianna Pratt (Moanalua); 2. Dezeray-Angel Orcut (Radford)
>> Round 1: Pratt def. Orcut, fall, 2:39; Pratt def. Orcut, fall, 1:00
GIRLS 184
>> Final standings: 1. Jasmine Adiniwin (Moanalua); 2. Journie Kealanahele (Farrington)
>> Round 1: Adiniwin def. Kealanahele, fall, 1:46
>> Round 2: Adiniwin def. Kealanahele, fall, 1:09
GIRLS 225
>> Final standings: 1. Isabelle Martinez (Radford); 2. Malia Samoy (Kahuku)
>> Round 1: Martinez def. Samoy, fall, 4:00
>> Round 2: Martinez def. Samoy, fall, 0:48
BOYS 120
>> Final standings: 1. Joseph Lathwood (Moanalua); 2. Jayden Seson (Moanalua); 4. LJ Oki (Kapolei); 4. Kaleb Edgar (Kapolei)
>> Round 1: Lathwood def. Oki, fall, 1:18; Seson def. Edgar, technical fall, 15-0
>> Round 2: Oki def. Edgar, fall, 1:35; Lathwood def. Seson, fall, 3:22
>> Round 3: Seson def. Oki, major decision, 10-0; Lathwood def. Edgar, fall, 1:38
BOYS 126
>> Final standings: 1. Jaysin Akeo (Moanalua0; 2. Allan Sullivan (Radford)
>> Round 1: Akeo def. Sullivan, fall, 1:02
>> Round 2: Akeo def. Sullivan, fall, 1:15
BOYS 132
>> Final standings: 1. LJ Pasion (Moanalua); 2. Mayhem Woolsey (Kapolei)
>> Round 1: Pasion def. Woolsey, 6-4
>> Round 2: Pasion def. Woolsey technical fall, 17-0
BOYS 138-a
>> Final standings: 1. Kinau McBrayer (Kapolei); 2. Keegan Goeas (Castle); 3. Ethan Bueno (Radford)
>> Round 1: Goeas def. Bueno, fall, 0:25
>> Round 3: McBrayer def. Goeas, 6-5
BOYS 138-B
>> Final standings: 1. Logan Kindle (Radford); 2. Myke Jushua Kiley (Farrington)
>> Round 1: Kindle def. Kiley, fall, 3:01; Kindle def. Kiley, fall, 1:19
BOYS 145-A
>> Final standings: 1. Kai Simmons (Moanalua); 2. Chance Garcia (Kapolei); 3. Patrick Durand (Radford)
>> Round 1: Simmons def. Garcia, 4-2
>> Round 2: Simmons def. Durand, 11-6
>> Round 3: Garcia def. Durand, 10-9
BOYS 145-B
>> Final standings: 1. Nicholas Garner (Roosevelt); 2. Joshua Julian (Kapolei); 3. Sammy Rabago (Kapolei)
>> Round 1: Garner def. Julian, 8-1
>> Round 2: Garner def. Rabago, fall, 2:50
>> Round 3: Julian def. Rabago, 11-4
BOYS 152
>> Final standings: 1. Christian Jacob (Moanalua); 2. Joshua Lewandowski (Moanalua); 3. Zander Writesel (Radford); 4. Pikai Kanin (Kahuku)
>> Round 1: Jacob def. Writesel, 10-9; Lewandowski def. Kaniho, fall, 0:51
>> Round 2: Jacob def. Kaniho, fall, 2:58; Lewandowski def. Writesel, fall, 2:52
>> Round 3: Jacob def. Lewandowski, 5-3; Writesel def. Kaniho, fall, 3:41
BOYS 160
>> Final standings: 1. Bravery Gladman (Moanalua); 2. Esaiah Gideon (Kapolei); 3. Alii Amisone (Kapolei)
>> Round 1: Gideon def. Amisone, fall, 3:29
>> Round 2: Gladman def. Gideon, 5-4
>> Round 3: Gladman def. Amisone, fall, 5:20
BOYS 170
>> Final standings: Brycen Pagurayan (Kapolei); 2. Blaze Sumiye (Moanalua); 3. Keao Kalahiki (Kahuku)
>> Round 1: Pagurayan def. Kalahiki, technical fall, 20-5
>> Round 2: Sumiye def. Kalahiki, fall, 1:25
>> Round 3: Pagurayan def. Sumiye, 8-3
BOYS 285
>> Final standings: 1. Christian Carlisle (Castle); 2. Timothy Paleafei (Farrington); 3. Kaiden Writesel (Radford); 4. Cyrus Gebauer (Kapolei)
>> Round 1: Carlisle def. Gebauer, 5-4; Paleafei def. Writesel, fall, 0:51
>> Round 2: Writesel def. Gebauer, fall, 1:04; Carlisle def. Paleafei, 7-3
>> Round 3: Paleafei def. Gebauer, fall, 4:34; Carlisle def. Writesel, fall, 3:47
Waianae Round-Robin Results
GIRLS 117
>> Final standings: 1. Tiana DeSantos (Leilehua); 2. Rayna Kawabata (Kalani); 3. Sky Sano (Kalani); 4. Tynesha Ly (Kalani)
>> Round 1: DeSantos def. Kawabata, fall, 3:10
>> Round 2: DeSantos def. Ly, fall, 1:49
>> Round 3: DeSantos def. Sano, fall, 2:33
GIRLS 127
>> Final standings: 1. Yairis Matos (Campbell); 2. Paige Allen (Campbell); 3. Chaeli Wong (Waialua); 4. Aaliyah Welch (Leilehua)
>> Round 1: Allen def. Welch, sudden victory, 11-9; 2. Matos def. Wong disqualification
>> Round 2: Wong def. Welch, fall, 4:32
>>Round 3: Allen def. Wong, fall, 2:58; Matos def. Welch, fall, 3:57
GIRLS 138
>> Final standings: 1. Kianna Chargualaf (Campbell); 2. Hailey-Jade Omoso (Kalani)
>> Round 1: Chargualaf def. Omoso, fall, 1:04
>> Round 2: Chargualaf def. Omoso, fall, 1:05
GIRLS 145
>> Final standings: 1. Anissa Wright (Campbell); 2. Karleigh Manoha (Waianae)
>> Round 1: Wright def. Manoha, fall, 1:58
>> Round 2: Wright def. Manoha, fall, 1:17
GIRLS 184
>> Final standings: 1. 

Leina Balancio-Sadamaru (Waianae); 2. Keila Olivas-Low (Leilehua)




>> Round 1: Balancio-Sadamaru def. Olivas-Low, fall, 4:23




>> Round 2: Balancio-Sadamaru def. Olivas-Low, fall, 0:48




BOYS 113


>> Final standings: Jayce Kamimura (Kalani); 2. Noah Limary (Waianae)
>> 

Round 1: K

amimura def. Limary, fall, 2:39
>> Round 2: Kamimura def. Limary, fall, 4:45
BOYS 120
>> Final standings: 1. Khansith Chanthanouasith (Leilehua); 2. Zairyn Ramos (Campbell); 3. Nick Au (Kalani)
>> 

Round 1: Ramos def. Au, 

fall, 0:58
>> Round 2: Chanthabouasith def. Ramos, fall, 5:28
>> Round 3: Chanthabouasith def. Au, fall, 0:34
BOYS 132
>> Final standings: 1. Jet Okura (Kalani); 2. Syless Nakatani (Waiaiane); 3. Pono Enos-Ho (Campbell)
>> Round 1: Nakatani def. Enos-Ho, fall, 4:29
>> Round 2: Okura def. Nakatani, major decision, 15-2
>> Round 3: Okura def. Enos-Ho, fall, 1:02
BOYS 138
>> Final standings: Hakuilua Paaluhi (Waianae); 2. Bransen Porter (Waianae); 3. Jeremiah Maile (Nanakuli); 4. Draven Templado (Leilehua)
>> Round 1: Paaluhi def. Templado fall, 0:43; Porter def. Maile, fall, 1:11
>> Round 2: Maile def. Templado, 12-8
>> Round 3: porter def. Templado, fall, 1:01; Paaluhi def. Maile, fall, 1:22
BOYS 145-A
>> Final standings: 1. Kade Okura (Kalani); 2. Joshua Santiago (Waianae); 3. Allen Mahoe (Nanakuli)
>> Round 1: Santiago def. Mahoe, major decision, 16-6
>> Round 2: Okura def. Santiago, fall, 3:10
>> Round 3: Okura def. Mahoe, fall, 1:36
BOYS 145-B
>> Final standings: Ramos Suzuki (Kalani); 2. Kadin Canianes (Campbell); 3. Christian Sansano (Waianae)
>> Round 1: Canianes def. Sansanok fall, 1:26
>> Round 2: Suzuki def. Sansano, fall, 2:54
>> Round 3: Suzuki def. Canianes, fall, 1:07
BOYS 152
>> Final standings: 1. Anthony Lopez (Nanakuli); 2. Akoni Kaleopaa-Borlin (Waianae); 3. Jared Yiu Lin (Waianae); 4. Chasen Callahan-Koko (Waianae)
>> Round 1: Lopez def. Yiu Lin, 11-4
>> Round 2: Lopez def. Kaleopaa-Borlin, 13-6
>> Round 3: Lopez def. Callahan-Koko, fall, 4:36
BOYS 160
>> Final standings: 1. Holden Soares (Campbell); 2. Kayin Maloian (Kalani)
>> Round 1: Soares def. Maloian, technical fall, 17-0
>> Round 2: Soares def. Maloian, fall, 0:49
BOYS 170
>> Final standings: 1. Pookela DeSantos (Leilehua); 2. Gxxr Young (Waianae); 3. Carl Laa (Nanakuli); 4. Teva Feliciano (Campbell)
>> Round 1: DeSantos def. Laa, fall, 1:19; Young def. Feliciano, fall, 1:34
>> Round 2: DeSantos def. Feliciano, fall, 0:39; Young def. Laa, fall, 3:19
>> Round 3: DeSantos def. Young, fall, 1:21; Laa def. Feliciano, fall, 2:29
BOYS 182
>> Final standings: 1. Kayzehn Aiwohi-Frisby (Waianae); 2. Dustin Balancio-Sadamaru (Waianae); 3. Matthew Finefeuiaki (Kalani); 4. Kollin Tellain (Leilehua)
>> Round 1: Balancio-Sadamaru def. Tellain, 5-4; Aiwohi-Frisby def. Finefeuiaki, fall, 1:20
>> Round 2: Finefeuiaki def. Tellain, fall, 1:06
>> Round 3: Balancio-Sadamaru def. Finefeuiaki, fall, 5:00; Aiwohi-Frisby def. Tellain, fall, 0:35
BOYS 195
>> Final standings: 1. Ryan Penuliar (Leilehua); 2. Clyde Busbea (Campbell); 3. Liutau Maile (Nanakuli)
>> 

Round 1: 

Penuliar def. Maile, fall, 1:36
>> Round 2: Busbea def. Maile, fall, 2:53
>> 

Round 3: Penuliar def. Busbea, major decision, 10-1




BOYS 220




>> Final standings: 1. Vanderlei Yong (Waianae); 2. Preston Raymond (Leilehua); 3. 

Schüler Pascual (Campbell); 4. Angel Schmidt (Campbell); 5. Jaydon Texeira (Nanakuli)
>> Round 1: Raymond def. Schmidt, fall, 0:52; Yong def. Texeira, fall, 1:24
>> Round 2:  Yong def. Pascual, fall, 3:17; Schmidt def. Texeira, fall, 3:08
>> Round 3: Pascual def. Texeira, fall, 2:26; Yong def. Raymond, fall, 3:14


>> Round 4: Raymond def. Pascual, fall, 4:49; Yong def. Schmidt, fall, 1:34




>> Round 5: Raymond def. Texeira, fall, 1:51




BOYS 285




>> Final standings: 1. 

Kapolei Coelho (Leilehua); 2. Theodore Franklin (Leilehua); 3. Nainoa Stevenson (Leilehua); 4. Joshua Kopp (Waianae); 5. MyKenessy Conrad (Nanakuli)
>> Round 1: Kopp def. Conrad, fall, 1:14
>> Round 2: Coelho def. Conrad, fall, 0:42
>> Round 3: Stevenson def. Kopp, 10-4
>> Round 4: Franklin def. Kopp, medical forfeit
>> Round 5: Franklin def. Conrad, fall, 0:44; Coelho def. Kopp, medical forfeit
Waipahu R0und-Robin Results
GIRLS 107
>> Final standings: 1. Erin Hikiji (Mililani); 2. Tristan Nitta (Mililani); 3. Alexia Parsons (Kalaheo); 4. Jaedha Manuyag (Aiea)
>> Round 1: Hikiji def. Manuyag, technical fall, 16-0; Nitta def. Parsons, fall, 3:44
>> Round 2: Parsons def. Manuyag, fall, 5;28
>> Round 3: Hikiji def. Parsons, fall, 1:04; Nitta def. Manuyag, technical fall, 15-0
GIRLS 112
>> Final standings: 1. Makena Abe (Mililani); 2. Kaleila Rodrigues-Kenolio (Aiea); 3. Michaela Jane Sarmiento (Kalaheo); 4. Lia Gomes (Aiea)
>> Round 1: Rodrigues-Kenolio def. Sarmiento (Kalaheo Girls) (Fall 4:26); Abe def. Gomes, fall, 1:19
>> 

Round 2: Sarmiento def. 

Gomes, fall, 3:24; Abe def. Rodrigues-Kenolio fall, 1:12
>> Round 3: Abe def. Sarmiento fall, 2:20
GIRLS 117
>> Final standings: 1. Victoriana Kim (Mililani); 2. Harmony Tavares (Mililani); 3. Jacquelyn Reilly (Pearl City)
>> Round 1: Tavares def. Reilly, 7-6
>> Round 2: Kim def. Reilly, fall, 0:54
>> Round 3: Kim def. Tavares, fall, 0:55
GIRLS 127
>> Final standings: 1. Angela Calpito (Mililani); 2. Tandem Uyemura (Pearl City); 3. Dallas Inis (Waipahu); 4. Timena-Taiai Godinet (Waipahu)
>> Round 1: Calpito def. Inis, 8-6; Uyemura def. Godinet, fall, 0:46
>> Round 2: Uyemura def. Inis, major decision 9-0; Calpito def. Godinet, fall, 1:20
>> Round 3: Calpito def. Uyemura, fall, 0:47
GIRLS 138
>> Final standings: 1. Aubrie Molina (Pearl City); 2. Camryn Goff (Pearl City)
>> Round 1: Molina def. Goff, fall, 3:11
>> Round 2: Molina def. Goff, technical fall, 20-5
GIRLS 168
>> Final standings: 1. Zylee Kuikahi (Waipahu); 2. Aliana Corpuz (Mililani); 3. Zeignalyn Mew Kang (Pearl City); 4. Carla Estrella (Mililani)
>> Round 1: Corpuz def. Mew Kang, fall, 2:14; Kuikahi def. Estrella, fall, 0:10
>> Round 2: Kuikahi def. Mew Kang, fall, 1:49
>> Round 3: Mew Kang def. Estrella, fall, 4:30; Kuikahi def. Corpuz, fall, 0:51
GIRLS 225
>> Final standings: Atinaeleila Fonoti (Mililani); 2. Ariyanna-Jasell Giron (Pearl City)
>> Round 1: Fonoti def. Giron, fall, 1:16
>> Round 2: Fonoti def. Giron, fallm 1:46
BOYS 113
>> Final standings: 1. Koen Shigemoto (Mililani); 2. Nicholas Williams (Aiea)
>> Round 1: Shigemoto def. Williams, major decision, 14-0


>> Round 2: Shigemoto def. Williams, fall, 3:21


BOYS 120


>> Final standings: Kulika Corpuz (Mililani); 2. Tyler Connolly (Mililani); 3. Josh Okutsu (Aiea); 4. Ryan Fukunaga (Pearl City)




>> Round 1: Connelly def. Okutsu, fall, 3:34; Corpuz def. Fukunaga, fall, 2:34




>> Round 2: Okutsu def. Fukunaga, fall, 5:43; Corpuz def. Connolly, fall, 0:31




>> Round 3: Corpuz def Okutsu, technical fall, 17-2; Connolly def. Fukunaga, fall, 1:14


BOYS 132


>> Round 1: Jaren Kimura (Mililani) def. Zachary Omonaka (Pearl City), fall, 1:52; Jacob Enrico (Mililani) def. Carson Kim (Mililani), 

injury default, 1:32
>> Round 2:  Omonaka def. Kim, injury default
>> Round 3: Enrico def. Omonaka, technical fall, 22-7
BOYS 138-A
>> Final standings: Gabriel Grilho (Aiea);  2. Joe-Xahn Rapozo (Pearl City); 3. Dakota Deponte (Mililani)
>> Round 1: Grilho def. Deponte, fall, 2:50
>> Round 2: Grilho def. Rapoza, 8-7
>> Round 3: Rapoza def. Deponte, fall, 0:47
BOYS 138-B
>> Final standings: 1. Josiah Kamakele (Kailua); 2. Eddie Ogasawara (Pearl City); 3. Cody Geyrozaga (Mililani)


>> 

Round 1: Kamakele def. Ogasawara, fall, 3:13
>> Round 2. Ogasawara def. Geyrozaga, fall, 1:43
>> Round 3: Kamakele def. Geyrozaga, fall, 4:56
BOYS 145
>> Final standings: Jace Kim-Cadiz (Pearl City); 2. Isaac Junkins (Kalaheo); 3. Landon Bunting (Kailua); 4. Mason Sato (Mililani(
>> Round 1: Junkins def. Bunting, fall, 3:12; Kim-Cadiz def. Sato, 8-1


>> 

Round 2: Bunting def. Sato, 11-7; Kim-Cadiz def. Junkins, fall, 5:46
>> Round 3: Kim-Cadiz def. Bunting, major decision, 9-0; Junkins def. Sato, fall, 2:00
BOYS 152
>> Final standings: 1. Alek Pang (Aiea); 2. Luke Otenbriet (Kalaheo)
>> Round 1: Pang def. Otenbriet, fall, 0:46
>> Round 2: Pang def. Otenbriet, fall, 0:37
BOYS 170


>> Final standings: 1. Mika Carizmon (Aiea); 2. Kamuela Puahala (Pearl City)




>> 

Round 1: Carizmon def. Puahala, fall, 2:28;
>> Round 2: Carizmon def. Puhala, fall, 1:03
BOYS 182
>> Final standings: 1. Damien Garrido (Pearl City); 2. Aiden Shimokawa (Mililani); 3. Alexander Bajet (Aiea)
>> Round 1: Shimokawa def. Bajet, 10-6
>> Round 2: Garrido def. Bajet, fall, 2:35
>> Round 3: Garrido def. Shimokawa, fall, 1:01
BOYS 220
>> Final standings: 1. Jacob Chang (Waipahu); 2. Dawson Peter-Smith (Aiea); 3. Karter Song (Pearl City); 4. Kyle Bueche (Pearl City)
>> Round 1: Peter-Smith def. Song, fall, 4:44; Chang def. Bueche, fall, 2:58
>> Round 2: Chang def. Song, fall, 0:23; Peter-Smith def Bueche, fall, 1:17
>> Round 3: Song def. Bueche, fall, 3:45; Chang def. Peter-Smith, fall, 2:35
—–
ALSO AT BedrockSportsHawaii.com: