As a junior in high school, something possessed me to play soccer for the first time, and if it hadn't been for great friend Mark Torre, I wouldn't have done it. The year was 1976 and Marlboro High School's fall season was well underway, at least a few weeks into games.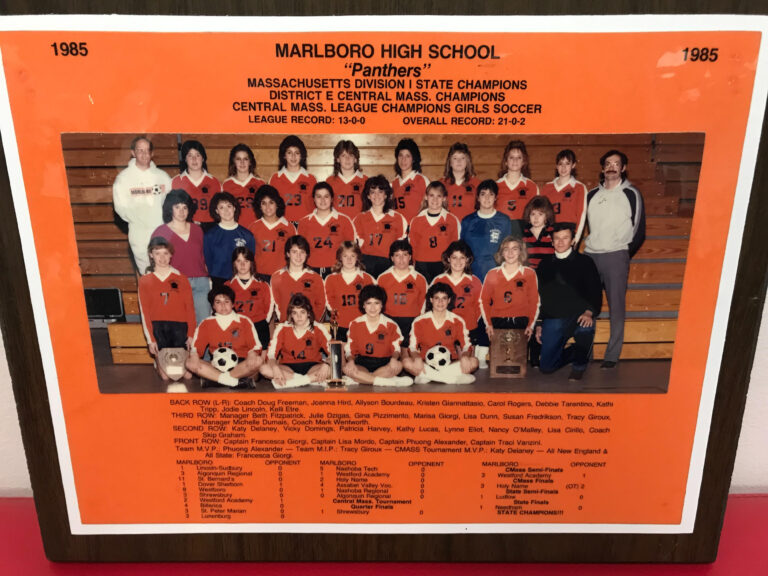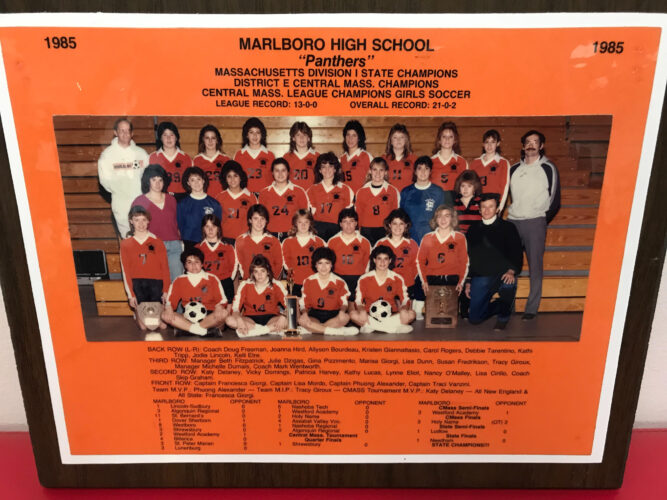 Doug Freeman, my JV boys soccer coach in 1976, went on to win three state championships as the girls varsity coach — in 1985, 1988 and 1991. He's pictured top left.
When Mark told me he was playing JV soccer, I was surprised. I didn't know juniors could play on the JV team. Having played hockey throughout my youth years, it sounded fun and, to me, I thought it was similar enough to where I could handle it. So, Mark, being the great guy he is, asked coach Doug Freeman if I could join the team. A few days later, I found out I could. Simply put. It changed my life.
Wow, That's saying a lot. So I'll say it again: It changed my life. As a sophomore for a few months, I got into smoking pot nearly every day and skipping a bunch of classes to boot. For many people (not all or most, of course) in that era, getting buzzed was the thing to do. And I find it amazing that no one else I know (even though it's pretty much legal now) will freely admit it that they did it, especially in writing. But, whoa, I was getting pretty high, so zonked sometimes that by the summer I prayed to Jesus to help me quit because I really didn't like the way it made me feel. And let me tell you, although I have always believed in Jesus and am a Church-going Catholic now, back then, I was a party dude that was far, far from a Church-goer. Oh yes, I went with my mom until age 8, but that's when my dad died and she stopped going. And so I can thank Jesus for listening to my prayer. I quit the habit and it was not hard to do. Also, with the hippie culture fading out after Nixon's resignation and a return to conservative values not too far away (something that would hit an apex soon after Ronald Reagan's election as president in 1980), I caved in and cut my hair that had been growing long since about age 11.
But the road to more happiness was not going to come right away. That's because the world was pulled out from under my feet in July, when my 20-year old sister Cyndi died in a car accident. Boom, boom. Dad gone when I was 8. Sister taken when I was 16. Sobering, indeed. So, back to what turned out to be a short — but fun — soccer career. Mark was the starting left wing and he had a solid left-footed shot. And all the freshmen and sophomores were really talented and some would soon go on to be standouts for a very solid varsity team.
One time, when coach Freeman inserted me at right wing during.a game at Ward Park, I was in front of the net when the ball rolled right past me. Later, when I got to the bench, he said firmly, but nicely, "Nick, when the ball goes past you like that, you've got to put it in the net." It was a good lesson by a good coach, or shall we say Great Coach. He took the time to show me what I could have done better. And, soon, we will get to more on Freeman.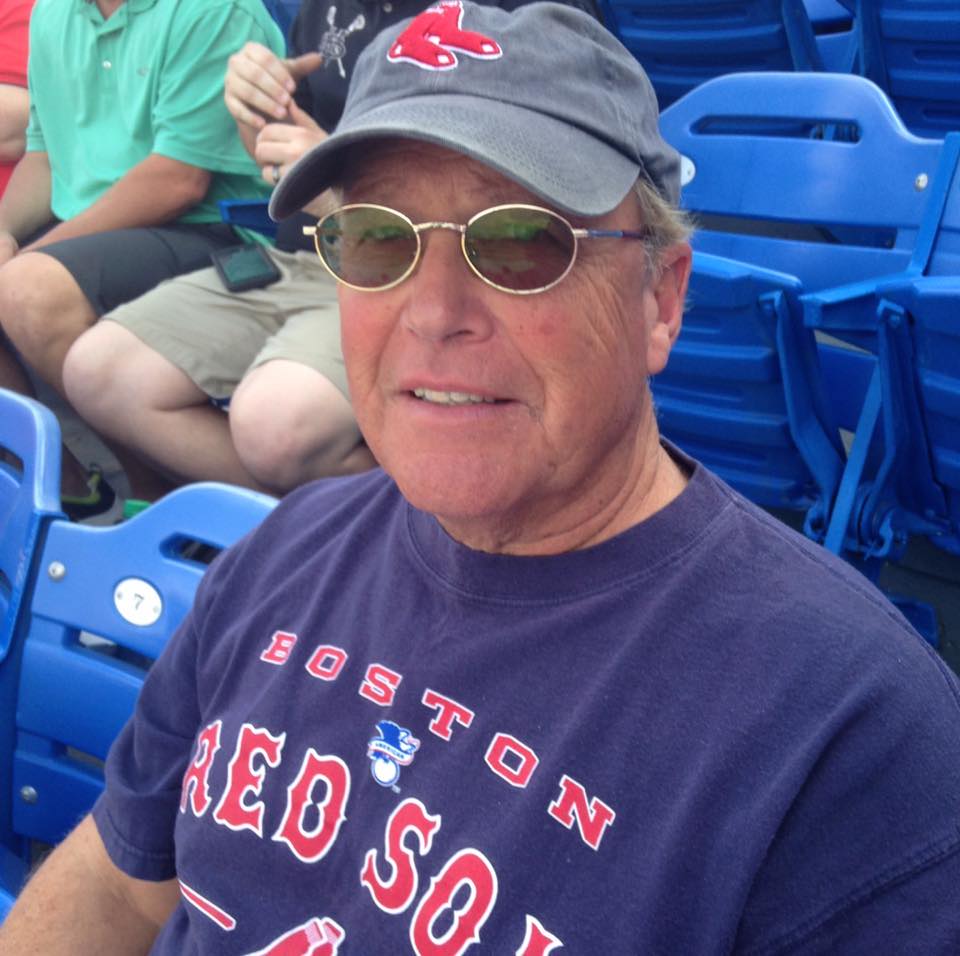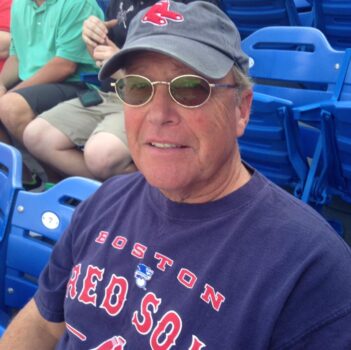 Doug Freeman, who turned 71 this month, in recent years.
But first, a little more on my sister. Earlier that summer, she asked me if I was going to try out for the hockey team. I told her no. She asked why and I told her that I wasn't good enough.
Making the Marlboro varsity hockey team seemed like an epic climb to me. I had never made the coveted Marlboro youth hockey All-Star teams, but I could skate and I had good "House League" ability and I ALWAYS hustled. When tryouts came in late fall — probably subconsciously listening to my sister's words because I still didn't think I was going to make it — I went to the two-day tryouts. Looking back, that JV soccer experience not only got me in better shape, but it kind of catapulted me forward to get involved more in high school athletics. I even played tennis that spring, where I rose to No. 2 singles, not by talent, but by sheer competitiveness. Classmate Ted Miller was the only one I couldn't get past to get to No. 1. When it came time to play in matches against other schools, I was dreadfully bad. It's hard to want to beat somebody you don't know and who has loads of actual tennis talent.
And I remember doing well at those hockey tryouts. My passes in drills were right on the money and crisp and, of course, I was "hustling "my balls off." And then came what I think was the clincher, a forechecking drill against a veteran defenseman in the corner of Navin Rink. I went in and took the puck away, and he momentarily stole it back, but I took it away from him again. I was an incredible nuisance to him and I can still hear him kind of complaining that I was hounding the crap out of him. But, fortunate for me, coach Dick Longueil — the man who had coached Auburn to two state championships in the previous 10 years — was right there watching.
Anyone who knows me knows I can be that hound. I'm not going to give you can inch if I can help it. And so, there it was, time to look at the piece of paper on the wall to see if I made the team. And boom, there it was, I made it. I could not believe it. There is more to this particular part of the story that I will write in the future.
And so I guess my overall point is that I ended up playing two years of varsity hockey and a little more than one year of college D-III hockey — pretty much all because I listened (subconsciously) to my sister's words and, before that, got a good taste of high school sports one season before that thanks to Mark Torre AND Doug Freeman. If you are unfamiliar with my Bedrock Sports Marlboro stories, it is a habit of mine to start a post that is only partly tied to the main subject before hitting that bigger idea in stride. This is one of them.
What This Story Is Really About
This story is really about the Marlboro High varsity girls soccer team in 1985 and how, with the aforementioned head coach Doug Freeman, surprised everyone and won the Division I state championship. And this story article is also a companion piece to a more straightforward look-back piece about that Panthers team that I wrote for the Community Advocate. You can read that here: 1985 State Champion MHS Girls Stunned Massachusetts Soccer World. I caught up with Freeman recently on the phone and we reminisced about that amazing time for him as a coach and for me a a reporter covering that team.
When Doug was my coach, none of us had any idea that he was going to be a state championship winning coach seven years later and then win two more state titles with the MHS girls in 1988 and 1991.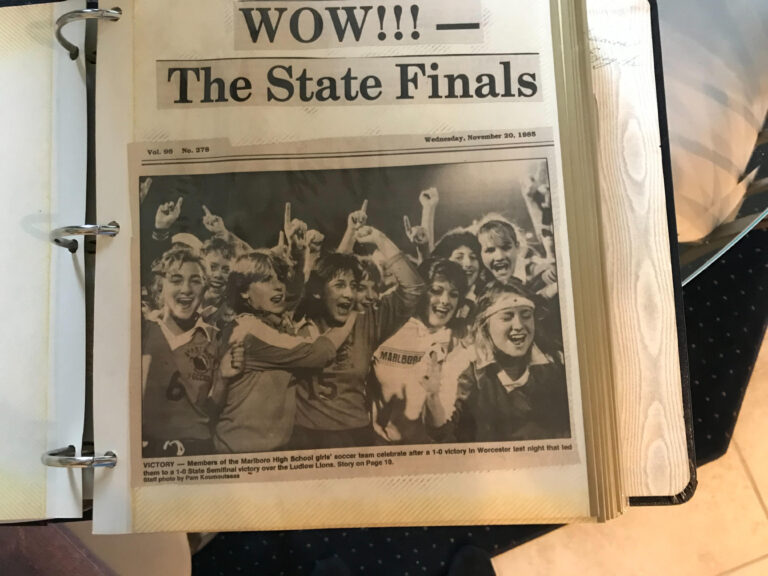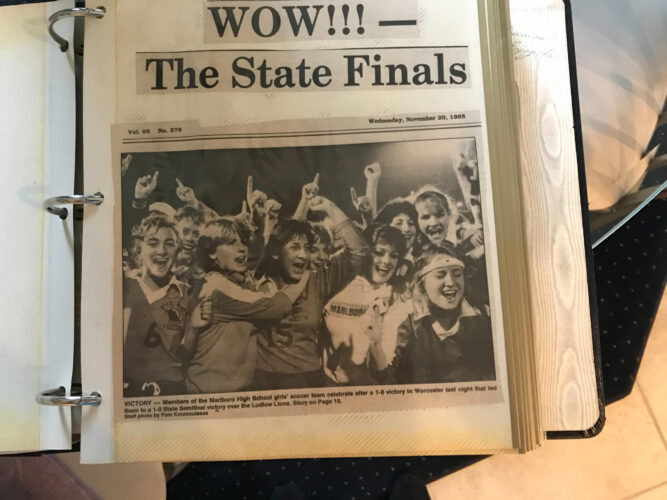 A Marlboro Enterprise photo of the MHS girls after a win over Ludlow in the 1985 state semifinals. (Courtesy of Doug Freeman).
And there were two others who I connected with on social media to get their thoughts of that amazing time for the City of Marlboro — radio broadcaster Tommy Stafford and then-Panthers goalkeeper and multi-sport standout Tracy Giroux. Freeman, who went to high school at Concord-Carlisle, is officiating youth soccer in Florida these days. "They pay me to exercise," was how he put it. Back in the day, he spent seven years as the boys JV coach before moving to the girls varsity team. And his first JV girls coach happened to be one of my teammates from 1976 — Kenny Morin.
With a strong defensive unit shutting down Needham in the 1985 state final at Worcester Polytechnic Institute field, the first HUGE crack of daylight occurred with about 23 minutes left. "It was Lisa Mordo on a pass from Gina Pizzimento and it came from a corner kick," Freeman said about the winning goal. "Once we got that goal, Needham was in shock. I think we all were. There was nothing their goalkeeper could do. She was caught out of position."
Center halfback Traci Vanzini, who is now a teacher in Marlboro, was part of that strong defense, along with sweeper Phuong Alexander, stopper Francesca Giorgi and left fullback Jodie Lincoln.
"Phuong was 5-foot-2, if that, and she shut down the Needham girl, who was 6-1 and had 30 goals and 30 assists," Freeman said. "And nobody could get past Jodie Lincoln."
In his early days as boys JV coach, Freeman says he was fortunate to coach many of Marlboro's strong varsity players during the offseason.
"One time against Framingham in a youth game, we were down 3-0 at halftime and Lenny Fulham scored four goals in the second half to win it," the coach said. "Lenny Fulham (who died in a car accident soon after graduating) is still one of the best players I've ever seen. He was just one of the nicest kids, the greatest teammate you could ask for. I wasn't even the varsity coach, but I loved that guy."
Freeman spent 35 years coaching at Marlboro and 29 as the girls head coach before he was let go in 2009.
"I was going into my 30th year and had 391 wins," he said. "I could have gotten to 400."
Freeman, like me, didn't know anything about soccer when he went to his first practice after moving from Winchester to Concord before his freshman year in high school. "I wanted to play football and went to my first (football) practice at Concord-Carlisle," he said. "They gave me a combination lock, but I didn't know the combination, so I put my equipment down and went to see the coach about how to do it. When I got back, every bit of the equipment was gone. So I quit. They tried to get me to come back out, but I said no. Then in phys. ed class, the teacher said, 'Hey, we're starting a soccer team. Why don't you come out?' "
Freeman went on to graduate in 1968 and then played soccer and baseball at Worcester Academy before playing a year of varsity soccer (and some club rugby and hockey) at Springfield College.
When he got into coaching, one thing Freeman always tried to do was build the confidence of every player on the team. Perhaps Freeman's coach at Springfield tried to build his confidence, too, when Freeman (like me in 1976) blew a golden scoring chance.
"In a game against Yale, I had a shot from in close that I put six feet over the net," Freeman said.
As a reporter covering the '85 Panthers team, it was a great experience. I knew many of the players on the Freeman's squads through the years. People like Leslie White and Sue Fredriksen were my neighbors on Grace Circle, Annalisa and Debby Tarentino (if memory serves me correctly, she spells her first name with a 'y') are my second cousins, Phuong Alexander was close with some of my great friends. In addition, I went to elementary school with Giroux's brothers Chuck, Jimmy and Gary.
Tracy Giroux, as expected, has great memories of that time in her life, when she was also helping the girls basketball team to league and district success.
"Believe me, at the start of our 1985 soccer season, none of us ever imagined a state championship," Giroux messaged me on Facebook. "Central Mass. was never viewed as state championship contenders. Even when we made it to the final vs. Needham at WPI, no one took Marlboro soccer seriously. I even feel we as a team didn't really think it was a possibility. In the back of our heads, we thought we had a great run that would end eventually. But guess what? It didn't."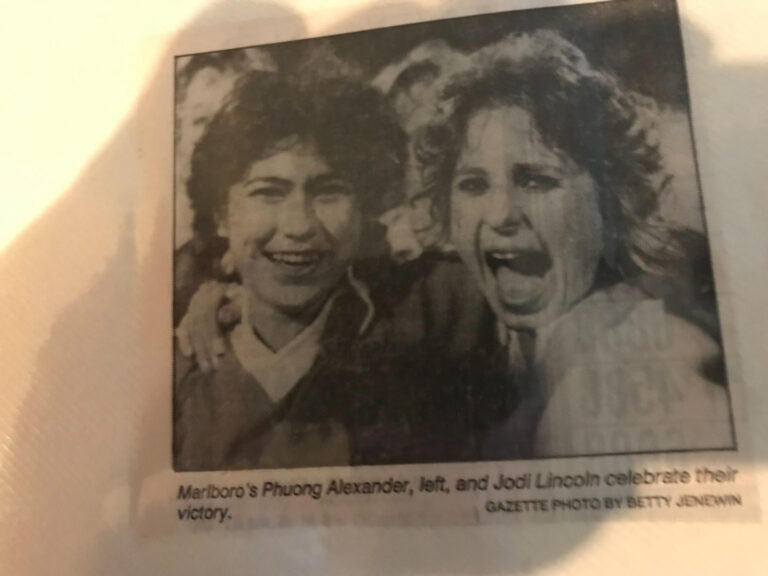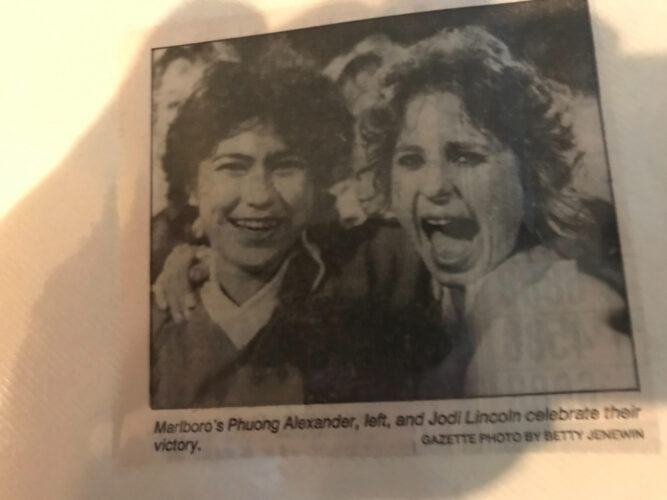 Some smiling faces from that time. (Worcester Gazette clipping, courtesy of Doug Freeman).
Giroux continued: "As the first girls state champions at Marlboro High, we could not have been more proud. Doug the Bug (as he was known to some of his players) fought for our team to get everything that comes with a state championship team — visit to state house, jackets, sweatsuits, etc. No doubt in my mind, if he didn't demand recognition of our team's success, we would never have received the treatment we not only earned but deserved. Doug Freeman was a true advocate for our team. He probably doesn't realize we all knew how much he did for us. I know I didn't realize it back then and I also know I never thanked him as I should have. No matter how many years pass, the girls I graduated with that I was lucky enough to call teammates all have a special bond and friendship. Very few can call themselves a state champion."
Here's how Stafford, who still works in radio in Rhode Island, remembers the championship match:
"The scene was set, a perfect cold Saturday night with the hint of frost in the air. Marlborough took the field as underdogs to the powerhouse Needham. It began as a series of midfield showdowns, each side flexing their muscles. The battle was hard then up popped Lisa Mordo to give the Panthers the lead. Needham pressed hard and threw everything at Marlboro, who held their ground well. When the whistles blew for full time, I remember somebody was playing "We are the Champions" very loud and I can never listen to the song again without thinking of that moment the Panthers made history that night. It was a night to remember."
Stafford recalls Marlboro as being a warm welcoming place to live. "I still have a girls state bumper sticker," he added. Stafford, being the good reporter he is, went out and asked Mary Kelleher, the color commentator for the radio broadcast that night, for her recollections of the championship.
"My memory is a little foggy, but I think it was Lisa Mordo who scored the goal," Kelleher wrote on Facebook Messenger. "I also remember how great the win was. Eastern Mass. had been so dominant in girls soccer. I also remember how much I loved doing those games (with Tommy) and how he always made me laugh."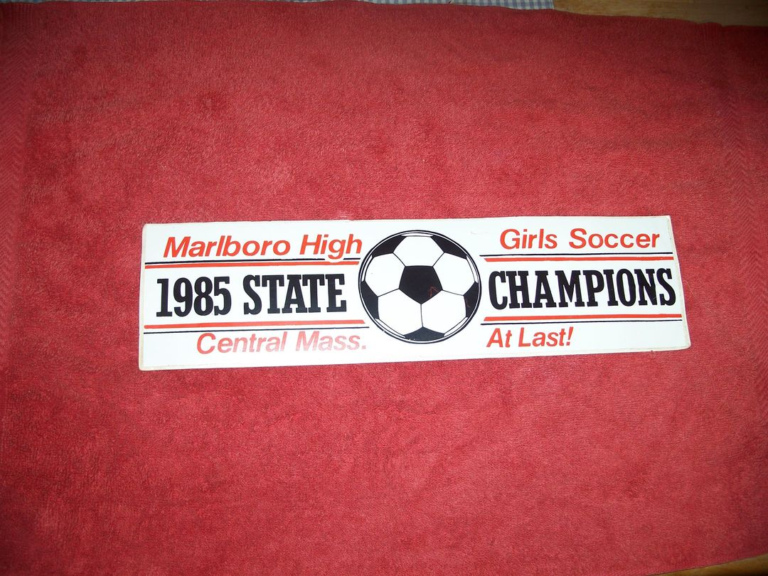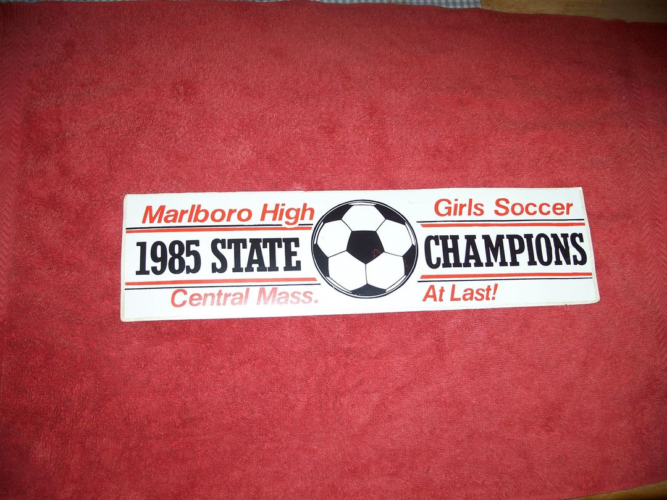 The championship bumper sticker. (Courtesy of Tommy Stafford).
Freeman also noted that Stafford was a special part of that time and team. "As the voice of MHS soccer, he made things fun with his great love and fantastic knowledge of the sport of soccer," Freeman said. "The video "The Road to Worcester" (which Bedrock Sports Marlboro is trying to get a copy of) he and Mary Kelleher made was incredible. Everyone really enjoyed it at the outstanding City of Marlboro Honors Banquet for the 1985 state champions. Also, the contributions of assistant coach Mark Wentworth and goalkeeper coach Skip Graham were a great help. To all of the youth coaches that coached these girls from ages 8 and 9 through high school made it very easy for me to develop their soccer skills. I was blessed to be the coach of many outstanding student-athletes who were great soccer players and very good athletes in other sports as well. Basically, they paved the way to many great girls varsity soccer teams at Marlboro High School.
"These girls, now women, were tough, driven to succeed, persevered and became the very best in 1985. That can never be taken away from them."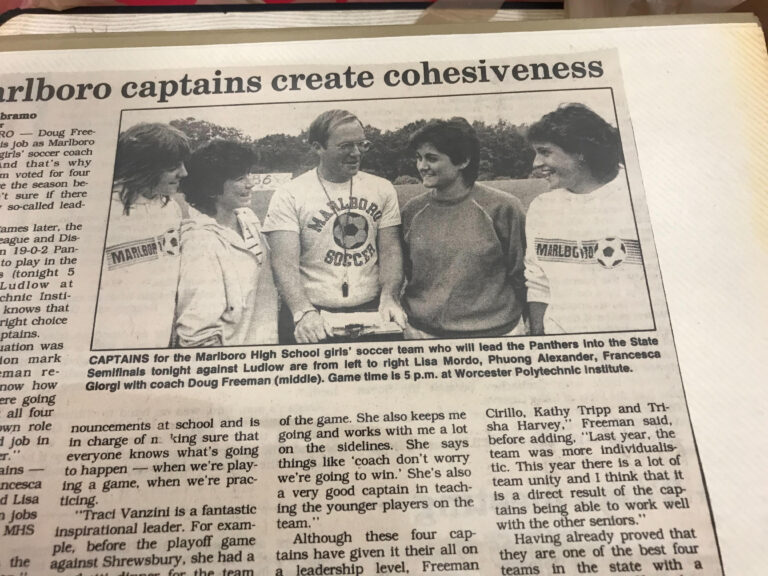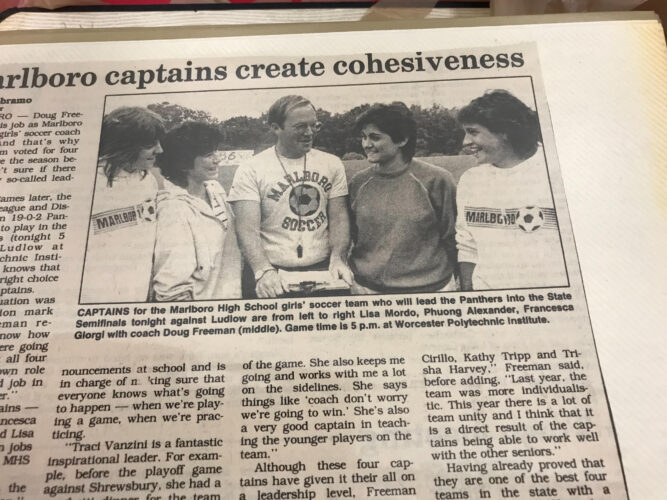 A Marlboro Enterprise clipping, previewing the 1985 state semifinal match against Ludlow. (Courtesy of Doug Freeman).
It was about a year ago that Tommy Stafford reached out to say hi to me on Facebook. He told me he remembered the story I had written after that state championship victory. Since so much time had passed, It caught me by surprise.
Every once in a while, I used to tell people that for that very article I won the New England Press Association Story of the Year in 1985 for newspapers with circulations less than 30,000. It's been about 10 years since I've mentioned that to anyone.
Awards are nice and all, but it really matters what you do day to day. Sometimes, like in the case of the MHS 1985 girls team, the day-to-day stuff leads to bigger things. The trophy itself, basically, pales in comparison to the hard work those girls put in to accomplish what they did. In a sense, the trophy is just a reminder of a job well done. And in the Panthers case, it was undyingly a super special job done amazingly well — so good that we're talking about it decades later.
——
Editor's note: Below is the award-winning story I wrote for the 1985 Marlboro Enterprise as a 25-year-old in 1985. I will refrain from changing anything at all in the text, if for nothing else than to be able to point out any mistakes I may have made as a relative newbie (four years into what has become a 40-year career) journalist.
—–
SOMEHOW YOU KNEW THEY JUST COULDN'T LOSE
By Nick Abramo (From The Way-Back Machine)
The script couldn't have been written any better. No chance. Not even the Rocky movies have this much suspense. The script we're talking about is that of the Marlboro High School girls soccer team and how they overcame mountains of adversity to surprise Needham 1-0 Saturday to capture the State Division One Championship. There was an air about the Marlboro girls this season. Just like Rocky Balboa, somehow you knew they just couldn't lose.
There were many girls in the lead role for the Panther girls on Saturday, but four come to mind as the real Rocky Juniors.
ACT 1:
Starring Lisa Mordo.
Fade in to the final regular season game. Marlboro has a chance to equal its 17-0-1 1984 record in a game at Algonquin. The score is 0-0. Only seconds remain. Mordo's direct kick sails under the crossbar and into the net. The officials signal 'goal' and later rule 'no goal' saying that Mordo's kick should have been an indirect. Lisa Mordo is screaming mad and heartily disputes the referee's call. To no avail. Marlboro ends up 16-0-2.
Cut to the State Championship Game against Needham. The score is tied 0-0. Twenty-three minutes remain. Mordo's rebound shot bounces into the net. The Panthers cling to the 1-0 lead, and the State Title is theirs. Lisa Mordo is in a state of euphoria. She recalls that gloomy day against Algonquin and says "you better believe it" that she'll take this goal and forget about the one taken away from her against Alqonguin. "I just went for the net and prayed," the MHS senior adds with a huge smile on her face. "And right now it's the best feeling in the world."
Freeze frame.
Fade to orange screen and then to black.
ACT II:
Starring Tracy Giroux.
Zoom in and quick cuts of newspaper clippings revealing all of the Marlboro shutouts in the past two years. The Panthers have had 36 shutouts in that span of time and goalie Tracy Giroux has been the goaltender for most of them.
Multiple cut to several different skeptics who say 'Marlboro has a great defense and Giroux doesn't get tested much.'
Fade to a blank white screen and then to the State Championship game. Giroux is quieting the skeptics by shutting out a powerful Needham team. Marlboro leads 1-0 and less than two minutes are left in the contest. Needham center halfback Kim Connolly and center forward Katie Connolly (no relation) work the ball with masterful skill up the field. With a burst of speed, Kim Connolly busts through the left side of the MHS defense and blasts a shot on the ground towards the near corner of the net. The State crown is on the line. It's do or die.
Cut to slow motion shot of Giroux, who doesn't panic and sprawls to her right to pounce on the ball. The game is saved. Cut to Panther coach Doug Freeman, who amid a noisy crowd of reporters, simply says, "Tracy Giroux saved the game."
Fade to a celebrating Giroux, who says, "I'm shellshocked. This is so weird. I've never cried over winning a game before. All I could think of on the final shot was 'get the ball.' "
Fade to a a slow motion replay of the heartstopping save. Slowly fade out
ACT III:
Starring Phuong Alexander and Traci Vanzini.
Fade in to the playoffs. Phuong Alexander, the diminutive MHS sweeper, is assigned during each game to cover the best forward the opposition has to offer. The girls she covers do not score, but her toughest assignment is yet to come — Needham's Katie Connolly, considered by some to be the best player in the state.
Fade to Traci Vanzini, who despite cuts and burns on her knees because of the artificial turf, is continuously putting in outstanding efforts at center halfback during the final few playoff games. Coach Freeman assigns her to Kim Connolly, a fiery and speedy halfback.
Cut to Katie Connolly who is, it seems, at least twice as tall and twice as heavy as Phuong. Connolly is in a fog as the hustling Alexander continually frustrates her.
Cut to Vanzini, who completely handcuffs the other half of the Connolly 'duo.'
Split screen of Coach Doug Freeman on the left side and Phuong Alexander on the right side. "The defense was the key to this win and Phuong Alexander and Traci Vanzini closed in on the Connollys," Freeman remarks. At the same time, while the Panthers run around the field with the championship plaque in possession a crying Alexander, unable to join her team, is hugged by her brother Vu Huynh. Moments later, she lies on the ground, completely overwhelmed with what has just happened.
Zoom in on Alexander's face, filled with happy tears.
Up Music. Rocky's Victory Theme. Freeze Frame.
Slowly go out of focus.
Fade out.
—–
1985 Marlboro High School girls soccer roster
>> Head coach: Doug Freeman
>> Assistant coach: Mark Wentworth
>> Assistant coach: Skip Graham
>> Managers: Beth Fitzpatrick and Michelle Dumais.

Varsity
>> 9. Phuong Alexander (Captain), Sr.
>> 6. Lisa Cirillo, Sr.
>> 7. Katy Delaney, Sr.
>> 12. Francesca Giorgi (Captain), Sr.
>> GK. Tracy Giroux, Sr.
>> 18. Patricia Harvey, Sr.
>> 5. Jodie Lincoln, Sr.
>> 14. Lisa Mordo (Captain) Sr.
>> 11. Kathy Tripp, Sr.
>> 4. Traci Vancini (Captain), Sr.
>> 29. Allyson Bourdeau, Jr.
>> 17. Lisa Dunn, Jr.
>> 3. Kelli Etre, Jr.
>> 8. Sue Fredriksen, Jr.
>> 10. Kathy Lucas, Jr.
>> 20. Carol Rogers, Jr.
>> 15. Debby Tarentino, Jr.
>> 16. Lynne Elliot, Jr.
>> GK. Julie Dzigas, So.
>> 21. Gina Pizzimento, So.
Swing varsity
>> 22. Nancy O'Malley, Jr.
>> 27. Vicky Domings, Jr.
>> 24. Marisa Giorgi, So.
>> 25. Christine Martino, So.
>> 33. Lauren Searle, So.
>> 38. Lisa Vellante, So.
>> 44. Denise Peckham, So.
>> 39. Joanna Hird, Fr.
>> 23. Kristen Giannattasio, Fr.
>> 30. Stacy Sullivan, Fr.