—–
After winning in a sloppy, soggy, muddy mess on Saturday night, the Kahuku football team turns its full attention to a much more important thing.
Sure, beating Campbell 16-6 after downpours left the Sabers' campus field flooded is yet another indication that the state's top-ranked Red Raiders are primed for a repeat of their Open Division state championship from 2021. So far, they've passed their two biggest tests, with relatively slim wins over No. 2 Punahou and No. 4 Campbell.
But as far as tests go, they don't come any bigger than this Saturday.
Kahuku (5-0) had this game — in Bellflower, California, against St. John Bosco — circled in magic marker for a long while now, but the matchup took on even more importance since MaxPreps ranked the Braves (3-0) as the No. 1 team in the nation. The Red Raiders, meanwhile, are ranked No. 34.
—–

A catch-all place for the sights
and sounds, impressions and overheard
things out in the field while covering
the colorful world of high school football
—–
Kickoff on Saturday is 4:30 p.m. Hawaii time and, according to KHON2, the game will be televised on Bally Sports SoCal, which, apparently, is available to Spectrum and Hawaiian Telcom subscribers.
Toughing out two games in a row and coming up with the dubs is a good sign of Kahuku's resilience, especially since the Red Raiders found enough solid footing to dominate the line of scrimmage in wretched conditions.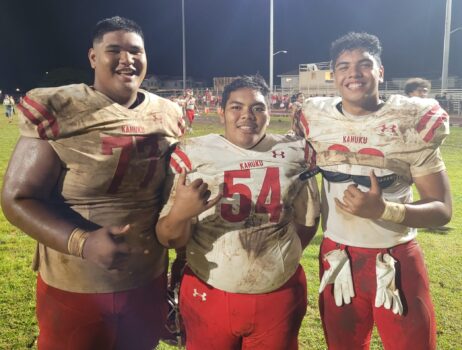 A week earlier, against Punahou, Kahuku fell behind by 15 points before rallying for a 27-20 victory.
One thing is for certain on Saturday, though. Kahuku — with its sea of red-clad fans also heading to California — is not going to back down an inch from this challenge — win or lose.
At 6-fo0t-3 and 350 pounds, tackle Roebuck Rupp— who, along with his offensive line mates were a huge reason Kahuku succeeded in the "SLOG BOWL" by paving the way to two rushing touchdowns and a field goal — talked about the team's trip with so much riding on the outcome.
"St. John Bosco is a tough team, but I think we're going to be ready by the time we play them," said Rupp, who credited the whole O-line for doing their jobs on Saturday. "All around, we could have done better (against Campbell). When we made it to the red zone, we couldn't finish as much as we would have liked. Me, personally, I think we could have scored every drive if it was a dry field."
That sounds like someone who has confidence. And he plays that way, too, moving the pile often.
Red Raiders head coach Sterling Carvalho agreed that the game was won up front.
"Days like this come down to the trenches and that's where we want it and that's how we finished the game," he said before hitting the team bus to take the long ride home to the North Shore and get dry.
And that running game powered by the O-line (something that was also a major factor late against Punahou) was complemented by a 200-yard, no interception passing night by quarterback Waika Crawford.
"It shows that we're not one-dimensional," added Carvalho, whose nephew, reigning state offensive player of the year Kainoa Carvalho, is out with an ankle injury and is hoping to make it back into the lineup before the end of the season. "We can run the ball and can pass the ball. Both teams were slipping and sliding all night long. The snap was not too good. The ball was set. We couldn't throw as much. But when we needed to make the plays, our boys stepped up and made the plays."
Without a doubt, it's step-up time for all of the Red Raiders. Playing the No. 1 team in the nation is not a chance you get often.
For several reasons (Kahuku's solid defense and the wet conditions), Campbell's high-flying passing game did not materialize Saturday.
Still, most of the Sabers (3-2, 1-2) and Red Raiders player had a blast in the mud.
"Yes sir, the slop, good old-fashioned football," Campbell two-way standout Kamaehu Kopa-Kaawalauole said. "We love that. I think our offense would have been able to produce more effectively on a dry field."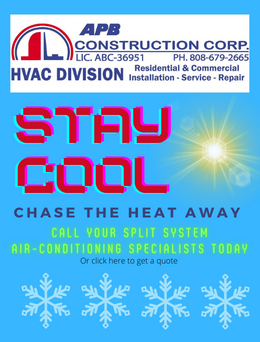 And all is not lost out there in Ewa.
"I think our future is bright," Sabers linebacker Blesyng Alualu-Tuiolemotu said. "We are basically living up to the hype right now (despite the 10-point loss to Kahuku and a 35-34 defeat at the hands of No. 3 Mililani) so it's about how we finish and we're going to finish stronger at the end of the season."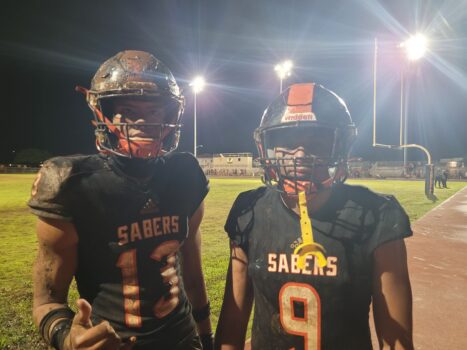 A bye week for Campbell this week is followed by a home game against Moanalua (2-2-1, 1-1) on Sept. 23.
Since 2000, Kahuku is 3-7 against mainland opponents and they've never played St. John Bosco. Results of those 10 games follow.
Kahuku Vs. Mainland Opponents Since 2000
Sept. 7, 2019
>> Kahuku 34, at Timpview (Provo Utah) 14
Sept. 9, 2017
>> Bingham (South Jordan, Utah) 17, Kahuku 0, at Sam Boyd Stadium (Whitney, Nevada)
Sept. 17, 2016
>> At Bishop Gorman 35 (Las Vegas), Kahuku 7
Aug. 31, 2013
>> At East High (Salt Lake City) 38, Kahuku 15
Sept. 1, 2007
>> At Bingham (South Jordan, Utah) 27, Kahuku 0
Sept. 1, 2006
>> At Kahuku 25, Narbonne (Harbor City, California) 6
Aug. 21, 2004
>> Skyline (Salt Lake City) 27, Kahuku 8, at the University of Utah (Salt Lake City)
Sept. 21, 2002
>> Long Beach Poly (California) 42, Kahuku 16, at Aloha Stadium
Aug. 17, 2001
>> At Kahuku 19, Skyline (Salt Lake City)
Aug. 18, 2000
>> At Skyline (Salt Lake City) 24, Kahuku 21
—–
UPDATED STANDINGS, ALL OF THE SEASON'S SCORES, THE MASTER SCHEDULE, 2022 STORY ARCHIVES, THE POWER 5s AND MORE: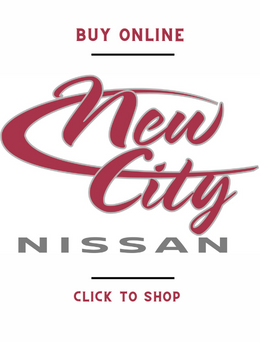 —–
Updated standings, Bedrock's Power 5s, the full 2022 season's scores, schedule and story archives: