If the COVID-19 health crisis allows the U.S. and Canada to continue to reopen and the NHL's Stanley Cup playoffs resume, it would be awesome for Boston fans like myself to see how far the Bruins can go.
They lost in Game 7 of the Stanley Cup Final to the St. Louis Blues last year. There are fans of both teams who would very much like to see a rematch. The NHL has plans for a 24-team tournament in late summer, but that won't happen unless the league (and officials from the two countries) deem it is safe to do so. Two hub cities would host the playoffs, and it is expected that Edmonton and Toronto (two hockey-crazed places) will be announced in the near future, as soon as today.
The Los Angeles Kings, who I write about as a freelancer for TheHockeyWriters.com, did not make the playoffs, but in last week's draft lottery, they were awarded the second pick in the upcoming draft.
FYI, it was always kind of irritating, but also necessary for a Beantown fan to stay up on school nights in the 1970s when the Bruins played the Kings in L.A. It would be a 10:30 p.m. start time on the East Coast on WSBK TV-38. The Bruins would inevitably win (or win big). Those were the days of Boston's Bobby Orr, Gerry Cheevers and Phil Esposito, and Los Angeles' Rogie Vachon and Marcel Dionne.
Not sure how many times I made it to the final buzzer before falling asleep. Not too often, though.
Did you know hockey is thriving in Hawaii, with many passionate players? Many people know about the Ice Palace, which offers youth hockey and adult leagues in three divisions (closed temporarily due to COVID-19).
But have you heard about the Kapolei Inline Hockey Arenas? It's a two-rink, state-of-the-art facility in the Campbell Industrial Park that opened in 2010. There is a learn-to-skate program, youth hockey and six adult divisions, including one for beginners, one for those who don't have a ton of experience with organized competition, and various levels on up through what is called Division I.
It's a great way to get exercise. If you know how to inline skate (or even if you don't) and have always wanted to try hockey, KIHA, where you use inline skates on a smooth court instead of metal blades on ice, is one way to go when they reopen after the health crisis.
This is footage of a hockey game (older teenagers and adults) at Kapolei Inline Hockey Arenas. Looks like ice, right? Not. Come to Kapolei and check it out. There were major international tournaments held there in 2016 and 2019. (Video by Robert Hamilton).
Also, there are five outdoor rinks in Hawaii built between the late 1990s and early 2000s:
>> Kihei, Maui (adult and youth leagues)
>> Kailua-Kona, Hawaii Island (once a week pickup games; formerly youth and adult leagues)
>> Kapaa, Kauai (occasional pickup games; formerly youth and adult leagues)
>> Hawaii Kai (occasional pickup games, formerly youth and adult leagues)
>> Mililani (occasional pickup games, formerly youth and adult leagues)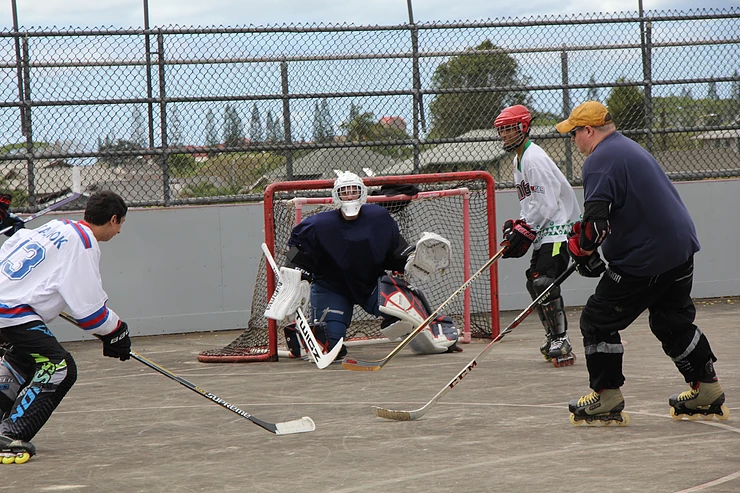 In addition, there used to be inline rinks at Pearl Harbor and the Marine Corps Base Hawaii in Kaneohe. The Ice Palace was established in 1982. And then when "The Mighty Ducks" movies came out, there was a national explosion in inline hockey. In the 1990s, Hawaii inline hockey teams began to play in and sometimes win mainland tournaments. Teams from KIHA are still doing so.
Many KIHA youth players in the last 10 years also played varsity sports for their respective schools. In my opinion, it would be a great pilot high school club program for any small school that wanted to try it.
This year, KIHA youth players Adam and Austin Harder, Jaden Nahoi-Baricar, Kaena Humber, Adam Gooden and several others graduated from Hawaii high schools this spring.
Adam Harder, a 2018 state cross country champion for Hanalani, will be competing in cross country and track and field in college.
Nahoi-Baricar will play inline hockey at Arizona State.
There may be some Hawaii hockey going on in late summer or early fall. KIHA and the Ice Palace are waiting for the state to make the call on when it's safe to reopen.
YOUTH FOOTBALL ON ITS WAY BACK — IN PHASES
A few days ago, the Associated Press' Barry Wilner wrote a good article about youth football and what that sport might look like this fall.
There is going to be a phased approach in the sport's return at that level. Lots of screening and distancing and sanitizing, not to mention face coverings. Doesn't sound ideal and it also sounds like they want to move forward just in case there are some real breakthroughs in combating COVID-19 before the fall. The other option is to call the whole thing off.
The four phases are: 1) workout, drills; 2) Practices of 10 people in groups inside or 50 outside; 3) Modified flag football or 7-on-7; 4) Return to real practices and games.
SAINT LOUIS SPRINTER TRENTON WAILEHUA IS GATORADE HAWAII ATHLETE OF THE YEAR
Saint Louis School's Trenton Wailehua is the Gatorade Hawaii Track and Field Athlete of the Year.
The Crusaders' 5-foot-10, 165-pound sprinter, unfortunately, did not get to see what he could do in a full senior season because of the abbreviated 2020 season.
Wailehua, however, had an amazing performance just before COVID-19 shut down sports. He ran a meet record 47.96 seconds in the 400-meter dash at the Menehune OIA-ILH Invitational on March 14 at Moanalua.
That time was better than the Hawaii state meet mark of 48.66, set by Punahou's Bennett Valencia in 1997. In Hawaii high school track and field, meet records are kept, but not overall statewide records for each competitive events. That means that a record set at the state meet does not mean that the performance was the best ever in Hawaii.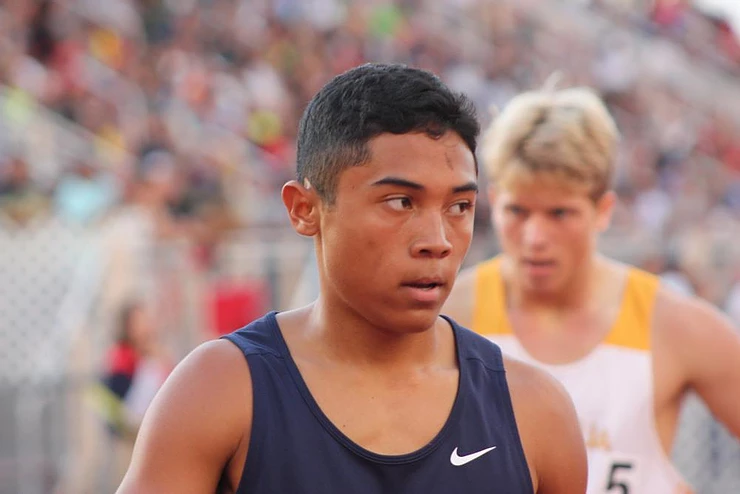 Wailehua also won the state 400 as a freshman and placed second as a sophomore and junior.