This wrestling season is moving right along.
The 2022 Texaco/Hawaii High School Athletic Association Wrestling Championships are Friday and Saturday at the Blaisdell Arena.
All of the weight class brackets are below.
And now is a good time to take a little bit of a closer look at some of the powerhouse divisions.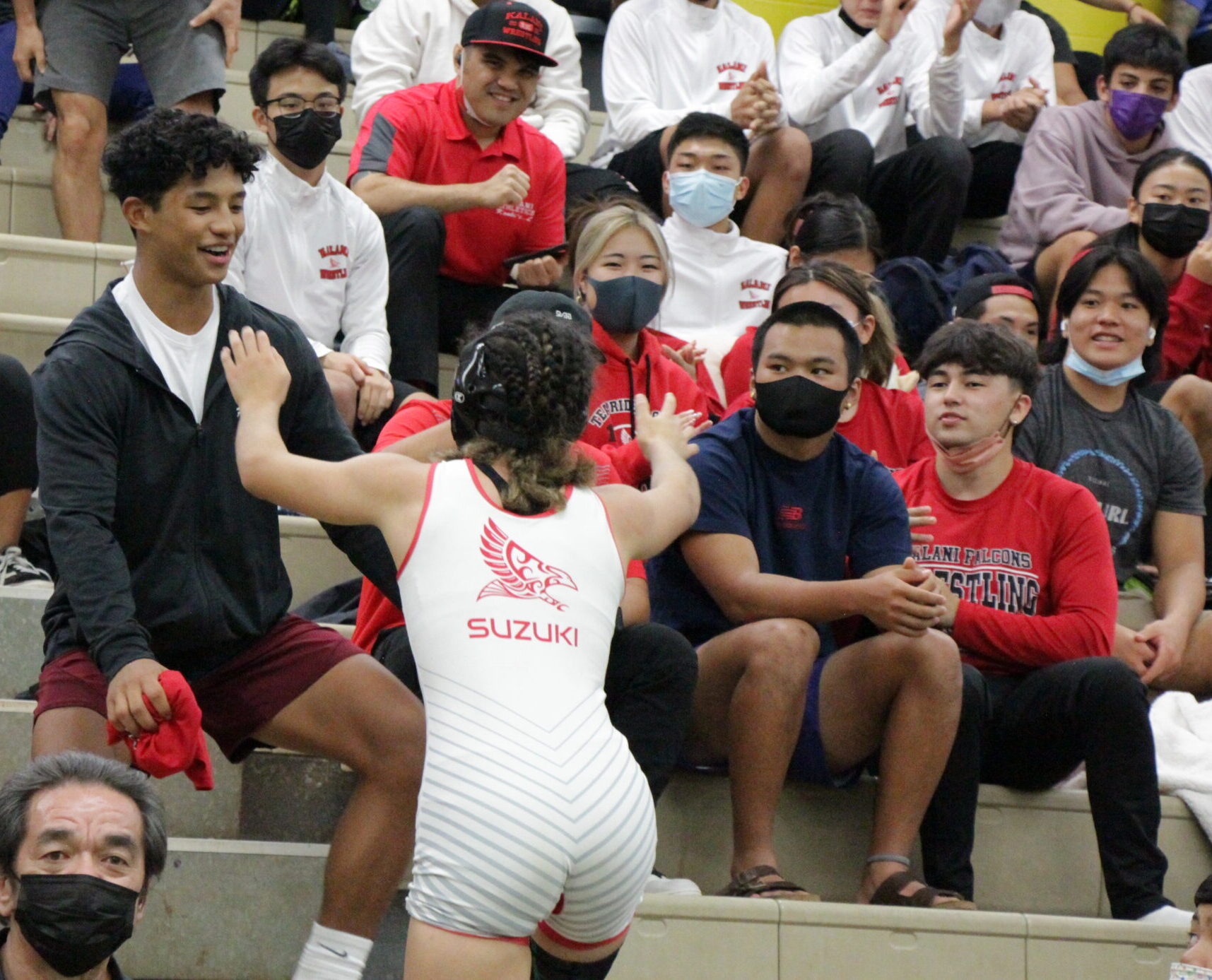 Kalani's Evelyn Suzuki got congratulations from brother Ramos Suzuki in front of a bunch of Falcons fans during the OIA Championships on Saturday. Evelyn won the 112-pound class. Both Suzukis will be competing at states at the Blaisdell Arena on Friday and Saturday. (Image credit: Elijah Abramo).
Boys 138 Is Jam-Packed
Kalani's Kade Okura (No. 10 p4p), the unbeaten OIA champ, is the top seed at 138, but it's deep, deep, deep after him.
Kamehameha's Akoni Kaaialii and Hawaii Preparatory Academy's Jeremiah Borce, the ILH and BIIF champions, are also undefeated, and BIIF runner-up Raizen Aina of Kamehameha-Hawaii has only loss and that was to Borce.
Kapolei's Kinau McBrayer, who came close to knocking off Okura before losing 5-4 in the 140-pound semifinals at the OIA Championships, is determined to go far here as well.
But that's not all, MIL champion Christian Clarion of Lahainaluna, Josiah Lum of PAC-5, Gabriel Grilho of Aiea and Keegan Goeas at Castle are top-notch wrestlers in the way.
The bracket also has that underdog who could cause some trouble — Oliver Nishikawa, a two-year captain at Punahou.
Okura, Borce and Aina are 2020 state placers.
Boys 182 Is Stacked, Too
Many coaches believe OIA champ Karter Nitahara (No. 7 p4p) of Moanalua is the favorite here, but top seed Boston Opetaia of Saint Louis, who continues to recover from football injuries, showed his toughness in winning the ILH against difficult competition.
If both make it to the final, it has the potential to be the match of the night at the Blaisdell. Both are 2020 state placers.
Punahou's Will Straton and Kamehameha's Connor Hackbarth lost to Opetaia in close matches at the ILH Championships. Hackbarth had been undefeated before that.
According to coaches in the know on Maui and Oahu, Lahainaluna's Keawe Kane-Keahi is going to make his presence felt and has the potential to go far.
And Nitahara's coach, Na Menehune's Lucas Misaki, said Kane-Keahi "looks the part" of a serious contender.
Four Unbeaten League Champions In Girls 127
The most highly competitive girls bracket is 127, where there are four unbeaten league champions — Lahainaluan's Alicia Frank (No 3 p4p), Moanalua's Rachel Oshita (No. 7 p4p), Kamehameha-Hawaii's Lainey Eckart, and Kamehameha's Jax Realin.
Frank, Oshita and Eckart were state placers in 2020 and Realin is a freshman.
Tobey Ravida, Erin Hijiki, Haley Narahara and Blaze Sumiye Are Going For A Second State Title
OIA champions Erin Hkiji (No. 1 p4p, 97 pounds) of Mililani and Blaze Sumiye (No. 5 p4p, 160) of Moanalua, ILH champ Haley Narahara (No. 2 p4p, 122) of Kamehameha, and MIL champ Tobey Ravida (No. 3 p4p, 126) are the only wrestlers with a state championship under their belt and going for a second one.
All except Sumiye are two-time state placers.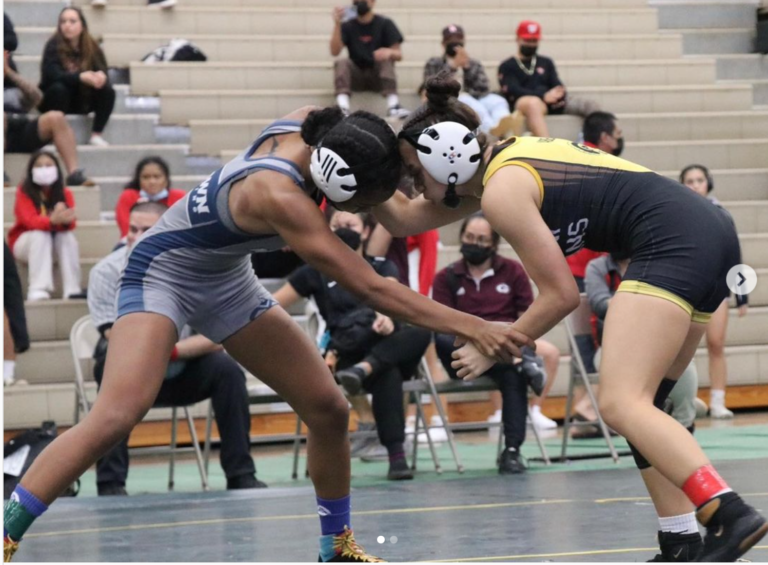 Moanalua's Madison Kalamau, left, beat Mililani's Makena Abe in the 107-pound OIA final on Saturday. Both are in the state tournament the weekend. (Image credit: Madison Kalamau's Instagram page).
And Many Other Weight Classes …
The following weight classes are also expected to be hotly contested. The names listed are among the top in their classes.
>> Girls 102: Baldwin's Liana Ferreira (No. 5 p4p) 2020 state placer, undefeated 2022 MIL champ); Mililani's Tristan Nitta (undefeated 2022 OIA champ); Hilo's Jeream Estabilio (up-and-coming freshman).
>> Girls 107: Lahainaluna's Naiomi Kulukulukalni-Sales (2020 state placer), Moanalua's Madison Kalamau (2020 state placer, 2022 OIA champ); Kamehameha's Joy Jeremiah (2022 ILH champ).
>> Girls 117: Moanalua's Isabelle Asuncion (No. 9 p4p, 2020 state placer, 2022 undefeated OIA champ); Kamehameha's Aliya Takano (2020 state placer, 2022 undefeated ILH champ); Lahainaluna's Kivah Caballero (2020 state placer, 2022 MIL champ)
>> Girls 132: Campbell's Kianna Chargualaf (2020 state placer, 2022 OIA champ); Kamehameha's Rylie Nishida (2022 undefeated ILH champ); Nainoa Silva (MIL champ)
>> Girls 138: Pearl City's Aubrie Molina (2022 undefeated OIA champ); 'Iolani's Emma Wharton-Hsieh (2002 ILH champ) ; Campbell's Anissa Wright (2020 state placer)
>> Girls 184: Hilo's Lilliane Toledo (No. 8 p4p, 2020 state placer, 2022 undefeated BIIF champ); Waianae's Leina Balancio-Sadamaru (2022 OIA champ); Mililani's Jacinta Fonoti (two-time state placer)
>> Boys 120: Mid-Pacific's Logan Lau (No. 8 p4p, 2022 undefeated ILH champ); Kamehameha's Dylan Landford (2022 ILH runner-up); Lanai's Diesel Del Rosario (2022 undefeated MIL champ); Moanalua's Joseph Lathwood (2022 undefeated OIA champ)
>> Boys 126: Baldwin's Tobey Ravida (two time state placer, 2022 undefeated MIL champ); Punahou's Kaistin Vasquez (No. 2 p4p, 2022 undefeated ILHY champ); PAC-5's Tanner Higa; Mililani's Carson Kim (2022 OIA champ)
>> Boys 132: Saint Louis' Dreddin Villalpando (No. 6 p4p, 2020 state placer, 2022 undefeated ILH champ); Moanalua's Tyger Taam (2022 undefeated OIA champ)
>> Boys 145: Pearl City's Jace Kim-Cadiz (2022 undefeated OIA champ; 'Iolani's Kai Yawata (2022 ILH champ); Kalani's Ramos Suzuki (contender from the OIA)
>> Boys 152: PAC-5's Xander Erolin (2022 undefeated ILH champ); Campbell's Holden Soares (2022 undefeated OIA champ)
>> Boys 160: Moanalua's Blaze Sumiye (2020 state 145 champ); Kamehameha's Ayden Coronil (2022 undefeated ILH champ); Baldwin's Gabriel Valdez (2022 undefeated MIL champ); Mililani's Darren Cababag-Silva-Silva (OIA runner-up)
>> Boys 170: Pookela DeSantos (No. 1 p4p, two-time state placer, 2022 undefeated OIA champ); Kamehameha's Ramsey Nishida (2022 undefeated ILH champ); Kapolei's Brycen Pagurayan (No. 4 p4p, OIA runner-up)
>> Boys 220: Saint Louis' Zachary Kaliko (2022 undefeated ILH champ); Waianae's Vanderlei Yong (2022 undefeated OIA champ)
>> Boys 285: Kamehameha's Scotty Dikilato (2020 state placer, 2022 undefeated ILH champ); Leilehua's Kanale Coelho (2022 undefeated OIA champ); Gasetoto Apisala (BIIF champ)
—–
Texaco/HHSAA State Wrestling Championships
GIRLS 97
Preliminary round
>> Aliya Quillopo (PAC-5) vs. Hayley Sedino (Maui)
>> Tehya Romero ('Iolani) vs. Amanda Begonia (McKinley)
>> Riesca Aurelio (Konawaena) vs. Sage Beltran (Moanalua)
Quarterfinals
>> 1. Erin Hikiji (Mililani) vs. Quillopo/Sedino winner
>> 4. Seraya Garrido (Hilo) vs. Romero/Begonia winner
>> 3. Nicole Fernandez (Baldwin) vs. Angelina Godoy-Holt (Kapolei)
>> 2. Nanci Nakagawa (Punahou) vs. Aurelio/Beltran winner
GIRLS 102
Preliminary round
>> Alu Hyodo (Roosevelt) vs. Loke Freitas (Konawaena)
>> Kayeleigh Martinez (Waimea) vs. Kayla Shota (Moanalua)
>> 4. Charlotte Campbell vs. Chelsea Becera (Farrington)
>> 3. Jeream Estabilio (Hilo) vs. Jaedha Manuyag (Aiea)
>> Kawailani Molina (Kamehameha) vs. Kayce Dudoit (Lahainaluna)
>> Kelcie Ito (PAC-5) vs. Emma Cabinian (Leilehua)
>> 2. Tristian Nitta (Mililani) vs. Faith Libarios (PAC-5)
Quarterfinals
>> 1. Liana Ferreira (Baldwin) vs. Hoydo/Freitas winner
>> Martinez/Shota winner vs. Campbell/Becera winner
>> Estabilio/Manuyag winner vs. Molina/Dudoit winner
>> Ito/Cabinian winner vs. Nitta/Libarious winner
GIRLS 107
Preliminary round
>> 1. Naiomi Kulukulukalani-Sales (Lahainaluna) vs. Lia Gomes (Aiea)
>> Alexia Parsons (Kalaheo) vs. Faith Inatsuka (PAC-5)
>> Ambrie Rocha (Kauai) vs. Makena Abe (Mililani)
>> 4. Taylen Babas-Masuno (Hil0) vs. Erika Olkowski (Punahou)
>> 3. Jeremiah Joy (Kamehameha0 vs. Kaede McCall (Kalani)
>> Amy Gushiken (Kamehameha-Hawaii) vs. Kanoelani Kekiwi-Jones (King Kekaulike)
>> Wynter Radey-Morgan (Hawaii Prep) vs. Elena Estrella-Beauchamp (Kamehameha-Maui)
>> 2. Madison Kalamau (Moanlua) vs. Haley Lau (PAC-5)
Quarterfinals
>> Kulukulukalani-Sales/Gomes winner vs. Parsons/Inatsuka winner
>> Rocha/Abe winner vs. Babas-Masuno/Olkowski winner
>> Joy/McCall winner vs. Gushiken/Kekiwi/Jones winner
>> Radey-Morgan/Estrella-Beauchamp winner vs. Kalamau/Lau winner
GIRLS 112
Preliminary round
>> Hailey Perez (Moanalua) vs. Kailah Caballero (Lahainaluna)
>> Kaytie Conselva (Waipahu) vs. Paige Allen (Campbell)
>> 4. Casey Bernabe (Kapaa) vs. Linda Lam (Roosevelt)
>> 3. Barbara Simon (Molokai) vs. Michaela Sarmiento (Kalaheo)
>> Kirra Davidson (Mililani) vs. Angelina Daoang (Punahou)
>> Kaleila Rodrigues-Kenolio (Aiea) vs. Lillie Awaya ('Iolani)
>> 2. Evelyn Suzuki (Kalani) vs. Jacquelyn Reilly (Pearl City)
Quarterfinals
>> 1. Nohea Moniz (Kamehameha) vs. Perez/Caballero winner
>> Conselva/Allen winner vs. Bernabe/Lam winner
>> Simon/Sarmiento winner vs. Davidson/Daoang winner
>> Rodrigues-Kenolio/Awaya winner vs. Suzuki/Reilly winner
GIRLS 117
Qualifying round
>> Bella Gibo (Waialua) vs. Blessing Arias-Kealoha (Damien)
>> Jeylan Arakawa (Kailua) vs. Sky Sano (Kalani)
>> Waileia Vickery-Basug (Kaiser) vs. Jadelyn Retuta (Mid-Pacific)
>> Jaesharie Paguirigan (Waianae) vs. Tihani DeSantos (Leilehua)
Preliminary round
>> 1. Isabelle Asuncion (Moanalua) vs. Gibo/Arias-Kealoha winner
>> Elle Mizue ('Iolani) vs. Deja Fernandez (Baldwin)
>> Kelly Ichimura (Punahou) vs. Shaelyn Perreira (Maui)
>> 4. Kawela Takushi (Hawaii Preparatory Academy) vs. Arakawa/Sano winner
>> 3. Kivah Caballero vs. Vickery-Basug/Retuta winner
>> Rie Kato (Campbell) vs. Victoriana Kim (Mililani)
>> Krystel Valaroso (King Kekaulike) vs. Caelin Balansag (Roosevelt)
>> 2. Aliya Takano (Kamehameha) vs. Paguirigan/DeSantos winner
GIRLS 122
Qualifying round
>> Brooke Gantan (Kailua) vs. Jayda Keila (Kamehameha-Hawaii)
>> Jaydlin Chong (Mid-Pacific) vs. Kalina Hotema (Kalani)
>> Kaira Iona (Farrington) vs. Yalexia Lemos-Rodriguez (Roosevelt)
>> Akemi Ralston (Radford) vs. Yairis Matos (Campbell)
Preliminary round
>> 1. Haley Narahara (Kamehameha) vs. Gantan/Kekela winner
>> Dallas Inis (Waipahu) vs. Keirynmae Kanae (Kapolei)
>> Anita Lockwood (Hawaii Preparatory Academy) vs. Laylee Pasion (Moanalua)
>> 4. Aliza Leander (Konawaena) vs. Chong/Hotema winner
>> 3. Taydem Uyemura (Pearl City) vs. Iona/Lemos-Rodriquez winner
>> Rylia Babas-Yamaguchi (Hilo) vs. Maya Rose DeAngelo ('Iolani)
>> Zysha Pavao (Keaau) vs. Kaliko Meyer (Punahou)
>> 2. Crystin-Dior Treu (Lahainaluna) vs. Ralston/Matos winner
GIRLS 127
Qualifying round
>> Kahana Belyeu (Kahuku) vs. Timena-Taiai Godinet (Waipahu)
Preliminary round
>> 1. Alicia Frank (Lahainaluna) vs. Siddney Shumate (Hawaii Preparatory Academy)
>> Angelina Calpito (Mililani) vs. Arizona Beatty (Keaau)
>> Jacey Chung (Pearl City) vs. Rayne Domingo (Konawaena)
>> 4. Jax Realin (Kamehameha) vs. Jahnaya Tabisola-Roque (Campbell)
>> 3. Lainey Eckart (Kamehameha-Hawaii) vs. Destiny Ah Quin (Castle)
>> Raelyn Yasutake (Kalani) vs. Briseis Obregon (King Kekaulike)
>> Alextasy Navarro (Kealakehe) vs. Kuulei Simon (Molokai)
>> 2. Rachel Oshita (Monalua) vs. Belyeu/Godinet winner
GIRLS 132
Preliminary round
>> Shakira Ortiz (Konawaena) vs. Kapili Poaipuni-Pasco (King Kekaulike)
>> Loea Keanaaina (Kapaa) vs. Paige Taasan (Hilo)
>> 4. Rylie Nishida (Kamehameha) vs. Hailey-Jade Omoso (Kalani)
>> 3. Teani Medeiros-Maielua (Lahainaluna0 vs. Emma Ito (Punahou)
>> Ayla Prather (PAC-5) vs. Lily Polvado (Kahuku)
>> Nahe Quartero (PAC-5) vs. Reese Nishida (Moanalua)
>> 2. Luciana Conde-Cadena (Hawaii Preparatory Academy) vs. Camryn Goff (Pearl City)
Quarterfinals
>> 1. Kianna Chargualaf (Campbell) vs. Ortiz/Poaipuni-Pasco winner
>> Keanaaina/Taasan winner vs. Ry. Nishida/Omoso winner
>> Medeiros-Maielua/Ito winner vs. Prather/Polvado winner
>> Quartero/Re. Nishida winner vs. Conde/Cadena/Goff winner
GIRLS 138
Preliminary round
>> Eden Baguio (Moanalua) vs. Patricia Aliaga-Maza (Hawaii Preparatory Academy)
>> Lita Kanongataa (Kahuku) vs. Kody Mitchell (Konawaena)
>> 4. Anissa Wright (Campbell) vs. Mystic Kahele-Akeo (Kapolei)
>> Karleigh Manoha (Waianae)  vs. Zoe Mia (Kamehameha)
>> Sara Bernades (Radford) vs. Valynn Kwan (Mid-Pacific)
Quarterfinals
>> 1. Emma Wharton-Hsieh ('Iolani)  vs. Baguio/Aliaga-Maza winner
>>Kanongataa/Mitchell winner vs. Wright/Kahele/Akeo winner
>> 3. Taylor Furstenworth (Kamehameha-Hawaii) vs. Manoha/Mia winner
>> 2. Aubrie Molina (Pearl City) vs. Bernades/Kwan winner
GIRLS 145
Qualifying round
>> Catherine Nelson (Mid-Pacific) vs. Alden Mazo (Hawaii Preparatory Academy)
>> Sage Horcajo (Kahuku) vs. Dianna-Ray Igawa-Ismael-Ismael (Kaiser)
Preliminary round
>> 1. Rayden Kukahiwa (Hilo) vs. Nelson/Mazo winner
>> Ciena Dias (Waianae) vs. Pua Beebe (PAC-5)
>> Meleana Rita (Kauai) vs. Ryley Jackson (King Kekaulike)
>> 4. Kaui Lee-Tynan (Kapolei) vs. Trinity-Ann Kim (Kamehameha-Hawaii)
>> 3. Kylee Bartholomew-Tangaro (Kamehameha) vs. Ava Clark-Paglinawan (Pearl City)
>> Colleen Kinimaka (Campbell) vs. Tylanna Abraham (Kealakehe)
>> Nohilani Kukonu (Moanalua) vs. Bailey-Blu Montez (Waiakea)
>> 2. Jahlia Miguel (Baldwin) vs. Horcajo/Igawa-Ismael winner
GIRLS 155
Qualifying round
>> Kizia Mahuka (Aiea) vs. Phiona Kerisiano (Nanakuli)
>> Aliana Corpuz (Mililani) vs. Lainie Mefy (Farrington)
Preliminary round
>> 1. Kaceylee Pua (Baldwin) vs. Mahuka/Kerisiano winner
>> Frances Balcita (McKinley) vs. Sunshine West ('Iolani)
>> Skyelynn Ripley (Waimea) vs. Bethany Chargualaf (Campbell)
>> 4. Maile Vickery-Mafi (Kamehameha-Hawaii) vs. Veda Garg (PAC-5)
>> 3. Mehana Kapoi (Kamehameha) vs. Zylee Kuikahi (Waianae)
>> Iolana Sanchez (Honokaa) vs. Stephanie Gandeza (Molokai)
>> Celeste Bowman (Hilo) vs. Kaela Rosario-Rodriguez (Waianae)
>> 2. Taryn Titcomb (Moanalua) vs. Corpuz/Mefy winner
GIRLS 168
Preliminary round
>> 1. Shiloh Kamaka (Baldwin) vs. Alexandra Rose (Hawaii Preparatory Academy)
>> Jadyn Crisostomo (Moanalua) vs. Dezeray-Angel Orcut (Radford)
>> Atinaeleila Fonoti (Mililani) vs. Jaznel-Lynette Baker-Sumuelu (McKinley)
>> 4. Jezney Chang (Pahoa) vs. Elle Lum (Leilehua)
>> 3. Sarah Balbarino (Kalani) vs. Zeignalynn Mew Kang (Pearl City)
>> Kianna Kaneshiro (Hilo) vs. Ohia Borden-Phillips (Molokai)
>> Kealohilani Grace (Kamehameha-Hawaii) vs. Margaret O'Neal (Lahainaluna)
>> 2. Huali Hudgens vs. Journie Kealanahele (Farrington)
Quarterfinals
>> Kamaka/Rose winner vs. Crisostomo/Orcut winner
>> Fonoti/Baker-Sumuelu winner vs. Chang/Lum winner
>> Balbarino/Mew Kang winner vs. Kaneshiro/Borden-Phillips winner
>> Grace/O'Neal winner vs. Hudgens/Kealanahele winner
GIRLS 184
Preliminary round
>> Jasmine Adiniwin (Moanalua) vs. Ariyana-Jaselle Giron (Pearl City)
>> Jacinta Fonoti (Mililani) vs. Teizannahope Paleafei (Farrington)
>> 4. Kaleikoa Mannering (Kamehameha) s. Alexis Urrutia (Leilehua) vs.
>> Eleina Olap (McKinley) vs. Siddalee Amaral (Kamehameha-Hawaii)
>> Jenisie Pasigan (Kapolei) vs. Tahi Feinga (Kahuku)
Quarterfinals
>> 1. Lilliane Toledo (Hilo) vs. Adiniwin/Giron winner
>> Fonoti/Paleafei winner vs. Mannering/Urrutia winner
>> 3. Catherine Asami (Lahainaluna) vs. Olap/Amaral winner
>> 2. Leina Balancio-Sadamaru (Waianae) vs. Pasigan/Feinga winner
GIRLS 225
Quarterfinals
>> 4. Ashley Asuega (Nanakuli) vs. Tapaita Hufanga (Leilehua)
>> 3. Elizabeth Warren (Kealakehe) vs. Isabella Martinez (Radford)
Semifinals
>> 1. Maia Esera (Kahuku) vs. Asuega/Hufanga winner
>> 2. Alena Bartley (Kamehameha) vs. Warren/Martinez winner
BOYS 106
Preliminary round
>> 1. Evan Kusumoto (Kamehameha) vs. Christian Oliva (Lanai)
>> Jayce Pascua (Pearl City) vs. Andre Gantala (Konawaena0
>> Thomas Ramos (Kauai) vs. Caden Guevara (Mililani)
>> 4. Keona Holokai-Basa (Baldwin) vs. Ikuhaiakalani Akina (Kamehameha-Hawaii)
>> 3. Rudy Pajimola (Hilo) vs. Noah Limary (Waianae)
>> Austin Kaalekahi (Molokai) vs. Brendan Choy (Mid-Pacific)
>>  Chase Yasutake (Lahainaluna) vs. Khairyn Vilavong (Campbell)
>> 2. Joshua Estabilio (Moanalua) vs. Connor Lum (Kalani)
Quarterfinals
>> Kusumoto/Oliva winner vs. Pascua/Gantala winner
>> Raos-Guevera winner vs. Molokai-Basa/Akina winner
>> Pajimola/Limary winner vs. Kaalekahi/Choy winner
>> Yasutake/Vilavong winner vs. Estabilio/Lum winner
BOYS 113
Qualifying round
>> Corbin Caldonetti (Castle) vs. James McCall (King Kekaulike)
>> Evan Endo ('Iolani) vs. Nicholas Williams (Aiea)
>> Zairyn Ramos (Campbell) vs. Kaleb Edgar (Kapolei)
Preliminary round
>> 1. Cyrus Bucsit (Saint Louis) vs. Caldonetti/McCall winner
>> Jayce Kamimura (Kalani) vs. Jaeden Dumlao-Ranis (Lanai)
>> Jayden Seson (Moanalua) vs. Jayse Koyama (Lahainaluna)
>> 4. Noah Vento (Waiakea) vs. Endo/Williams winner
>> 3. Marcus Baldwin vs. Koen Shigemoto (Mililani)
>> Nicholas Johnston (Kealakehe) vs. Miles Cobb-Dumlao (Kamehameha)
>> Lance Thornton (Konawaena) vs. Jake Hamadon (Mid-Pacific)
>> 2. Khansith Chanthabouasith (Leilehua) vs. Ramos/Edgar winner
BOYS 120
Qualifying round
>> Maxwell Calandra (Kaiser) vs. Shawn Kato (Campbell)
>> Brendan Sekulich (Punahou) vs. Orien Hodges (Kapaa)
>> Nick Au (Kalani) vs. Isaiah Giron (Leilehua)
>> Nalu Chinen-Zablan (Damien) vs. LJ Oki (Kapolei)
Preliminary round
>> 1. Tyler Yoshimura (Hilo) vs. Calandra/Kato winner
>> Rylen Gonda (Waianae) vs. Dylan Landford (Kamehameha)
>> Jayden Manibog (Kauai) vs. Kulika Corpuz (Mililani)
>> 4. Diesel Del Rosario (Lanai) vs. Sekulich/Hodges winner
>> 3. Logan Lau (Mid-Pacific) vs. Au/Giron winner
>> Happy Nitahara (Kamehameha-Maui) vs. Jordan Nakamoto (Waiakea)
>> Kalani Yokote (Baldwin) vs. Jhai Moses (Konawaena)
>> 2. Joseph Lathwood (Moanalua) vs. Zabla/Oki winner
BOYS 126
Qualifying round
>> Aden Badua (Castle) vs. Rin Motori (Hawaii Preparatory Academy)
>> Colten Aniya (Leilehua) vs. Zachary Omonaka (Pearl City)
>> Kaito Sano (Kalani) vs. Dustin Bajarin-Freitas ('Iolani)
>> Ethan Tabayoyong (Campbell) vs. Michael Toermer (Radford)
Preliminary round
>> 1. Tobey Ravida (Baldwin) vs. Badua/Motoki winner
>> Zayvien Balisacan (Saint Lous) vs. LJ Pasion (Moanalua)
>> Tanner Higa (PAC-5) vs. Ryker Shimabukuro (Kapolei)
>> 4. Zachary Lapenia (Kamehameha-Hawaii vs,. Aniya/Omomaka winner
>> 3. Carson Kim (Mililani) vs. Sano/Bajarin-Freitas winner
>> Jet Miyahira (Hilo) vs. Mikah Labuanan (Kamehameha-Maui)
>> Abram Utrera (Konawaena) vs. Hoken Hironaka (Lahainaluna)
>> 2. Kaistin Vasquez (Punahou) vs. Tabayoyong/Toermer winner
BOYS 132
Qualifying round
>> Logan Kindle (Radford) vs. Daniel Tauyan (Leilehua)
>> Titan Nitahara (Baldwin) vs. Micah Shibuya (PAC-5)
>> Jet Okura (Kalani) vs. Isa Edwards (Laupahoehoe)
>> Mayhem Woolsey (Kapolei) vs. Eddie Ogasawara (Pearl City)
Preliminary round
>> 1. Dreddin Villalpando (Saint Louis) vs. Kindle/Tauyan winner
>> Christian Freites (Konawaena) vs. Tony Passetti (Maui)
>> Deandrei Gonzales (Waimea) vs. Dawson Castillo (Hilo)
>> 4. Tyger Taam (Moanalua) vs. Nitahara/Shibuya winner
>> 3. Nainoa Silva (Kamehameha-Maui) vs. Okura/Edwards winner
>> Jaren Kimura (Mililani) vs. Kai Sekigawa ('Iolani)
>> Bransen Porter (Waianae) vs. Samson Paaluhi (Kamehameha)
>> 2. Luke Klask (Kamehameha-Hawaii) vs. Woolsey/Ogasawara winner
BOYS 138
Qualifying round
>> Ethan Baptista (Campbell) vs. Kahi Cobb-Adams (Saint Louis)
>> Kamanawaikapuokala Kanuha (Molokai) vs. Joe-Xahn Rapoza (Pearl City)
>> Kai Simmons (Moanalua) vs. Rylan Boromero (Waiakea)
>> Gabriel Grilho (Aiea) vs. Nicholas Garner (Roosevelt)
Preliminary round
>> 1. Kade Okura (Kalani) vs. Baptista/Cobb-Adams winner
>> Akeakamai Cariaga (Keaau) vs.  Kannon Dunbar (Baldwin)
>> Connor Raybuck (Kapaa) vs. Raizen Aina (Kamehameha-Hawaii)
>> 4. Akoni Kaaialii (Kamehameha) vs. Kanuha/Rapoza winner
>> 3. Christian Clarion (Lahainaluna) vs. Simmons/Boromero winner
>> Oliver Nishikawa (Punahou) vs. Keegan Goeas (Castle)
>> Josiah Lum (PAC-5) vs. Kinau McBrayer (Kapolei)
>> 2. Jeremiah Borce (Hawaii Preparatory Academy) vs. Grilho/Garner winner
BOYS 145
Qualifying round
>> Kadin Canianes (Campbell) vs. Chayden Bertelmann (Kamehameha-Hawaii)
>> Isaac Junkins (Kalaheo) vs. Jesse Jeremiah (Kamehameha)
>> Ramos Suzuki (Kalani) vs. Chance Garcia (Kapolei)
>> Joshua Santiago (Waianae) vs. Gavin Simon (McKinley)
Preliminary round
>> 1. Kai Yawata ('Iolani) vs. Canianes/Bertelmann winner
>> Kapena Vitcovich (Kamehameha-Maui) vs. Joshua Lewandowski (Moanalua)
>> Kayden Libre (Waimea) vs. Race Takahashi (Maui)
>> 4. James Kamaka (Keaau) vs. Junkins/Jeremiah winner
>> 3. Jace Kim-Cadiz (Pearl City) vs. Suzuki/Garcia winner
>> Daylan Torres (Waiakea) vs. Justyce Mercado (Punahou)
>> Legend Rasay (Hilo) vs. Zion Amerson (Saint Louis)
>> 2. Bryson Adric (Baldwin) vs. Santiago/Simon winner
BOYS 152
Qualifying round
>> Makana Williams (McKinley) vs. Connor Furuta (Punahou)
>> Adrian Lee (Mililani) vs. Marcello Makita (Kapolei)
>> Kainalu Lewis (Nanakuli) vs. Caysen Guillermo (Kamehameha-Hawaii)
>> Boyd Durand (Radford) vs. Akoni Kaleopaa-Borlin (Waianae)
Preliminary round
>> 1. Nai Hasegawa (Baldwin) vs. Williams/Furuta winner
>> Bradley Rocha (Waiakea) vs. Christian Jacob (Moanalua)
>> Jayred Tumbaga (Waimea) vs. Justin Doi (Hawaii Preparatory Academy)
>> 4. Xander Erolin (PAC-5) vs. Lee/Makita winner
>> 3. Holden Soares (Campbell) Lewis/Guillermo winner
>> Logan Geronimo (Saint Lous) vs. Hezekiah Horner (Molokai)
>> Kailer Lee ('Iolani) vs. Hunter Cuaresma (Lahainaluna)
>> 2. Hector Magana (Konawaena) vs. Durand/Kaleopaa-Borlin winner
BOYS 160
Qualifying round
>> Kollin Tellain (Leilehua) vs. Nawai Freeman (Hilo)
>> Casey Honbo ('Iolani) vs. Branztyn Reyes (Nanakuli)
>> Anthony Lopez (Campbell) vs. Steiner Tanaka (Kaiser)
>> Kameron Arizumi (Punahou) vs. Gxxr Young (Waianae)
Preliminary round
>> 1. Blaze Sumiye vs. Tellain/Freeman winner
>> Ikaika Gonzales (Lahainaluna) vs. Connor Creech (Saint Louis)
>> Kal-El Butac-Sagucio (Kauai) vs. Clarence Horner (Molokai)
>> 4. Jakob Honda (Hawaii Preparatory Academy) vs. Honbo/Reyes winner
>> 3. Ayden Coronil (Kamehameha) vs. Lopez/Tanaka winner
>> Noah Bento (Waiakea) vs. Darren Cababag-Silva (Mililani)
>> Keenan Coupens (Konawaena) vs. Tyler Shields (Kalahe0)
>> 2. Gabriel Valdez (Baldwin) vs. Arizumi/Young winner
BOYS 170
Qualifying round
>> Keao Kalahiki (Kahuku) vs. Ethan Ito (Punahou)
>> Kuukeikihone Goo (Keaau) vs. Dustin Sadamaru/Balancio (Waianae)
>> Dorian Payton-Sherman (Pearl City) vs. Matt Yadao (Roosevelt)
>> Zacchaeus Naha (Honokaa) vs. Matthew Finefeuiaki (Kalani)
Preliminary round
>> 1. Pookela DeSantos (Leilehua) vs. Kalahiki/Ito winner
>> Ephraim Salud (Kauai) vs. Seth Kim (Hilo)
>> Nathan Marovish (Kapaa) vs. Treyvin Ilustrisimo (Maui)
>> 4. Ramsey Nishida (Kamehameha) vs. Goo/Balancio-Sadamaru winner
>> 3. Isaac Vickery (Waiakea) vs. Payton-Sherman/Yadao winner
>> Kolt McCreadie (Saint Louis) vs. Brycen Pagurayan (Kapolei)
>> Joshua Arcayena (PAC-5) vs. Bravery Gladman (Moanalua)
>> 2. Leonaitasi Vehikite (Lahainaluna) vs. Naha/Finefeuiaki winner
BOYS 182
Preliminary round
>> Aiden Shimokawa (Mililani) vs. Nathaniel Teo-Nera (Nanakuli)
>> Kuukeikihone Goo (Keaau) vs. Jemsen Tanele (Damien)
>> Clyde Busbea (Campbell) vs. Joseph Keo0 (Kapolei)
>> Archie Nitura (Laupahoehoe) vs. Kekoa Coffin (Kalani)
Preliminary round
>> 1. Boston Opetaia (Saint Louis) vs. Shimokawa/Teo-Nera winner
>> Ryan Penuliar (Leilehua) vs. Brennan Alcos (Hil0)
>> Eliam Ornellas (Waimea) vs. Raphael Dela Cruz (Aiea)
>> 4. Keawe Kani-Keahi (Lahainaluna) vs. Goo/Tanele winner
>> 3. Kala Pai (Konawaena) vs. Busbea/Keo winner
>> Elisha Horner (Molokai) vs. Will Straton (Punahou)
>> Akyles Almeida-Kekona (Baldwin) vs. Connor Hackbarth (Kamehameha)
>> 2. Karter Nitahara (Moanalua) vs. Nitura/Coffin winner
BOYS 195
Qualifying round
>> Liutau Maile (Nanakuli) vs. Kai He (Roosevelt)
>> Owen Frydenlund (Konawaena) vs. Eric Boyle (Waialua)
>> Schuyler Pascual (Campbell) vs. Preston Raymond (Leilehua)
>> Kadon Palma (Pahoa) vs. Dawson Peter-Smith (Aiea)
Preliminary round
>> 1. Blaze Holani vs. Maile/He winner
>> Heno Kaiama vs. Jhalil Pearson (Kealakehe)
>> Nakoa Lovell-Obatake (Kauai) vs. Jackson Hussey (Lahainaluna)
>> 4. Maika Kahele-Akeo (Kapolei) vs. Frydenlud/Boyle winner
>> 3. Chance Tulang (Hilo) vs. Pascual/Raymond winner
>> Jonas Baekkuland (Moanalua) vs. David Soong (Kamehameha)
>> Kayzehn Aiwohi-Frisby (Waianae) vs. Noah Sago (Punahou)
>> 2. Aaron Hue Sing (Baldwin) vs. Palma/Peter-Smith winner
BOYS 220
Qualifying round
>> Jonah Takayama ('Iolani) vs. Jayse Uemura (Mid-Pacific)
>> Isaiah Soares (Pahoa) vs. Jacob Chang (Waipahu)
>> Keanu Swanson (Kapolei) vs. Christian Carlisle (Castle)
>> Anthony Williams (Konawaena) vs. Brodie Vargas (Kahuku)
Preliminary round
>> 1. Leo Kalipi (Molokai) vs. Takayama/Uemura winner
>> Nainoa Stevenson (Leilehua) vs. Robert Gamble (Keaau)
>> Walker Turpin (Kauai) vs. Christian Paleafei (Moanalua)
>> 4. Zachary Kaliko (Saint Louis) vs. Soares/Chang winner
>> 3. Nehasi Faleofa (Keaau) vs. Swanson/Carlisle winner
>> Aka Malina (Damien) vs. Sanalio Vehikite (Lahainaluna)
>> Kainoa Gonzeles (Kamehameha) vs. Angel Schmidt (Campbell)
>> 2. Vanderlei Yong (Waianae) vs. Williams/Vargas winner
BOYS 285
Qualifying round
>> Riley Silva (Keaau) vs. Mikey Conrad (Nanakuli)
>> Kaiden Writesel (Radford) vs. Darrison Garcia-Nakoa (Kapolei)
Preliminary round
>> 1. Scotty Dikilato (Kamehameha) vs. Josh Nihoa (Kamehameha-Hawaii)
>> Kelton Cambra (Pearl City) vs. Tysyn Estrella (King Kekaulike)
>> Caleb Lauifi (Waipahu) vs. Willie Afungia (Campbell)
>> 4. Gasetoto Apisala (Kealakehe) vs. Silva/Conrad winner
>> 3. Kolinaise Latu (Lahainaluna) vs. Timothy Paleafei (Farringt0n)
>> Thor Jongert (Konawaena) vs. Anelu Lafaele (Saint Louis)
>> Gabriel Aiona (Hawaii Preparatory Academy) vs. Skyden Hanisi (Punahou)
>> 2. Kanale Coelho (Leilehua) vs. Writesel/Garcia-Nakoa winner