For Saint Louis, it's another football game to add to its schedule.
For Kapaa, it's a gigantic challenge.
Crusaders coach Ron Lee and Warriors coach Mike Tresler confirmed today that Open Division state runner-up Saint Louis will head to Kauai to play against Division II state champion Kapaa on Aug. 13 in a nonleague game at the Baptiste Sports Complex.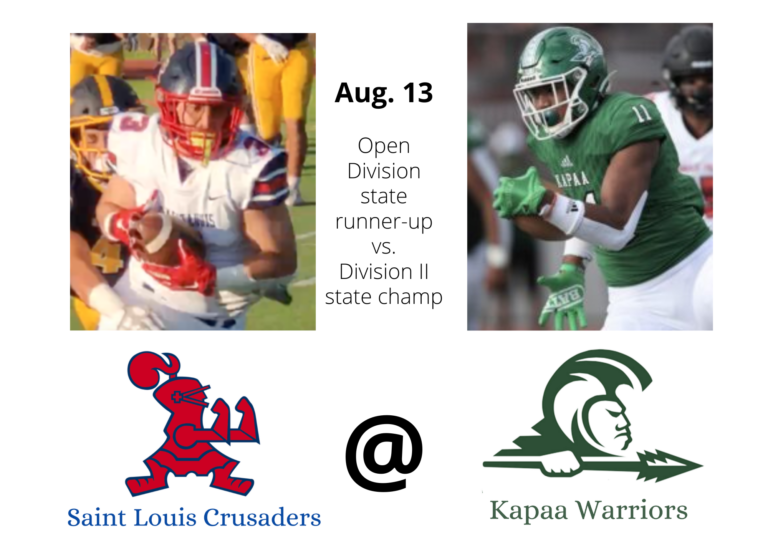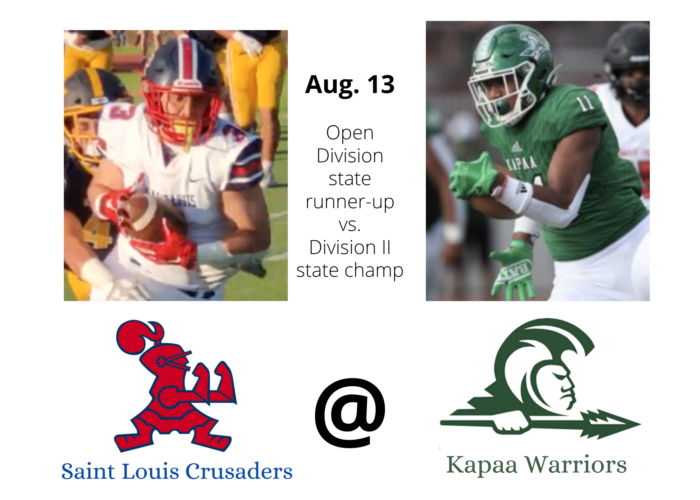 Kapaa has been the top dog in the KIF for most of the last decade, finally breaking through for its first state title in 2021. And with an all-but-official move up to D-I this year, the Warriors are trying to climb the pecking order and into the state consciousness as one of the elite football programs.
A successful outing against the Crusaders would make the Warriors' growing footprint in state circles that much bigger. A week earlier, on Aug. 6, Kapaa opens its season with another major challenge — against defending OIA D-I champion Aiea at the Radford High field.
For Saint Louis, it was a desperately needed game on the schedule.
Even with the date against Kapaa set, the Crusaders only have seven game days in 2022 before the ILH playoffs. With the Aug. 13 matchup against the Warriors, Saint Louis is avoiding what would have been a nearly one-month layoff between its opener at Mililani on Aug. 6 and a mega matchup against national power Bishop Gorman at the Mililani field Sept. 2.
"They wanted to play us," Saint Louis' Lee said about Kapaa. "They've always (the last few years) wanted to play us. The principals and ADs got together and made it happen."
Lee had trouble finding an opponent to fill the void before the Warriors stepped in. Saint Louis was in talks for more than a month with Konawaena for a possible Aug. 19 game on the Big Island. Wildcats coach Brad Uemoto thought it was close to happening, but it didn't pan out.
In order to have made that happen, one of the BIIF's other teams would have had to move its Aug. 19 scheduled game to another date, but that team declined.
"It will be a good experience and a huge challenge for us," Kapaa's Tresler said about the Warriors' game against Saint Louis.
—–