Good ol' Wendell Say.
That guy probably talks football to his wife in the middle of the night while sleeping.
The head man at Aiea just can't get enough of it, as his longevity as a coach attests. This upcoming 2022 season will be his 31st as a head coach and 43rd as a coach overall.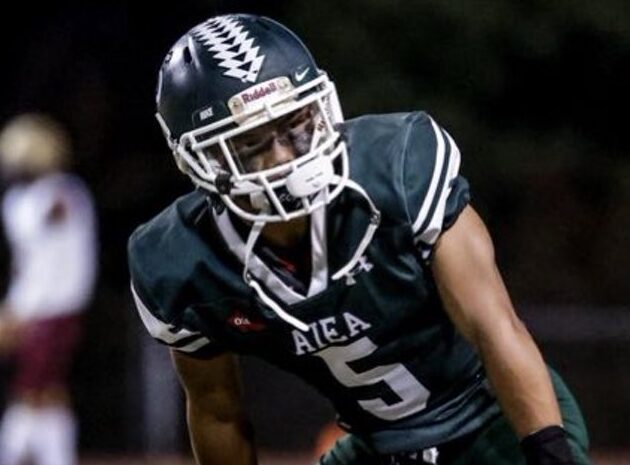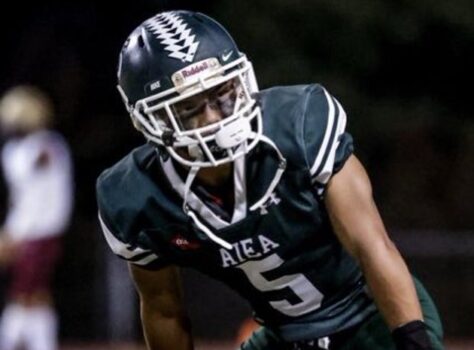 Cornerbacks Bishop Foumai (above) and Romeo Simpson are two key players for Aiea as it works on defending its OIA Division I football championship this fall. (Image credit: Bishop Foumai's Twitter page).
So, it was only a mild surprise that Mr. Say answered his cellphone at about 1 p.m. on July 4, a day when people typically avoid talking shop and concentrate instead on barbecues, fireworks, family and the blessing of having the United States of America to call home.
Asked if he had a few minutes, Wendell said, "I'll call you right back."
Moments later, the phone rang on my end.
"I'm at a barbecue," he said.
All I could picture was the coach downing a hamburger or a hot dog. Instead, though, he said, "My wife just gave the blessing."
Yet, he found a way to call right back. He knew this would be about the game he loves. Just couldn't resist.
—–
And, after a short break from one of our sponsors, we'll be back with what this story is really about.
Announcer: "New City Nissan is the place to go for your automotive needs. Go online and shop today."
And now, back to the program.
—–
Now we get to the crux of our subject today — one of Wendell Say's Na Alii players.
Well, the other day, I was scanning the band (and by band, I mean all of the social media sites that Bedrock Sports Hawaii checks out — Twitter, Facebook, Instagram, LinkedIn) and came across a video that beckoned me to watch.
Yes, it was an Aiea player named Bishop Foumai, and on his Twitter post he wrote about one of his two interceptions during drills. I was intrigued, so I watched the. video. But what I found was so much more than I expected.
For various reasons, the only game I saw Aiea play in 2021 was a 21-0 loss to eventual champion 'Iolani in the state Division I (middle tier) semifinals. That defeat put an end to what was a revival year for Na Alii, who hadn't been to the state tournament since 2009. But by seeing just one game, I didn't get an in-person focus of Foumai's numerous junior season highlights.
As I continued to check out other videos Foumai had up on social media, it occurred to me that the kid was creating his own patent as a human interception machine. I don't know how else to put it. In video after video, he's making picks or fantastic plays, whether it's during drills, at practice, in games last season, or during 7-on-7 tournaments.
He's speedy (listed at 4.6 in the 40-yard dash) and alert, and if he yields any gap at all, it's going to be closed fast, whether that's a receiver he's covering or a ball carrier who gets into the secondary.
Foumai's ability to anticipate where to be to snag HIS football is not a secret in state circles. ScoringLive.com named him as an All-Hawaii Division I player.
And what also caught my eye is that he is not shy about letting people on social media know that HE CAN play football. Maybe that's because he's only 5 feet 6 and 140 pounds and is basically making it his duty to say, in effect, "Don't miss out on what I can give you."
We all know that high-level college coaches don't often come calling for someone of Foumai's physical stature.
But for this very reason, Foumai might as well have "UNDERDOG" on the back of his jersey. By always playing like he has something to prove, maybe he can break through somewhere after high school anyway.
"He's a great DB," coach Say said before eating his holiday lunch. "If he was taller, he would be a guaranteed D-I college player right away. He plays smart and is a good defender, a good tackler. He's fast, with good hands and a nose for the ball. I think he's one of the better DBs in the state. He has all the football knowledge and he's a leader, but his only disadvantage is his height. We list him at 5-6, and he's maybe 5-6."
Below are just some of the Twitter videos I saw that alerted me to Foumai's talent. Some are from Foumai's  page and others are from A-Town Media.
Bishop Foumai on the pick! @BishopFoumai5 from yesterday's Pass League 7's vs Kapolei. pic.twitter.com/D2IyOEmX0X

— A-Town Media (@atown_media) July 1, 2022
All the action I got from todays pass league game against Kapolei. Second clip is the past clip but a different view showing how much ground I covered! @atown_media @CoachFredT @Coach_Taura @DarianDulin @KelleyBeMoore @YotesFootball pic.twitter.com/nZ93frTiKS

— Bishop Foumai (@BishopFoumai5) July 1, 2022
One pick out of 2 from todays pass league game. Lets keep workin!! @atown_media pic.twitter.com/LebQsLIhEb

— Bishop Foumai (@BishopFoumai5) July 1, 2022
What up 5?! @BishopFoumai5 pic.twitter.com/PS0LnZ5n32

— A-Town Media (@atown_media) June 25, 2022
He been that nice since I met em! @BishopFoumai5
Bishop Foumai | c/o'23 | Aiea HS pic.twitter.com/C4hNKujiHS

— A-Town Media (@atown_media) January 21, 2022
@BishopFoumai5
Aiea HS | DB | class of 2023@DaddehFoumai @LiiliiMika pic.twitter.com/UcRfCUAqkG

— A-Town Media (@atown_media) December 5, 2021
— Bishop Foumai (@BishopFoumai5) November 15, 2021
Interception to the house to start off the season! pic.twitter.com/Tz2twetfcc

— Bishop Foumai (@BishopFoumai5) October 23, 2021
Say was also sure to mention the other starting cornerback on the team — Romeo Simpson — who gives Na Alii a fantastic 1-2 punch at the position.
Say also took some time to talk about his 2022 squad.
"We had a young team last year, and we're telling the kids that they've got to work harder because there's a target on our their backs now," the coach said. "Everybody knows about them. We're not a team that's going to surprise everybody like we did last year. It's going to be more of a challenge."
Say expects to have about 40 varsity players again and, as usual, knows ultimate success will really depend on staying healthy.
In pass league games against Campbell and Kapolei, Na Alii's lack of depth is evident, according to the coach.
"They have about 40 or 50 players in the skill positions and we have less than 20," he said.
Na Alii, trying for another spot in the Division I states in 2022, will play against defending Division II state champion Kapaa in their season opener Aug. 6 at the Radford High field.
Another big moment for Aiea will happen on Sept. 1, when Na Alii play Woodinville in Washington.
The Falcons went 6-4 a year ago and compete in the 4, the highest classification in Washington.
"Last time we went on a trip was 2016," Say said. "It was such a great trip — to Centennial in (Portland) Oregon. It was a close game, but we lost (36-25). We took the boys to see eight colleges and we're going to do the same thing in Washington this year."
—–
ALSO AT BedrockSportsHawaii.com: