Aiea's Kobe Kato, chosen by the Houston Astros earlier this month in the Major League Baseball First-Year Player draft, signed a contract with the team on Tuesday.
A switch-hitter, Kato signed a rookie deal for $125,000 at the Astros' winter training facility in North Palm Beach, Fla., according to his grandfather Rick Williams.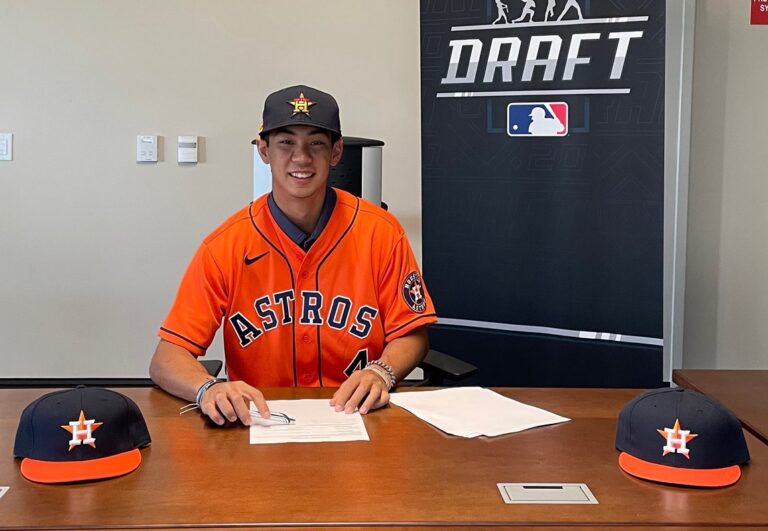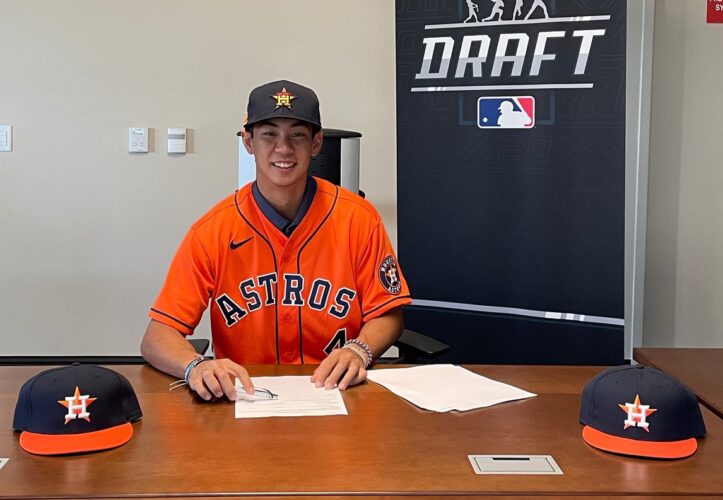 Kobe Kato, putting pen to paper at the Astros' winter training facility in North Palm Beach, Fla.
Kato starred as a pitcher, catcher and shortstop at Aiea before becoming a starter at the University of Arizona. This spring, he finished up his sophomore year before deciding to go pro.
Kato, who is 6 feet 1 and 170 pounds, will be evaluated in Florida for a few weeks before the team gives him his first minor league assignment. He was drafted as a second baseman.
At Arizona, Kato finished his career having played 93 games, including 63 as a starter, with a .344 batting average, 16 doubles, five triples, a home run and 38 RBIs.
In August 2020, Kato told Bedrock Sports Hawaii: "I want to play baseball as long as possible. The goal is to play pro ball and stick this out as long as possible."
In his Hawaii high school baseball career at Aiea (Class of 2017), Kato and Na Alii reached the Division I OIA playoffs but lost to Kaiser both times. As a freshman, Kato's Na Alii team made the D-I state tournament and lost to Kailua in the first round.
Kato also played quarterback for the Aiea football team.
He was the 388th pick overall in the MLB draft.
—
ALSO AT BedrockSportsHawaii.com: Erin Hikiji And Angelina Daoang Are Among Four Nationally Ranked 2021 Hawaii High School Wrestlers
—