—–
It's WEEK 6 already in Hawaii high school football and it won't be long before the teams will be in the stretch run and putting everything they've got into qualifying for playoff spots and positioning.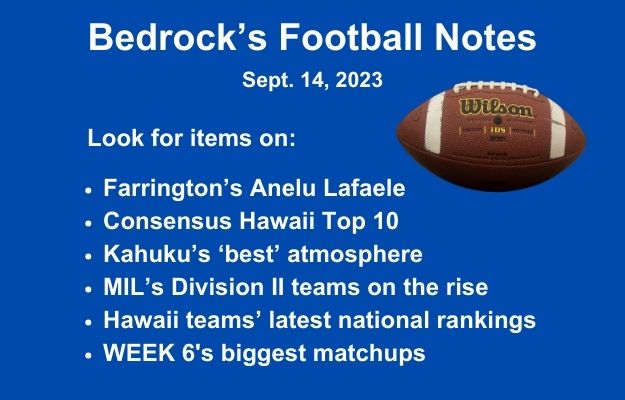 In recent happenings:
>> For the second time this season, a scheduled 'Iolani game against an OIA opponent will not be happening. The Raiders were slated to play Kapolei on Friday, but ScoringLive.com recently listed it as an 'Iolani forfeit. On Aug. 19, 'Iolani pulled out of a matchup against Farrington. Usually in Hawaii high school, nonleague games that don't happen are not scored as a forfeit, so for now, until we hear officially otherwise, Kapolei doesn't get a win and 'Iolani doesn't get a loss.
>> Kahuku is on a pretty cool graphic by Big Game Boomer on Twitter (notice the Red Raiders' 'K' logo superimposed on the state of Hawaii at bottom. Nice for the tiny North Shore school to be mentioned with a bunch of top collegiate football schools.
The Best Gameday Atmosphere In Every State

This Weekend pic.twitter.com/4oCvrU0ytW

— Big Game Boomer (@BigGameBoomer) September 14, 2023
Anelu Lafaele: A Highlight Reel Definitely Worth Watching
There are a lot of highlight reels circulating out there. Once in a while you come across one that really knocks your socks off.
Check out out this below of Farrington linebacker Anelu Lafaele. If you didn't know before, you will know now, the Wisconsin commit has a MOTOR and some serious skills.
New season/Same vibes!! We just getting started!! #GoGovs #OnWisconsin @BadgerFootball

3 Games: Kahuku, Nanakuli, Radford
2 Scrimmages: Mililani, Kapolei @BlairAngulo @ChadSimmons_ @adamgorney @IkaikaAthletics @tjlafaele pic.twitter.com/Mi2f3IZBkD

— Ane1u1afaele (@LafaeleAnelu) September 5, 2023
Watch Out For MIL's Division II Teams
The two Division II teams in the Maui Interscholastic League are undefeated at 2-0 — King Kekaulike and Kamehameha-Maui.
And two of the three Division I teams in the league are winless at 0-2 — Baldwin and Maui, with the other D-I squad, Lahainaluna, not having played a game yet because of the devastating fire.
Those D-II teams — the Waveriders and Warriors — represented the MIL in the last two D-II state title games. Neither went on to win, though.
But the records so far are a sign that the balance of power is changing on the Valley Isle.
It will certainly be interesting — and most likely very heartwarming — when the Lunas play their first game, Sept. 30 against Baldwin at War Memorial Stadium.

Consensus Rankings Stay The Same
The Hawaii consensus Top 10 remained the same at all 10 positions. It's based on three media Top 10 rankings (Honolulu Star-Advertiser, Cover-2, ScoringLive.com) plus Bedrock's choices for a Top 10.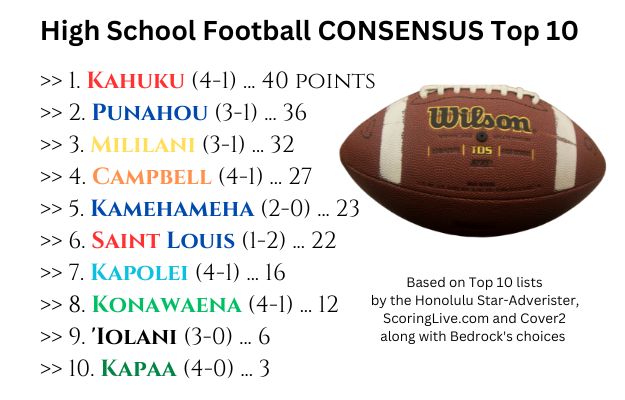 Big Matchups In Week 6; Kahuku Facing New National No. 1
Kahuku, coming off a 55-8 loss to national No. 1 Mater Dei (Santa Ana, California), is hosting St. John Bosco (Bellflower, California) on Saturday. The Braves are Nos. 1, 2 and 3 in various polls, including No. 1 by High School Football America 300.
Leilehua has made big strides this year and looks like a solid contender for the postseason.
The Mules (3-2, 2-1 OIA D-I) have a big nonleague game Friday at home against No. 5 Kamehameha.
The Warri0rs (2-0 ILH Open), who are ahead of No. 6 Saint Louis in the Consensus Top 10, want to prove they belong there.
Is Kamehameha for real? Are the Warriors truly upward bound? This game, along with the Crusaders' big one at No. 3 Mililani the same night, will give Hawaii fans a sense of which of these two teams belong above the other in the rankings. The Warriors and Crusaders will play against each other twice in the regular season — Oct. 6 and 13. Of course, both are wanting to dethrone No. 2 Punahou at the top of the ILH Open.
The eventual champion gets the league's lone berth in the Open Division state tournament.
Another huge and super interesting matchup on Friday is No. 2 Punahou (3-1) at No. 4 Campbell (4-1). The Buff 'N Blue are working to get back to the Open state title game. The Sabers are out to show they're capable of getting to that game, too, knowing full well that the competition to make it that far will be intense, especially against Mililani and two-time defending champion Kahuku. And Punahou is a great litmus test to see exactly where Campbell is at.

Red Raiders' And Buff 'N Blue's Movement In National Rankings
Kahuku (4-1) moved down 13 spots from No. 42 to No. 55 in the MaxPreps rankings this week.
The Red Raiders also fell four places from No. 46 to No. 50 by High School Football America. Also, Kahuku dropped out of the SB Live/Sports Illustrated rankings, it was No. 23 a week ago.
Punahou, which didn't play last week, rose from from No. 69 to No. 65 by MaxPreps.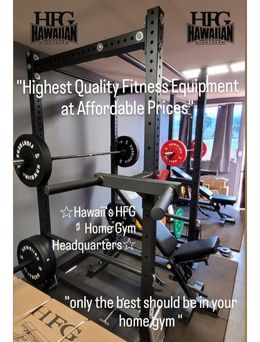 WEEK 6 Schedule
THURSDAY, SEPT. 14
BIIF Division I
>> Kealakehe at No. 8 Konawaena, 5 p.m.

FRIDAY, SEPT. 15
OIA Open/Division I
>> No. 5 Kamehameha at Leilehua, 6 p.m.
>> Waipahu vs. Waianae, 7:30 p.m.
Nonleague
>> No. 2 Punahou at No. 4 Campbell, 7:30 p.m.
>> No. 6 Saint Louis at No. 3 Mililani, 7 p.m.
>> No. 9 'Iolani at at No. 7 Kapolei (canceled)
BIIF Division I
>> Waiakea vs. Hilo, at Wong Stadium, 5 p.m.
BIIF Division II
>> Hawaii Prep at Kamehameha-Hawaii, 5 p.m.
MIL
>> Kamehameha-Maui at King Kekaulike, 7 p.m.

SATURDAY, SEPT. 16
ILH Division I/II
>> Damien at Punahou II, 3:15 p.m.
>> Saint Louis II at Kamehameha II, 6 p.m.
BIIF Division II
>> Pahoa at Kohala, 2 p.m.
>> Honokaa at Ka'u, 1 p.m.
MIL
>> Baldwin vs. Maui, 7 p.m., at War Memorial Stadium
KIF
>> Waimea vs. Kauai, at Vidinha Stadium, 3:30 p.m.
Nonleague
>> St. John Bosco (Bellflower, California) at No. 1 Kahuku, 6 p.m.
>> Waialua at Molokai, 10 a.m.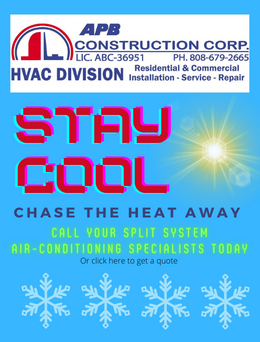 —–
ALSO AT BedrockSportsHawaii.com:
>> Hawaii High School Football Command Center