—–
A photo came across one of my social media platforms the other day that encapsulates the spirit of what The Eddie radiates.
The contest, first and foremost of course, is an honoring of fallen all-around surfer and waterman Eddie Aikau, who saved the lives of many and lost his life while attempting to save the crew of the capsized voyaging canoe Hokule'a in 1978.
But in the act of honoring Aikau, the big-wave contest (held only in years when the wave heights are big enough — at least 20 feet measured from the back of the wave — and the wind conditions are perfect enough), the best big-wave surfers in the world and a mob of fans head out to Waimea Bay to also spread aloha and community fellowship. They did all of that on Sunday, Jan. 22.
And that brings us back to the photo below.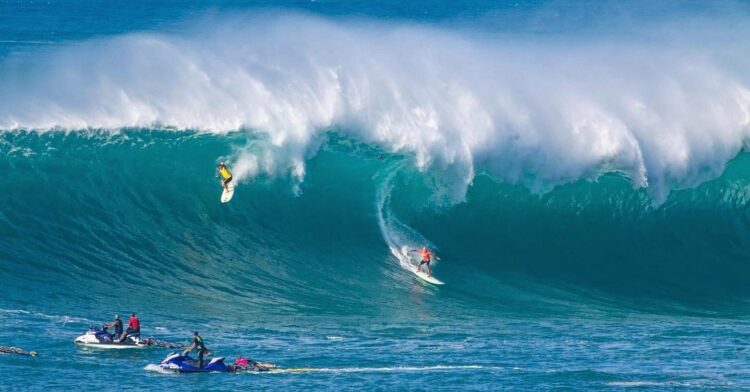 It's of Australia's Ross Clarke-Jones (age 56) and Hawaii's own Michael Ho (age 65), two legendary big-wave hunters. They're charging like mad men, as usual, with Clarke-Jones slotted in the pit and Ho deep, deep, deep and under the pitching foam. Another star of this particular show is the breathtaking wave itself.  And for perspective, in the foreground you get the water patrol on jet skis looking out at the natural wonder and those two gung-ho guys.
And here is what Clarke-Jones said about the photo:
"Dropping in with my hero. He told me this is his last Eddie. Then I said, 'OK Mike, let's go together for Derek (Michael's brother Derek, who died in 2020). Was such an honour to experience that with Mike Ho and laughing about it afterwards. Both of us without flotation vests."
For sure, no flotation vests. That's the way they roll.
And the comments on social media about the photo? Here are two good ones:
"That's the best photo of the event!! Onya Ross" by Adrian Crane. And "Beyond legends" by Nicholas Truman.
But, 'um, will Clarke-Jones compete in another Eddie? We'll see. Odds are that he will. Right?
In the 2016 Eddie, when John-John Florence won it, Clarke-Jones was a VERY CLOSE second when he was still in his 40s. At that one, he was trying to become the first person to win it twice after he took top honors in 2001.


—–
ALSO AT BedrockSportsHawaii.com:
>> RECRUITING UPDATE: Washington State Offers At Least 10 Hawaii High School Football Underclassmen