—–
FOCUS ON FOOTBALL
A catch-all place for the sights
and sounds, impressions and overheard
things out in the field while covering
the colorful world of high school football
—
A column by Nick Abramo
—
Today, for the first time, Bedrock Sports Hawaii is introducing the Power 5s rankings for high school football.
It's plural, which means we are separating the rankings into Open, Division I and Division II.
A graphic is below with this week's opening rankings: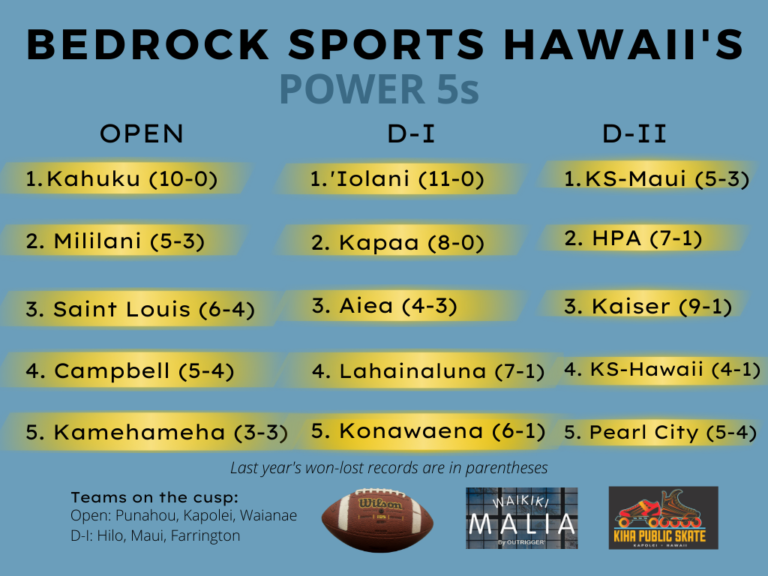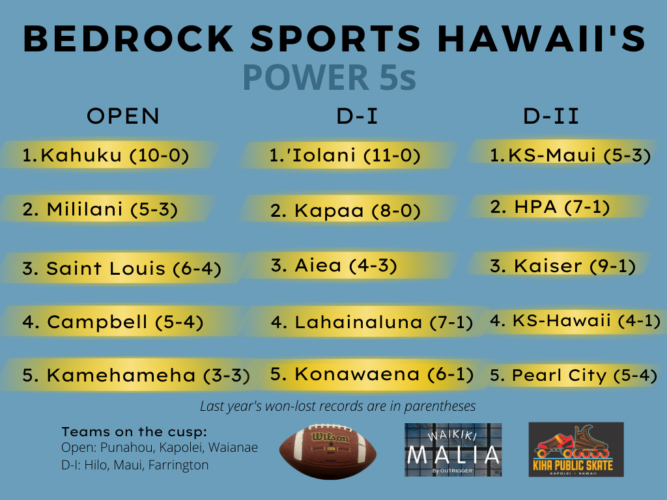 There were some really close calls on what teams were placed where.
For instance, Mililani is at No. 2, just ahead of Saint Louis in the Open Division. That could have gone either way and the two teams will settle it when they meet at the Trojans' home field Friday night.
Of course, defending Open champion Kahuku is No. 1. The Red Raiders are loaded again and have some transfers that may make them even harder to beat this time around.
Another close one was at No. 4, where Campbell edged out Kamehameha. Punahou nearly made it into the Open Power 5, and Waianae and Kapolei are also waiting in the wings.
In Division I, no one came really close in 2021 to beating 'Iolani, which comes into this season as the defending D-I state champ. Kapaa, the reigning D-II state champ, is expected to be powerful again even after moving up in class and settled in as a solid No. 2.
Aiea, at No. 3, appears to have all the pieces and is out to prove last season's OIA D-I title was not a fluke. Lahainaluna, a state D-I finalist in 2022, checks in at No. 4, with Konawaena, another state tournament qualifier, at No. 5.
Hilo and Maui, league contenders in the BIIF and MIL, are just outside the D-I Power 5. Farrington, which kicks off the season Thursday night at home against Waialua, is also on the outside looking in. The Govs were 0-5 a year ago, but have dropped down a division and won't be facing the state's tippety-top programs every week.
In Division II, Kamehameha-Maui — from reports on the coconut wireless from the Valley Isle — return a lot from what was a disciplined bunch and state D-II runner-up in 2021.
In another tough call, those Warriors from Maui are No. 1 in D-II, just ahead of Hawaii Preparatory Academy, which looks to be more seasoned under coach Kaluka Maiava, who is doing wondrous things in reviving Ka Makani's football program.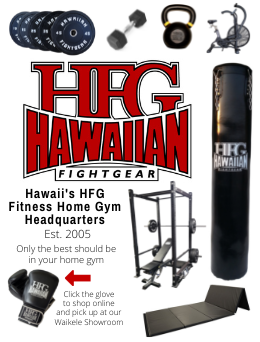 Six Points
Six points of news, opinion or analysis for reflection:
1)
I want to spread the word about how good football was on Kauai when I covered the KIF from 1991 through 1999. Waimea was the iron of the league then, but Kauai High gave them super tough battles — sometimes three times a year — and Kapaa (the bottom feeder back then) was rarely a pushover.
There is a lot of buzz about the Kapaa Warriors moving up to D-I this year after they won the 2021 state D-II title with a junior-laden squad. And there's plenty of doubt from fans around the state, too. Whatever questions people may have will be answered Saturday. The Warriors meet OIA Division I champion Aiea, another team that appears to be still on the upswing.
And the following week, when the Warriors host Saint Louis, will be an even bigger test. A strong outing there would probably mollify the doubters, but a blowout loss would mean those who have questions about Kapaa's overall standing in state circles might be on to something.
I, for one, expect Kapaa to be good enough to at least play tough and not get blown out.
And since we're on the subject of the KIF, in a recent freelance story of mine for ESPNHonolulu.com, I wrote a little bit about Waimea's big top-tier wins in the early years of the state tournament as well as some great performances against two of Oahu's best teams in the decades before that.
I wanted Bedrock Sports Hawaii's readers to hear about two of those tidbits, too, so here you go:
In 1994, I was at Hanapepe Stadium and watched Jon Kobayashi, then a new coach, lead the Waimea Menehunes to a victory over Punahou. In a recent phone conversation with Kobayashi, he recalled that game, too, but neither one of us remember the score.
And Kobayashi, now the KIF football coordinator, also reminded me that 10 years before that, in 1984 when he was a junior playing for the Menehunes, Waimea lost a 13-12 decision to Kamehamahea at Hanapepe Stadium.
2)
Two Hawaii high school senior football players committed to D-I FBS colleges this week, and one got a new offer.
>> Kahuku's returning state offensive player of the year, receiver Kainoa Carvalho, committed to Utah.
>> Campbell receiver/tight end Kamaehu Kopa-Kaawalauole chose San Jose State.
>> Mililani defensive back Isaiah Iosefa picked up a new offer from Arizona to go along with the offers he has from Oregon State and Washington.
3)
There's been some schedule changes this week:
>> The Punahou at Waipahu game on Friday was canceled due to a lack of available Marauders players.
>> The Kalani at Moanalua game Friday has been downgraded to a controlled scrimmage. It will still be run like a real game and the score will be kept, but there will be modified rules for some offensive formations and special teams.
>> The Pearl City vs. Kauai game at Vidinha Stadium has been changed from a 7:30 p.m. start to 4:30.
>> The time for the 'Iolani at Kaiser game will be 7 p.m. instead of 6 p.m.
4)
Kamehameha won't have the now-graduated Noah Bartley at running back this year. He rushed for 604 yards in six games in 2021 — all against ILH Open Division opponents.
But two of the keys in leading the blocking for him are out on the field for the Warriors this year — 5-foot-11, 210-pound H-Back/tight end Sheyden Iokia and 6-2 tackle Scotty Dikilato.
"Sheyden was an offensive pillar for us last year," Warriors coach Abu Maafala said recently. "He did a heckuva job blocking on run plays and creating mismatches. He's a tough, physical kid who loves to ball. And Scotty is an athletic kid who has all the physical tools. We're trying like crazy to get him an offer. I definitely think he can play Division I-AA or at a mid-major. He's a smart kid who's involved in a lot of school activities."
One of those activities is wrestling, and in March, Dikilato captured the 285-pound state championship and he wound up No. 10 in Bedrock Sports Hawaii's Top 10 pound-for-pound rankings.
5)
The highly accurate Allison Chang returns for her senior year as 'Iolani's place-kicker.
I can picture the announcer now:
"Ten, nine, eight, seven, six, five. Coach Wendell Look calls timeout with the ball on the 15-yard line. The Raiders trail by one. In comes Allison Chang. Here's the snap and the kick … it's good. 'Iolani repeats as Division I state champion."
Well, it is the 5oth anniversary of Title IX, and an ending like that would be really something for women in athletics, right?
6)
Ties have not been a part of football in a long, long time. One of Bedrock Sports Hawaii's sponsors, Andy Taam of Hawaiian Fight Gear, played in a huge game that ended in a tie in 1980.
Taam was a senior running back for the 'Iolani Raiders, who beat the odds to get past ILH foes Kamehameha and Punahou and into the Oahu Prep Bowl.
On the other side? The hard-nosed, disciplined Waianae Seariders with future NFL standout linebacker Kurt Gouveia playing.
"We got close three times near the end and couldn't score," Taam said recently. "Funny thing, though, is sometimes when you get near the end zone you know you're going to score. We somehow knew we were not going to score."
Taam's son Boltyn won the 160-pound state wrestling title for Moanalua in 2019 and is now competing for San Francisco State.
Another son, Tyger, who will be going into his sophomore year this fall, won the 132-pound state wrestling championship as a Moanalua freshman in March and finished No. 5 p4p.
—–
ALSO AT BedrockSportsHawaii.com: