—–
When Mililani and Campbell met earlier this season, the offensive fireworks were going full bore.
And it was no different the second time around Friday night in the OIA Open semifinals at John Kauinana Stadium. The high-flying offensive circus with ringleader quarterbacks Treston McMillan and Jaron-Keawe Sagapolutele at the controls looked unstoppable at times.
Aye, as Billy-Bob Shakespeare once wrote, here's the rub: They were not quite unstoppable.
It's called defense, dummy. (Ahem, not you, the reader … just an appropriate saying for anyone who might fall into the trap of thinking it's ALL offense).
My ears perked up big-time when I heard Trojans coach Rod York addressing his players on the field after a 39-29 win.
"Defense, defense, defense, defense," he said. "It's not only about how many points you put up. We score. They score. We score. They score. At some point, you gotta make a stop."
—–

A catch-all place for the sights
and sounds, impressions and overheard
things from our colorful
world of football
—–
And, without taking anything away from the beautiful offensive theatrics from both sides — the touchdowns, the yards, the precision — defense is how Mililani beat Campbell.
They did it with two hugely important stops at pivotal moments in the third and fourth quarters.
The first major stop, while holding a 26-21 lead, came courtesy of safety Ezekiel Rodrigues, who was credited with a controversial forced fumble on Campbell receiver Tana Togafau-Tavui at the Trojans' 2. Kayden Anzaldo scooped it up and took it all the way to the Sabers' 41, leading to one of McMillan's five touchdown passes in the game — to Onosai Salanoa for 11 yards and a 32-21 edge.
The second critical stop, this time with a 32-29 lead, came early in the fourth. On third down and six from the Campbell 44, cornerback Jordan Fetu chased down Dallas Fonseca-Juan for a 2-yard gain. On fourth down, linebacker Elijah Nua dropped Rowen Bucao for a 1-yard loss.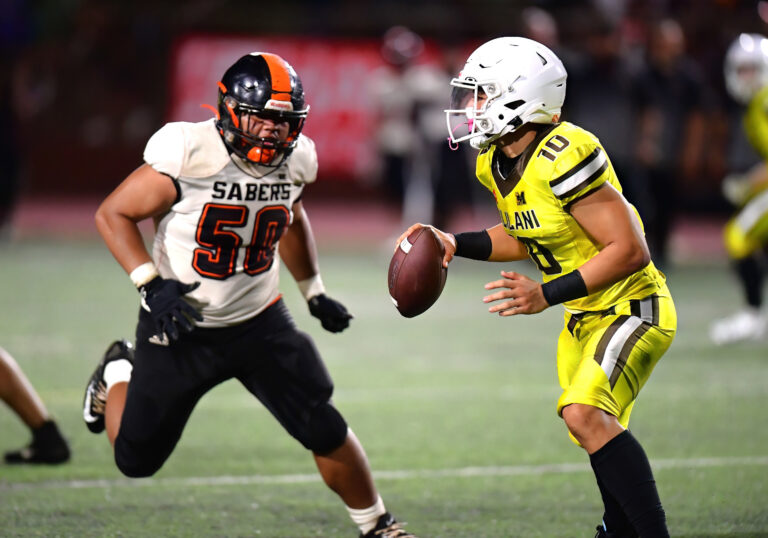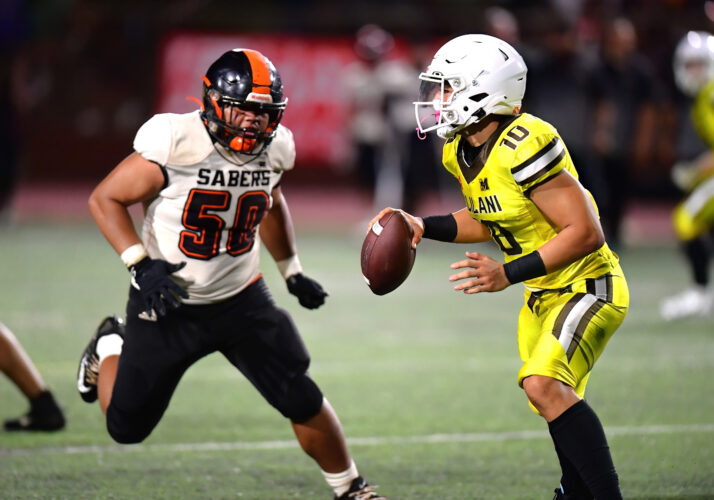 On the Trojans' next possession, McMillan's 3-yard TD pass to Derek Tsuchiyama sealed the deal to make it what ended up as the final 39-29 count.
"Those two stops late in the game were big," York reiterated. "I'm really proud of my defense."
That fumble, it should be noted, was disputable. It appeared to many on the sidelines that it was an incomplete pass and that Togafau-Tavui never had full possession.
"For me, I wouldn't say it was a fumble," Togafau-Tavui said. "For them, they would say it was a fumble. We still made a lot of mistakes and we can't control what the refs call. We'll see them again in states and if not, we'll see Kahuku or Punahou."
Here's what Campbell coach Darren Johnson said about it: "It wasn't a fumble. We gotta live with what we get handed to us. We got something dealt wrong and we gotta go back and work hard. We're not going to cry about it. Our kids' effort and Mililani's effort was great. We just gotta go get better."
To get into states, Campbell (6-3) must win next week in the OIA Open third-place game against the loser of Saturday's Kapolei (6-3) at Kahuku (8-2) semifinal.
For Mililani (7-3), which clinched a berth at states with the win, the next stop is the OIA Open title game against Saturday's semifinal winner.
"Man, it feels good," Trojans two-way standout Gavin Hunter said. "Campbell, they came over and played their hearts out. They're a great team, for sure. And we knew coming into the game that every time they step out here against us were'e going to need to be on our 'A' game. I feel like it was a great team win. All my boys showed up tonight."
Two key offensive moments for the Trojans, who trailed 21-13 at the half, came early in the third quarter. The first was when McMillan found a streaking Jensyn McGee open for a 31-yard TD to cut the gap to 21-19. Then, on the next possession, Hunter latched on to a 15-yard TD bullet from McMillan for that 26-21 count.
After Mililani made it 32-21, Campbell stormed back to get within three, 32-29, on Sagapolutele's 11-yard TD strike to Togafau-Tavui and Rusten Abang's 2-point catch in a crowded middle of the end zone.
But that's as close as the Sabers could get.
"The first time, we thought we played well, but it turned out to be not good enough," Campbell linebacker Tysic Puni said. "We thought tonight we could break the curse (Mililani has now won 14 straight in the rivalry).  We wanted to make a statement, but it wasn't our night. When it came down to big moments, we couldn't pull through."
Added Sagapolutele, "We put in a great effort and just came up short. Ahhhh (the sound of letting something slip through your fingers), we just gotta be more prepared next time. It's all mental, man. I need to come back better and stronger."
And with the knowledge that defense was the final, deciding factor, it's still good to get a glimpse of some gaudy offensive stat lines:
>> McMillan: 30-for-47, 416 yards, 5 TDs, 1 interception
>> Sagapolutele: 34-for-51, 457 yards, 4 TDs, 1 interception
>> Bucao: 10 catches for 108 yards
>> Togafau-Tavui: 9 catches, 153 yards, 2 TDs
>> Campbell's Mason Muaau: 8 catches, 150 yards, 1 TD
>> Mililani's Raymond Roller: 10 catches, 181 yards, 1 TD
Barring an upset by Kapolei over Kahuku on Saturday, Mililani will get a chance to redeem itself against the Red Raiders in the OIA championship game after a 29-17 loss to them two weekends ago.
"It was good team win," McMillan said about dispatching the Sabers. "We're coming back to get ready for this OIA championship. We get a second chance to prove to not only ourselves but to the community that we can do it and we're going to have to come out and play a perfect game."
Added York about the challenge ahead, "We had the lead on Kahuku in third quarter and we made mistakes and the next thing you know, we're down by 20, but we came with back with a punt return and lost by 12. There was a time and a day when Mililani would lose by 80. Now we're disappointed we lost by 12 points. I preach to the kids all the time that it's all about the opportunity. This is a big opportunity. We changed the culture here and now we gotta go finish. We gotta go finish."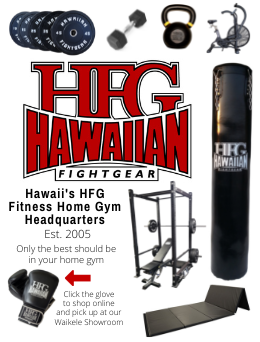 —–
The Season As It Unfolds:
—–
ALSO AT BedrockSportsHawaii.com:
Mililani, Waipahu, Nanakuli And Kaiser Qualify For State Football; All Of The Friday WEEK 12 Scores