—–
There's a lot of old-school football being played over there in Nanakuli land.
Aside from an adherence to basics (blocking, tackling, discipline) and intense hard work (in the words of coach Kili Watson: "We try to make practices tougher than games"), there is a true sharing of ball carrying duties that is rare these days at all levels of football.
—–

A catch-all place for the sights
and sounds, impressions and overheard
things from our colorful
world of football
—–
It's not just one guy carrying the load at running back. And not two, either.
We're talking three guys.
And for those of you who love old-school football, let's just stop and take a look back — way back to those early 1970s Miami Dolphins, when they had probably the best trio of running backs in the history of pro football: https://youtu.be/WsLVOXH0VM4. Spend four minutes and enjoy the exploits of Larry Czonka, Jim Kiick and Merury Morris.
But this story isn't about those guys from 50 years ago. It's more about the fact that you don't need to get things done with just one guy lugging the ball.
Nanakuli knows this and they get the job done with Allen Mahoe III, Nathan Pele-Tukumoeatu and Christian Asinsin.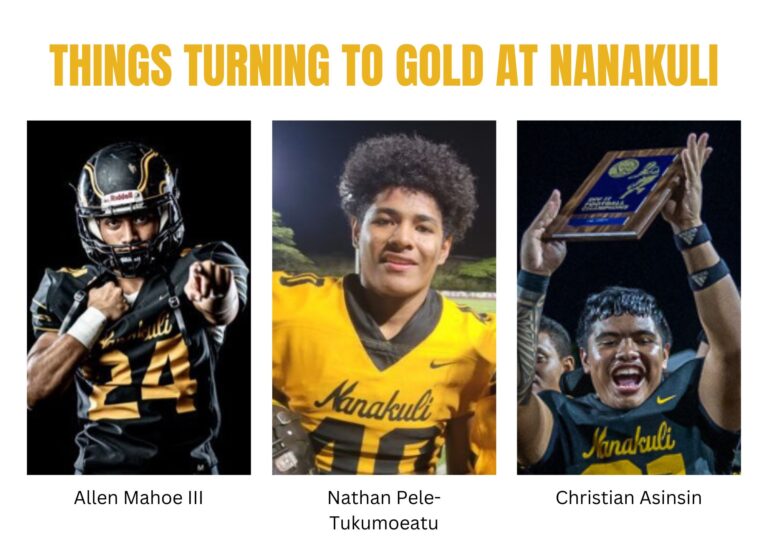 And, there's another, although he is not a running back, who is a force on the ground — quarterback Hansen Salausa-Kaawa.
Hawaii Sports Radio Network posted a story about Pele-Tukumoeatu earlier this season, focusing on his brute force. He's the Czonka in the above analogy, without a doubt.
Take a look at the rushing stats in 11 games, amazingly evenly distributed for the Golden Hawks (10-1), who defeated PAC-5 38-6 on Saturday to advance to next Saturday's Division II semifinals of the First Hawaiian Bank/HHSAA Football State Championships:
>> Mahoe: 86 carries, 621 yards, 11 touchdowns
>> Pele-Tukumoeatu: 63 carries, 553 yards, six TDs
>> Christian Asinsin: 106 carries, 499 yards, 11 TDs
>> Hansen-Salausa: 62 carries, 355 yards, five TDs
In addition, both Mahoe and Pele-Tukumoeatu (who sometimes lines up as a tight end) are over the 200-yard receiving mark in the team's 11 games.
In the state D-II first round win over the Wolfpack (3-5), Pele-Tukumoeatu rushed for 135 yards and a TD, Mahoe scored three times, Asinsin added a TD, and Salausa-Kaawa threw for 216 yards.
In addition, Lester Meyers III was a force on defense for Nanakuli with two sacks.
For PAC-5, Blade Kaululaau turned in a big two-way game with a tackle for loss among his 13 stops, a fumble recovery and an interception. He also scored the Wolfpack's only touchdown on a 4-yard run in the fourth quarter.
PAC-5, which was playing in the program's second state tournament game in Hawaii high school football history, will be gearing up for next year under coach Kena Heffernan.
Up next for the Golden Hawks: Saturday's 7 p.m. state D-II semifinal game at King Kekaulike (4-6) on Maui.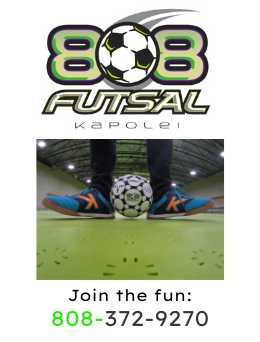 —–
ALSO AT BedrockSportsHawaii.com:
Kaiser QB Easton Yoshino Ends High School Career Among Hawaii's Greats
Aukai Emayo's 230 Rushing Yards Push Waimea Past Kaiser 48-7 For First Football State Tournament Victory Since 2002
—–
The Season As It Unfolds: