Hawaii wrestlers Jahlia Miguel and Erin Hikiji punctuated their summer with an exclamation point in Fargo, North Dakota, this week.
They placed in the top eight — All-American status in freestyle — at the 16-U and Junior Nationals Wrestling Championships at the Fargodome.
For Hikiji, it's the second time receiving the honor. She placed eighth this year in the Junior Women 100-pound class on the heels of a third-place finish a year ago.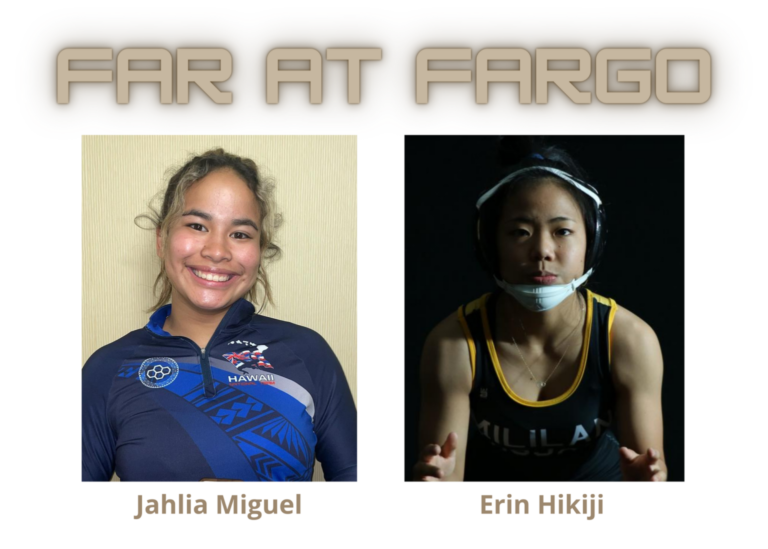 Hikij, who graduated in May after her stellar career at Mililani High, is a two-time Hawaii high school state champion and finished the 2022 season as the No. 1 ranked pound-for-pound girls wrestler in the Aloha State by Bedrock Sports Hawaii. In addition, she'll be off to college to wrestle for the University of Providence in Montana.
After an opening-round close loss, Hikiji was dominant in winning six straight consolation matches before dropping her final two matches.
Miguel, meanwhile, placed sixth at Fargo this year in 16-U Girls 144 pounds. In March as a freshman at Baldwin, she captured the 145-pound state championship.
Nineteen other Hawaii wrestlers competed at Fargo in freestyle. Of the 21 total Hawaii wrestlers, 11 of the 12 boys also competed in Greco-Roman.
—–
Hawaii's 21 Competitors Go Against Athletes From 36 Other States
To give you an idea of how huge the tournament in Fargo is: Hawaii's 21 wrestlers competed against opponents from 36 other states.
The Hawaii competitors went against wrestlers from Alabama, Alaska, Arkansas, Arizona, California, Colorado, Connecticut, Delaware, Florida, Georgia, Illinois, Indiana, Iowa, Louisiana, Massachusetts, Michigan, Minnesota, Missouri, Montana, Nebraska, New Jersey, New York, North Carolina, North Dakota, Ohio, Oklahoma, Oregon, Pennsylvania, South Dakota, Tennessee, Texas, Utah, Virginia, Washington, Wisconsin, and Wyoming,
Hawaii's wrestlers did not get matched up against competitors from Idaho, Kansas, Kentucky, Maine, Maryland, Mississippi, Nevada, New Hampshire, New Mexico, Rhode Island, South Carolina, Vermont, and West Virginia.
Hawaii Wrestlers At 2022 16-U and Junior Nationals
Fargo, North Dakota (July 16-22)
JAHLIA MIGUEL, 16-U Girls Freestyle, 144 pounds, (Sixth place)
>> Round of 32: def. Rylee Meredith (Missouri), fall, 0:37
>> Round of 16: def. Adrianna Chronister (Oklahoma), technical fall, 10-0, 0:42
>> Quarterfinals: lost to Sydney Perry (Illinois), 4-0
>> Consolation: def. Katie Brensinger (Pennsylvania), technical fall, 16-4, 1:25
>> Consolation semifinals: lost to Emma Peach (Iowa), 5-4
>> Fifth-place match: lost to May Cuyler (Virginia), fall, 0:43
—–
ERIN HIKIJI, Junior Women Freestyle, 100 (Eighth place)
>> Round of 64: lost to Makenna Craft (Ohio), 8-6
>> Consolation: def. Sarahi Chavez (Oregon), fall, 0:34
>> Consolation: def. Lilly McCallum (Missouri), technical fall, 10-0, 3:20
>> Consolation: def. Vita Rose Savage (Ohio), technical fall, 11-0, 1:07
>> Consolation: def. Lauren Nyugen (California), technical fall, 10-0, 1:39
>> Consolation: def. Karina Vang (California), fall, 1:38
>> Consolation: def. BVrooke Corrigan (Wisconsin), fall, 0:48
>> Consolation: lost to Mia Zuniga (Washington), technical fall, 14-2, 2:31
>> Seventh-place match: lost to Makenzie Smith (Indiana), technical fall, 16-6, 3:00
—–
SKYELYNN RIPLEY, 16-U Girls Freestyle, 152
>> Round of 32: lost to Trinity Roberts (Tennessee), fall, 1:19
>> Consolation: lost to Madison Ward (Michigan), 8-1
—–
ISABELLE ASUNCION, Junior Women Freestyle, 117
>> Round of 64: lost to Eliana White-Vega (Pennsylvania), technical fall, 12-1, 5:16
>> Consolation: def. Gabrielle Gartin (Ohio), technical fall, 10-0, 3:18
>> Consolation: lost to Maya Davis (Illinois), technical fall, 12-2, 3:42
—–
VALYNN KWAN, Junior Women Freestyle, 127
>> Round of 64: lost to Alana Schafter (North Dakota), fall, 2:33
>> Consolation: def. Aenaya Vines (Alabama), fall, 0:38
>> Consolation: lost to Josie Davis (Ohio), fall, 2:19
—–
TEANI MEDEIROS-MAIELUA, Junior Women Freestyle, 132
>> Round of 64: lost to Marissa Sanabria (Missouri), technical fall, 10-0, 2:51
>> Consolation: lost to Izzy Clements (Utah), technical fall, 10-0, 0:48
—–
SARAH BALBARINO, Junior Women Freestyle, 164
>> Round of 64: lost to Bailee Dare (Missouri), fall, 3:59
>> Consolation: def. Mireya Sanchez (North Dakota), fall, 1:35
>> Consolation: def. Evelyn Vargas (California), fall, 2:16
>> Consolation: lost to Caitlyn Flaherty (Texas), fall, 2:02
CATHERINE ASAMI, Junior Women Freestyle, 180
>> Round of 64: def. Sophie Pollack (New York), fall, 3:50
>> Consolation: lost to Tirza Twoteeth (Montana), 15-11
>> Consolation: lost to Kali Hayden (Oklahoma), technical fall, 10-0, 1:39
—–
ISABELLA MARTINEZ, Junior Women Freestyle, 200
>> Round of 32: lost to Zoe Adam (South Dakota), fall, 2:44
>> Consolation: lost to Saiheron Preciado (California), technical fall, 12-0, 2:10
—–
—–
TROY ALMEIDA, 16-U Boys Freestyle, 100
>> Round of 64: lost to Hudson Loges (Nebraska), fall, 0:38
>> Consolation: lost to Owen Becker (Wisconsin), technical fall, 10-0, 0:42
TROY ALMEIDA, 16-U Boys Greco-Roman, 100
>> Round of 64: lost to Kiyan Simon (Alabama), technical fall, 8-0, 0:46
>> Consolation: lost to Jay Torres (Arizona), fall, 0:49
—–
JOSEPH LATHWOOD, 16-U Boys Freestyle, 126
>> Round of 128: def. Brian Grebner (Alaska), technical fall, 11-0, 0:43
>> Round of 64: lost to Dean Anderson (Arizona), 9-1
>> Consolation: def. Dominick Spadaro (Connecticut), technical fall, 14-4, 4:00
>> Consolation: lost to Stone Hartford (Washington), forfeit
JOSEPH LATHWOOD, 16-U Boys Greco-Roman, 126
>> Round of 128: lost to Marco Terrizzi (Illinois), 7-0
>> Consolation: lost to Jerren Gille (Illinois), technical fall, 9-0, 2:10
—–
YUKI UCHISHIBA, Junior Men Freestyle, 113
>> Round of 128: lost to Tavean Miller (Nebraska), 13-10
>> Consolation: lost to Logan Olsen (Louisiana), technical fall, 10-0, 1:14
YUKI UCHISHIBA, Junior Men Greco-Roman, 113
>> Round of 64: lost to Becan Hahn (Ohio), fall, 1:23
>> Consolation: lost to Vinny Mayberry (Iowa), technical fall, 10-0, 0:20
—–
CARSON KIM, Junior Men Freestyle, 120
>> Round of 128: lost to Luis Solis (California), fall, 4:23
>> Consolation: def. Braden Balmforth (Utah), technical fall, 12-2, 3:00
>> Consolation: def. Shawn Long (Oregon) technical fall, 10-0, 1:08
>> Consolation: lost to Bentley Ellison (Tennessee), 10-0, 1:23
CARSON KIM, Junior Men Greco-Roman, 120
>> Round of 128: def. Jimmy Swenson (Oklahoma), technical fall, 11-0, 1:38
>> Round of 64: lost to Garret Rinken (Iowa), technical fall, 8-0, 1:19
>> Consolation: lost to William Chambers (Georgia), technical fall, 8-0, 0:28
—–
JACOB ENRICO, Junior Men Freestyle, 120
>> Round of 128: lost to Cameron Hinchcliff (New York), fall, 1:53
>> Consolation: lost to Dean Houser (Pennsylvania), fall, 2:52
JACOB ENRICO, Junior Men Greco-Roman, 120
>> Round of 64: lost to Cody Miller (Ohio), injury default, 0:08
>> Consolation: def. Darron Provost (Wyoming)
>> Consolation: lost to James Carlock (New York), injury default, 0-:13
—–
MAYHEM WOOLSEY, Junior Men Freestyle, 132
>> Round of 128: lost to Levi Wagner (Montana), 20-15
>> Consolation: lost to Rayden Zens (South Dakota), fall, 2:56
MAYHEM WOOLSEY, Junior Men Greco-Roman, 126

>> Round of 128: lost to Edgar Albino (Illinois), fall, 2:45
>> Consolation: def. Gylon Sims (Illinois), 7-5
>> Consolation: lost to Jesse Loges (Nebraska), technical fall, 15-5, 2:56
—–
KINAU McBRAYER, Junior Men Freestyle, 132
>> Round of 128: lost to Cael Keck (Missouri), fall, 2:03
>> Consolation: def. Gavin Monk (Alabama), technical fall, 10-0, 0:49
KINAU McBRAYER, Junior Men Greco-Roman, 132
>> Round of 128: def. Carson Seuntjens (Iowa), technical fall, 8-0, 1:45
>> Round of 64: def. Joshua Beans Jr. (Arizona), technical fall, 8-0, 0:45
>> Consolation: lost to Aaron Lucio (Michigan), technical fall, 9-0, 1:04
>> Consolation: def. Ethan White (Louisiana), technical fall, 14-5, 5:11
>> Consolation: lost to Ayson Rice (South Dakota), technical fall, 10-0, 2:18
—–
RYDER BAPTISTA, Junior Men Freestyle, 138
>> Round of 128: lost to Landon Drury (Colorado), technical fall, 10-0, 0:42
>> Consolation: lost to Louden Stradling (Michigan), technical fall, 10-0, 1:48
RYDER BAPTISTA, Junior Men Greco-Roman, 132

>> Round of 128: def. Nathan Stevens (Ohio), fall, 0:27
>> Round of 64: def. Isabella Dias (Pennsylvania), technical fall, 10-0, 1:14
>> Consolation: lost to Vincent Robinson (Illinois), fall, 0:45
>> Consolation: lost to Kaden Ercanbrack (Utah), technical fall, 8-0, 0:50
—–
GABRIEL GRILHO, Junior Men Freestyle, 138
>> Round of 128: def. Riis Hinrichs (Oregon), technical fall, 10-0, 3:00
>> Round of 64: lost to Ethan Shell (North Carolina), fall, 1:50
>> Consolation: lost to Gavin Hilyar (Minnesota), technical fall, 10-0, 1:08
GABRIEL GRILHO, Junior Men Greco-Roman, 138
>> Round of 64: lost to Louden Stradling (Michigan), technical fall, 9-0, 3:33
>> Consolation: def. Tyson Wilson (Georgia), technical fall, 8-0, 0:31
>> Consolation: lost to Ethan. Sylvester (Minnesota), technical fall, 12-4, 2:06
—–
JUSTYCE MERCADO, Junior Men Freestyle, 145
>> Round of 128: def. Jaden Bear (Georgia), technical fall, 1-0, 0:53
>> Round of 64: lost to Jaydon Robinson (Illinois), technical fall, 21-11, 5:11
>> Consolation: def. Bradley Owen (Indiana), technical fall, 11-1, 1:25
>> Consolation: lost to Carter Ban (Minnesota), fall, 3:40
JUSTYCE MERCADO, Junior Men Greco-Roman, 145
>> Round of 128: def. Sam Munch (Delaware), fall, 2:21
>> Round of 64: lost to Alec Peralta (California), technical fall, 11-0, 2:03
>> Consolation: def. Trae Hagen (Iowa), fall, 2:54
>> Consolation: lost to Kilian Schultz (Colorado), technical fall, 11-2, 4;42
—–
KAI SIMMONS, Junior Men Freestyle, 145
>> Round of 128: lost to Joe Fongaro (New Jersey), technical fall, 11-0, 1:33
>> Consolation: lost to Alexander Gavronsky (Massachusetts), technical fall, 10-0, 0:40
KAI SIMMONS, Junior Men Greco-Roman, 145
>> Round of 128: lost to Dalton Monger (Pennsylvania), fall, 1:59
>> Consolation: lost to Thomas Moralez (Arkansas), fall, 4:16
—–
BOYD DURAND, Junior Men Freestyle, 145
>> Round of 128: lost to Luke Belcher (Tennessee), technical fall, 15-4, 2:40
>> Consolation: lost to Daniel Ward Jr. (Florida), technical fall, 10-0, 0:46
—–
ALSO AT BedrockSportsHawaii.com:
Hawaii's Nanea Estrella Secures Wrestling Gold Medal At U-20 Pan-American Championships
Unexpected Death Of Saint Louis Wrestler Dreddin Villalpando On The Eve Of The State Tournament Hit The Crusaders' Brotherhood Hard