This ain't no party, this ain't no disco, this ain't no fooling around.
— Talking Heads "Life During Wartime"
—-
Hawaii's Jon Reiter and Tom Caps of Aulea Swim Club are accomplished athletes here in Hawaii and they've been to plenty of national meets with others of similar ability.
But they took it a step farther on Saturday. Both dipped into the pool at the CHI Health Center in Omaha, Neb.
This was not an ordinary swimming adventure, mind you. This was serious stuff. This was Wave 1 of the U.S. Olympic Trials, where they were hoping to get a spot at the Tokyo Games this summer.
And while they could have performed better — according to their Aula Swim Club coach Joe Glenn —  just getting there is a major accomplishment.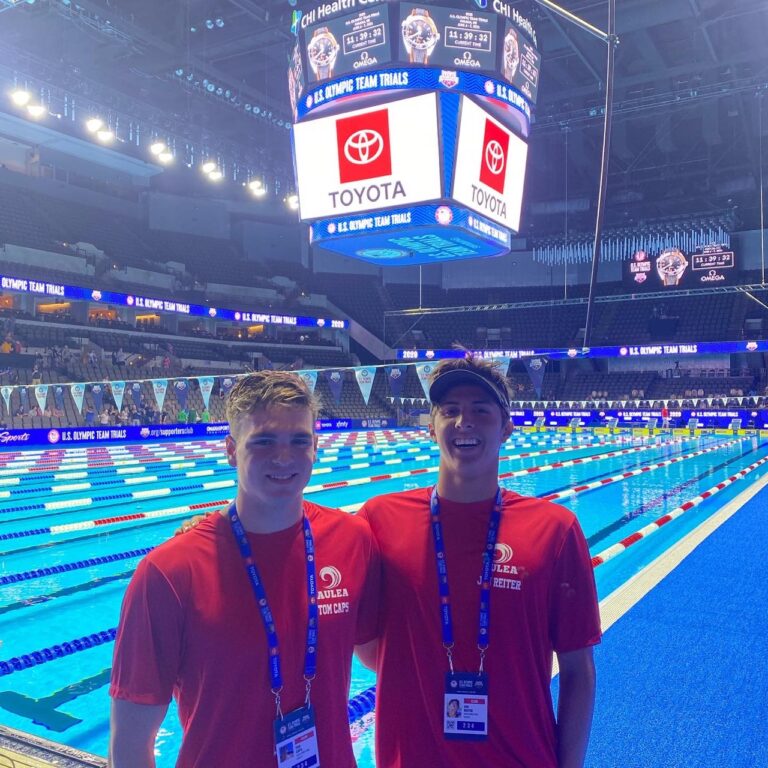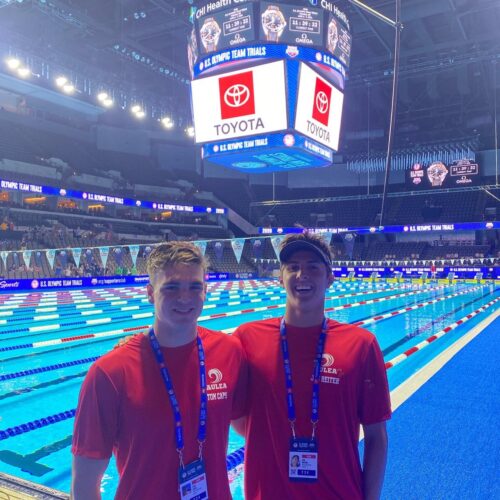 Punahou's Tom Caps and 'Iolani's Jon Reiter of the Aulea Swim Club competed at the U.S. Olympic Trials in Omaha, Neb., on Saturday.
Both swimmers did not make their personal bests in the 100-meter breaststroke on Saturday. Caps finished in 1 minute, 4.16 seconds to place 60th out of 85 contestants. Reiter did 1:04.58 for 75th place.
Caps will be a senior at Le Jardin, and Reiter, an 'Iolani graduate, will swim on scholarship at Cal Baptist next season.
"I thought they could have done a little better than they did," Glenn told BedrockSportsHawaii.com on Saturday afternoon via cellphone. "But this was s tremendous learning experience for them. It's a steppingstone. They have the potential to be contenders next time around (at the U.S. trials for the 2024 Paris Games). Next time, they'll know what to expect."
Glenn pointed out that Caps and Reiter are not used to seeing a whole army of talented swimmers finishing so close to each other.
"Jon qualified for the Trials, winning a heat bay seven seconds," the coach said, "Here, swimming in heats of eight, the first person is only a second ahead of them. Thomas was fourth in his heat and there were three guys behind him within a third of a second.
"They've been to big meets, but never to a meet this big. When they swim in Hawaii, they're pretty physically dominant and stronger than many of the other swimmers. And they're well-known. This experience will help them mentally down the road."
Caps clinched a spot at the U.S. Trials at a meet at the American Renaissance Academy pool in Kapolei on April 24, bettering the qualifying standard mark of 1:03.29 by swimming 1:03.17.
An a May 22 meet at the same pool, Reiter qualified for the U.S. Trials by swimming 1:03.19.
Both Caps and Reiter got close to bettering the standard in mainland meets — in Wisconsin in December and Florida in March.
"Hawaii wasn't approved to have competitions until April 10," Glenn said.
Hawaii's Michael Petrides, Grace Monahan And Kanoa Kaleoaloha Are Also Swimming At U.S. Trials
Michael Petrides, a 2019 Mid-Pacific graduate representing Cal who came out of the Kamehameha Swim Club, finished in fourth place Saturday in the 200-meter freestyle final at the U.S. Trials in 1:50.68, but it wasn't good enough to make the Olympics.
Grace Monahan of the Kamehameha Swim Club, who will be a senior at University Lab School in the fall, placed 25th out of 38 swimmers in the 200-meter butterfly in 2:18.60.
On Monday, Kamehameha graduate and Florida State alumnus Kanoa Kaleoaloha (who also hails from the Kamehameha Swim Club) placed 92nd out of 95 competitors in 23.95 in the 50-meter freestyle at the U.S. Trials.
Last Team USA Swimmer From Hawaii In Olympics Was In 1976
According to Glenn, the last time a Hawaii swimmer qualified for the Olympic Games was in 1976. That's when Chris Woo, a Punahou graduate, took part in the 100 breaststroke and 4×100 medley relay at the Montreal Games.
At least two others and possibly more from Hawaii have made the Olympics since then, but swam for another country. Punahou and USC's Christel Simms competed for the Philippines at the 2016 Rio Games, and Damien and Florida State's Jared Heine represented the Marshall Islands at the 2008 Beijing Games.
Note: This story was updated June 8 with Kanoa Kaleoaloha's result in the 50-meter freestyle.
—
PREVIOUSLY From Author Nick Abramo In 2015: Existentially speaking, Kaleoaloha Is The Water
—