—–
Kapolei's Jaden Nahoi-Baricar came up big for Arizona State en route to the Western Collegiate Roller Hockey League championship last Saturday in Corona, California.
Nahoi-Baricar scored five goals in a one-day best-of-three series — including the memorable title-winning goal — against Grand Canyon University.
It was a grueling day, with games starting at 11 a.m. and 5 and 9 p.m.
After losing the first game to the Antelopes 4-1, Arizona State won back to back games  — 6-4 and 2-1 — for the title.
In the championship game, Nahoi-Baricar broke a 1-1 tie 28 seconds into the second period.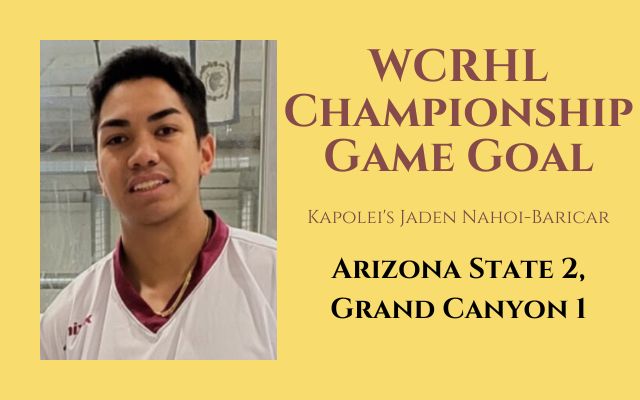 On the play, a Sun Devils teammate caused a Grand Canyon turnover deep in Antelopes territory. The puck went straight to Nahoi-Baricar, who carried the puck up the middle against one defenseman.
That defenseman went down in a sweeping motion in an effort to take away space and the puck. However, Nahoi-Baricar swerved to the right while clipping the defenseman's skate and, as Nahoi-Baricar's momentum carried him sprawling into the air, he had just enough time to get off a quick shot that beat the goaltender to the short side.
As soon as Nahoi-Baricar landed in sprawling fashion, he got up and celebrated with his teammates.
After that, the Sun Devils held Grand Canyon from scoring for the rest of the second period and the whole third period.
Prior to the title game, Nahoi-Baricar scored Arizona State's lone goal in the opening loss and added two goals in the middle game.
The Sun Devils will be one of eight teams competing for the National Collegiate Roller Hockey Association Division I championship April 19-24 in Irvine, California.
A Kapolei High graduate, Nahoi-Baricar is a veteran youth and adult player at Kapolei Inline Hockey Arenas.




—–
ALSO AT BedrockSportsHawaii.com:
>> Quick Update On Hawaii Hockey Players On The Mainland This Winter