—–
Hawaii's Raeghan Rivera was presented the Trinity Award for three wrestling victories on the mainland this winter and spring.
Rivera, who is from Mililani, received the distinguished trophy after winning the Reno Worlds on April 2 in Reno, Nevada, in the 7-U 45-pound division. Previously, she won the Tulsa Nationals in January and the Kickoff Classic in November, two tournaments in Tulsa, Oklahoma.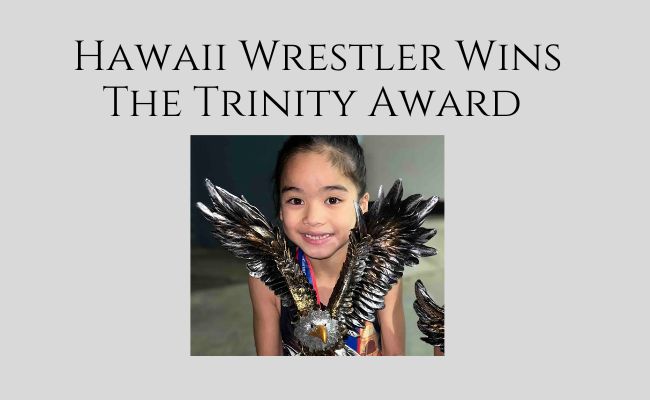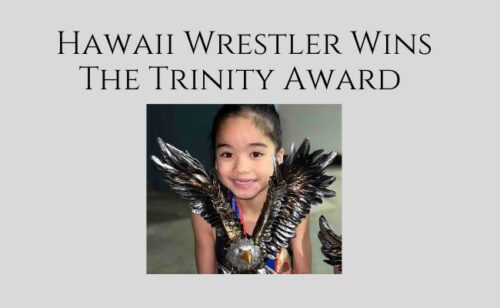 In the three tournaments combined, she went 11-0 while representing Team Aloha Hawaii.
Her results from each tournament follow.
Reno Worlds
>> Final: def. Jayzie Whitford, fall, 1:19
>> Semifinals: def. Stella McCarther, fall, 1:23
>> Quarterfinals: def. Elizabeth Graeber, fall, 0:54
>> Round of 16: def. Alea Moua, fall, 2:221
Tulsa Nationals
>> Final: def. Emersyn Edge, sudden victory, 4-2
>> Semifinals: def. Madison Vigil, major decision, 18-4
>> Quarterfinals: def. Madilyn Bauman, major decision, 14-0
>> Round of 16: def. Torah Craig (fall), 0:43
Tulsa Kickoff Classic
>> Finals: def. Gracie Logsdon, 2-0
>> Semifinals: def. Tyanna Evans, fall, 0:44
>> Quarterfinals: def. Emersyn Edge, major decision, 13-0
More Team Aloha Hawaii Participants
The following Team Aloha Hawaii wrestlers placed or participated at Reno Worlds:
Girls
>> Kalina Hotema, third place, Girls 18-U, 118 pounds
>> Kaiulani Kekahuna, third place, Girls 12-U, 82 pounds
>> Madisen Whalen, third place, Girls 7-U, 100 pounds
>> Talia Pahinui, fourth place, Girls 7-U, 55 pounds
>> Aria Furtado, sixth place, Girls 9-U, 75 pounds
>> Ehukai Kekahuna, Girls 9-U, 50 pounds
>> Layla Pasion, Girls 9-U, 57 pounds
Boys
>> Deytin Hanaike, third place, Boys 6-U, 40 pounds
—–
ALSO AT BedrockSportsHawaii.com:
>> Kahuku's Stanley Raass Makes Statement In Discus; Hawaii Track And Field Top 5 Update
>> Nice Nugget Of A Story From 2020: Saint Louis' Trenton Wailehua's Blazing 400-Meter Run