—–
The new scoring system used at the Zippy's/HHSAA Cheerleading State Championships on Tuesday at the Stan Sheriff Center merited a 95 percent approval rating in the opinion of coordinator Travis Mukina.
As is often the case with change, not everybody thinks this new way is better.
Like it or not, though, one of the biggest benefits of the new system, according to Mukina and HHSAA cheerleading administrator Natalie Iwamoto, is that it falls in line with the national standard for judging cheerleading competitions. They say this change was way overdue.
In the past, the state championships used three judges who would score all competing squads in 16 categories, giving them up to 125 points each for a possible total of 375.
"In several categories, there were no guidelines and it was left up to pure opinion and that made it too subjective," Mukina said. "There was no averaging and no dropping high or low scores. It didn't account for any possible bias."
Under the new system, there are eight judges — three for building skills (stunts and pyramids), three for tumbling and jumps, one for the dance and creativity of the music portions of a routine, and one for the cheerleading portion.
"No matter where you go across the country, for all girls and coed competitions, this is the type of scoring system you will find," Mukina added. "This is what you can expect to see at the higher level in college."
Degree of difficulty and execution are at the core of the math. In simple terms and to illustrate the point, teams with a high degree of difficulty who struggle in execution will be, generally speaking, getting a similar amount of points as teams who execute flawlessly but do a routine with a low degree of difficulty.
A detailed rubric on what judges are looking for was given to coaches before the season began.
Aside from execution and degree of difficulty points, there are driver (bonus) points for things like getting more than just a few athletes to execute the advanced skills as well as a routine's pace. There are also deductions for falls or poor technique.
In the cheering portion, subjectivity has been almost completely eliminated. The judge in charge of that cateogory has 15 boxes to check off. If a team succeeds in doing what is asked for that category, it gets a point.
Here is a look at how teams earn a maximum of 50 points for the coed division and 49.3 for the girls division:
Difficulty (13)
>> Stunts, 4
>> Pyramid, 3
>> Standing tumbling, 2
>> Running tumbling, 2
>> Jumps, 1
>> Dance/music creativity/showmanship, 1
Execution (17)
>> Stunts, 4
>> Pyramids, 4
>> Standing tumbling, 2
>> Running tumbling, 2
>> Jumps, 2
>> Formations and transitions creativity, 2
>> Dance/music creativity/showmanship, 1
Cheerleading (15)
>> Prop usage (three categories), 3
>> Ability to lead crowd (three categories), 3
>> Voice and flow of words (three categories), 3
>> Use of skills to lead crowd (three categories), 3
>> Execution (three categories) 3
Drivers (5 for coed, 4.3 for girls)
>> Various bonus categories
"It's not perfect, but it's a great start," said Iwamoto, who worked to get the changes implemented at last summer's Hawaii Interscholastic Athletic Directors Association conference.
One important change was to award state championships in girls and coed divisions instead of in large and medium categories.
"We've gotten mostly great comments from coaches and participants," she added.
Iwamoto said Mukina, who worked closely with coaches and judges to install the new system, has taken some criticism from some teams who have said they feel the new way is not fair.
In the interest of fairness, if any coaches want to explain the circumstances of the perceived unfairness, Bedrock Sports Hawaii (808-391-7371) is willing to listen for a possible follow-up story.
'Iolani Coed And Moanalua Girls Teams Win State Championships
The 'Iolani Raiders and Moanalua Na Menehune girls team wound up as 2022 state champions on Tuesday.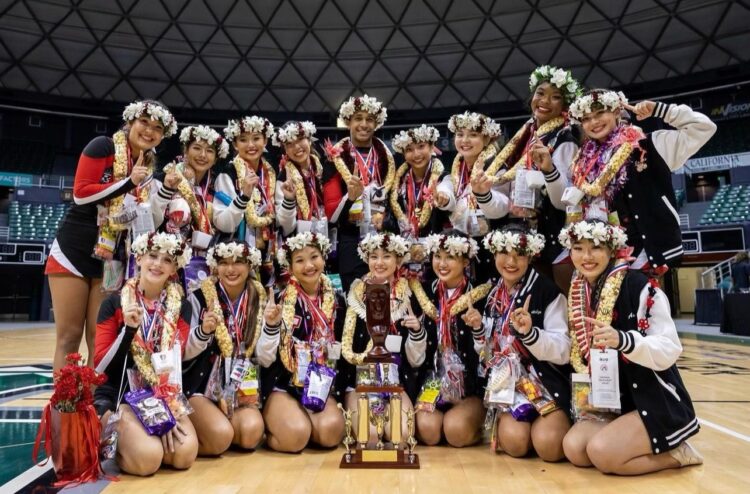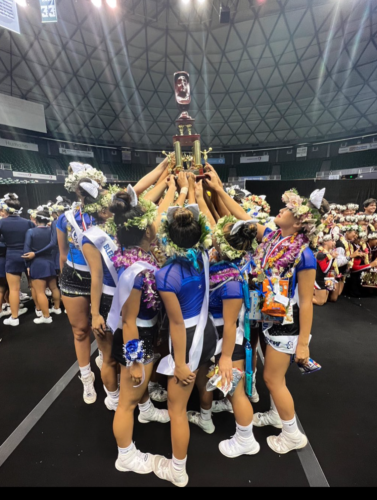 Final standings follow.
Girls Division
>> 1. Moanalua, 44.200 points
>> 2. Kamehameha, 40.233
>> 3. Baldwin, 39.067
>> 4. Campbell, 38.317
>> 5. Sacred Hearts, 35,117
>> 6. Waiakea, 34.467
>> 7. Waipahu, 33.833
>> 8. McKinley, 31.150
Coed Division
>> 1. 'Iolani, 43.900 points
>> 2. Radford, 43.450
>> 3. Kapaa, 36.550
>> 4. Kalani, 35.550
>> 5. Hilo, 35.233
>> 6. Kailua, 33.333
—–
ALSO AT BedrockSportsHawaaii.com:
On Eve Of Football State Tournament, Two Teams Whose Seasons Are Done Make It Into Bedrock's Power 5s