The OIA Wrestling Championships are today and tomorrow at the Leilehua gym.
And there may be a pile of possible big matchups in tomorrow's finals.
The biggest news out of the seeding meeting is that Moanalua's Blaze Sumiye is now in the 162-pound class, down from the 172 he's been at.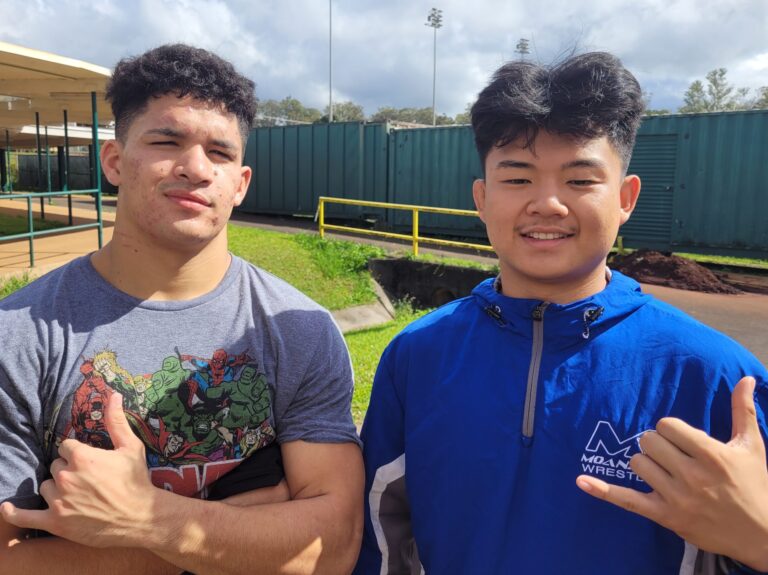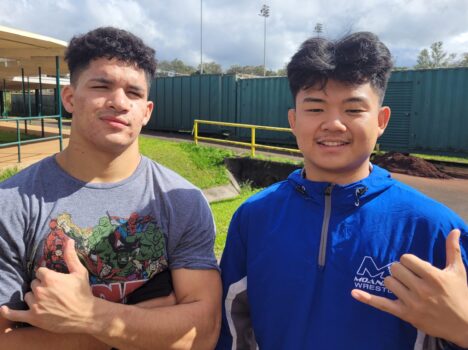 Earlier this season, there was a chance that Leilehua's Pookela DeSantos and Moanalua's Blaze Sumiye would meet up in the postseason. That will not be the case today and tomorrow at the OIA Championships. DeSantos will be at 172 and Sumiye at 162.
If things go a certain way, top-seeded Sumiye (the 145-pound state champ in 2020) may be going against an undefeated wrestler if he makes the final — Mililani's Darren Cababag-Silva (7-0), the second seed (if he also makes it that far).
Sumiye is Bedrock Sports Hawaii's No. 5 pound-for-pound wrestler.
By going to 162, he will not be facing either Kapolei's Brycen Pagurayan (No. 4 p4p), who he went 1-1 against this season, or Leilehua's Pookela DeSantos (No. 1 p4p).
DeSantos (13-0) and Pagurayan are on a collision course toward the 172-pound final.
In other Moanalua moves, Isabelle Asuncion (9-0, girls No. 9 p4p) moved up to 119 pounds from 114 and teammate Hailey Perez switched from 119 to 114. In addition, Rachel Oshita (9-0, No. 7 p4p, a third place state finisher at 132 in 2020) of Na Menehune changed from 134 to 129, where she is the top seed.
Asuncion, who placed third at states at 102 in 2020, is the top seed in a blockbuster bracket with second-seeded Caelin Balansag of Roosevelt (6-0, No. 10 p4p) and Mililani's Victoriana Kim (fourth at states at 107 in 2020).
Campbell's Anissa Wright, a 145-pound state runner-up two years ago, is the top seed at 140 and could eventually face second-seeded Aubrie Molina (7-0) of Pearl City.
Two undefeated competitors — Pearl City's Jace Kim-Cadiz (15-0) and Kalani's Ramos Suzuki (7-0) — are the top seeds in the boys 147-pound division.
Perhaps the deepest boys weight class is 140, where Kalani's Kade Okura (No. 10 p4p) is the top seed. Among the other top guns there are second-seeded Kai Simmons of Moanalua, Aiea's Gabriel Grilho, Kapolei's Kinau McBrayer, Pearl City's Joe Xahn Rapoza and Castle's Keegan Goeas.
One more p4p ranked wrestler is in action at the OIAs — Moanalua's Karter Nitahara (9-0, No. 7).
BOYS 140
>> First round: Ethan Baptista (Campbell) vs. Hakuilua Paaluhi (Waianae); Kinau McBrayer (Kapolei) vs. Nathaniel Ferraris (Waipahu); Myke Joshua Kiley vs. Joe Xahn Rapoza (Pearl City); Logan Hackbarth (Mililani) vs. Keegan Goeas (Castle); Nick Gardner (Roosevelt) vs. Ethan Bueno (Radford)
>> Quarterfinals: 1. Kade Okura (Kalani) vs. Baptista/Paaluhi winner; McBrayer/Ferraris winner vs. Kiley/Rapoza winner; Gabriel Grilho (Aiea) vs. Hackbarth/Goeas winner; 2. Kai Simmons (Moanalua) vs. Gardner/Bueno winner
Brackets before today's early rounds are below.
GIRLS 99
>> Quarterfinal: Kacie Teruya (Moanalua) vs. Amanda Begonia (McKinley)
>> Semifinals: 1. Erin Hikiji (Mililani) vs. Teruya/Begonia winner; 2. Sage Beltran (Moanalua) vs. Angelina Godoy-Holt (Kapolei)
GIRLS 104
>> Quarterfinals: 1. Tristan Nitta (Mililani) vs. Jenna Bala (Moanalua); Jaedha Manuyag (Aiea) vs. Emma Cabinian (Leilehua); Alu Hyodo (Roosevelt) vs. Hiilani Alama (Waianae); 2. Kayla Shota (Moanalua) vs. Chelsea Becera (Farrington)
>> Semifinals: Nitta/Bala winner vs. Manuyag/Cabinian winner; Hoydo/Alama winner vs. Shota/Becera winner
GIRLS 109
>> First round: Kaya Ching (Moanalua) vs. Jaylisha Deveraturda (Mililani); Lehiwa Lapastora (Waianae) vs. Tynesha Ly (Kalani)
>> Quarterfinals: 1. Madison Kalamau (Moanalua) vs. Ching/Deveraturda winner; Angelika Langman (Leilehua) vs. Kaede McCall (Kalani); Alexia Parsons (Kalaheo) vs. Lia Gomes (Aiea); 2. Makena Abe (Mililani) vs. Lapastora/Ly winner
>> Semifinals: Kalamau/Ching.Deveraturda winner vs. Langman/McCall winner; Parsons/Gomes winner vs. Abe/Lapastora/Ly winner
GIRLS 114
>> First round: Jacquelyn Reilly (Pearl City) vs. Linda Lam (Roosevelt); Page Allen (Campbell) vs. Harmony Tavares (McKinley); Kaili Foster (McKinley) vs. Michaela Sarmiento (Kalahe0); Kirra Davidson (Mililani) vs. Jazmin Ah Hoy (McKinley)
>> Quarterfinals: 1. Kaleila Rodrigues-Kenolio (Aiea) vs. Reilly/Lam winner; Kaytie Conselva (Waipahu) vs. Allen/Tavares winner; Evelyn Suzuki (Kalani) vs. Foster/Sarmiento winner; 2. Hailey Perez (Moanalua) vs. Davidson/Ah Hoy winner
>> Semifinals: Rodrigues-Kenolio/Reilly/Lam winner vs. Conselva/Allen/Tavares winner; Suzuki/Foster/Sarmiento winner vs. Perez/Davidson/Ah Hoy winner
GIRLS 119
>> First round: Jaesharie Paguirigan (Waianae) vs. Waialea Vickery-Basug (Kaiser); Kamaile Yasumura (Moanalua) vs. Tiana DeSantos (Leilehua); Sky Sano (Kalani) vs. Bella Gibo (Waialua)
>> Quarterfinals: 1. Isabelle Asuncion (Moanalua) vs. Paguirigan/Vickery-Basug winner; Rie Kato (Campbell) vs. Jeylan Arakawa (Kailua); Victoriana Kim (Mililani) vs. Yasumura/DeSantos winner; 2. Caelin Balansag (Roosevelt) vs. Sano/Gibo winner
>> Semifinals: Asuncion/Paguirigan/Vicker-Basug winner vs. Kato/Arakawa winner; Kim/Yasumura/DeSantos winner vs. Balansag/Sano/Gibo winner
GIRLS 124
>> First round: Yalexia Lemos-Rodriquez (Roosevelt) vs. Yaris Matos (Campbell); Brooke Gantan (Kailua) vs. Akemi Ralston (Radford); Laylee Pasion (Moanalua) vs. Keirynmae Kanae (Kapolei); Dallas Inis (Waipahu) vs. Aaliyah Welch (Leilehua); Kaira Iona (Farrington) vs. Minei Haiola-Borges; Terrysa Uyeno (Waianae) vs. Kalina Hotema (Kalani)
>> Quarterfinals: 1. Kaitlyn Fong (Moanalua) vs. Lemos-Rodriguez/Matos winner; Gantan/Ralston winner vs. Pasion/Kana winner; Inis/Welch winner vs. Iona/Haiola/Borges winner; 2. Taydem Uyemura (Pearl City) vs. Uyeno/Hotema winner
GIRLS 129
>> First round: Kalei Yasumura (Moanalua) vs. Timena Tai Godinet (Waipahu);
>> Quarterfinals: 1. Rachel Oshita (Moanalua) vs. Yasmura/Godinet winner; Raelyn Yasutake (Kalani) vs. Jahnaya Tabisola-Roque (Campell); Angelina Calpito (Mililani) vs. Destiny Ah Quin (Castle); 2. Jacey Chung vs. Kahana Belyeu (Kahuku)
>> Semifinals: Oshita/Yasumura/Godinet winner vs. Yasutake/Tabisola-Roque winner; Calpito/Ah Quin winner vs. Chung/Belyeu winner
GIRLS 134
>> First round: Camryn Goff (Pearl City) vs. Hailey Jade Omoso (Kalani)
>> Quarterfinals: Kianna Chargualaf (Campbell) vs. Goff/Omoso winner; Lily Polvado (Kahuku) vs. Reese Nishida (Moanalua)
>> Semifinals: Chargualaf/Goff/Omoso winner vs. Polvado/Nishida winner
GIRLS 140
>> Quarterfinals: 1. Anissa Wright (Campbell) vs. Kiera Nitahara (Moanalua); Sara Bernades (Radford) vs. Eden Baguio (Moanalua); Litatei Kanongataa (Kahuku) vs. Mystic Kahele Akeo (Kapolei); 2. Aubrie Molina (Pearl City) vs. Karleigh Manoha (Waianae)
>> Semifinals: Wright/Nithara winner vs. Bernades/Baguio winner; Konongataa/Kahele winner vs. Molina/Manoha winner
GIRLS 147
>> Quarterfinals: Caena Dias (Waianae) vs. Ava Clark-Paglinawan (Pearl City); Colleen Kinimaka (Campbell) vs. Sage Horcajo (Kahuku); 2. Nohi Kukonu (Moanalua) vs. Dianna Ray Igawa-Ismael (Kaiser)
>> Semifinals: 1. Kaui Lee-Tynan (Kapolei) vs. Dias/Clark-Paglinawan winner; Kinimaka/Horcajo winner vs. Kukonu/Igawa-Ismael winner
GIRLS 157
>> First round: Kizia Mahuka (Aiea) vs. Alana Corpuz (Mililani);
>> Quarterfinals: 1. Bethany Chargualaf (Campbell) vs. Mahuka/Corpuz winner; Zylee Kuikahi (Waipahu) vs. Frances Balcita (McKinley); Taryn Titcomb (Moanalua) vs. Lainie Mefy (Farrington); 2. Phiona Kerisiano (Nanakuli) vs. Kaela Rosario-Rodrigues (Waianae)
>> Semifinals: Chargualaf/Mahuka/Corpuz winner vs. Kuikahi/Balcita winner; Titcomb/Mefy winner vs. Kerisiano/Rosario-Rodrigues winner
GIRLS 170
>> First round: Aurianna Pratt (Moanalua) vs. Dezeray Orcut (Radford); Journie Kealanahele (Farrington) vs. Elle Lum (Leilehua)
>> Quarterfinals: 1. Atinaeleila Fonoti (Mililani) vs. Pratt/Orcut winner; Jaznel Baker-Sumuelu (McKinley) vs. Jadyn Crisostomo (Moanalua); Sarah Balbarino (Kalani) vs. Zeignalynn Mew Kang (Pearl City); 2. Keila Olivas-Low (Leilehua) vs. Kealanahele/Lum winner
>> Semifinals: Fonoti/Pratt/Orcut winner vs. Sumuelu/Crisostomo winner; Balbarino/Mew Kang winner vs. Oliva-Low/Kealanahele winner
GIRLS 186
>> First round: Eleina Olap (McKinley) vs. Jenisie Pasigan (Kapolei)
>> Quarterfinals: 1. Jacinta Fonoti (Mililani) vs. Olap/Pasigan winner; Teizannaho Paleafei (Farrington) vs. Ariyana Jaselle Giron (Pearl City); Leina Balancio-Sadamaru (Waianae) vs. Tahi Feinga (Kahuku); 2. Jasmine Adiniwin (Moanalua) vs. Alexis Urrutia (Leilehua)
>> Semifinals: Fonoti/Olap/Pasigan winner vs. Paleafei/Giron winner; Balancio-Sadamaru /Feinga winner vs. Adiniwin/Urrutia winner
GIRLS 227
>> Quarterfinals: Olena Hovey (Kaiser) vs. Ashley Asuega (Nanakuli); Tapaita Hufanga (Leilehua) vs. Malia Samoy (Kahuku)
>> Semifinals: 1. Isabella Martinez (Radford) vs. Hovey/Asuega winner; 2. Maia Esera (Kahuku) vs. Hufanga/Samoy winner
BOYS 108
>> Quarterfinals: Jayce Pascua (Pearl City) vs. Connor Lum (Kalani); Khairyn Vilavong (Campbell) vs. Noah Limary (Waianae)
>> Semifinals: 1. Josh Estabilio (Moanalua) vs. Pascua/Lum winner; 2. Caden Guevara (Mililani) vs. Vilavong/Limary winner
BOYS 115
>> Quarterfinals: 1. Zairyn Ramos-Semana (Campbell) vs. Corbin Caldonetti (Castle); Jayden Seson (Moanalua) vs. Nicholas Williams (Aiea); Jayce Kamimura (Kalani) vs. Khansith Chanthabouasith (Leilehua); 2. Koen Shigemoto (Mililani) vs. Kaleb Edgar (Kapolei)
>> Semifinals: Ramos-Semana/Caldonetti vs. Seson/Williams winner; Kamimura/Shanthabouasith winner vs. Shigemoto/Edgar winner
BOYS 122
>> First round: Maxwell Calandria (Kaiser) vs. Nick Au (Kalani); Shawn Kato (Campbell) vs. Ryan Fukunaga (Pearl City); Sullivan Allan (Radford) vs. Rylen Gonda (Waianae); Joss Okutsu (Aiea) vs. Goddrick Antolin (Farrington)
>> Quarterfinals: 1. Joseph Lathwood (Moanalua) vs. Calandria/Au winner; LJ Oki (Kapolei) vs. Kato/Fukunaga winner; Isaiah Giron (Leilehua) vs. Allan/Gonda winner; 2. Kulika Corpuz (Mililani) vs. Okutsu/Antolin winner
BOYS 128
>> First round: Michael Toermer (Radford) vs. Kaito Sano (Kalani); Aden Badua (Castle) vs. Zachary Omanaka (Pearl City)
>> Quarterfinals: 1. Carson Kim (Mililani) vs. Toermer/Sano winner; Colten Aniya (Leilehua) vs. Ryker Shimabukuro (Kapolei); LJ Pasion (Moanalua) vs. Syless Nakatani (Waianae); 2. Ethan Tabayoyong (Campbell) vs. Badua/Omonaka winner
>> Semifinals: Kim/Toermer/Sano winner vs. Aniya/Shimabukuro winner; Pasion/Nakatani winner vs. Tabayoyong/Badua/Omonaka winner
BOYS 134
>> First round: Eddie Ogsasawara (Pearl City) vs. Reece Grigsby (Campbell);
>> Quarterfinals: 1. Tyger Taam (Moanalua) vs. Ogasawara/Grigsby winner; Jet Okura (Kalani) vs. Mayhem Woolsey (Kapolei); Jaren Kimura (Mililani) vs. Daniel Tauyan (Leilehua); 2. Bransen Porter (Waianae) vs. Logan Kindle (Radford)
>> Semifinals: Taam/Ogasawara/Grigsby winner vs. Okura/Woolsey winner; Kimura/Tauyan winner vs. Porter/Kindle winner
BOYS 140
>> First round: Ethan Baptista (Campbell) vs. Hakuilua Paaluhi (Waianae); Kinau McBrayer (Kapolei) vs. Nathaniel Ferraris (Waipahu); Myke Joshua Kiley vs. Joe Xahn Rapoza (Pearl City); Logan Hackbarth (Mililani) vs. Keegan Goeas (Castle); Nick Gardner (Roosevelt) vs. Ethan Bueno (Radford)
>> Quarterfinals: 1. Kade Okura (Kalani) vs. Baptista/Paaluhi winner; McBrayer/Ferraris winner vs. Kiley/Rapoza winner; Gabriel Grilho (Aiea) vs. Hackbarth/Goeas winner; 2. Kai Simmons (Moanalua) vs. Gardner/Bueno winner
BOYS 147
>> First round: Kadin Canianes (Campbell) vs. Gavin Simon (McKinley); Isaac Junkins (Kalahe0) vs. Allen Mahoe (Nanakuli); Draven Templado (Leilehua) vs. Joshua Santiago (Waianae); Joshua Lewandowski (Moanalua) vs. Makai Farm (Kahuku); Patrick Durand (Radford) vs. Chance Garcia (Kapolei); Kealohi Cofran (Castle) vs. Joseph Fujioka (Mililani)
>> Quarterfinals: 1. Jace Kim-Cadiz (Pearl City) vs. Canianes/Simon winner; Junkins/Mahoe winner vs. Templado/Santiago winner; Lewandowski/Farm winner vs. Durand/Garcia winner; 2. Ramos Suzuki (Kalani) vs. Cofran/Fujioka winner
BOYS 154
>> First round: Makana Williams (McKinley) vs. Zack Ezuka (Kalani); Alek Pang (Aiea) vs. Marcello Makita (Kapolei); Luke Otembriet (Kalaheo) vs. Adrian Lee (Mililani); Akoni Kaleopaa-Borlin (Waianae) vs. Elijah Dominici (Castle)
>> Quarterfinals: 1. Holden Soares (Campbell) vs. Williams/Ezuka winner; Kainalu Lewis (Nanakuli) vs. Pang/Makita winner; Boyd Durand (Radford) vs. Otembriet/Lee winner; 2. Christian Jacob (Moanalua) vs. Kaleopaa-Borlin/Dominici winner
BOYS 162
>> First round: Kollin Tellain (Leilehua) vs. Kayin Maloian (Kalani); Esaiah Gideon (Kapolei) vs. Tyler Shields (Kalaheo); Zander Writesel (Radford) vs. Steinar Tanaka (Kaiser); Gxxr Young (Waianae) vs. Gregory Carvalho (Pearl City)
>> Quarterfinals: 1. Blaze Sumiye (Moanalua) vs. Tellain/Maloian winner; Anthony Lopez (Campbell) vs. Gideon/Shields winner; Branztyn Reyes (Nanakuli) vs. Writesel/Tanaka winner; 2. Darren Cababag-Silva (Mililani) vs. Young/Carvalho winner
BOYS 172
>> First round: Matthew Finefeuiaki (Kalani) vs. Patrick McHugh (Castle); Matthew Yadao (Roosevelt) vs. Caleb Akana-Adams (Waialua); Keaopopoe Kalahiki (Kahuku) vs. Bravery Gladman (Moanalua); Teva Feliciano (Campbell) vs. Carl Laa (Nanakuli); Dorian Payton-Sherman (Pearl City) vs. Alexander Bajet (Aiea)
>> Quarterfinals: 1. Pookela DeSantos (Leilehua) vs. Finefeuiaki/McHugh winner; Yadao/Akana-Adams winner vs. Kalahiki/Gladman winner; Dustin Balancio-Sadamaru vs. Feliciano/Laa winner; 2. Brycen Pagurayan (Kapolei) vs. Payton-Sherman/Bajet winner
BOYS 184
>> First round: Marbory Barrientos (Castle) vs. Kekoa Coffin (Kalani);
>> Quarterfinals: 1. Karter Nitahara (Moanalua) vs. Barrientos/Coffin winner; Clyde Busbea (Campbell) vs. Joseph Keo (Kapolei); Ryan Penuliar (Leilehua) vs. Aiden Shimokawa (Mililani); 2. Raphael Dela Cruz (Aiea) vs. Nathaniel Teo-Nera (Nanakuli)
>> Semifinals: Nitahara/Barrientos/Coffin winner vs. Busbea/Keo winer; Penulari/Shimokawa winner vs. Dela Cruz/Teo-Nara winner
BOYS 197
>> First round: Liutau Maile (Nanakuli) vs. Eric Boyle (Waipahu); Jonas Baekkuland (Moanalua) vs. Kyle Bueche (Pearl City);
>> Quarterfinals: 1. Kayzehn Aiwohi-Frisby vs. Maile/Boyle winner; Kai He (Roosevelt) vs. Schyler Pascual (Campbell); Maka Kahele-Akeo (Kapolei) vs. Dawson Peter Smith (Aiea); 2. Preston Raymond (Leilehua) vs. Baekkuland/Bueche winner
>> Semifinals: Aiwohi-Frisy/Maile/Boyle winner vs. He/Pascual winner; Kahele-Akeo/Smith winner vs. Raymond/Baekkuland/Bueche winner
BOYS 222
>> First round: Swanson Keanu (Kapolei) vs. Nguyen Quang (Kalani); Brodie Vargas (Kahuku) vs. Jaysen Texeira (Nanakuli)
>> Quarterfinals: 1. Vanderlei Yong (Waianae) vs. Swanson/Nguyen winner; Jacob Chang (Waipahu) vs. Christian Carlisle (Castle); Christian Paleafei (Moanalua) vs. Angel Schmidt (Campbell); 2. Nainoa Stephenson (Leilehua) vs. Vargas/Texeira winer
>> Semifinals: Young/Swanso/Nguyen winner vs. Chang/Carlisle winner; Paleafei/Schmidt winner vs. Stephenson/Vargas/Texeira winner
BOYS 287
>> Quarterfinals: 1. Kanale Coelho (Leilehua) vs. Mykenessey Conrad (Nanakuli); Uilifeleti Afungia (Campbell) vs. Kelton Cambra (Pearl City); Caleb Lauifi (Waipahu) vs. Kaisen Writesel (Radford); 2. Timonty Paleafei (Farrington) vs. Darisson Garcia-Nakoa (Kapolei)
>> Semifinals: Coelho/Conrad winner vs. Afungia/Cambra winner; Lauifi/Writesel winner vs. Paleafei/Garcia-Nakoa winner