—–
This was the breakthrough Kahuku was waiting for.
The Red Raiders pulled off an upset of major proportions by storming back in the final minute to top St. John Bosco 30-23 on Saturday night.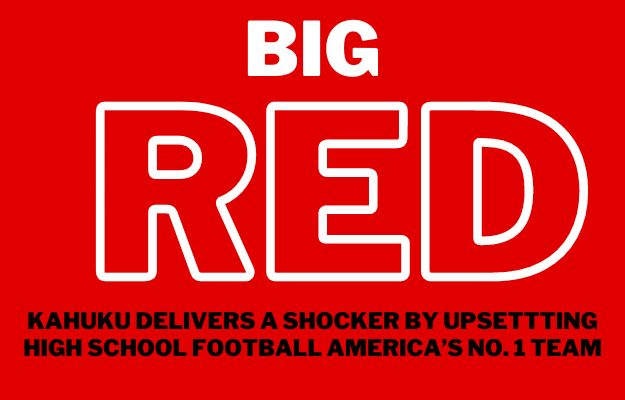 Coming into the game, the visiting Braves from Bellflower, California, were carrying their No. 1 national ranking in the High School Football America 300. That top position will be very much in doubt this week.
Not many outside of Hawaii had reason to believe something like this could happen. But Hawaii fans, especially the huge fan base on the North Shore of Oahu, have always believed.
Just last week, MaxPreps' No. 1 nationally ranked team, Mater Dei of Santa Ana, California, gave Kahuku naysayers a bit of ammunition on its home field with a 55-8 victory over the Red Raiders.
But it was one year ago in an intriguing home game that the Red Raiders (5-1) showed exactly that they belong in the conversation involving top-tier national teams. They were in front of national No. 3 St. Frances Academy of Baltimore in the final minute before losing 22-15.
In this one, quarterback Tuli Tagovailoa-Amosa scored on an 18-yard touchdown run with 23 seconds left for the victory. Kekua Amua Jr. tacked on the 2-point conversion on a pass from running back Vaaimalae Fonoti to make it the final 7-point margin.
Earlier, Mana Carvalho was a major reason for a 22-9 halftime lead for Kahuku with a TD run of 7 yards and a 12-yard TD pass from  Tagovailoa-Amosa.
St. John Bosco (4-1) outgained the Red Raiders 353 to 222.
With 8:15 left in the game, the Braves went ahead 23-22 on Chauncey Sylvester's 6-yard TD run.
Defensively for Kahuku, Aiden Manutai (interception), Zaden Mariteragi (tackle for loss), LeBron Williams (forced fumble), Sione Pasi (fumble recovery), Terahiti Wolfe (interception), Madden Soliai (8 tackles), and Fale Atuaia (8 tackles) led the way.
In the defensive backfield, Kahuku broke up four Braves passes.
Kahuku, the top-ranked team in Hawaii and the two-time defending state Open Division champion, is expected to rise in the national polls this week. Last week, the Red Raiders were No. 50 by High School Football America and No. 55 by MaxPreps. It's possible they may make it into the USA Today Super 25 and the SB Live/Sports Illustrated (where they were No. 23 two weeks ag0) Top 25.

—–
ALSO AT BedrockSportsHawaii.com: