Let's start this update to the Bedrock Sports Hawaii pound-for-pound boys wrestling rankings with these two caveats:
>> 1. Nobody will really know who the top wrestlers are in 2022 until after the state tournament. So this list is just a gauge of strength at this time, based on past credentials, this season's results and some input from coaches.
If you are a wrestler and are not on this list and deserve to be on it, you may eventually make it on by continuing to do your job.
>> 2. Placement on this list doesn't mean a hill of beans compared to what wrestlers do on the mat. But it can add more interest and intrigue to the season.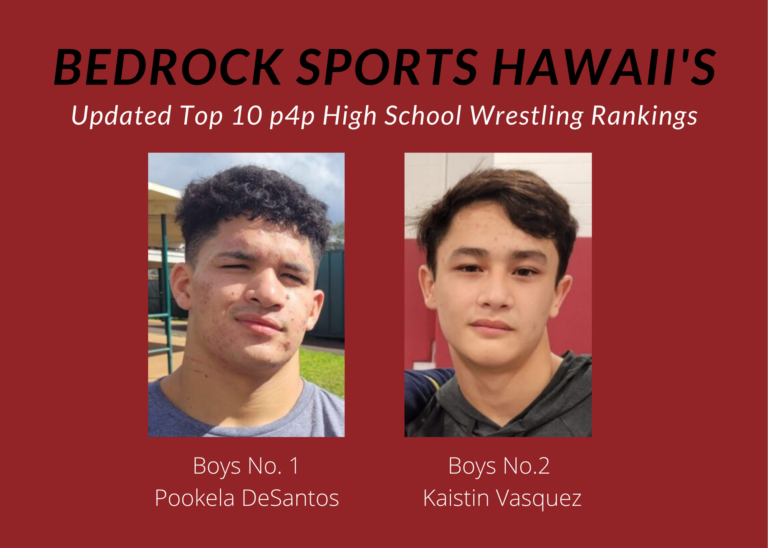 Soon after these boys and girls p4p updates (the first since the original rankings from Jan. 17) are posted today, Bedrock Sports Hawaii will email all coaches in the five leagues, calling on them to be ready to give their input (if they want) toward the next rankings that are expected to be either just before or just after the upcoming championships of the give leagues.
And for that next update and beyond, we will continue to strive to have the truest possible picture of who belongs where in the rankings.
In today's update, Leilehua's Pookela DeSantos and Kaistin Vasquez have looked the part so far this season and moved up to Nos. 1 and 2.
Baldwin's Tobey Ravida, a state champ in 2020 and a state placer in 2019, has been inactive during competition and dropped two spots. According to Bears coach Malakai Panuve, Ravida will return to the mat in the MIL either this weekend at the King Kekaulike round-robin tournament or the following week.
In the biggest move, Kapolei's Brycen Pagurayan moved up from No. 9 to No. 4 after a win over Moanalua's Blaze Sumiye, a state champ in 2020 who dropped two spots to No. 5.
BEDROCK SPORTS HAWAII'S BOYS WRESTLING TOP 10 POUND-FOR-POUND RANKINGS
Updated: Feb. 9
(Approximate or likely weight class in bold, followed by movement — plus or minus — since the last Top 10 from Jan. 17)
>> 1. Pookela DeSantos, senior (Leilehua) 2020 145 state third place, 2019 152 state second place) — 170 (plus-2)
>> 2. Kaistin Vasquez, senior (Punahou) 2020 113 state third place — 126 (plus-3)
>> 3. Tobey Ravida, senior (Baldwin) 2020 113-pound state champ, 2019 106 state runner-up) — 126 (minus-3)
>> 4. Brycen Pagurayan, junior (Kapolei) 2020, 145 state fifth place — 170 (plus-5)
>> 5. Blaze Sumiye, senior (Moanalua) 2020 145 state champ — 170 (minus-3)
>> 6. Dreddin Villalpando, senior (Saint Louis) 2020 126 state third place — 138 (minus-2)
>> 7. Karter Nitahara, senior (Moanalua) 2020 170 state third place — 182 (minus-1)
>> 8. Logan Lau, sophomore (Mid-Pacific) — 120 (new to Top 10)
>> 9. Cyrus Bucsit, senior (Saint Louis) 2020 106 state third place — 113 (minus-1)
>> 10. Kade Okura, senior (Kalani) 2020 132 state third place — 138 (new to Top 10)
DROPPED OUT OF TOP 10:
>> Jayce Kamimura, senior (Kalani) 2020 113 state fifth place — 113 (previously No. 8)
>> Scotty Dikilato, junior,(Kamehameha) 2020 220 state fifth place — 285 (previously No. 10)
TRENDING UP:
>> Tyger Taam, freshman (Moanalua) — 132
>> Raizen Aina, senior (Kamehameha-Hawaii), 2020 113 state sixth place — 138
>> Ramos Suzuki, senior (Kalani) — 145
>> Mikah Labuanan, freshman (Kamehameha-Maui) — 126
>> Nathan Marovish, junior (Kapaa) — 170
>> Xander Erolin, sophomore (PAC-5) — 152
>> Koen Shigemoto, freshman (Mililani) — 113
>> Joseph Lathwood, freshman (Moanalua) — 120
>> Holden Soares, senior (Campbell) — 160
>> Gabriel Valdez, senior (Baldwin) — 160
ALSO ON THE RADAR:
>> Joshua Frias, junior ('Iolani) — 113
>> Khansith Chantabouasith, senior (Leilehua) 2019 106 state fifth place — 120
>> Gabriel Grilho, junior (Aiea) — 138
>> Kayzehn Aiwohi-Frisby, senior (Waianae) — 182
>> Joshua Santiago, junior (Waianae) — 145
>> Justyce Mercado, sophomore (Punahou) — 145
>> Keegan Goeas, freshman (Castle) — 138
>> Kinau McBrayer, senior (Kapolei) — 138
>> Dylan Landford, freshman (Kamehameha) — 120
>> Hakuilua Paaluhi, junior (Waianae) — 138
>> Jeremiah Borce, (Hawaii Preparatory Academy) — 138
>> Boston Opetaia, senior (Saint Louis) 2020 170 state second place — 195 (injured)
>> Jace Kim-Cadiz, junior (Pearl City) — 145
>> Joe-Xahn Rapoza, sophomore (Pearl City) — 138
>> Bransen Porter, sophomore (Waianae) — 138