In 100 years, the people inhabiting this planet may come across a photo of a team in Hawaii during the COVID-19 pandemic.
They'll see 18 players and a coach all wearing masks and social distancing. It's their 2020-21 team photo. They're in uniforms that they did not get to wear in real games because of a basketball season completely wiped out.
The photo sums it up. They're together — at least a little bit. But mostly apart. The seniors who were looking forward to a fine season came up completely empty handed. The juniors don't know if things will change much by late 2021, when the next season is supposed to start. The hopes are high for that, since vaccinations have begun and the expectations are for COVID-19 to slow down enough for athletes to again engage in physical activity that allows contact.
But coach Robert Shklov of this 2020-21 Mid-Pacific Institute team is out to make sure his players don't get defeated and fully deflated by this.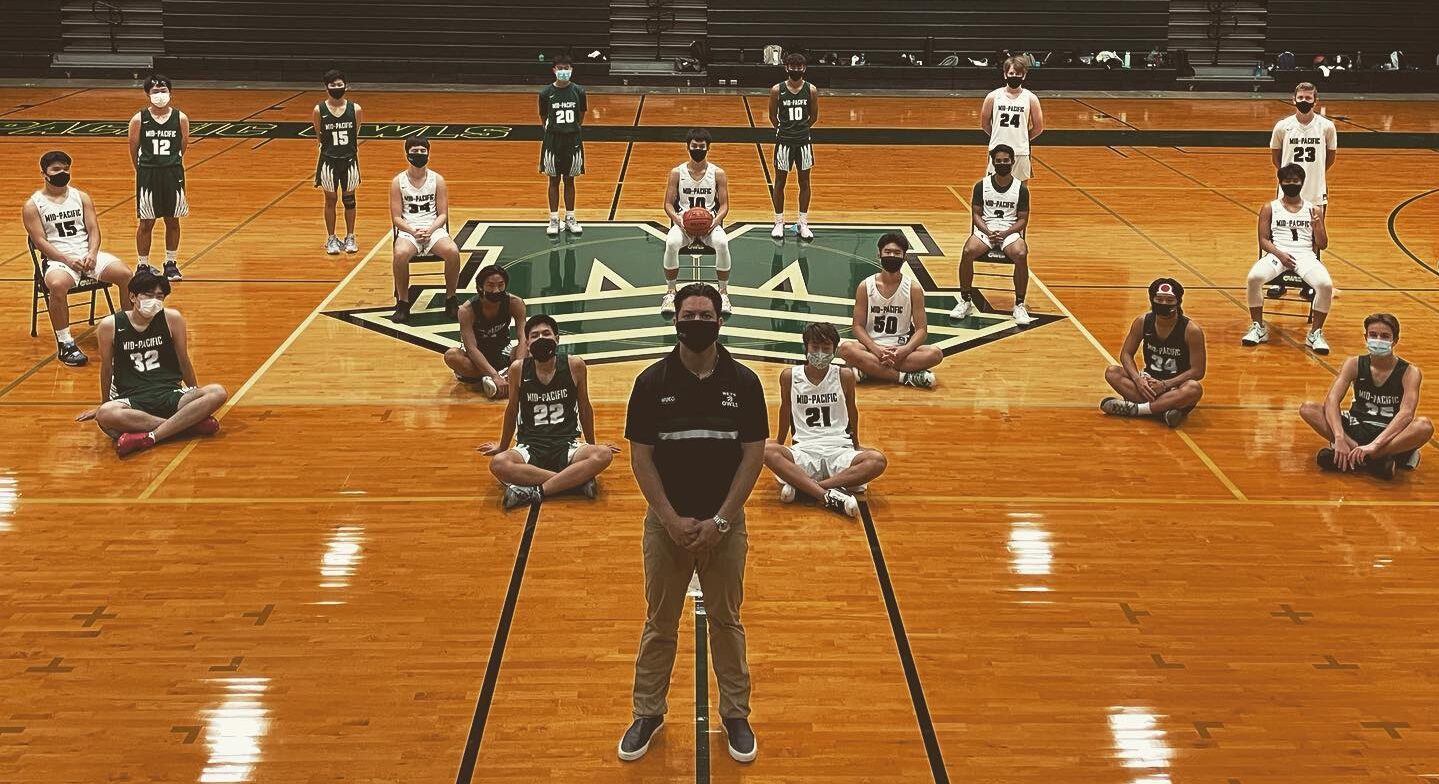 The Mid-Pacific basketball players stayed at least six feet apart and wore masks for the 2020-21 team photo. COVID-19 interrupted their dreams — but that is going to be a temporary thing, according to coach Robert Shklov (front row, standing). Also pictured are: Back row, left to right, Kyle Zeng, Jacob Bow, Kyle Chun, Tyson Norr, Cole Shigeta-Kodama and Alexander Haugaard. Middle: Owls seniors Micah Lee, Henry Man, Jordan Lee, Ezra Michel and Luke Pacarro. Second row: Jun Choi, Matthew Murashige, Jaden Song, Ethan Chang, and Jacob Brown. Front row: Apollo Espania and Luke Higashi. (Image credit: Mid-Pacific assistant coach Matt Galacia).
"They'll forever be known for being a team that navigated the COVID-19 pandemic, but they won't be defined by it," Shklov wrote on a Facebook post that included the photo. "Nothing was ordinary. Things were difficult, but they'll come out of this extraordinary. Life was unfair, but they will not allow themselves to be victims. There was struggle, but out of the trials and tribulations came deeper understanding of empathy and humility. They've suffered through much adversity. but they'll be stronger for it. Mahalo (to Mid-Pacific) for allowing us to have (an in-house) sport experience this school year. I know the kids benefitted greatly. We all appreciate the lengths you went to keep us safe and healthy, but also challenged athletically. I'm sure we'll never know all of the hard work that went in to make this all possible but we are grateful. So grateful."
Grateful for drills and practices with masks with social distancing. Grateful for a few scrimmages that they had to keep an arm's length apart. Sure, not what they expected. But life could be worse. And, everyone knows, it could have been so much better.
Outlook going into 2020-21 was super bright
Hopes were high for MPI in 2020-21. The Owls went 3-9 in the ILH in 2019-20 before going on to beat 'Iolani and Punahou in the league's postseason tournament. That campaign ended with a four-point elimination loss to Damien.
—
Author's tangent: Let's take a quick look back to more than 100 years ago and a grainy image of a football offensive line about to make a snap (shown below). It was taken in 1918, during the Spanish Flu — an illustration showing that these hard times that MPI (and the rest of the teams in Hawaii and elsewhere in the world) has had to go through is nothing new.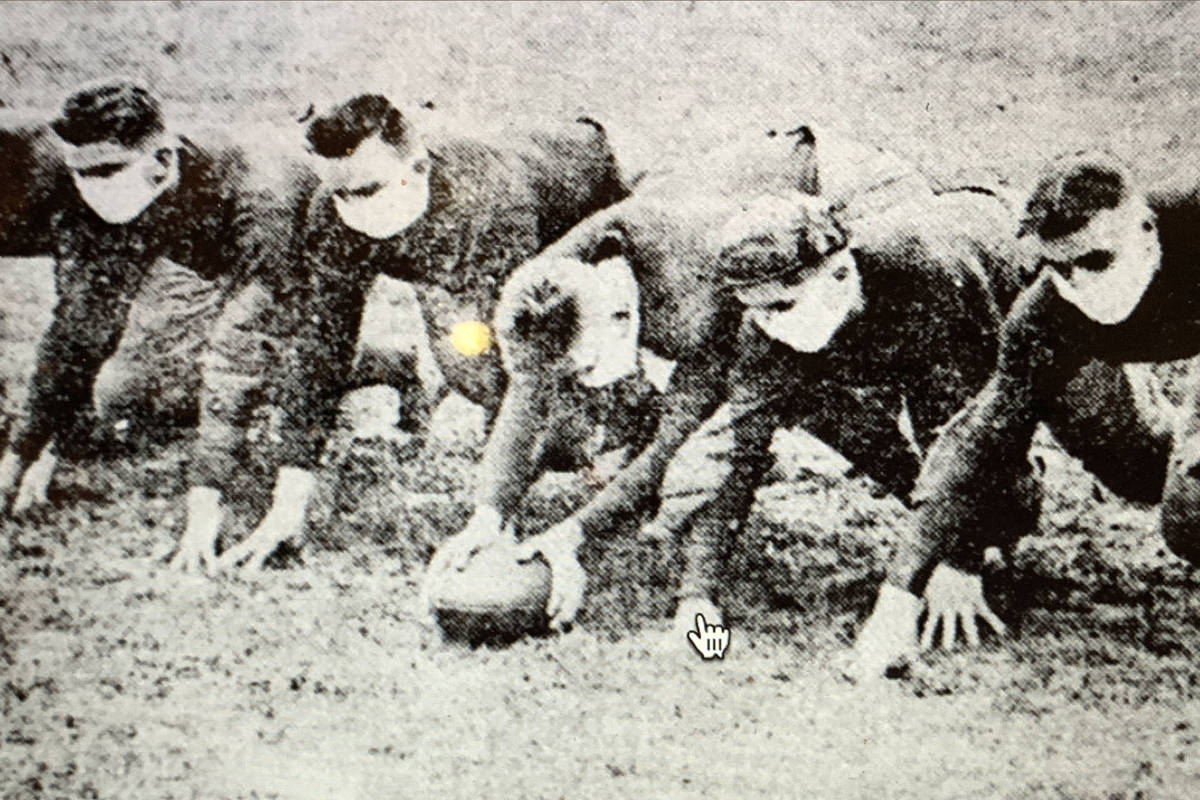 Members of the Washington University football team are shown in St. Louis in 1918. (Image credit: Washington University file).
—
Mid-Pacific senior, Ezra Michel — like coach Shklov — is thankful for the moments the team created despite the challenges. Bedrock Sports Hawaii caught up with Michel by phone Sunday morning.
"Coming into this season, we reflected on last season and how to improve and keep the same character and respect and sportsmanship," he said. "We really believe we could have done something special if COVID-19 didn't interfere. Each individual was focused on improving a specific aspect of their game.
Michel plans to attend Seattle Pacific University. He wants to be a doctor or chiropractor some day.
"I want to give a shoutout to Mid-Pacific and the president and the athletic department and the coaching staff for allowing us to continue to play the sport we love," Michel said. "It was incredible, wonderful to play together. The coaching staff did an excellent job wiht safety protocols. We had such an excellent time getting to know each other — so much fun for me as a senior."
Safety protocols were put in place for all practices. That meant masks and staying six feet apart.
"There was a point where we were allowed a little contact, when we wore goggles for safety and kept within an arm's length away. It was hard to breathe sometimes, with soggy masks."
Owls will hold farewell scrimmage Thursday
On Thursday, MPI will wrap up the "season" with a farewell scrimmage that will be shown live to the school's ohana.
"We had so many laughs this year, trying to stay together and build family," Michel said. "The coaches kept us entertained, telling us jokes. Coach Skhlov told us he was going to beat us in Call of Duty some day. I can't wait to see that.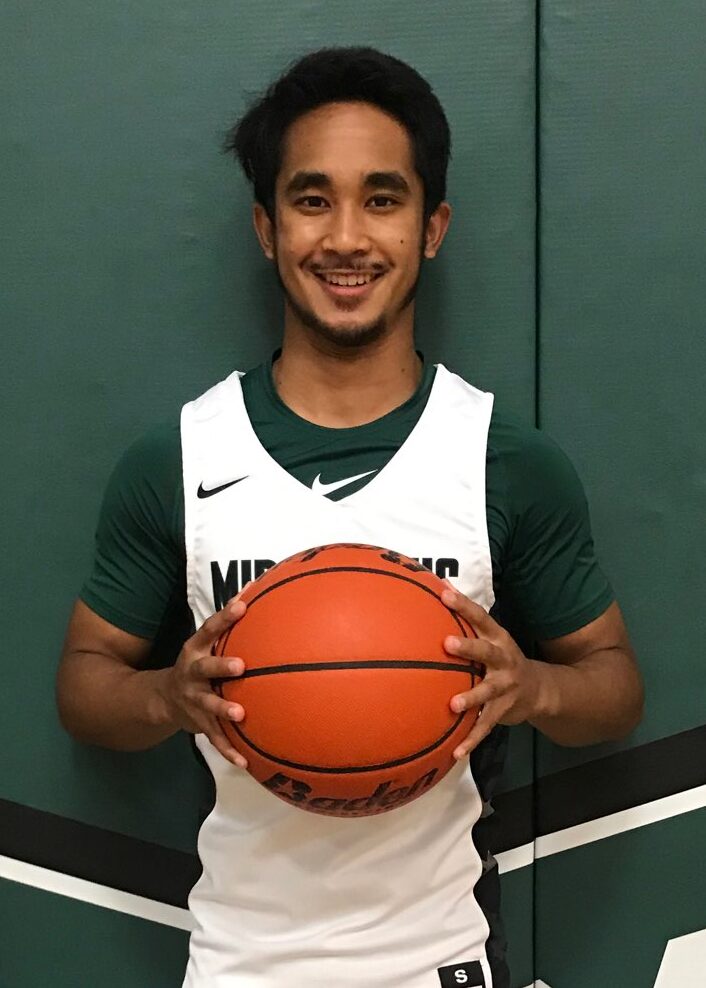 Mid-Pacific senior Ezra Michel.
"And I'll always remember doing the ab workouts, six feet apart, with country music or old-school tunes like the Jonas Brothers, Miley Cyrus or Pitbull on and everybody trying to sing it. We would stumble on the drill because of all of the laughter and all of the mostly horrible singing voices."
The fact that laughter and togetherness were a big part of the Owls' basketball days is huge. The tone of Michel's voice as he was telling the stories sounded a lot like Mid-Pacific had succeeded in winning the ILH.
Those kids (and lots of others on teams everywhere) were tested. And apparently they are passing with high marks.
Shklov may have said it best, and it's worth repeating: "Nothing was ordinary. Things were difficult, but they'll come out of this extraordinary. Life was unfair, but they will not allow themselves to be victims."
___
ALSO AT BEDROCKSPORTSHAWAII.COM: Opinion — Silence Says A Lot — Hawaii High School Spring Sports About To Evaporate
___