Editor's Note: This is Part 2 in an ongoing series that will run in the Marlboro and Hawaii websites in the Bedrock Sports chain.
—
One of the categories readers can go to at Bedrock Sports is "Inexhaustible Universe of Athletics."
Kind of wordy, yeah? You're right. But it's exactly the right title. The world of sports is limitless and the possible stories that can be written about sports is infinite.
At this point, it should be known that I sort of purloined that title. Actually, the mighty thesaurus came in handy. I wanted something that resonated like ABC's great Saturday sports show in the 1970s — Wide World of Sports. Um … well, you see the similarities.
And so, in essence, what goes down in this website could be news from just about anywhere in the … gulp … universe. Sure, I would like to go up in a rocket some day, even if it was for nothing more than to see with my own eyes that the Earth is a round globe. No, no, I don't doubt it. But some tell me that if I watch the right videos, I would know for sure that it is flat.
Simply put, the universe is BIG with many STORY ideas and my clipboard is FULL of ideas. The little words scribbled on the top piece of paper are screaming out, "Pick me, pick me."
And, usually, if it gets scribbled down, it gets done … eventually.
But the really great thing about this job as a reporter and editor and now the owner of two websites is that there is also limitless room in this virtual newspaper for lots of FINE NUGGETS that in the old days would not fit into the actual paper format.
For instance, I can interview people for a story or communicate with them electronically and then I can use what they told me for the main thrust — the written and posted story (or assignment, if you will). Just a year or two ago, that would be it. Story done. Time to move on.
But now, the overflowing notes from many sources (anecdotes that used to never see the light of day) can be used in follow-up fashion — in a more fun and offbeat way than the main item. Bottom line, people say some super interesting things that aren't necessarily going to fit in that original posted story.
As a matter of fact, this note-clearing type of story-telling was used for a successful post on April 15: Talking Story With Many Of The Ol' Sports People In The 'Boroughs'.
This installment is Part 2 of that, something which was promised to Part 1 readers. The series is likely to continue on to a Part 3 and beyond. Or as Buzz Lightyear might say, "The Inexhaustible Universe of Athletics and beyond." Too many people have stories to tell, and this is one place to tell them.
Hudson's Chris Williams Went On To Play College And Minor League Hockey
It was really cool to talk to Hudson's Chris Williams recently.
Chris' father, the late Tommy Williams, was the only American hockey player in the NHL during most of the 1960s and won an Olympic gold medal with Team USA in Squaw Valley, Calif,, in 1960 and a championship ring with the New England Whalers of the WHA in 1973.
Chris' brother, the late Bobby Williams, died tragically in 1987 just as he was making a case to be brought up to the Boston Bruins from the farm system. Bobby was an amazing high school player at Hudson (Class of '82) and I was fortunate to cover the Hawks teams he led in the early 1980s at the Marlboro-Hudson Enterprise-Sun.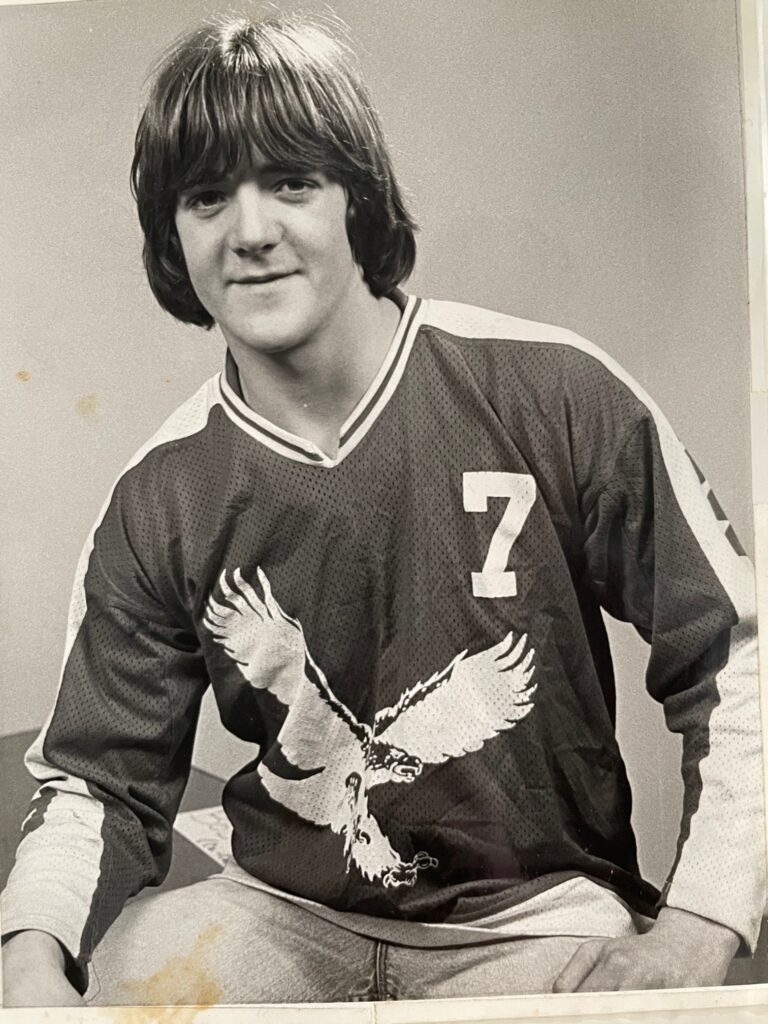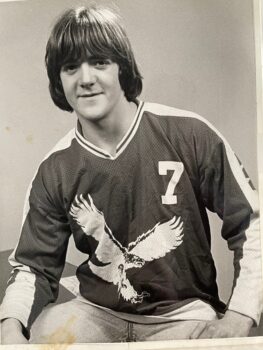 Bobby Williams in 1982, when he was named
Central Mass. player of the year by the
Worcester Telegram and Gazette.
And brother Alex (Class of '84) was also a force for Hudson in the 1980s, and before that, brother Tommy Jr. was a good player for the Hawks.
And Chris himself was a role player at Hudson (Class of '87) before going on to play for Worcester State College, where he became a captain, and in minor league hockey with the Jacksonville Bullets.
Chris was the runt of the family.
"(At one point while playing high school hockey), I was 5-11, 125 pounds," he said in a recent phone interview for the Community Advocate story, which contains many more details than this story about Tommy's and Bobby's hockey days. "To get more serious about hockey, I had to put on weight and size. I had ability, but no strength."
Chris added that he got the "Why can't you be like your brothers?" question a lot back then.
"That was tough," he remembered. "Being a young kid and trying to perform well. My brothers were like superstars. It sucked not living up to what they were doing. I only played hockey (starting in his sophomore year) because Hudson didn't have enough players."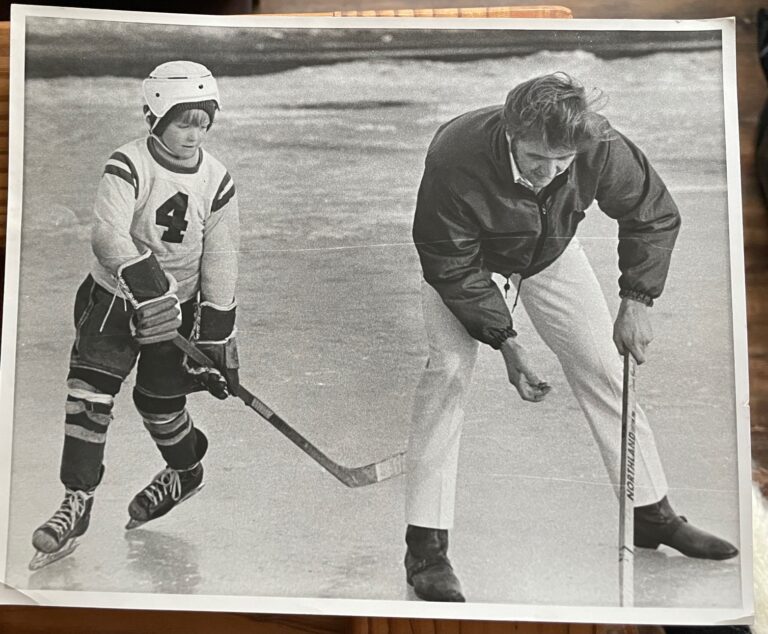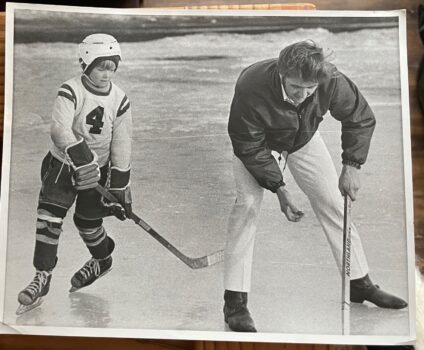 Tommy Williams playing a little hockey with Tommy Williams Jr.
Chris, who is 51 (the same age as his dad was when he died in 1992), still plays hockey, saying "It's purely for exercise."
Brother Alex joined Chris for one semester of hockey at Worcester State in the early 1990s. In addition, Chris mentioned that brother Tommy played for the Tri-Valley Squires (based in Millis) in junior hockey at one point.
Chris will never forget the nice words he got from his father after one of his Worcester State games.
"I had developed a pretty good shot," Chris said. "And in the car he told me, 'Hey that's quite a shot you took tonight. That's not a college shot.' I didn't know how to take the last part back then. What does that mean, 'Not a college shot?' Now, when I think of that, I take it that he meant I had a hard and heavy shot and he was impressed."
According to Chris, brother Alex was the most natural skater out of Tommy's kids.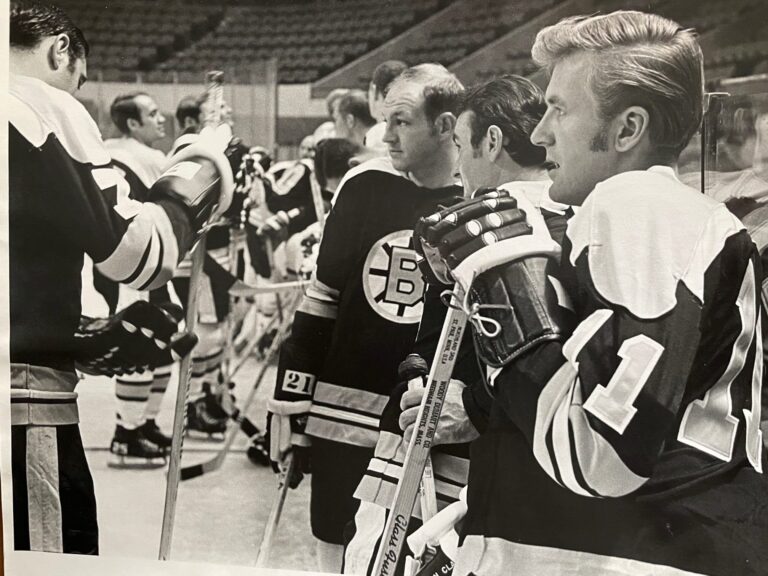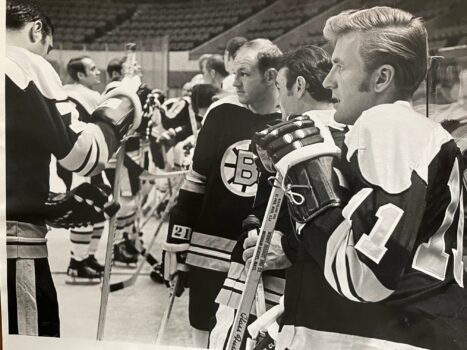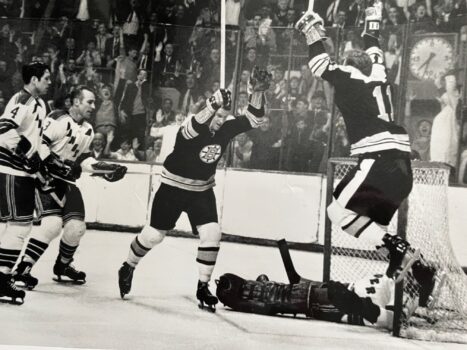 Tommy at a Bruins practice (top) and celebrating a Bruins goal
(bottom right) with 18-year-old Bobby Orr. Williams was traded
from Boston to the Minnesota North Stars after the 1968-69 season.
Boston then won its first Stanley Cup in 29 years in 1969-70.
"When they put him on skates at 2 or 3 or 4, he just went like he had been doing it for years. I (on the other hand) was like Frankenstein."
And Chris also pointed out a little-known fact about Tommy Williams — who scored 192 goals with 327 assists for 519 points in his NHL and WHA career combined: He never played high school hockey.
Chris sent me a voice clip of his dad in an interview with Minnesota TV broadcaster Hal Kelly from the 1970s. At that time, Tommy was playing for the Minnesota North Stars. He was originally from Minnesota before settling in Hudson while playing for the Boston Bruins from 1962 through '69.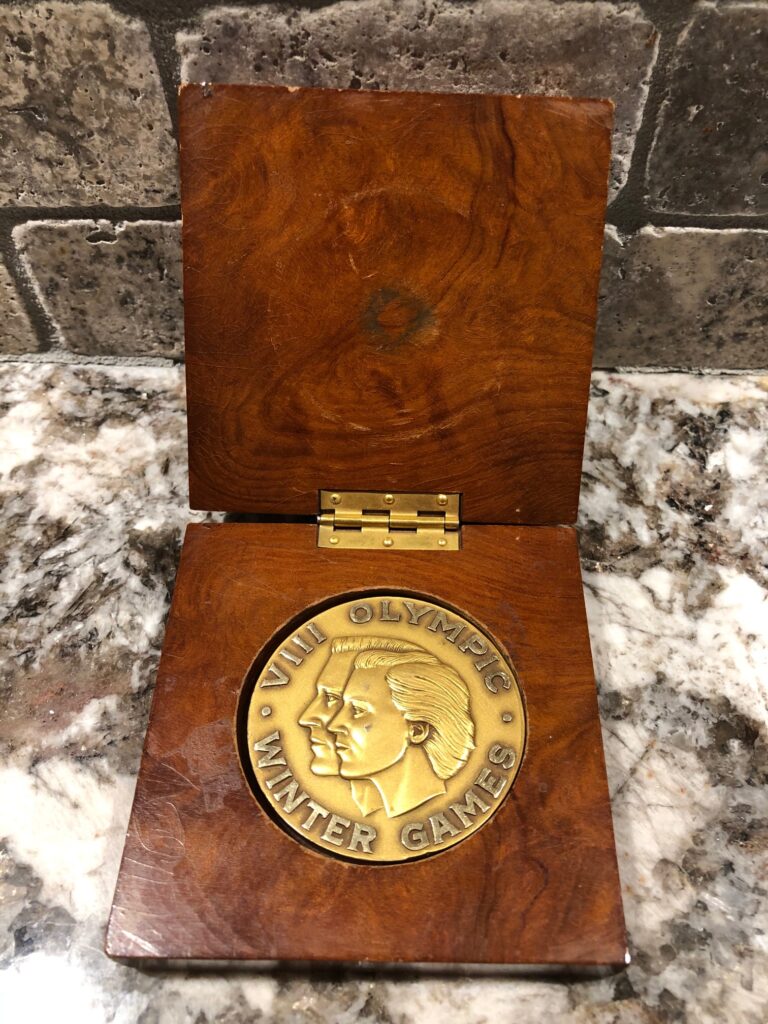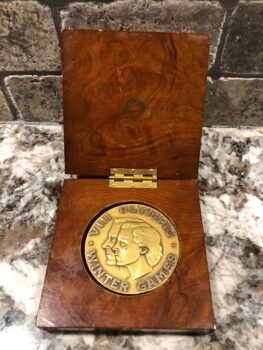 Williams' gold medal from 1960 at Squaw Valley, Calif.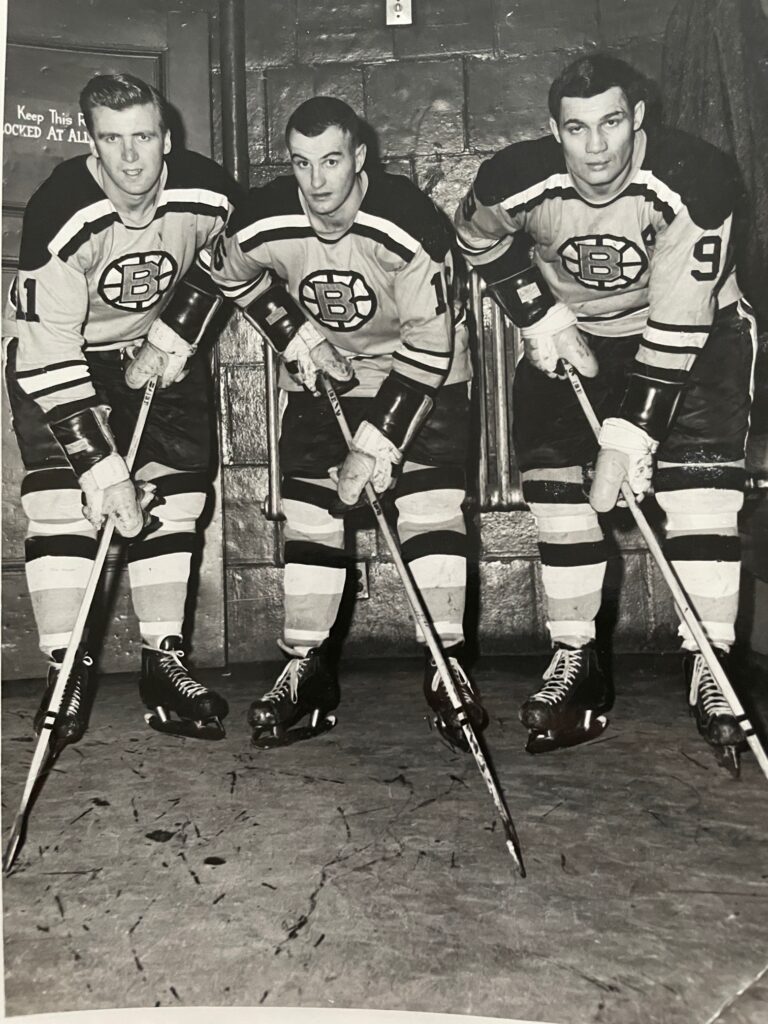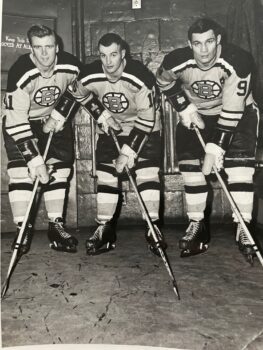 The Bow line — Tommy Williams,
Murray Oliver and Johnny Bucyk.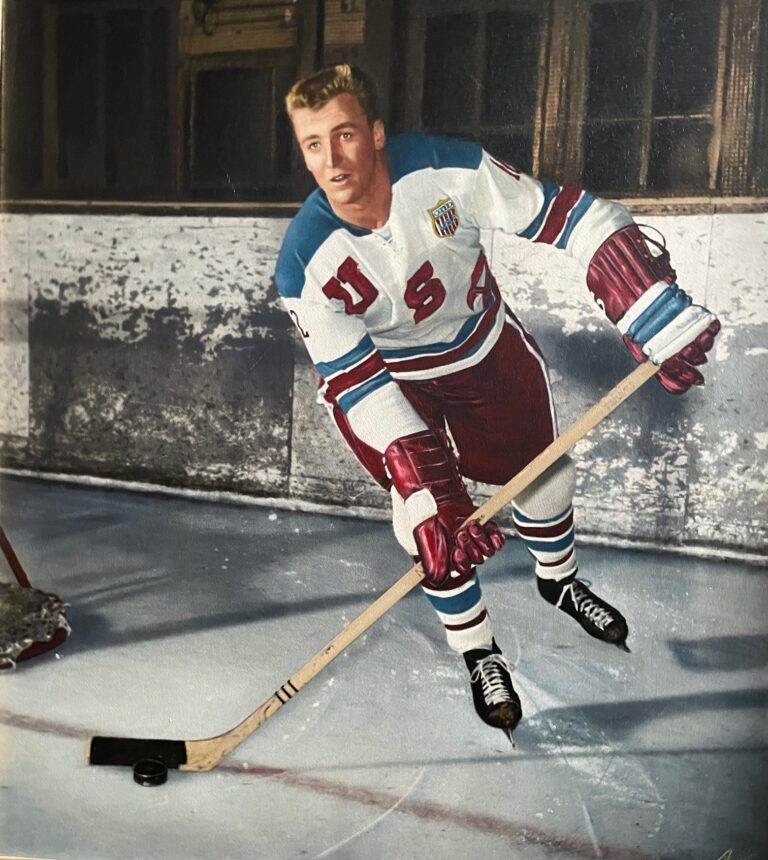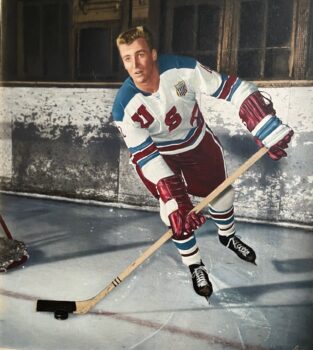 A painting that was up in Tommy Williams'
mother's house from 1960 to when she died in 1995.
On the clip, you hear Tommy crediting his father — who he says played in the U.S. Pro Hockey League — for getting him started at an early age in Duluth, Minn.
"Most kids were starting at 12 or 13," Williams says on that clip. "I was starting at 6 or 7 … as most Canadian boys do. And I got into a senior league on the advice of my father. It helped me a great deal playing with mature men and getting bumped around a little more than I would have had I played high school hockey. I think that this is an important factor in my professional career. You grow up a little faster. You mature more as a hockey player and you're more able to take the bumps and rough stuff you have to anticipate when you get into pro hockey."
About his own development as a player, Chris credits part of his improvement and confidence-building to playing with a bunch of Marlboro, Hudson and St. John's and other Central Mass.-area alumni at stick time (pickup games) at Navin Rink after his high school days.
I told Chris that I used to play at stick time a lot in the 1980s and recall that sometimes Greg Brown and Doug Brown from St. Mark's, a prep school in Southboro, would be out there playing.
Doug Brown starred at Boston College and had a lengthy NHL career (1986 through 2001) as a right wing with the New Jersey Devils, Pittsburgh Penguins and Detroit Red Wings.
Greg Brown, a defenseman, was on the 1988 U.S. men's Olympic team, spent time in the NHL with the Buffalo Sabers and Pittsburgh Penguins, and he's currently an assistant with the New York Rangers.
"One time at stick time (after Greg's Olympics appearance), Greg was going in one-on-one against Scott Young (another former St. Mark's player who played in the 1988 Olympics and had a long NHL career — from 1987 through 2005 — with the Hartford Whalers, Pittsburgh, Quebec Nordiques, Colorado Avalanche, Anaheim Mighty Ducks, St. Louis Blues and Dallas Stars)," Chris said "Scott falls down and his stick hits Greg in the mouth. Broken tooth. I'm out there, thinking, 'These two guys just played in the Olympics.'
"Also, I was sitting there on the bench with Greg Brown and telling him I know how the Russian hockey players are ridiculously strong people. He asked me how I knew and I told him that I learned it from my dad. It turns out that he knew about Tommy Williams."
Steve Jacobs Remembers Tommy Williams' Big Impact On Hudson
For the Community Advocate article on the Williams family, I also got in touch with Steve Jacobs, the former Hudson High athlete and Marlboro High hockey coach who is the head coach at Cushing Academy.
As expected, Jacobs gave me some great stuff about Tommy and Bobby for the newspaper story. And more!!!
"Tommy and Emmy his wife were good friends of our family and I'll never forget how mad Tommy was at me after my Marlboro team 'targeted' Bobby — as he said," Jacobs wrote in a direct message to Bedrock Sports. "It was really just cover him with two guys and be physical with him. It was out of respect for his game and it worked.
"I'll never forget going to a Bruins game with my parents. They often brought Emmy in and my dad told me to watch 'bomber' skate. I had never heard him referred to (that) before. Tommy could fly with the flow going as well."
When Jacobs' brother Chuck was the pro at Stow Acres Country Club, Steve said Tommy golfed there every day.
"Tommy treated everyone with respect," Jacobs added. "He was a jovial, happy guy."
Marlboro's Bruce Caissie Is Always Helping Out
Bruce Caissie is someone I've known since we were teammates on the Marlboro Instructional League team, the Red Wings, with my brother Dave as the head coach in 1971.
Oh wait, I actually met him before that. His mom and my mom, both of Acadian descent in French Canada, would paint together and talk for hours and I recall playing blocks and watching TV with Bruce in our downstairs family room. I also went to Sunday school and junior high with Bruce's brother Jimmy, and I am Facebook friends with the both of them.
Within the last 10 years, Caissie helped our family get a World War II prisoner of war medal for my dad, Nick Sr. — an honor created many years after my dad's death in 1968. Caissie, my sister Marsha and brother Dave were there for a short photo op and medal presentation with then-Massachusetts Sen. Scott Brown.
More recently, when Caissie learned I was writing a story on Tommy Williams, he sent me a bunch of photos and memorabilia of the former Boston Bruins and Hartford Whalers fan favorite.
Of course, with ancestors in Nova Scotia, the Caissie family is crazy about hockey. In a recent phone call, Bruce told me that he will always be grateful that Boston Bruins great Ray Bourque spent a half-hour on the phone chatting with Bruce's grandmother. It turns out, according to Bruce, his grandmother was born a Bourque and that she and Raymond are something like fourth cousins, once removed.
From Bruce Caissie's hockey card collection.
I also asked Bruce to give me his thoughts on what Tommy Williams meant to the area.
"Tommy's wife bowled with my mother in the '60s," Caissie sent in a direct message to Bedrock Sports. "It wasn't uncommon for him to carpool to Maple Lanes and back home. He never stopped being part of the Bruins (and) getting donations of Bruins items. My dad took slides at that time and got pictures of my two brothers meeting and shaking hands with Tommy after a hockey banquet at the Moose hall.
"When the new league (WHA) started, we had gone through watching the Bruins do what they did (win two Stanley Cups). Anything hockey became popular. At that time, Tommy wanted to prove he still had the talent. Fighting through life problems, playing in Boston again seemed to be the answer. He scored the first Whalers goal and became a member of the first WHA championship team. As the local sports hero, when I saw him in public, he always asked to be remembered to my mother. I saw him at old-timers games and later at Stow Acres Country Club, where he was a member and was always willing to talk. Collecting his hockey cards reminds me of a great time knowing him and the way he treated all of us kids in the greater Marlboro and Hudson area."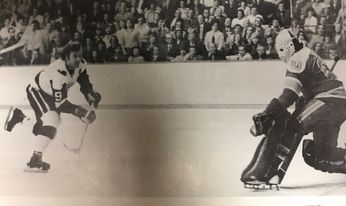 Tommy Williams scoring the New England Whalers
franchise's first goal. (Photo courtesy of Bruce Caissie.)
Ka-boom!!! Things have a way of coming together in unexpected ways.
One day when my father Nick Sr. was working for Charlie and Peter Anderson of Anderson Furniture on Marlboro Main St. (I think it was in the spring of '68), he handed me Johnny Bucyk's lightly broken game stick that he got from none other than Tommy Williams, who knew the Andersons very well. It was signed by all the Bruins. All the neighborhood kids told me not to use it in street hockey, but I did. It could have been a collector's item, but the fact that I used it means more to me. I am a lefty because my dad, also a lefty hockey player (Waltham High), was a lefty and he showed me how to hold Bucyk's lefty stick. It felt right.
Chit-chatting With Marlboro's Jay Marinoni Brings Back A Ton of Memories
I recently entered Bedrock's wayback machine to chat with Jay Marinoni, my neighbor who lived across the street in Marlboro in the 1960s and 1970s.
Playing street hockey for the first time, circa 1965, I was running behind him when he lifted his stick to shoot and his blade hit my tooth, which fell out. It was ONLY A BABY TOOTH. Haha, but I still cried and ran home to mom.
People familiar with that time and place know that the Marinoni family had some really good athletes. Jay himself played hockey at St. John's (Class of '72) and then four years at the University of Lowell. Brother Paul — who I would often pal around with — played hockey and starred in golf at St. John's (Class of '77).
And brother Mike (man, this is sad) was a top hockey player at Marlboro High (Class of '74) and was playing for Framingham State when he died tragically in the fall of '77 in an auto accident.
It was a total shock for everyone in our neighborhood and many in Marlboro, and it was just one year after we lost my sister Cyndi (Mike friend and also in the Class of '74) in a car accident.
In the past 10 years, several times I've come across comments on Facebook from people who recall playing baseball and hockey with Mike and how much of a competitor he was. And what seems to have been his trademark — his overall toughness — always shines through in their remembrances.
And so I plan to write a story about Mike in the near future, and get some more in-depth recollections from Jay.
Interestingly enough, the Marinonis' cousin Ned Coen wrote to me on Facebook last week with some nice comments about recent Marlboro stories I've written.
Ned mentioned his dad, Ed Coen, had a big hand in starting the Marlboro Pony League, so there is another story idea for the future. Which reminds me of another possible story, one on Mr. John Battaglino, who was from our neighborhood and who was instrumental in starting the Marlboro Youth Baseball Association and built the field on Williams St. That was about the time when the MYBA started to surpass and eventually outlive the already established Marlboro Junior Baseball League.
Jay Marinoni, who along with Marlboro's Billy Hedin, has been involved in sports collectibles since the late 1970s.
I can honestly say I remember the day Jay told me that baseball cards and sports collectibles were going to be huge soon. It seemed slightly far-fetched and I withheld judgment to see if what he said was going to come true. And it did.
The Jay and Billy story (the two have often and are still collaborating) is another idea for the future. Hedin also once also told me one day, circa 1979, that baseball cards, etc., were going to be huge.
One other thing Jay talked about on the ph0ne was a real throwback.
"My mom would give me 50 cents and your brother (Dave Abramo) and I would walk down to Rte. 20 (from Grace Circle) to catch the bus to Waltham," he said. "I was probably about 9 (and Dave 12) at the time. I would go and watch Dave's baseball games. He was a really great player. After the game, we would get a hot dog, chips and a drink and still have enough to get back on the bus."
Imagine that, a couple of kids taking the bus from Marlboro to Waltham and back. That type of stuff doesn't happen these days.
And Jay wasn't puffing up Dave's baseball ability. Dave was the leading batter in the Waltham Little League, and I know he has the clippings. His team's name was the Portland Pigs.
Instead of playing youth baseball in Marlboro, where we moved to from Waltham in 1961, Dave continued to play in Waltham (sometimes, when he could, my dad would drive him to the games) at ages 11 and 12.
Like a lot of boys, even to this day, Dave did not play in Pony League at age 13 and beyond.
But Dave, if you talk to people who made Bibi's their second home in the 1960s, was also a great pool player. He won a billiards championship trophy while in the Marine Corps in the early '70s, and also did some boxing while in the military — going 2-0 and having the sense enough (I guess) to stop. He left his red and gold boxing trunks at home and sometimes I would put them on while doing some occasional shadow boxing.
And this talk of growing up and boxing brings me to another Dave story. One time, he boxed a guy named Pazzanese (I forget the first name and will insert it here as soon as my brother reminds me) in our FRONT YARD.
All the teenagers and dads in the neighborhood were there and it was just after dark, so they pulled up four or five cars with headlights on to provide lighting.
In later years, I asked Dave who won and I think he said it was a draw. He did say that Pazzanese was tough, though.
Community Advocate Reader: Marchisio Was A Teddy Bear
A Ms. Janice Corazzini from Westboro sent a letter to me after my story on old-time, legendary Shrewsbury football coach Mario Marchisio ran in the Community Advocate earlier this month.
The piece showed how tough Marchisio was. She pointed out his toughness was out of his love for the players and that he had a softer side.
The tough stuff, like Marchisio breaking clipboards over players' helmets, was true, she confirmed.
"However, he was a big teddy bear," she wrote. "Not to his players, of course, but to others who taught with him. I was a young 23-year-old first-year teacher at Shrewsbury High School. We had a hall duty together. I was the art teacher who accepted mixed grade levels, students who needed extra credit to graduate, etc. Mario never told his players that art was a fluff subject, and he checked up on his players regularly to make sure that they were respectful, did their work and took my class seriously. He was a class act, and earned the respect of his players by telling them the truth about life and all it meant. Those were his kids and he cared about them. He coached those students to win, in both games and life. I have thought about him often and did not know that he passed. There should be more teacher/coaches like him today. A true gentleman and a great coach."
Corazzini is still teaching, 55 years later.
—-
Nick Abramo, a sports journalist since 1981, lives in Mililani, Hawaii, and grew up in Marlboro, Mass. He writes for his websites, BedrockSportsHawaii.com and BedrockSportsMarlboro.com and also freelances for the Community Advocate based in Westboro, Mass.