RIVALS WAIKIKI BASEBALL GAME OF THE WEEK
Cool Saturday nights in Hawaii are just perfect for baseball — without masks on. But since we're still in the grip of a COVID-19 pandemic, any kind of baseball will do just fine.
With players, coaches and umpires wearing masks at Hans L'Orange Park in Waipahu and no fans allowed, Saint Louis held off Kamehameha 4-2 to move into a first-place tie with the Warriors. Both teams are now 3-1 in the always tough Interscholastic League of Honolulu.
The only place for fans to see the game was Spectrum OC 16 Sports television. That organization's working crew, led by play-by-play announcer Felipe Ojastro and analyst Markus Owens, was out in force Saturday night. Bedrock Sports Hawaii was there as well, so if you missed it on TV, you can catch up with the details here.
It was, after all, the RIVALS WAIKIKI GAME OF THE WEEK. Rivals Waikiki, a sports bar, is one of the proud sponsors of Bedrock Sports. In future Games of the Week, adult fans can, ostensibly, watch the action there with a cold one — since they can't get into the park.
Saturday's game was pretty much a righty pitcher's duel throughout, and it was the Crusaders' Caleb Lomavita who outdid Kamehameha's Casey Kitagawa.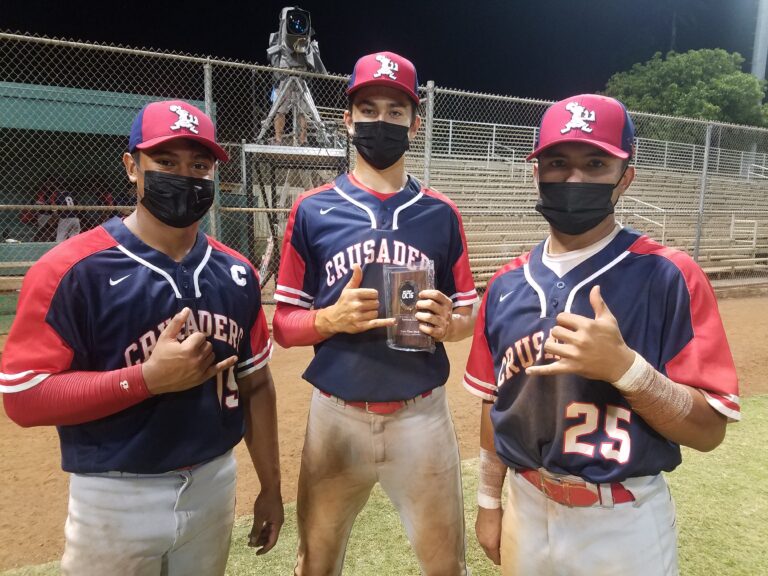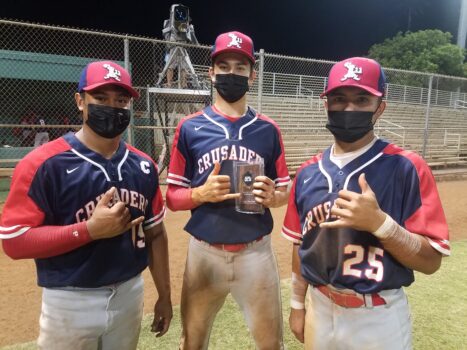 Saint Louis' Caleb Lomavita, Aiva Arquette and Xander Sielken powered the Crusaders to a 4-2 victory over Kamehameha on Saturday night at Hans L'Orange Field in Waipahu. (Bedrock Sports Hawaii photo by Nick Abramo).
Lomavita struck out nine, yielded just four hits and nearly went the distance in the victory. Kitagawa, who came back strong after one bad inning, finished with a complete-game three-hitter and fanned six despite the loss.
"Overall, it was just a nice win," Saint Louis coach George Gusman said. "We were disappointed with our game against Mid-Pacific (a 7-6 loss Tuesday)."
In the bottom of the third, the Crusaders took advantage of three Kitagawa walks to take a 4-0 lead. Aiva Arquette's high-pop single that landed between the Warriors' second baseman and right fielder, brought home the first two runs.
On the play, there appeared to be a miscommunication between the two fielders, and unfortunately for Kamehameha, had the ball been caught, it would have been the third out.
"It's hard to see when it's live," Warriors coach Daryl Kitagawa, the pitcher's father, said. "I thought it could have been caught, but that's baseball. It happens."
Later in the inning, Saint Louis made Kamehameha pay, boosting the lead to four runs when Xander Sielken swatted a two-run triple to right.
Quickly, though, the Warriors got two runs back in the top of the fourth, thanks to Paa Elarionoff's 390-foot RBI double to straightaway center and Kade Yasui's run-scoring double to left-center.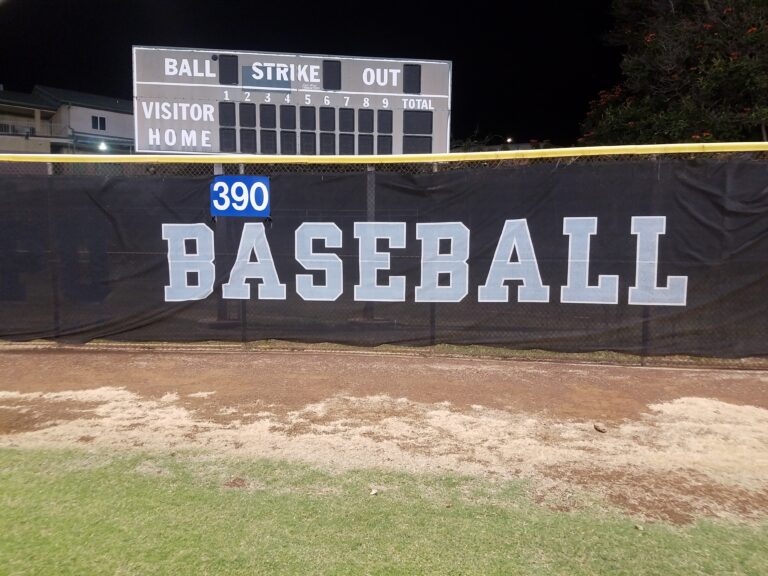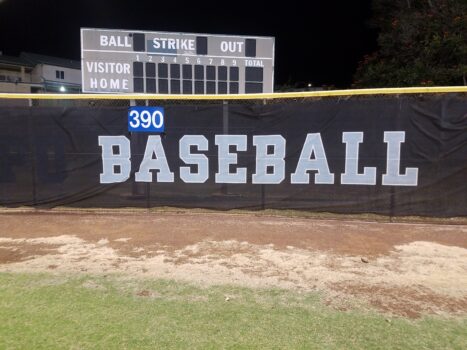 As the sign in right field at Hans L'Orange Park indicates, it's
BASEBALL season. (Bedrock Sports Hawaii photo by Nick Abramo).
Yasui, however, was nabbed at third trying to stretch the hit into a triple, snuffing out the rally.
"All credit to Saint Louis," Kitagawa said. "They played well and took advantage of our miscues, so tip your hat to them, bottom line."
In the fifth, Kamehameha tried to mix it up by showing bunt on its first three batters and putting runners on second and third. But the Crusaders' defense pulled through smartly, when third baseman Hunter Hirayama caught a stinging ground ball, got Warriors runner Kyler Arsiga in a rundown for the second out and then fired to first to nab Tui Ickes, the batter, off of first.
"Hunter is a gamer," Gusman said about Hirayama, who also earned a save in relief of Lomavita. "He comes out to compete. He made a ton of plays tonight. That one, with runners on second and third to get us out of the inning, was phenomenal."
Saint Louis didn't threaten the rest of the way against Kitagawa, who allowed just one hit in the last 10 batters he faced.
"It's a credit to him and the work he put in during the offseason," Kitagawa said about his son's ability to not get rattled. "He built his confidence and he's trusting his teammates. He wants to be in those positions where the team needs him."
Coach Kitagawa probably would have pulled his son in the following (fourth) inning if he struggled, but kept him in during the rough patch.
"It was only 4-0 and I thought we'd be able to score more runs," he said.
In the top of the seventh, Lomavita got the first two Kamehameha batters out and walked the third before leaving the game due to the pitch-count rule. In came Hirayama to face Baue Sylvester, who ran the count to 3-2 and fouled off a handful of pitches before taking strike three to end it.
"That guy who ended the game, Sylvester, is as dangerous as anyone out there," Gusman said. "It was very tense with the coaching staff because we know what he's capable of."
—
ALSO AT BedrockSportsHawaii.com: 'Iolani Baseball Team Pulls A Fast One In Victory Over Dunn Muramaru's Mid-Pacific Owls
—
Lomavita had extra incentive to win it. His cousin, Aydan Lobetos, started in center field for Kamehameha.
"I was telling my teammates on the bus that I need to (pitch the) win (in) this game, personally, because my cousin is on the other team and it was going to feel that much better," Lomavita said. "Once I saw Hunter on the mound — he's a dog — I knew he was going to finish the job and close the door for me. And Xander helped a lot with that bases-clearing triple."
It's an incredibly tight race in the ILH. The bottom teams are only two games behind the frontrunners in the standings. Due to the shortened COVID-19 schedule, all eight teams play each other once before the postseason tournament.
The Crusaders meet Pac-Five on Tuesday at Central Oahu Regional Park. On the same day, Kamehameha tangles with 'Iolani at Ala Wai Community Park.
"We take every practice as if it's game day tomorrow," Lomavita said. "We need to be ready for anything that comes up. The ILH has no pushover teams. We need to be ready for every team and I feel coach Gus does a good job with that."
ILH Baseball Standings
>> Saint Louis, 3-1
>> Kamehameha, 3-1
>> 'Iolani, 2-1-1
>> Mid-Pacific, 2-2
>> Maryknoll, 2-2
>> Punahou, 1-2-1
>> Pac-Five, 1-3
>> Damien, 1-3