There is some shuffling in Bedrock Sports Hawaii's Top 10 pound-for-pound rankings this week, but no seismic movements.
This is the last update before the Texaco/HHSAA Wrestling Championships on Friday and Saturday.
Like all rankings in all sports, this is not perfect, BUT IT DOES have quite a bit of input from coaches around the state and that really helps in an attempt to get it as RIGHT as possible.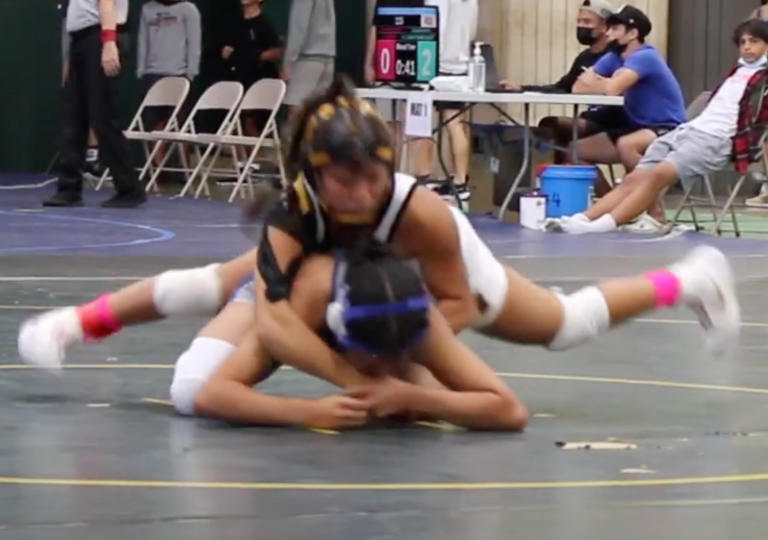 Mililani's Tristan Nitta is one of two newcomers to the Bedrock Sports Hawaii pound-for-pound rankings this week.
And the best thing is, these 20 p4p wrestlers (10 boys and 10 girls) have some business to finish. One more effective tournament and the a final Top 10 ranking should be solid.
After the state tournament, the last rankings of the year will be MOSTLY ABOUT how the competitors do in the most important event of the year. Pedigree at this point can only go so far.
Are these guys and girls going to get it done? Or are there others in the wings just waiting to move up Are these wrestlers going to get through their super tough brackets or are some of them going to get by against lesser competition? Will they get all the way through? Are they winning by fall and in total control of their opponents? Or are they struggling just to get by?
Well, that will be a really fun final-year rankings expected to come out next week. But not as fun as the wrestling on the mat. IT'S STATE CHAMPIONSHIP TIME!!!!
The two biggest movers in an upward direction this week are Moanalua's Karter Nitahara from No. 7 to No. 3, Kalani's Kade Okura from No. 10 to No. 6, and Moanalua's Isabelle Asuncion from No. 9 to No. 6.
There are also two newcomers to the Top 10 lists — Saint Louis' Boston Opetaia at No. 8 and Mililani's Tristan Nitta at No. 9.
Here are the new rankings:
BEDROCK SPORTS HAWAII'S BOYS WRESTLING TOP 10 POUND-FOR-POUND RANKINGS
Updated: March 2
(Weight class in bold, followed by won-lost record and up or down movement since the previous update Feb. 23)
>> 1. Pookela DeSantos, senior (Leilehua) 2020 145 state third place, 2019 152 state second place) — 170 … (16-0) … even
>> 2. Tobey Ravida, senior (Baldwin) 2020 113-pound state champ, 2019 106 state runner-up) — 126 … (4-0) … plus-1
>> 3. Karter Nitahara, senior (Moanalua) 2020 170 state third place — 182 … (12-0) … plus-4
>> 4. Blaze Sumiye, senior (Moanalua) 2020 145 state champ — 160 … (11-1) … plus-1
>> 5. Dreddin Villalpando, senior (Saint Louis) 2020 126 state third place — 132 … (4-0) … plus-1
>> 6. Kade Okura, senior (Kalani) 2020 132 state third place — 138 … (12-0) … plus-4
>> 7. Cyrus Bucsit, senior (Saint Louis) 2020 106 state third place — 113 … (6-0) ,,, plus-2
>> 8. Boston Opetaia, senior (Saint Louis) 2020 170 runner-up) — 182 … (3-0) … new to Top 10
>> 9. Kaistin Vasquez, senior (Punahou) 2020 113 state third place — 126 … (8-0) … minus-7
>> 10. Logan Lau, sophomore (Mid-Pacific) — 120 … (11-0) … minus-1
— Dropped out of Top 10: Brycen Pagurayan, junior (Kapolei) 2020, 145 state fifth place — 170 … (11-2) … previously No. 4

Among the many unbeatens waiting in the wings:
>> Joseph Lathwood, freshman (Moanalua) — 120 … (15-0)
>> Diesel Del Rosario, sophomore (Lanai) — 120 … (14-0)
>> Zachary Lapenia, (Kamehameha-Hawaii) — 126 … (14-0)
>> Tyger Taam, freshman (Moanalua) — 132 … (13-0)
>> Jeremiah Borce, senior (Hawaii Preparatory Academy) — 138 … (17-0)
>> Akoni Kaaialii, junior (Kamehameha) — 138 … (8-0)
>> Jace Kim-Cadiz, junior (Pearl City) — 145 … (18-0)
>> Xander Erolin, sophomore (PAC-5) — 152 … (12-0)
>> Holden Soares, senior (Campbell) — 152 … (18-0)
>> Ayden Coronil, senior (Kamehameha) — 160 … (7-0)
>> Gabriel Valdez, senior (Baldwin) — 160 … (8-0)
>> Nathan Marovish, junior (Kapaa) — 170 … (13-0)
>> Ramsey Nishida, freshman (Kamehameha) — 170 … (8-0)
>> Keawe Kane-Keahi, junior (Lahainaluna) — 182 … (13-0)
>> Vanderlei Yong, junior (Waianae) — 220 … (12-0)
>> Zachary Kaliko, senior (Saint Louis) — 220 … (8-0)
>> Scotty Dikilato, junior (Kamehameha) 2020 22o state fifth place — 285 … (5-0)
>> Kanale Coelho, junior (Leilehua) — 285 … (11-0)
—————-
BEDROCK SPORTS HAWAII'S GIRLS WRESTLING TOP 10 POUND-FOR-POUND RANKINGS
Updated: March 2
(Weight class in bold, followed by won-lost record and up or down movement since the previous update Feb. 23)

>> 1. Erin Hikiji, senior (Mililani) 2020 97 state champ, 2019 97 state fourth place — 97 … (9-0) … even
>> 2. Haley Narahara, senior (Kamehameha) 2020 112 state champ, 2019 112 state third place — 122 … (7-0) … even
>> 3. Liana Ferreira, senior (Baldwin) 2020 97 state runner-up, 2019 97 state third place — 102 … (6-0) … plus-2
>> 4. Nohea Moniz, senior (Kamehameha) 2020 107 state third place, 2019 107 state fourth place — 112 … (7-0)
>> 5. Alicia Frank, senior (Lahainaluna) 2020 117 state runner-up, 2019 117 state fifth place — 127 … (16-0) … minus-2
>> 6. Isabelle Asuncion, junior (Moanalua) 2020 102 state third place — 117  … (12-0) … plus-3
>> 7. Rachel Oshita, senior (Moanalua) 2020 132 state third place — 132 … (12-0)
>> 8. Kaceylee Pua, senior (Baldwin) 2020 155 state runner-up — 155 … (12-0) … minus-4
>> 9. Tristan Nitta, junior (Mililani) — 102 … (13-0) … new to Top 10
>> 10. Lilliane Toledo, senior (Hilo), 2020 184 state fourth place — 184 … (9-0) … minus-2
— Dropped out of Top 10:  Caelin Balansag, junior (Roosevelt) — 117 … (6-0) … previously No. 10
Among the many unbeatens waiting in the wings:
>> Lainey Eckart, junior (Kamehameha-Hawaii) 2020 127 state fourth place — 127 … (13-0)
>> Aliya Takano, senior (Kamehameha) 2020 117 state fourth place — 117 … (8-0)
>> Nanci Nakagawa, junior (Punahou) — 97 … (5-0)
>> Jax Realin, freshman (Kamehameha) — 127 … (7-0)
>> Aubrie Molina, sophomore (Pearl City) … 138 (10-0)
>> Charlotte Campbell, sophomore (Punahou) — 102 … (9-0)
>> Rylie Nishida, freshman (Kamehameha) — 132 … (8-0)
>> Mehana Kapoi, senior (Kamehameha) — 155 … (5-0)
>> Catherine Asami, sophomore (Lahainaluna) — 184 … (10-0)