—–
Editor's note: This post has been clarified to reflect the quarterback Jaron Sagapolutele will be competing with for the Sabers' starting role this year — last year's starter Chayne Kuboyama-Hayashi. Another name was incorrectly reported previously.
—–
Just like last year, there are two Sagapolutele brothers who are expected to be playing quarterback in Hawaii high school football this fall.
The younger brother will have a different uniform, though.
Jaron-Keawe Sagapolutele, who played a starring role for Saint Louis II in ILH Division II (a secondary varsity Crusaders team), is transferring to Campbell to play for the Sabers in his upcoming sophomore season.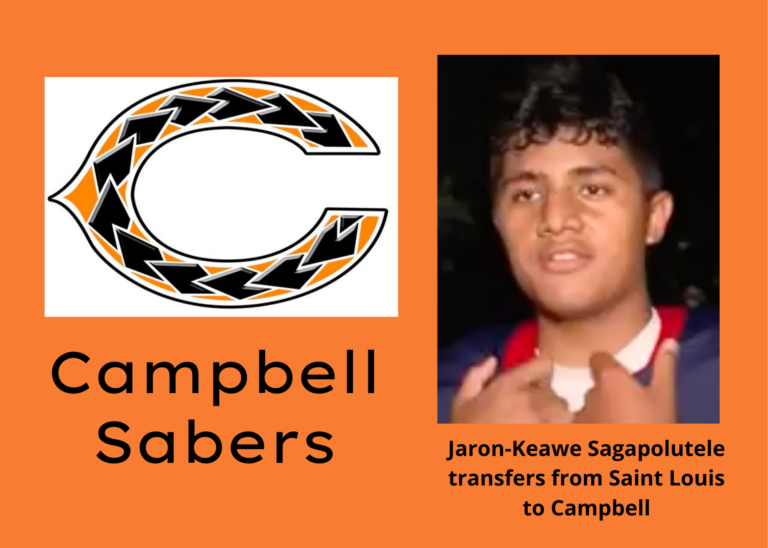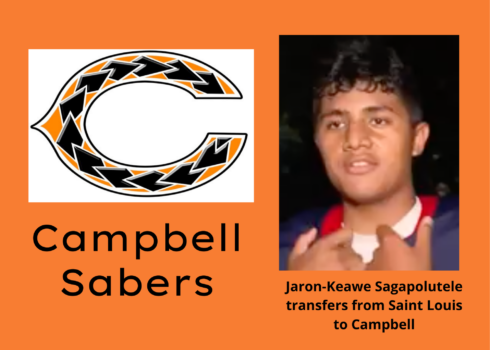 "My younger brother is at Campbell," said older brother John-Keawe Sagapolutele, who won the discus and shot put over the weekend at the state championship track and field meet. "The decision was made recently with both of my parents and him."
The older Sagapolutele will be going into his senior season as the starting quarterback for the Punahou Buffanblu and he already has one Division I FBS college offer — from the University of Hawaii.
"It's exciting," John-Keawe said about a potential varsity matchup against Jaron-Keawe. "It's been my parents dream to have their two sons play against each other in a big game. They got to see a little sneak peak of that a couple of weeks ago at the Hawaii Pylon Tournament. Me and my brother made it to the championship game (where John-Keawe's team won)."
The younger brother, Jaron-Keawe threw six touchdown passes in a game last season and has since become a highly recruited player with four Division I FBS offers, including from Hawaii and San Diego State.
In 2021 for Saint Louis II, Jaron-Keawe there for 346 yards per game and had a super-high completion percentage — 71.8, going 127-for-177 passes for 1,730 yards and 21 TDs.
Campbell coach Darren Johnson is glad to have Jaron-Keawe aboard and says that the new addition will be competing with junior Chayne Kuboyama-Hayashi for the starting role. Kuboyama-Hayashi threw for 1,552 yards and 15 touchdowns last season.
Tana Tofagau-Tavui also played some QB last year, but mostly lined up at receiver, and he stepped up big-time at QB when Kuboyama-Hayashi was injured. Tofagau-Tavui completed 22 of 37 passes for 221 yards and two TDs in his few QB spot duty performances. He finished the season with 38 carries for 157 yards and five TDs and caught 24 passes for 222 yards and another TD.
"It's going to create competition and that's what we want," Johnson said.  "Both quarterbacks (Sagapolutele and Kuboyama-Hayashi) are doing a great job (in drills) and we will continue to evaluate them."
About the younger Sagapolutele, Johnson said, "We love the kid to death. We love all of our kids. We're excited to have him. He's got arm strength — a live arm — with good leadership skills at a very young age. He's a likable kid. Very coachable. And Jonah welcomes the competition."
In Tofagau-Tavui's first stint at QB in 2021, he scored on a 33-yard touchdown run on his fourth snap — against eventual Open Division state champion Kahuku.
You can read about that moment below.
Campbell Football Team's Jonah Tavui Was The Story Within A Story In Saturday's Loss to Kahuku
—–
ALSO AT BedrockSportsHawaii.com:
SEE: Video And Photo Series Of Tatum Moku's State Record 13-Feet, 1-Inch Pole Vault