Note: Look for videos of state wrestling and more photos in an upcoming post.
—–
Grueling, highly competitive matches, including a handful decided in the final few seconds, were the norm at the Texaco/HHSAA Wrestling State Championships on Saturday at Brigham Young-Hawaii's Cannon Activities Center.
In the team races, Kapolei's boys and Moanalua's girls continued their hot streaks, latching on to titles after both schools won at the OIA divisionals and the OIA championships in recent weeks.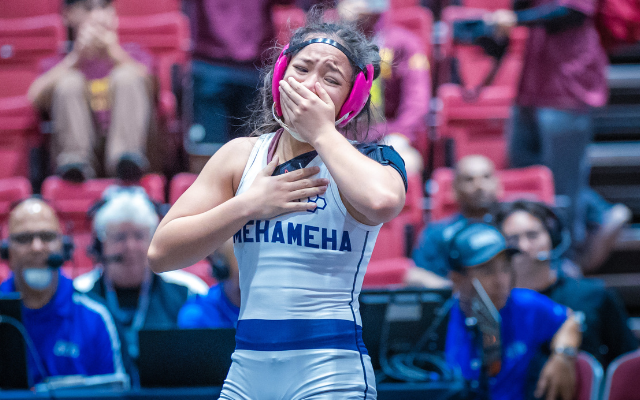 There were many individual breakthroughs, with 18 wrestlers reaching state champion status for the first time. Those 18 newly minted state champs are:
>> Moanalua's Adriana Daoang (Girls 97), Nohilani Kukonu (Girls 155), Eden Baguio (Girls 168), Jasmine Adiniwin (Girls 184) and Jonas Baekkeland (Boys 170)
>> Lahainaluna's Naiomi Kulukulualani-Sales (Girls 107), Kivah Caballero (Girls 122) and Keawe Kane-Keahi (Boys 182)
>> Mililani's Tristan Nitta (Girls 102) and Adrian Lee (Boys 160)
>> Roosevelt's Caelin Balansag (Girls 112)
>> Kapolei's Eloise Woolsey (Girls 132)
>> Hilo's Malia Kukahiwa (Girls 145)
>> Saint Louis' Hunter Berger (Boys 106)
>> Mid-Pacific's Logan Lau (Boys 120)
>> Punahou's Brendan Sekulich (Boys 126)
>> Kamehameha's Akoni Kaaialii (Boys 145)
>> Kapolei's Rodstan Salangdron (Boys 220)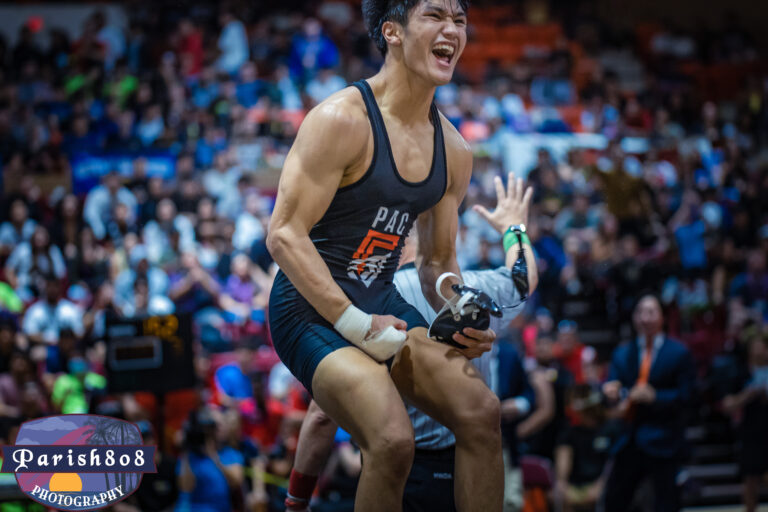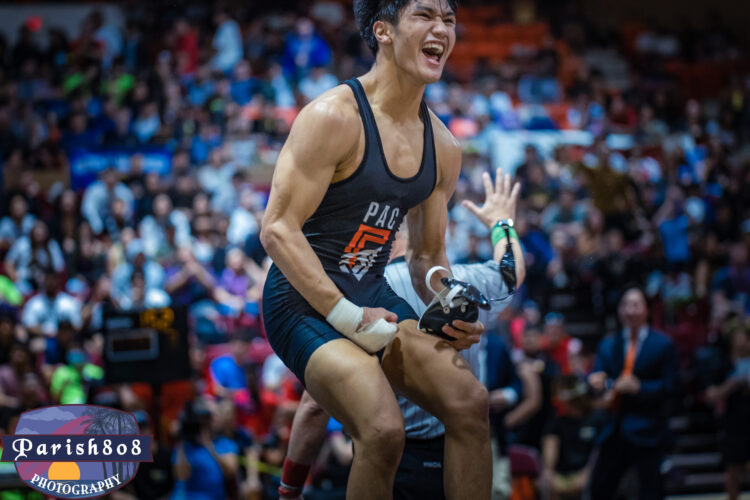 Nine Wrestlers Win A Second State Title
The following nine athletes won a second straight state championship:
>> Moanalua's Isabelle Asuncion (Girls 117) and Tyger Taam (Boys 138)
>> Kamehameha's Evan Kusumoto (Boys 113) and Scotty Dikilato (Boys 285)
>> Kamehameha-Hawaii's Lainey Eckart (Girls 138)
>> Kahuku's Maia Esera (Girls 225)
>> Kamehameha-Maui's Mikah Labuanan (Boys 132)
>> PAC-5's Xander Erolin (Boys 152)
>> Kapolei's Brycen Pagurayan (Boys 170)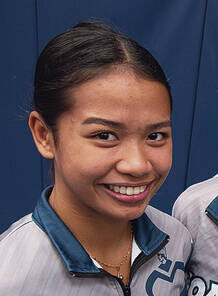 15 Of 28 Finals Are Decided By 4 Points Or Less
Not only were 15 of the 28 finals decided by 4 points or less, 12 of those were by margins of 2 or less. That's what you call intense.
Among the "oh-so-close" matches that went down to the wire:
>> Caballero came through with a reversal with one second remaining in a 5-4 victory to oust Girls 122 top seed Maya Rose DeAngelo of 'Iolani.
>> Woolsey, a freshman, got the points she needed in a 5-3 Girls 132 sudden victory over a returning state champ from a year ago, Lahainaluna's Teani Medeiros-Maielua.
>> Labuanan came from behind in the late stages to avenge his only loss of the year in Boys 132, where he squeaked past Mililani's Jaren Kimura, 5-4.
>> Lau's stamina paid off in Boys 120, where he proved to be an immovable force while fending off Kulika Corpuz, who was coming on strong late, by a 6-4 count.
>> Kukahiwa, who was a runner-up at states last season, scored two 1-pointers to barely edge Moanalua's Zaira Sugui, 2-0, in Girls 145. Sugui showed up significantly on the state wrestling radar by winning a down-to-the-wire OIA title match last week.
>> For the second straight week, Taam faced the same very worthy opponent and got through at Boys 138. In the OIA Championships last week, he needed a late 5-point flurry to topple Waianae's Hokuilua Paaluhi 9-4. This time around, Taam dug deep to hold off Paaluhi 4-3.
>> In a highly anticipated Boys 152 final, Erolin won a back-and-forth 6-4 slugfest against Castle's Keegan Goeas. The 152 bracket was, according to numerous coaches, the most loaded of the event.
>> In one of the most intense matches of the day, at Boys 195, Kane-Keahi fought back from an early deficit to drop Kapolei's Maika Kahele Akeo, 3-2, getting the needed points with time running down.
>> In the Girls 112 final, Balansag got the escape she needed in a tiebreaker to deny Moanalua's Kaitlyn Fong, 3-2.
To punctuate the highly competitive day in Laie, here's a look at the 15 final scores (in one line) decided by four points or less:
TB 3-2; 3-2; 4-3; 5-4; 5-4; SV 5-3; 2-1; 5-3; 2-0; 6-4; 6-4; 3-1; 5-2; 5-2; 6-2.
Yes, intense.
Winning With Exclamation Points
Not all the matches were close.
Four wrestlers showed that they were not going to lose on this particular day after their opponents either took early leads or were keeping it close at the start.
>> Pagurayan avenged his only loss of the season, to Kalaheo's Tyler Shields, by putting the pedal to the metal in a 15-3 major decision win in Boys 170.
>> Realin, in possibly the most highly anticipated girls matchup, poured it on after the early going for a 9-2 win over Pearl City's Taydem Uyemura, who came into the Girls 127 final undefeated.
>> At Boys 285, Dikilato was down by two points before he took a lead and then turned up the heat to drop Waipahu's Caleb Lauifi by fall in 2:36.
>> Salangdrong, at Boys 220, looked like he might be about to lose to his OIA rival and state champ from a year ago, Waianae's Vanderlei Yong. But showing some serious game, Salangdron worked for the win by fall in 3:29.
>> In girls 184, Adiniwin pulled away to a victory by fall in 5:37 to end what had been a tough battle against Lahainaluna's Catherine Asami.
Some Other Big Wins
>> Lee's 6-2 win over Baldwin's Nai Hawegawa in Boys 160 was heartwarming for his whole family. Sister Victoria Lee, an MMA fighter and former Mililani wrestler, passed away late last year.
>> Nitta finally got her state title in her senior year at Girls 102, winning by fall in 3:30 over Pearl City's Chloe Obuhanych. A year ago, Nitta came super close to winning her first state title, but dropped a 3-2 decision in the final.
>> Kaaialii got the final say in what was an ongoing ILH rivalry this season, topping Saint Louis' Kaihi Cobb-Adams, pulling away late for a 5-2 win.
>> It didn't take long for Esera to wrap it up in the Girls 225 final, where she won by fall in 0:44 over Nanakuli's Ashley Asuega.
Five Wrestlers Are Three-Time State Placers
Five wrestlers became three-time state placers: Asuncion, Eckart, Pagurayan, Dikilato and Kulukulualani-Sales.
In Girls 117, Asuncion got stronger as the match went on and once she gained the momentum, she never looked back in beating 'Iolani's Elle Mizue 10-3.
In Girls 107, Kulukulualani-Sales was in a tough battle against Punahou's Tatiana Paragas, but wound up flourishing and winning by fall in 3:33.
Five Wrestlers Denied A Second State Title
Five wrestlers going for a second state title were denied, including three in the finals — Medeiros-Maielua (Girls 132), Yong (Boys 220), and Asami (Girls 184).
The other two of the five lost in the semifinals — Baldwin's Jahlia Miguel (Girls 145) and Punahou's Justyce Mercado (Boys 152).
Champions By School
The 14 girls champions are from: Moanalua (5), Lahainaluna (2), Mililani, Roosevelt, Kamehameha, Kapolei, Kamehameha-Hawaii, Hilo and Kahuku.
The 14 boys champions are from: Kamehameha (3), Kapolei (2), Moanalua (2), Saint Louis, Mid-Pacific, Punahou, Kamehameha-Maui, PAC-5, Mililani and Lahainaluna.
How The Pound-For-Pound Top Wrestlers Fared
Eight of Bedrock Sports Hawaii's Top 10-ranked pound-for-pound girls and nine of Bedrock's top 11-ranked boys won state titles:
Girls p4p-ranked state champions
>> No. 1 Esera
>> No. 2 Eckart
>> No. 3 Nitta
>> No. 5 Realin
>> No. 7 Kukahiwa
>> No 8 Asuncion
>> No. 9 Adiniwin
>> No. 10 Kulukulualani-Sales
Girls p4p-ranked who did not win a state title
>> No. 4 Uyemura
>> No. 6 Valynn Kwan (Mid-Pacific)
Boys p4p-ranked state champions
>> No. 1 (tie) Dikilato
>> No. 1 (tie) Taam
>> No. 3 Lau
>> No. 4 Pagurayan
>> No. 6 Berger
>> No. 7 Labuanan
>> No. 8 Kusumoto
>> No. 9 Kane-Keahi
>> No. 11 Erolin
Boys p4p-ranked who did not win a state title
>> No. 5 Goeas
>> No. 10 Yong
Top 3 Team Scores
Girls
>> 1. Moanalua, 245
>> 2. Lahainaluna, 180
>> 3. Baldwin, 145
Boys
>> 1. Kapolei, 163.5
>> 2. Kamehameha, 145
>> 3. Saint Louis, 125.5
Six Wrestlers Have Shot At The 4-Year Slam
Six champions from Saturday have a chance to capture the very difficult task of winning four state titles in their careers.
They are:
>> Taam (Moanalua sophomore)
>> Labuanan (Kamehameha-Maui sophomore)
>> Realin (Kamehameha sophomore)
>> Berger (Saint Louis freshman)
>> Woolsey (Kapolei freshman)
>> Daoang (Moanalua freshman)
Individual Finals Results
Girls 97
>> (1) Adriana Daoang (Moanalua) def. Serah Yogi (Pearl City), fall, 1:48
Girls 102
>> (1) Tristan Nitta (Mililani) def. Chloe Obuhanych (Pearl City), fall, 3:30
Girls 107
>> (1) Naomi Kulukulualani-Sales (Lahainaluna) def. (2) Tatiana Paragas (Punahou), fall, 3:33
Girls 112
>> (2) Caelin Balansag (Roosevelt) def. Kaitlyn Fong (Moanalua), tiebreaker-1, 3-2
Girls 117
>> (1) Isabelle Asuncion (Moanalua) def. (3) Elle Mizue ('Iolani), 10-3
Girls 122
>> (2) Kivah Caballero (Lahainaluna) def. (1) Maya Rose DeAngelo ('Iolani), 5-4
Girls 127
>> (1) Jax Realin (Kamehameha) def. (2) Taydem Uyemura (Pearl City), 9-2
Girls 132
>> (1) Eloise Woolsey (Kapolei) def. (2) Teani Medeiros-Maielua (Lahainaluna), sudden victory-1, 5-3
Girls 138
>> (2) Lainey Eckart (Kamehameha-Hawaii) def. Teata Grove-Mataafa (Baldwin), 5-2
Girls 145
>> (1) Malia Kukahiwa (Hil0) def. Zaira Sugui (Waipahu), 2-0
Girls 155
>> Nohilani Kukonu (Moanalua) def. (1) Bethany Chargualaf (Campbell), 5-3
Girls 168
>> (1) Eden Baguio (Moanalua) def. (3) Jezney Chang (Pahoa), 2-1
Girls 184
>> (1) Jasmine Adiniwin (Moanalua) def. (2) Catherine Asami (Lahinaluna), fall, 5:37
Girls 225
>> (1) Maia Esera (Kahuku) def. Ashley Asuega (Nanakuli), fall, 0:44
—–
Boys 106
>> (1) Hunter Berger (Saint Louis) def. (2) Zairyn Ramos-Semana (Kapolei), fall, 5:34
Boys 113
>> (2) Evan Kusumoto (Kamehameha) def. Eli Suan (Saint Louis), technical fall, 16-1
Boys 120
>> (2) Logan Lau (Mid-Pacific) def. (1) Kulika Corpuz (Mililani), 6-4
Boys 126
>> (2) Brendan Sekulich (Punahou) def. (1) Koen Shigemoto (Mililani), 3-1
Boys 132
>> (2) Mikah Labuanan (Kamehameha-Maui) def. (1) Jaren Kimura (Mililani), 5-4
Boys 138
>> (1) Tyger Taam (Moanalua) def. Hakuilua Paaluhi (Waianae), 4-3
Boys 145
>> Akoni Kaaialii (Kamehameha) def. (2) Kaihi Cobb-Adams (Saint Louis), 5-2
Boys 152
>> (2) Xander Erolin (PAC-5) def. (1) Keegan Goeas (Castle), 6-4
Boys 160
>> (2) Adrian Lee (Mililani) def. (1) Nai Hasegawa (Baldwin), 6-2
Boys 170
>> (1) Brycen Pagurayan (Kapolei) def. Tyler Shields (Kalaheo), major decision, 15-3
Boys 182
>> (1) Jonas Baekkeland (Moanalua) def. Elijah Pinales (Kapolei), major decision, 11-0
Boys 195
>> (1) Keawe Kane-Keahi (Lahainaluna) def. (2) Maika Kahele Akeo (Kapolei), 3-2
Boys 220
>> (1) Rodstan Salangdron (Kapolei) def. Vanderlei Yong (Waianae), fall, 3:29
Boys 285
>> (1) Scotty Dikilato (Kamehameha) def. (2) Caleb Lauifi (Waipahu), fall, 2:36
—–
The Season As It Unfolds:
>> Hawaii High School Wrestling Command Center