Three top seeds and two state champions from a year ago were among those who lost in the semifinals of the Texaco/HHSAA Wrestling State Championships on Saturday afternoon at Brigham Young-Hawaii's Cannon Activities Center.
One former state champion, second-seeded Jahlia Miguel of Baldwin, lost by fall to Moanalua's Zaira Sugui at 145 pounds. Sugui is on a tear lately, having won her first OIA championship last week.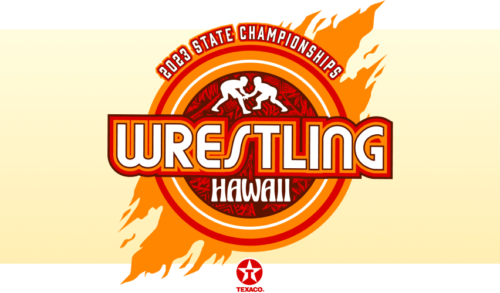 Sugui will meet Hilo's Malia Kukahiwa in the 145 final later Saturday. Kukahiwa lost to Miguel in the 145 state final last season, but upended Miguel at the Officials tournament earlier this season.
Another major upset occurred in the 138-pound semifinals, where Baldwin's Teata Grove-Mataafa knocked off No. 1 seed Valynn Kwan of Mid-Pacific, 6-3.
Grove-Mataafa moves on to the 138 final against Kamehameha-Hawaii's Lainey Eckart, who won states at 127 a year ago.
Another big upset of the semifinals came in boys 145 pounds, where Kamehameha's Akoni Kaaialii dropped top seed Bransen Porter of Waianae by fall in 4:31. Kaaialii moves on to face his ILH rival, Kaihi Cobb-Adams of Saint Louis, in the final.
One more top seed fell in the semifinals — Baldwin's Marcus Marinas, who lost to Saint Louis' Eli Suan at 113 pounds. Suan advanced to the final against Kamehameha's Evan Kusumoto, the 106 state champ from last season.
In another match of note, top seed Castle's Keegan Goeas got past Punahou's Justyce Mercado at 152 pounds. Mercado won the 145 state title a year ago.
Goeas has another hill to climb in the final, where he matches up with PAC-5's Xander Erolin, who is the defending 152 state champ.
Mililani's Jaren Kimura And Kamehameha-Maui's Mikah Labuanan Rematch Set
Mililani's Jaren Kimura and Kamehameha-Maui's Mikah Labuanan moved on to the 132 final in a rematch of what was an explosive and controversial match at the Officials tournament earlier this year.
Kimura rallied to win that previous meeting over Labuanan, who won states at 126 last season.
Kimura vs. Labuanan is one of 14 finals matchups pitting the No. 1 seed vs. the No. 2 seed.
Kapolei's Brycen Pagurayan And Kalaheo's Tyler Shields To Meet Again
Kapolei's Brycen Pagurayan will have a chance to avenge his only loss of the season in the 170 final, where he is the defending state champ.
He'll face Kapolei's Tyler Shields, who beat Pagurayan by fall at the Officials tournament.
Finals Matchups
Girls 97
>> (1) Adriana Daoang (Moanalua) vs. Serah Yogi (Pearl City)
Girls 102
>> (1) Tristan Nitta (Mililani) vs. Chloe Obuhanych (Pearl City)
Girls 107
>> (1) Naomi Kulukulualani-Sales (Lahainaluna) vs. (2) Tatiana Paragas (Punahou)
Girls 112
>> Kaitlyn Fong (Moanalua) vs. (2) Caelin Balansag (Roosevelt)
Girls 117
>> (1) Isabelle Asuncion (Moanalua) vs. (3) Elle Mizue ('Iolani)
Girls 122
>> (1) Maya Rose DeAngelo ('Iolani) vs. (2) Kivah Caballero (Lahainaluna)
Girls 127
>> (1) Jax Realin (Kamehameha) vs. (2) Taydem Uyemura (Pearl City)
Girls 132
>> (1) Eloise Woolsey (Kapolei) vs. (2) Teani Medeiros-Maielua (Lahainaluna)
Girls 138
>> Teata Grove-Mataafa (Baldwin) vs. (2) Lainey Eckart (Kamehameha-Hawaii)
Girls 145
>> (1) Malia Kukahiwa (Hil0) vs. Zaira Sugui (Waipahu)
Girls 155
>> (1) Bethany Chargualaf (Campbell) vs. Nohilani Kukonu (Moanalua)
Girls 168
>> (1) Eden Baguio (Moanalua) vs. (3) Jezney Chang (Pahoa)
Girls 184
>> (1) Jasmine Adiniwin (Moanalua) vs. (2) Catherine Asami (Lahinaluna)
Girls 225
>> (1) Maia Esera (Kahuku) vs. Ashley Asuega (Nanakuli)
—–
Boys 106
>> (1) Hunter Berger (Saint Louis) vs. (2) Zairyn Ramos-Semana (Kapolei)
Boys 113
>> Eli Suan (Saint Louis) vs. (2) Evan Kusumoto (Kamehameha)
Boys 120
>> (1) Kulika Corpuz (Mililani) vs. (2) Logan Lau (Mid-Pacific)
Boys 126
>> (1) Koen Shigemoto (Mililani) vs. (2) Brendan Sekulich (Punahou)
Boys 132
>> (1) Jaren Kimura (Mililani) vs. (2) Mikah Labuanan (Kamehameha-Maui)
Boys 138
>> (1) Tyger Taam (Moanalua) vs. Hakuilua Paaluhi (Waianae)
Boys 145
>> Akoni Kaaialii (Kamehameha) vs. (2) Kaihi Cobb-Adams (Saint Louis)
Boys 152
>> (1) Keegan Goeas (Castle) vs. (2) Xander Erolin (PAC-5)
Boys 160
>> (1) Nai Hasegawa (Baldwin) vs. (2) Adrian Lee (Mililani)
Boys 170
>> (1) Brycen Pagurayan (Kapolei) vs. Tyler Shields (Kalaheo
Boys 182
>> (1) Jonas Baekkeland (Moanalua) vs. Elijah Pinales (Kapolei)
Boys 195
>> (1) Keawe Kane-Keahi (Lahainaluna) vs. (2) Maika Kahele Akeo (Kapolei)
Boys 220
>> (1) Rodstan Salangdron (Kapolei) vs. Vanderlei Yong (Waianae)
Boys 285
>> (1) Scotty Dikilato vs. (2) Caleb Lauifi (Waipahu)
—–
The Season As It Unfolds:
>> Hawaii High School Wrestling Command Center