Author's note: The story will run in sister sites BedrockSportsMarlboro.com and BedrockSportsHawaii.com.
—
I did not know Billy Sullivan personally. And I only knew Ron LaFreniere about 50 years ago.
Both were amazing men who died within the last few days, leaving a crushing hole in the lives of their family and friends.
A Major Shock
The death of Billy Sullivan came as a gigantic shock to those in the Hawaii sports world. A lacrosse player, he was a 2001 Damien graduate who went on to the Air Force Academy and had just been promoted to Lt. Colonel in the Air Force.
His mom, Doris Sullivan, through former Pacific Islands Athletic Association organization,  is well known in state circles as one who helped a ton of Hawaii athletes hook up with college programs.
I learned of Billy's death in heartbreaking fashion. Doris had been getting so many calls that she decided it would be easier (if anything can EVER be easy about losing a child) to let people know via Facebook.
Yesterday, I could not believe I was seeing this, from Doris:
—-
I was not ready to post this but people are calling and asking. My son Billy died yesterday in a plane crash. My first born, born Christmas Eve, He was 37 years old, had just made Lt. Col in the Air Force, where he was an F15C fighter pilot and an instructor pilot. He and Diane quietly got married during covid and were planning a wedding next year. Billy was a 2001 Damien Grad and a 2006 US Air Force Academy Grad. Please keep him in your prayers. Heaven got a good one. He's flying with the angels now.
—-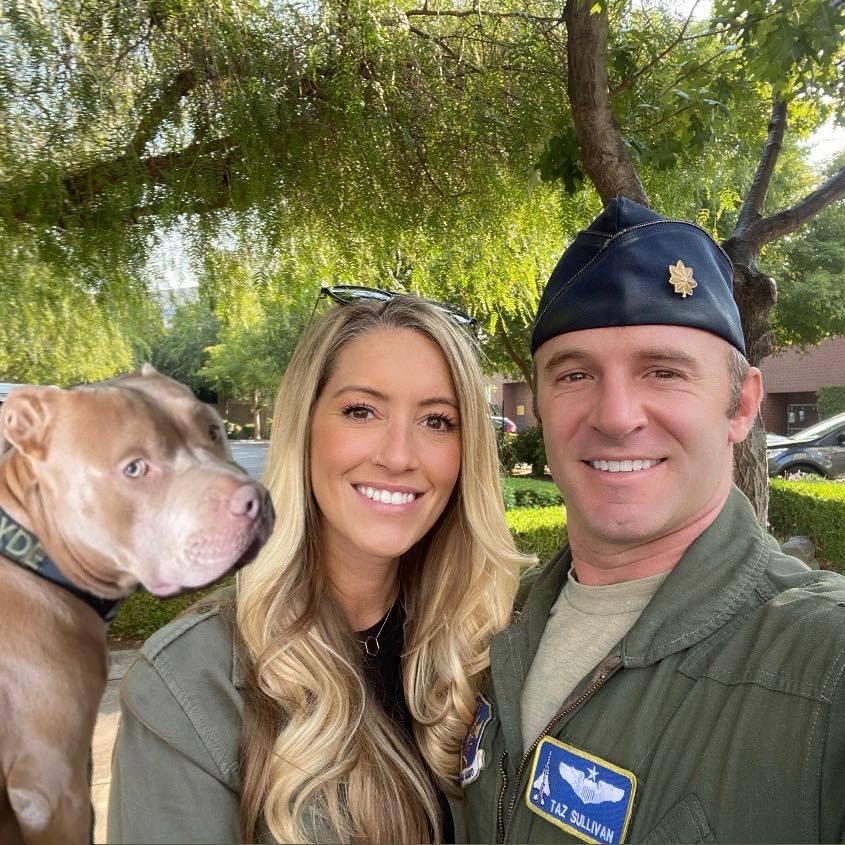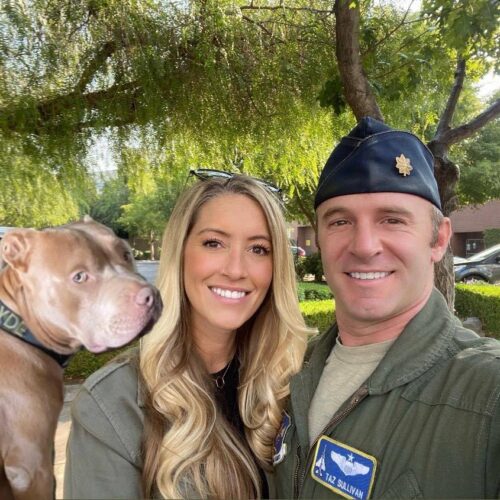 Billy Sullivan with his wife and dog. (Image credit: Doris Sullivan).
Heaven got a good one. You bet.
The Honolulu Star-Bulletin's Jason Kaneshiro wrote this April 18, 2001, piece about Billy when he was a senior at Damien — "Senior Billy Sullivan Has Become An Ambassador For The Game of Lacrosse."
Last night, I asked a lacrosse player, Chris Deal, if he knew Billy. Chris has only lived in Hawaii for six years and so he said he did not, but he asked a few of his buddies about Billy and this is what Chris texted me today about what they said:
—-
The lax boys just found out about Billy's crash. Very sad. He was very involved in our tournament. I knew as soon as I saw his picture.
—-
Very involved in the tournament — little surprise there. And, Billy was so dedicated to his sport that even though Chris didn't know the man, he recognized him.
And a great military man, too, according to Doane York on Facebook: "A young man who was an outstanding officer. We will pray for your family. Condolences."
Distance Runner And Coach Molded Many
Ron LaFreniere's name is pretty much synonymous with distance running in Marlboro, Mass., and he was a Panthers coach and mentor for many youth runners during his time in the sport.
One of those who learned a great deal from LaFreniere was Mark Vital, who ran for MHS in the late 1970s and became a coach himself.
And it was from Vital's Facebook page that I learned of Ron's death at age 85. He wrote yesterday:
—-
Last night Coach Ron LaFreniere passed away peacefully in his sleep at 85. In my 50+ years of competitive running, I have never, ever met someone so passionate about our sport. To me, he was a great runner, coach, friend, and surrogate father. I will continue to coach with a "fire in my belly" just like Coach LaFreniere did. I will also continue to love all of my athletes equally and with all my heart, just like Ron did. Knowing Coach LaFreniere, he is probably already organizing a team run in paradise. I will miss you Ron, yet hope to run with you again. Love you, Ron, while "keeping the faith!"
—-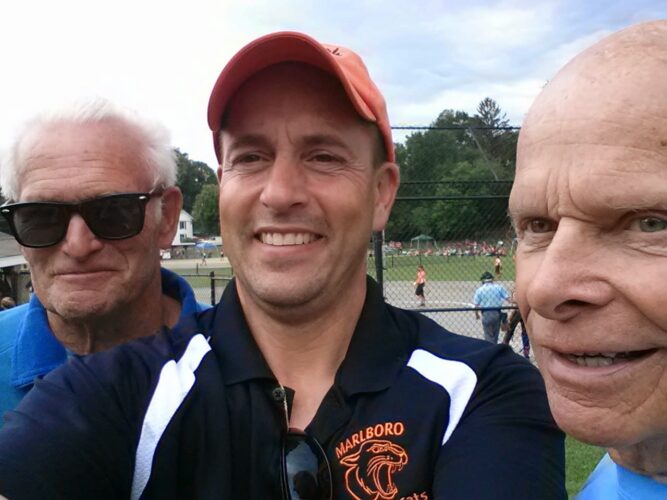 A 2014 photo of Ron LaFreniere, former MHS athlete Steve Leduc and Dick LaFreniere. (Image credit: Steve Leduc).
Two points of emphasis from Mark:
He will coach with a "fire in his belly" just like he learned from Ron. And, of course, there is a team run directed by Ron going on up in heaven.
I'm sure Ron will also be reunited in that heaven run with his brother Dick LaFreniere. The brothers owned "Dick and Ron's TV Sales and Service" back in the day.
As a matter of fact, they were our TV repairmen at 129 Grace Circle. I remember them coming to the house with their big box of tools and parts to bring back our TV reception, which, to any kid cartoon and sit-com watcher like myself, is pretty much LIFE itself.
They were ALWAYS friendly, which is one reason I'm sure my mom continued to use their service. And, I also know that she PICKED them because of their French last name. My mom's maiden name was Aucoin and she loved EVERYTHING French.
When the movie "Pleasantville" came out in 1998 and I saw Don Knotts playing a friendly TV repairman, my first thought was of Dick and Ron.
Through the years, I also remember reading about the running exploits of Ron and his son Ron Jr. (who died at age 63 in 2016) in the Marlboro Enterprise. And, it's pretty foggy now, but I'm pretty sure I wrote about them when I was an Enterprise reporter from 1981 through '86. And I definitely remember writing about Marlboro Shamrocks star receiver and kick returner Billy LaFreniere (Dick's son) back then, too.
"He certainly was a remarkable man & his legacy for excellence will live on!," wrote Mary Cappadona about Ron LaFreniere, commenting on Vital's post.
Added Brian McCarthy on FB: "While at football practice over 4 years, I would watch him make great athletes and track teams for Marlborough High School!"
And then there was a really cool Facebook comment from Derek Silva, who ran into the LaFreniere brothers at a track meet a few years ago and recalled a colorful conversation:
"They reminisced about their own athletic successes dating back to their Marlboro High days when they would be playing on the baseball team, leave for a few minutes to go win a race on the track, and come right back to the baseball game."
Now THAT's a great story.