—–
One game was on the Big Island. One on Oahu. WEEK 3 in Hawaii high school football got underway Thursday.
Soon, the NFL will be featuring its weekly Thursday Night Football games, but for last night anyway, the bright lights of the sport belonged to Hawaii.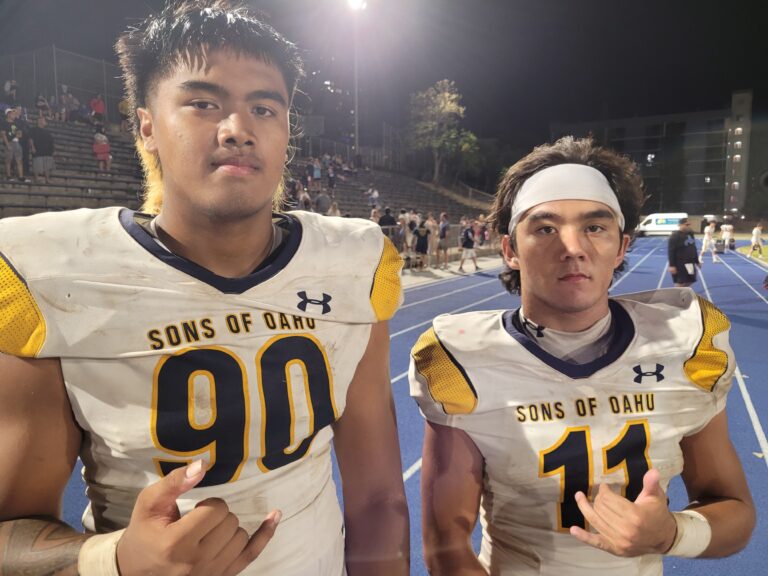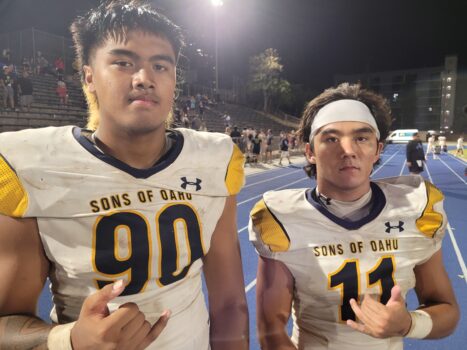 At Kaneohe, Punahou, ranked No. 5 in Bedrock Sports Hawaii's Open Division Power 5, rolled to a 42-0 win over Castle — an OIA D-I school at the Knights' home field.
The Buff 'N Blue improved to 2-0 and have doubled their victory total from last year, when they went 1-4. In addition, Punahou's veteran defensive unit didn't give up a point for the second straight game.
For Castle, it's an 0-2 start, but it should be noted that both losses have been to top-tier Open Division teams. Most likely, the tough schedule will help the Knights in the long run.
John-Keawe Sagapolutele threw for 186 yards and three touchdowns for Punahou and Alai Williams scored two TDs and piled up a combined 138 yards rushing and receiving yards, according to stats at ScoringLive.com and ESPNHonolulu.com.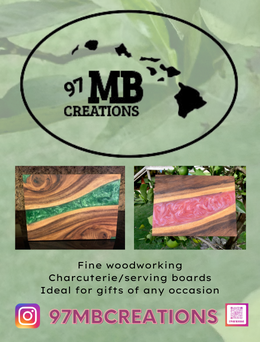 At Honokaa 39, Ka'u 6
In the BIIF Division II season opener, pent-up energy waiting to get on the field worked in the Dragons' favor on their home field.
Neither team played a nonleague game previously. Honokaa's slated game at D-I Keaau in WEEK 1 was canceled a few days prior to the scheduled kickoff due to a COVID-19 positive test that led to the immediate ineligibility of unvaccinated players and left holes that were too big to fill on the Keaau roster.
Dragons linebacker Uhane Mock Chew was a one-man wrecking crew with 20 overall tackles, including 12 unassisted, an interception and fumble recovery.
"He was all over the field," Honokaa coach Fred Lau said.
Tallin Cazimero added 13 tackles, including eight unassisted for Honokaa.
Bruce Reinbolt rushed for 122 yards and four touchdowns for the Dragons. Micah Acidal added 86 yards and a TD on the ground, and another running back, Elijah Kaupu-Alip, ran for 55 yards and a TD.
The full WEEK 3 schedule follows.
WEEK 3
THURSDAY, AUG. 18
BIIF Division II
>> At Honokaa 39, Ka'u 6
Nonleague
>> Punahou 42, at Castle 0 (ESPNHonolulu.com, Jarin Kobashigawa)
FRIDAY, AUG. 19
OIA Division II
>> McKinley at Kaiser, 7 p.m.
BIIF Division I
>> Kealakehe vs Hilo, at Kamehameha-Hawaii field, 7:30 p.m.
BIIF Division II
>> Hawaii Prep at Kamehameha-Hawaii, 4:30 p.m.
MIL
>> Baldwin at King Kekaulike, 7 p.m.
Nonleague
>> Newport Harbor (Newport Beach, California) at Farrington, 7 p.m.
>> Aiea at Kapolei, 7:30 p.m.
SATURDAY, AUG. 20
OIA Open
>> Waianae at Kahuku, 6:30 p.m.
OIA Division II
>> Kalaheo vs. Kalani, at Kaiser High field, 6:30 p.m.
>> Waialua at Nanakuli, 6:30 p.m.
>> Pearl City at Kaimuki, at Farrington High field, 6:30 p.m.
BIIF Division I
>> Konawaena at Waiakea, 11 a.m.
BIIF Division II
>> Pahoa at Kohala, 1 p.m.
MIL
>> Maui at Lahainaluna, 7 p.m.
Nonleague
>> Waipahu at Campbell, 6:30 p.m.
>> Damien at Moanalua, 7 p.m.
>> Kailua at Mililani, canceled (Kailua injuries)
—–
CLICK BELOW TO SEE UPDATED STANDINGS, ALL OF THE SEASON'S SCORES, A MASTER SCHEDULE, LINKS TO TEAM PAGES, THE POWER 5s AND MORE: