—–
Waipahu appeared destined for a pummeling going into the late stages of the fourth quarter Saturday night, but somehow found a way to kick it into gear en route to a 38-30 victory over Aiea in the OIA Division I football title game at the Mililani High field.
The school now has 13 league championship banners (eight top tier, two middle tier and three bottom tier) and this one was the first since 2018.
As usual, Liatama Uiliata was at the forefront of the Marauders's fortunes. He finished with 16 catches for 198 yards and a touchdown, and he came up big with clutch grabs in ultra important situations.
"There was a lot of hype on social media about this game and I feel like our team didn't get too big headed," Uiliata said. "The 2018 team had their history, so we came in thinking, 'Why shouldn't we get ours?' "
A freshman making his first start at quarterback, Elijah Mendoza, also pushed Waipahu toward the title. The kid completed 29 of 45 passes for 262 yards and four touchdowns.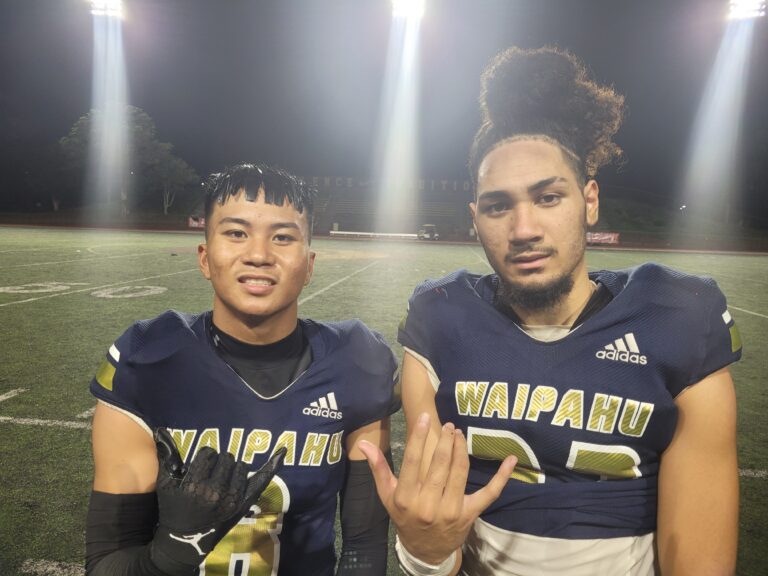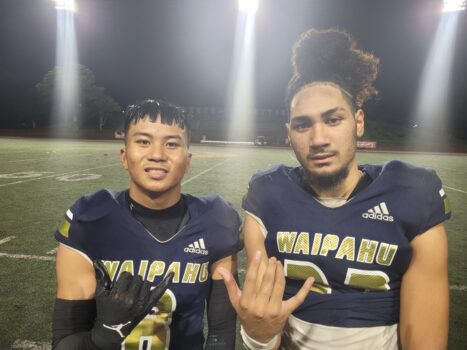 "He's a rising star," Uiliata said about Mendoza. "He has a bright future ahead of him. This is his first varsity game — at the championship — and he showed a lot of confidence."
Uiliata was back at his normal positions of receiver and safety after spending a handful of games at QB in place of injured regular starter Joshua Manu.
Up next for Waipahu (9-1) is a First Hawaiian Bank/HHSAA Football State Championships D-I first round game at home against KIF champion Kapaa (5-3) on Nov. 11.
Things looked bleak for the Marauders with 5:52 to go in the first half when Na Alii's Bryson Boyea-Quiton kicked a 41-yard field goal for a 24-7 lead.
The storm otherwise known as Waipahu didn't give in, though. First, Saige Marienthal caught a 14-yard touchdown pass from Mendoza and Uiliata added a 2-point conversion run. Then, after a Keon Cabrera interception and a long Uiliata reception, Xander Transfiguracion's 20-yard field goal made it 24-18 at halftime.
For the first time all game, Waipahu took a 25-24 lead midway through the third quarter on Mendoza's 5-yard TD pass to Tai Aipia-Barrett and Transiguraction's extra point kick.
The Marauders never trailed again, and after a trade of touchdowns in which the score went to 32-24 and then to 32-20, Waipahu got a huge break on Samu Niutoa's 30-yard scoop and score of an Aiea fumble for what turned out to be the 38-30 final count with 6:22 to go.
But Aiea (8-3) didn't go down easy and threatened with a late drive in which a few passes by backup QB Noah Spencer toward the end zone fell incomplete.
On a last-gasp throw by Spencer, Waipahu's Faapaia Fualema sealed the win with an interception.
Cabrera was a big force in the win as well, finishing with two interceptions and defending a pass on Aiea's 2-point conversion attempt that, if successful, would have tied it at 32-all.
"We're grateful," Cabrera said. "We started in February and now look, we're champions."
Na Alii starting quarterback Ezekiel Olie, who was helped off the field late in the game with an apparent shoulder injury, had another one of his many huge games, throwing for 322 yards and four TDs, including first-half scoring tosses to Jayden Chanel for 38 yards, Geronimo Ulgaran for 40 and Rico Figueroa for 34.
Defensively for Na Alii, Elijah Nahoopii-Makakona kept his string of strong defensive performances going. His second quarter fumble recovery led to Aiea's third touchdown and a 21-7 bulge. In the regular season finale against Farrington, he blocked two field goals, and then in the OIA semifinals against Kailua, he intercepted two passes and recovered a fumble.
"It's just a little frustrating," Na Alii defensive end Aizik Mahuka said. "It hurts, but I I know we'll be back. We did our best and fought hard and we got states coming up and this is going to be a motivation for us to want more."
Aiea will return to action at the D-I state tourney on Nov. 11 at Lahainaluna (9-0).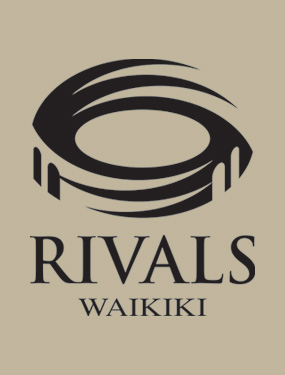 —–
ALSO AT BedrockSportsHawaii.com:
Nanakuli Secures OIA D-II Title For 'The Valley' By Knocking Off Kaiser, 35-21
—–
The Season As It Unfolds: