Mana Carvalho showed his two-way talent for No. 1 Kahuku in its 52-17 nonleague rout of No. 5 Saint Louis on Saturday night on the North Shore.
Carvalho picked off five passes, including one that he returned 58 yards for the game's first touchdown. He also had an 8-yard TD catch on a pass from Tuli Tagovailoa-Amosa and added four other catches on the night.
And, he also had three tackles from his starting defensive back position.
Carvalho is the brother of Kainoa Carvalho, the Hawaii offensive player of the year two seasons ago who embarked on a church mission after graduating this spring.
The national record for interceptions in a game is seven.
Kahuku's Kingsley Ah You added a 91-yard kickoff return for a TD and Vaaimalae Fonoti rushed for 102 yards on 21 carries.
In addition, Diezel Kamoku caught nine passes for 125 yards and a TD as the Red Raiders improved to 2-0
Two receivers for Saint Louis (1-1) had big nights — Titan Lacaden with four catches for 102 yards and a TD and Jordan Nunuha with four receptions for 75 yards and a TD.
You can read more about Kahuku's win here:
>> Honolulu Star-Advertiser: Co-No. 1 Kahuku Steamrolls Saint Louis
>> No. 1 Kahuku, Carvalho Too Much For No. 5 Saint Louis
All of WEEK 2's scores are below.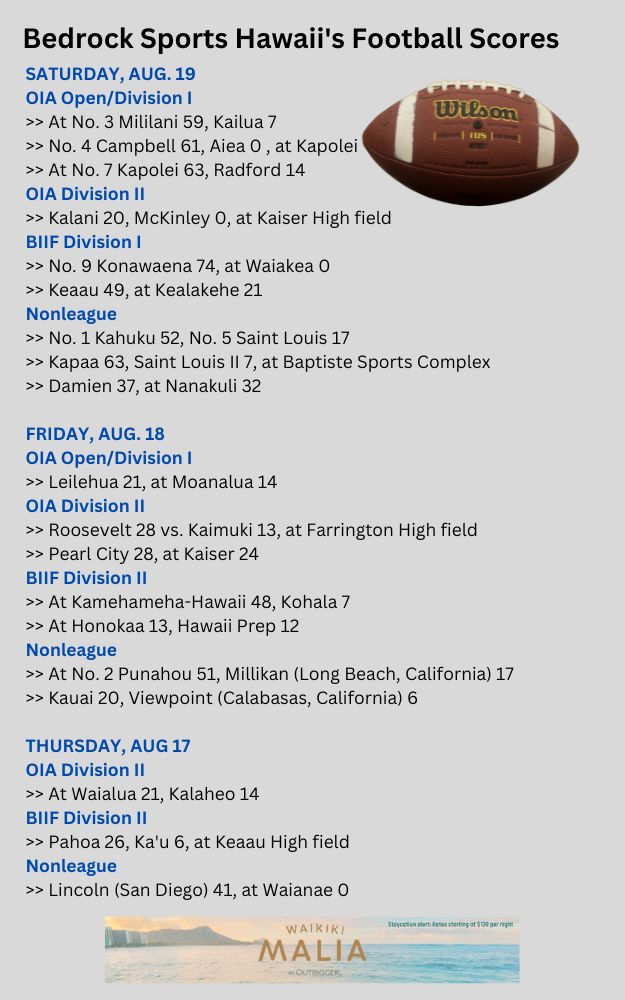 Go to Bedrock Sports Hawaii's high school football command center for updated standings and schedules and more.
In the only super tight game on Saturday night, Damien got past Nanakuli 37-32.
In that one, Wyatt Ho-Williams caught an 8-yard pass from AJ Tuifua for the winning TD with 13 seconds left.
You can read more about that nonleague game in Nanakuli here:
>> ScoringLive.com: Late-Game Heroics Helps Damien Escape With Narrow Win Over Nanakuli