THIRD IN A THREE-PART SERIES
When you're a sportswriter, you tend to know a bunch of sporty people — some who you know well, some who are acquaintances and even some who are your neighbors.
You wish them well in their endeavors. But you don't necessarily expect them to be superdy-duperdy, top-tier athletes in their chosen sport.
For some reason, though, during this winter and spring, one after another of people I know competing on the mainland are just doing incredible things in various sports.
What follows is the third in a three-part series.
————————-
"When I doubt me, it's my greatest weakness; when you doubt me, it's my greatest strength."
—–
I don't know who said that line originally, but I do know that on Jan. 27 a great friend of the family from our days on Kauai, Sera Octavio-Callejo, posted it on Facebook with a picture of her son, a wrestler.
Immediately, I commented about how great of a saying it is and then I put it on my own Facebook page, saying I stole it from a friend.
By February, the wrestler, heavyweight Jesse James Octavio-Callejo, became Rio Rico High School first Arizona state champion in nine years.
What a great accomplishment it was for the Hawks' junior, and it couldn't have happened to a nicer family.
I got to know Marina and Zack Octavio of Kalaheo — Jesse James' grandparents — while covering sports for The Garden Island Newspaper in the 1990s.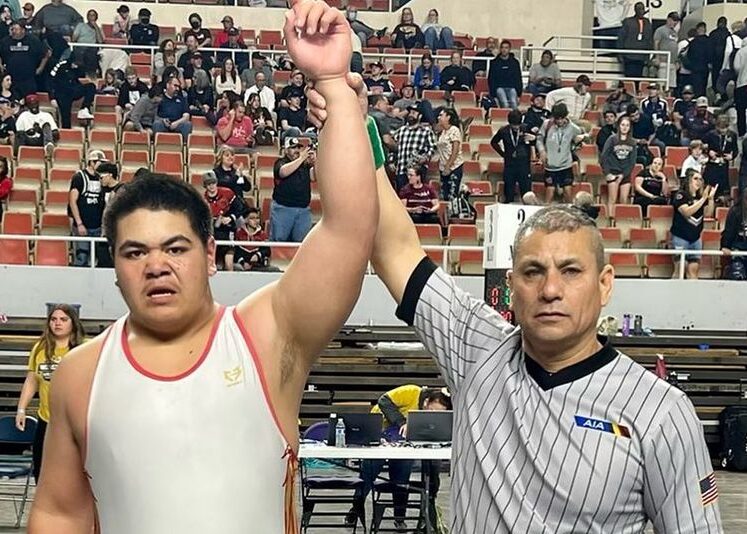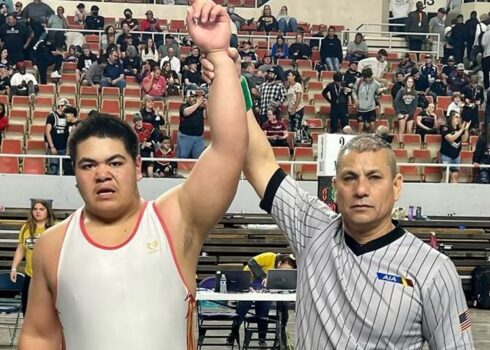 Born on Kauai, Jesse James Octavio-Callejo is the 285-pound Arizona state champion.
Back then, you could almost bet that if there was a varsity, JV or Pop Warner football game and Zack was available, he would be in shouting  distance of the field, sitting in his EMT vehicle, ready in case his emergency services were needed.
Marina, meanwhile, could be found taking professional photographs of the football games. She was always helping someone, too, including our family. Her and daughters Sera and Zenda did more than "babysit" our first two kids. They took them in as their own (and we would have to beg to get them back).
All of the Octavio kids played sports for Waimea High School. Sera was a cheerleader, Zenda played soccer and Colby played football and soccer.
As a matter of fact, Colby was part of the Waimea football team that came over to Oahu to take on Saint Louis in the first round of the first football state tournament in 1999. Colby was a cornerback and his most well-known opponent was none other than Timmy Chang, who went on to break NCAA passing records and is the new University of Hawaii head coach.
Having flown over to cover the game for The Garden Island, I watched closely on some drives near the end zone to see if Colby was doing his job, and my recollection is that he didn't get burned through the air.
Those football connections were many. Both Sera and Zenda married Waimea football players — James Callejo and Nathan Ragragola, and the latter was a bull of a running back.
In 2013, the Octavio clan moved to Arizona.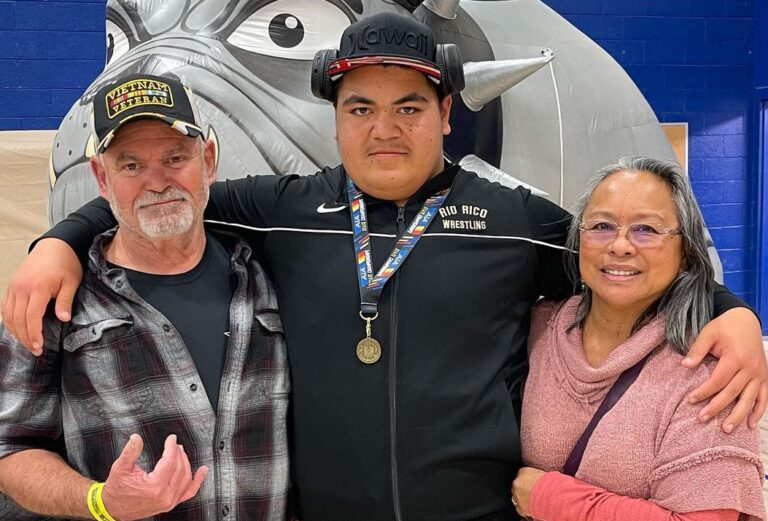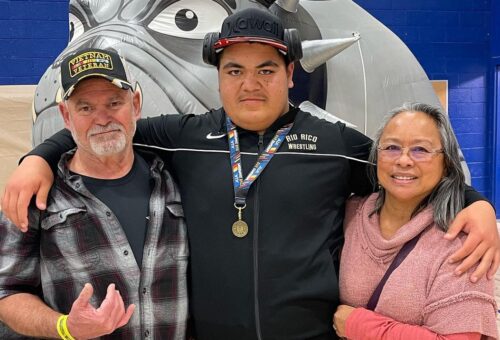 Jesse James Octavio-Callejo with his grandparents Zack and Marina Octavio.
Interestingly enough, I just came across an article by Dennis Fujimoto in his Happy Camper column from Aug. 23, 2004, where he mentions a few newborns.
Fujimoto wrote:
"It's football (season), and during the offseason, the stork has been busy as Nicholas Joseph Abramo III made his appearance on Aug. 11 (thank you, Marina Octavio!). And, Marina hasn't been idle either as her daughter Serafran Octavio-Callejo welcomed their newest, Jesse James."
And so it is an honor for me (a wrestling beat writer in Hawaii) to write about Jesse James' accomplishment.
"I was nervous, having to wrestle in front of all those people," Octavio-Callejo told NogalesInternational.com when he was reached a day after the title match at the Arizona Veterans Memorial Coliseum in Phoenix. "But when I won, it was like the most joyful thing in the world,"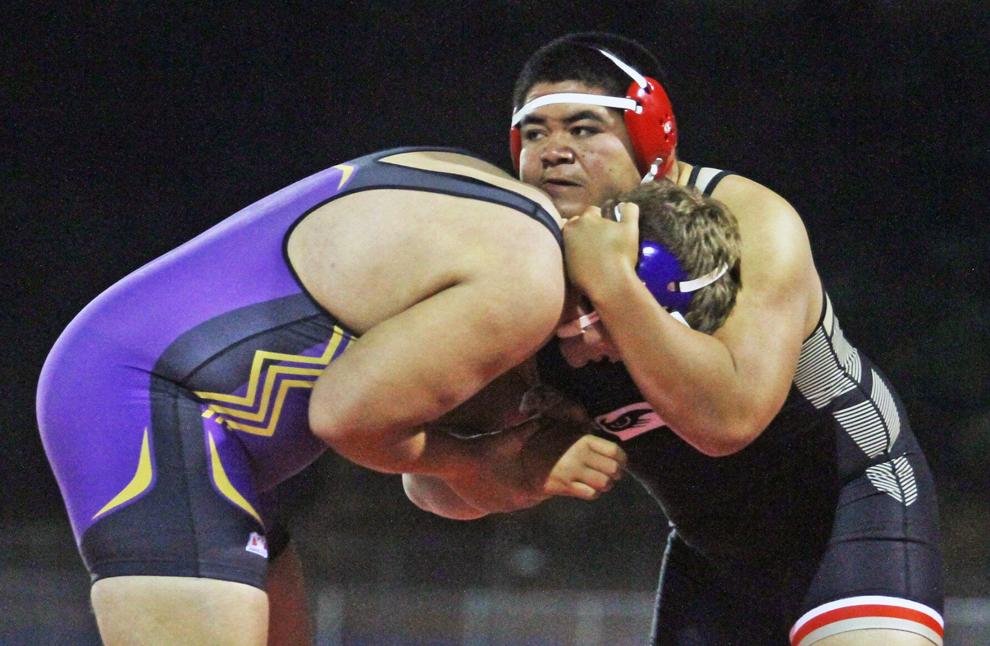 And this is what Callejo-Octavio's coach Alex Palumbo said about the new champion:
"Jesse James Octavio-Callejo put together his best tournament performance at the perfect time of the season. He had a couple of quick wins on Thursday, on Friday he worked his opponent over for the entire match and capped it off with a dominating performance in the finals. Jesse is showcasing what it takes to be a top-tier wrestler. He is athletic and has strong technique. We are very proud of the work he put in to accomplish his goal."