—–
Three teams made it into the OIA playoffs Friday.
Also on Friday, as previously reported, one team — 'Iolani — clinched a Division I state tournament berth.
Campbell, Kapolei, Kaimuki Clinch Playoff Spots
With its 49-21 win over Waianae on Friday night, Campbell (6-2, 4-2) assured itself of a spot in the OIA Open Division playoffs.
The Sabers will be the third seed and will play against the loser of next Saturday's Mililani at Kahuku game in the semifinals on the weekend of Oct. 21-22. The winner next Saturday's game will play against Kapolei in the other semifinal.
The Hurricanes (5-2, 2-2), who take on Mililani at home Saturday (tonight), sealed their spot in the postseason when Moanalua lost to Kahuku 60-7 on Friday night.
In Division II, Kaimuki (3-4, 3-3) locked up its OIA D-II playoff spot, the fourth seed, when Waialua lost 21-19 to Pearl City on Friday.
The Bulldogs finish their regular season schedule Saturday (tonight) against Kalaheo. In the semifinals on the weekend of Oct. 21-22, they'll meet regular season champ Nanakuli (6-1, 6-0). Pearl City (7-2, 6-1) and Kaiser (5-3, 5-2) are in the other semifinal matchup.
BIIF D-II Title Game Set
With wins on on the Big Isle, front-runner Honokaa (8-0, 8-0) and second-place Kamehameha-Hawaii (8-1, 7-1) clinched spots in the BIIF D-II championship game to be held the weekend of Oct. 28-29.
The Dragons upended Pahoa 47-0 on Friday, and the Warriors shut out Kohala 52-0 on Thursday.
OIA Division I Picture Will Get Clearer Soon
With a 26-16 win over Kailua on Friday, Waipahu (7-1, 6-0) finished an unbeaten regular season to earn the regular season championship and the top seed in the OIA D-I playoffs.
The postseason picture may get a bit clearer after the Aiea (5-2, 3-1) at Castle (1-6, 1-3) game Saturday (tonight).
If Na Alii win, they're in.
However, if the Knights win and the three league games next week fall a certain way, a four-way tie for second place is possible — with Aiea, Kailua (3-3-1, 3-2), Farrington (5-4, 3-2) and Castle.
Below, Bedrock Sports Hawaii brings you all of Friday's WEEK 1o scores, Saturday's schedule and the WEEK 11 schedule.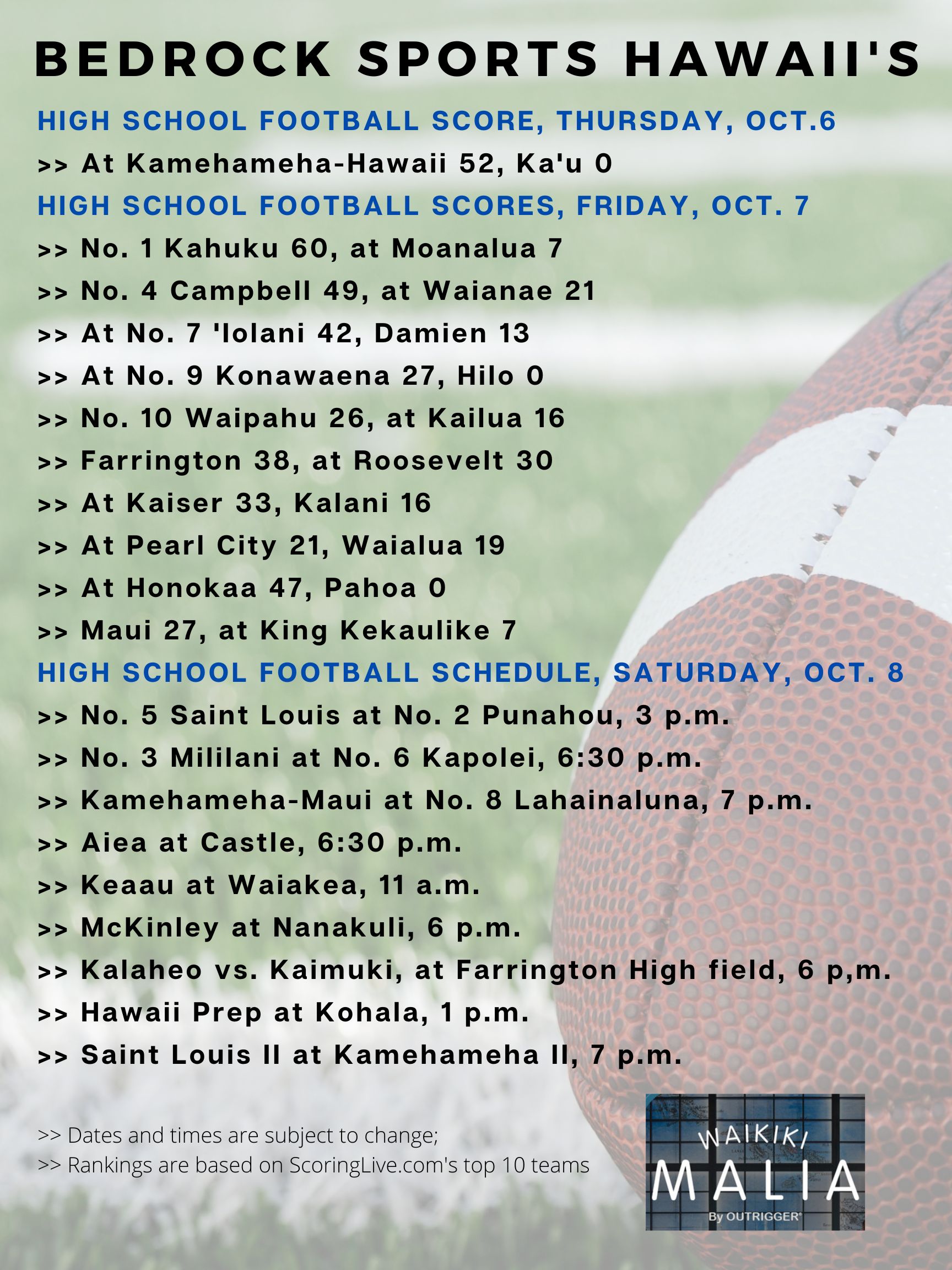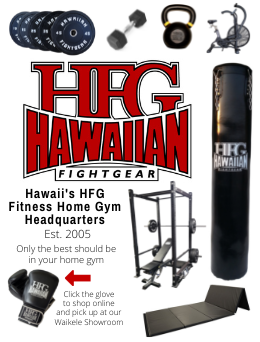 Hawaii High School Football WEEK 11 Schedule
(Subject to change)
THURSDAY, OCT. 13
BIIF Division II
>> Honokaa at Kamehameha-Hawaii, 5 p.m.
FRIDAY, OCT. 14
OIA Open
>> Leilehua at Kapolei, 7:30 p.m.
>> Moanalua at Waianae, 7:30 p.m.
ILH Division I/II
>> PAC-5 at 'Iolani, 3:15 p.m.
OIA Division I
>> Radford at Castle, 7:30 p.m.
BIIF Division I
>> Keaau at Konawaena, 7 p.m.
>> Waiakea at Kealakehe 7 p.m.
MIL
>> Baldwin at Lahainaluna, 7 p.m.
SATURDAY, OCT. 15
ILH Open Division
>> Punahou at Kamehameha, 7 p.m.
OIA Open
>> Mililani at Kahuku, 6:30 p.m.
ILH Division I/II
>> Punahou II vs. Saint Louis II, at Farrington High field, 3 p.m.
OIA Division I
>> Aiea at Farrington, 6:30 p.m.
>> Roosevelt at Kailua, 6:30 p.m.
BIIF Division II
>> Kohala at Ka'u, 1 p.m.
>> Pahoa at Hawaii Prep, 1 p.m.
KIF
>> Kapaa vs. Kauai, at Vidinha Stadium, 2:30 p.m.
MIL
>> Maui at Kamehameha-Maui, 7 p.m.
—–
Also at BedrockSportsHawaii.com:
FOCUS ON FOOTBALL: 'Iolani Fends Off Pesky Damien To Clinch A State Division I Berth
Updated standings, Power 5s, all of the season's scores, master schedule: