—–
Friday is a big day for celebration and remembrance at Chaminade.
At 5 p.m., there will be an unveiling of the school's new Hall of Fame display in the hallway of the training center and locker rooms.
Due to the fact that this is the 40th anniversary year of what is considered the biggest upset in college basketball history, the guest of honor is 90-year-old Merv Lopes, the coach of the 1982-83 Silverswords team that knocked off No. 1 Virginia and 7-foot-4 star center Ralph Sampson, 77-72.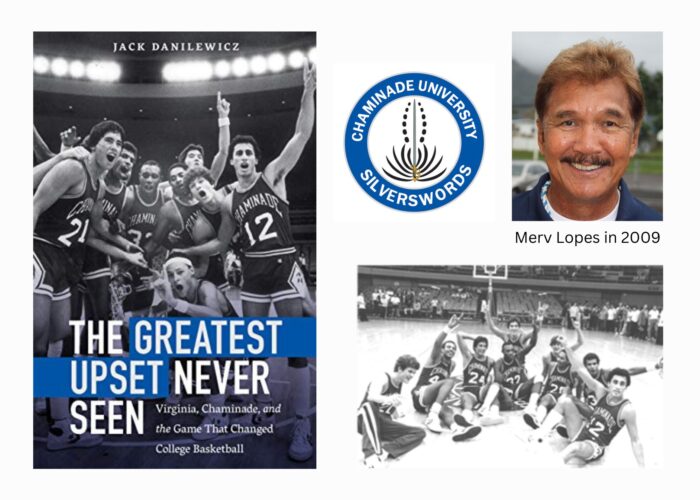 That 1982-83 team will also be honored — and a few of the players will be on hand for the celebration, which will be followed by a reception.
Born in Nanakuli, Lopes was let go from his position as head basketball coach at Kalaheo before being hired in 1977 by athletic director Mike Vasconcellos.
And Lopes did a lot more than coach the then-NAIA Silverswords to that huge upset. His teams made two NAIA and one NCAA Division III national tournament appearances. Also, during his first eight years as the head coach, he won at least 17 games per season. In his 12 years, he went 238-118.
To get the full story on Chaminade's amazing victory over Virginia on Dec. 23, 1982 at what is now known as the Blaisdell Arena, read Hawaii author Jack Danilewicz's "The Greatest Upset Never Seen: Virginia, Chaminade And The Game That Changed College Basketball."
—–
ALSO AT BedrockSportsHawaii.com:
2022 FOOTBALL WRAPUP: Bedrock's Final Power 5s And Consensus Top 10