Three girls got most of the media attention after Kamehameha's 25-22, 25-20 ILH girls volleyball championship match victory over Punahou on Tuesday night at Hemmeter Fieldhouse
But if you look at that tip of the iceberg — if you will — you will not see the whole picture. It's the total package — with head coach Chris Blake in charge — that gives this program its special ability to get the job done time after time when the chips are on the proverbial line.
And, it seems, every year at some point those chips ARE indeed down. For instance, the Warriors looked discombobulated early in the season in a 25-16, 25-18 loss to the same Buffanblu squad they got past last night.
But, somehow, some way, Blake is the bloke who finds a way to get Kamehameha to perform at its very best in crunch time.
Take the following words that Blake told Bedrock Sports Hawaii after the match and apply it to any Warriors team in any year. It's always the same. Not perfect by any means, but reaching and reaching and reaching for it. Picture that he's telling you right now and imagine you are listening and you will get a glimpse into how things are done in Kamehameha girls volleyball-ville:
"We have a great culture in our gym," Blake said. "We have a great coaching staff, and everybody from not only the players within this team, but also within our JV and intermediate teams understands where they are in the process and they understand to build. For us, we believe we play for those who came before us, those who are with us now and those who are going to follow in our footsteps. Everybody was all in for the match, but also all in for our seniors. We know that it's their last time and they've had a challenging year, and for us to be able to perform how we did right here where it mattered, it's a testament to the leadership they've shown."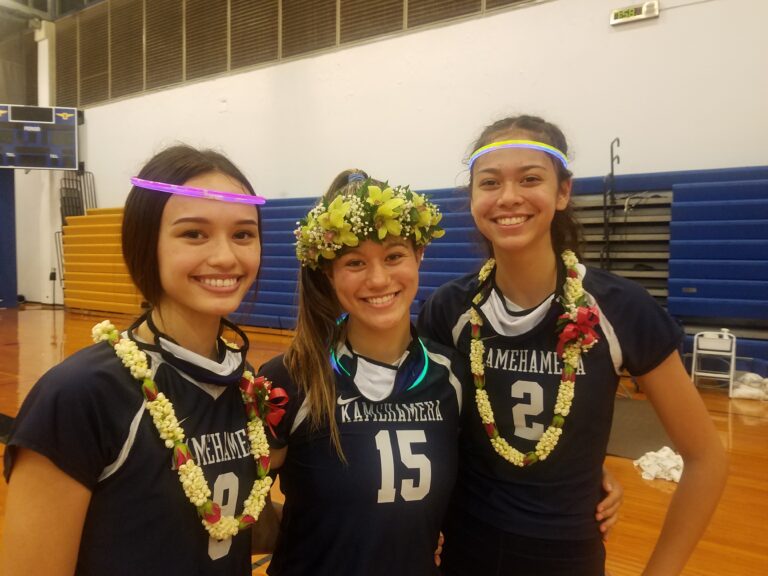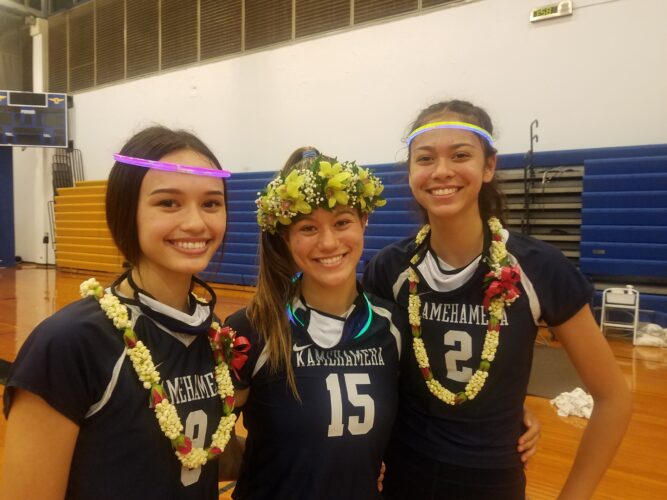 Maui Robins, Kahiau Kaalele and Devin Kahahawai were all smiles after Tuesday's ILH
championship victory over Punahou. Bedrock Sports Hawaii photo by Nick Abramo).
Devin Kahahawai had 10 kills to lead the way for Kamehameha (8-2) Tuesday night, fellow junior Maui Robins added eight kills, and senior Kahiau Kaalele pitched in with 27 assists.
Punahou (8-2) got big performances from Belle Iosua and Lucky Rose Williams with seven kills each and Jaclyn Matias with 21 assists.
The Warriors came up big, systematically, at the tail end of the match, when Kaalele set Kahahawai five times and Robins twice for kills to push the score from a slim 14-13 lead to the 25-20, second-set final.
"We pride ourselves on the end part of the match, which we call the end game, being our game," Blake said. "We want to make sure that we're executing at our best both tactically and technically and also just to stay composed. Our team showed a lot of composure. When we were here in the first match of the season, we definitely didn't have that. It came down to our leaders, our captains — both Kahiau and Maui — and Devin did a lot of great things, but our seniors have been through this and helped us to keep us on the right track, and when it came down to it right at the end when we needed to execute, I think we did a very good job and that's the trust we show to make it happen."
For seniors Isha Knight, Kanoelani Lindo, Hina Chow, Jenesis Rios and Kaalele of the Warriors and Haylie Marumoto, Faavae Kimsel Moe, Halo Yoshiki, Kate Yoshimoto, Kaleinani Simeona-French, Sia Liilii and Masina Tupea of the Buffanblu, it was the final high school match.
It was Kamehameha's fifth straight ILH championship (with victories in the fall of 2016 through 2019 and the spring of 2021; no girls volleyball was held throughout 2020), but because of the COVID-19 health crisis, the Warriors will not get a chance to compete for the state championship that they've won 22 times since the sport began in Hawaii in 1969.
"I think the real secret is having trust in each other and the coaches," Robins said. "We just have to trust the (coaches') decisions, trust the process and be all in together. In practice we say you've got to be all in or you might as well not be here at all."
—
ALSO AT BedrockSportsHawaii.com: Punahou Is Plenty In 'Tune' For First ILH Boys Volleyball Championship Since 2018
—