During long dynasties, it's odd to see a power-packed team going three years between league titles.
But that's how long it took the Punahou boys volleyball team to regain the championship that has been in its hands more often than not in the last few decades.
Under the guidance of coach Rick Tune, the Buffanblu swept Kamehameha 25-17, 25-11 in the Interscholastic League of Honolulu championship match Tuesday night at Hemmeter Fieldhouse.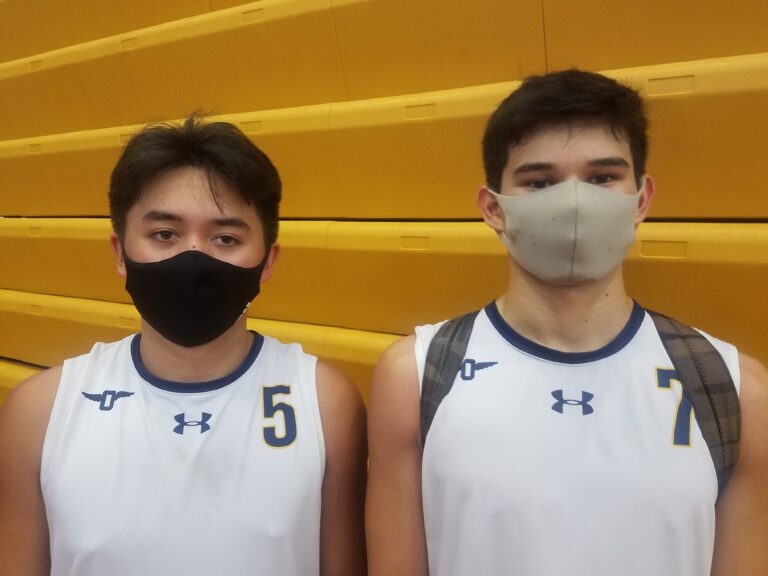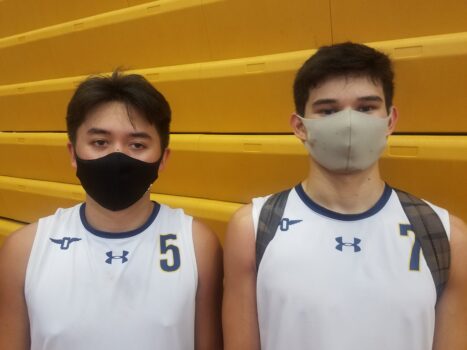 Keegan Ah Yuen and Aidan Tune helped lead Punahou to the ILH boys volleyball championship at Hemmeter Fieldhouse on Tuesday night. (Bedrock Sports Hawaii photo by Nick Abramo).
Both teams were fortunate to be on the court. Many Hawaii high school sports, including football and basketball, were canceled this 2020-21 school year due to COVID-19. The virus, however, did wipe out the whole 2020 boys volleyball season.
You need to go back to 2018 in the record books to see Punahou's last league title. In 2019, the Buffanblu were outgunned by 'Iolani.
On Tuesday, setter Keegan Ah Yuen delivered 16 assists to get Punahou back to the promised land. Keau Tavares-Thompson and Riley Hain had six kills each, and Aidan Tune added three kills, three digs, an ace and a block.
"The last thing we did (before leaving the court) was thank (school assistant principal) James Kakos and (school president) Dr. (Michael) Latham for making this possible," coach Tune said. "We need to have our hearts filled with gratitude right now — that we even had 10 games and a two-game, single-elimination playoff. It could have been nothing. A lot of other sports had nothing. We need to be very thankful for what we do have and not anything else about what we don't have."
Tune added that he felt like a proud dad — and that's because he is one, as the father of Aidan, a Buffanblu junior.
"They're all really good kids," the coach said "My son's on the team, but a lot of  these kids I've coached since they were 9 years old. This is a very special and dear group to my heart and they've done some great things this season."
Added Aidan: "It was different this year with COVID, but we've been resilient and we battled."
Buffanblu seniors Xander Pink, Nate Loose, Hain, Jonathan Suh and Ryder Hsiung made their final high school match a winning one.
For Kamehameha, Cruse Aea finished with seven kills, Laakea Hirahara had six digs and Cade Trujillo chipped in with 15 assists.
Next season, in the spring of 2022 if the health crisis eases up by then, Punahou can work on ending its COVID-induced HHSAA state championship drought. Even though they lost that 2019 ILH crown, the Buffanblu surged back that season to win its eighth straight state title, 37th overall and 10th of the last 11.
As it stands now, there's been two years with no state title for Punahou — or any other boys volleyball team in the state. The school also has 42 league titles since the sport began in the ILH in 1965.
—
ALSO AT BedrockSportsHawaii.com:
>> Deep State: Kamehameha's Girls Volleyball Approach Delivers Another ILH Championship
>> Mike Tresler And Junior Pale Are Among Nine New Hawaii High School Football Head Coaches In The Pandemic Era
—