Today is the day we fine-tune the Bedrock Sports Hawaii pound-for-pound lists and subcategories as the wrestling season heads down the stretch run.
There are only a few changes right now, but depending on how the competitors do this weekend (at the OIA, BIIF and MIL championships), there could be some more volatility next week right before the March 4-5 state tournament at Blaisdell Arena.
After today, we'll run the p4p lists two more times — before and after states. Also next week, Bedrock plans to take a closer look at some of the blockbuster weight classes expected at states.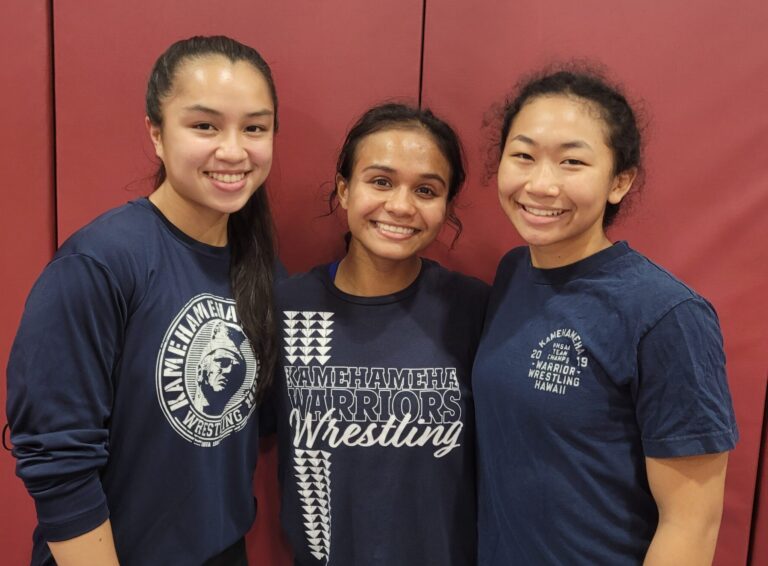 Nohea Moniz, center, jumped to No. 6 in the pound-for-pound rankings. She's 7-0 so far this season at 112 pounds. At right is teammate Haley Narahara (No. 2 p4p, 7-0 at 122 pounds) and at left is Aliya Takano (8-0 at 117 pounds.
Kamehameha's Nohea Moniz Is Back In The Rankings
Kamehameha's Nohea Moniz jumped back into the girls p4p rankings — this time at No. 6.
Due to a clerical error, Moniz was credited with a loss earlier this year and fell out of the rankings. It turns out that in actuality Moniz is still undefeated at 7-0 at 112 pounds.
In 2020, Moniz placed third at states at 107. A year earlier, she took fourth at states in the same class.
With Moniz moving into the rankings, Lahainaluna's Kayce Dudoit, formerly No. 8, dropped out after two losses.
The latest boys and girls p4p rankings are below.
Gone are the "Trending Up" and "Also On The Radar" subcategories, which have been replaced by "Others With State Medalist Credentials" and "Others Undefeated."
Baldwin's Tobey Ravida Returns To MIL Action
Tobey Ravida is back on the mat competing in the MIL.
Ravida missed all four previous MIL events this season. On Saturday, he won an official 128-pound match and an exhibition match at the Kamehameha-Maui round-robin tournament.
Ravida, who is No. 3 on Bedrock's pound-for-pound rankings, won the 113-pound state title in 2020 one year after placing second at 106 in 2019.
Twins Rylie and Ramsey Nishida Are ILH Champs; Sister Reese Nishida Is An OIA Contender
Kamehameha freshmen Rylie and Ramsey Nishida, who are twins, brought home two ILH championships last week.
Ramsey took the 170-pound boys division, and Rylie earned the top spot in the 134-pound girls class.
But the Nishida family wrestling ties don't end there. Over at Moanalua, their sister, Reese is a Na Menhune senior wrestler, who, like Rylie, is competing at 134.
Reese will be participating in the OIA Championships on Saturday, and if she qualifies for states, she'll be in the same weight class as Rylie.
According to Moanalua coach Lucas Misaki, Rylie has more wrestling experience, having been in the sport since age-group days. Reese began wrestling as a freshman three years ago.
Altogether, the three Nishida wrestlers are 24-2 this season — Ramsey and Rylie are 8-0 and Reese is 8-2.
Part Of Nathan Marovish's Kapaa Crowd Is Solomone Malafu
One of Kauai's top wrestlers — Nathan Marovish of Kapaa at 170 pounds — qualified for states by winning the KIF title on Saturday at Waimea.
He is a second year wrester who is looking to see how well he can do in the bigger arena.
"I'm proud of how far I've come, but to me, states is another benchmark," Marovish told Bedrock Sports Hawaii on Tuesday. "I've learned that in this sport, there's no end goal., but only striving to get better every time you're on the mat. Going to states, my mind-set will be gratitude for the opportunity to compete against all the other talented wrestlers in the state."
Marovish is thinking about wrestling in college.
"This sport helps me so much off the mat in so many ways that I couldn't even name them," he added. "I find myself being more disciplined regarding my schoolwork, responsibilities, the gym, etc."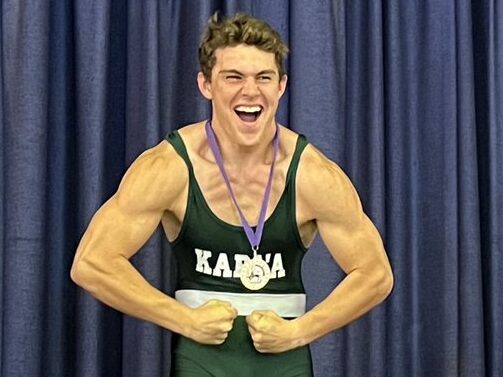 Kapaa's Nathan Marovish, hamming it up on the podium after winning the KIF 170-pound title.
One of Marovish's friends at school is linebacker and running back Solomone Malafu, who starred for the Kapaa football team in its run to the Division II state football championship in the fall.
"During the several classes we share, we almost always talk about each other's athletic accomplishments as well as how we plan to improve," Marovish said. "I'm very proud of our Warriors state football win. I know that to get to the top of any sport, it requires immense amounts of dedication, hard work and trust in your teammates and coaches. The football team had all of those qualities and beyond. Go Warriors!"
Kapolei's Brycen Pagurayan Will Wrestle At 170 Pounds
Kapolei coach Sean Salter confirmed that Hurricanes wrestler Brycen Pagurayan, who is No. 4 on Bedrock's p4p list, has decided to compete in the 170-pound class for OIAs and states.
Pagurayan has seen a lot of action at 184 pounds this season and he thought about continuing there.
Moanalua's Blaze Sumiye (who is at 160) and Pagurayan are the only two wrestlers, boy or girl, in the p4p rankings with a loss. Pagurayan defeated Sumiye (who was wrestling up) by fall earlier this season, during a time when Sumiye had recently recovered from an extended minor illness.
In another match this season, Sumiye defeated Pagurayan by injury default.
State Tournament Will Use Trackwrestling.com
According to a source close to the situation, the state tournament will use Trackwrestling.com so fans can see the progress of the wrestlers in easy and quick fashion.
The decision to use it was made within the last few days.
This season and in previous seasons, the MIL and OIA used Trackwrestling.com for its tournament brackets and results.
There is a push for the other leagues — the ILH, BIIF and KIF — to also use it during future regular seasons.
State Tournament Seeding Will Be Done By Draw
Due to the COVID-19 pandemic, head-to-head matchups between wrestlers of different leagues was non-existent this year.
As a result, the seeding committee does not have that head-to-head criteria to draw upon.
So, this year  the seeding will be done by draw. More specifically, for each weight class, cards will be drawn (1 through 4 for each league except the KIF) to determine the top four seeds.
A wrestler's ability on the mat in determining seeding will come into play somewhat. A state placer from 2020 who is entering the tournament as a league's No. 1 wrestler in a particular weight class will automatically be granted the top seed regardless of the card draw.
—–
BEDROCK SPORTS HAWAII'S BOYS WRESTLING TOP 10 POUND-FOR-POUND RANKINGS
Updated: Feb. 23
(Projected weight class in bold, followed by won-lost record)
>> 1. Pookela DeSantos, senior (Leilehua) 2020 145 state third place, 2019 152 state second place) — 170 … (13-0)
>> 2. Kaistin Vasquez, senior (Punahou) 2020 113 state third place — 126 … (8-0)
>> 3. Tobey Ravida, senior (Baldwin) 2020 113-pound state champ, 2019 106 state runner-up) — 126 … (2-0)
>> 4. Brycen Pagurayan, junior (Kapolei) 2020, 145 state fifth place — 182 … (9-1)
>> 5. Blaze Sumiye, senior (Moanalua) 2020 145 state champ — 160 … (8-1)
>> 6. Dreddin Villalpando, senior (Saint Louis) 2020 126 state third place — 132 … (4-0)
>> 7. Karter Nitahara, senior (Moanalua) 2020 170 state third place — 182 … (9-0)
>> 8. Logan Lau, sophomore (Mid-Pacific) — 120 … (11-0)
>> 9. Cyrus Bucsit, senior (Saint Louis) 2020 106 state third place — 113 … (6-0)
>> 10. Kade Okura, senior (Kalani) 2020 132 state third place — 145 … (9-0)
OTHERS WITH STATE MEDALIST CREDENTIALS
>> Boston Opetaia, senior (Saint Louis) 2020 170 state second place — 182 … (3-0)
>> Scotty Dikilato, junior (Kamehameha) 2020 22o state fifth place — 285 … (5-0)
>> Jayce Kamimura, senior (Kalani), 2020 113 state fifth place — 113 … (4-3)
>> Khansith Chantabouasith, senior (Leilehua) 2019 106 state fifth place — 120
>> Raizen Aina, senior (Kamehameha-Hawaii), 2020 113 state sixth place — 138 … (7-2)
OTHERS UNDEFEATED (with at least five wins)
>> Chase Yasutake, freshman (Lahainaluna) — 106 … (8-0)
>> Joseph Lathwood, freshman (Moanalua) — 120 … (12-0)
>> Diesel Del Rosario, sophomore (Lanai) — 120 … (11-0)
>> Mikah Labuanan, freshman (Kamehameha-Maui) — 126 … (10-0)
>> Zachary Lapenia, (Kamehameha-Hawaii) — 126 … (11-0)
>> Tyger Taam, freshman (Moanalua) — 132 … (10-0)
>> Jeremiah Borce, senior (Hawaii Preparatory Academy) — 138 … (14-0)
>> Akoni Kaaialii, junior (Kamehameha) — 138 … (8-0)
>> Jace Kim-Cadiz, junior (Pearl City) — 145 … (15-0)
>> Ramos Suzuki, senior (Kalani) — 145 … (7-0)
>> Xander Erolin, sophomore (PAC-5) — 152 … (12-0)
>> Holden Soares, senior (Campbell) — 152 … (15-0)
>> Ayden Coronil, senior (Kamehameha) — 160 … (7-0)
>> Gabriel Valdez, senior (Baldwin) — 160 … (7-0)
>> Darren Cababag-Silva, senior (Mililani) — 160… (9-0)
>> Nathan Marovish, junior (Kapaa) — 170 … (12-0)
>> Ramsey Nishida, freshman (Kamehameha) — 170 … (8-0)
>> Keawe Kane-Keahi, junior (Lahainaluna) — 182 … (12-0)
>> Vanderlei Yong, junior (Waianae) — 220 … (9-0)
>> Zachary Kaliko, senior (Saint Louis) — 220 (8-0)
>> Kanale Coelho, junior (Leilehua) — 285 … (8-0)
BEDROCK SPORTS HAWAII'S GIRLS WRESTLING TOP 10 POUND-FOR-POUND RANKINGS
Updated: Feb. 23
(Projected weight class in bold)
>> 1. Erin Hikiji, senior (Mililani) 2020 97 state champ, 2019 97 state fourth place — 97 … (7-0)
>> 2. Haley Narahara, senior (Kamehameha) 2020 112 state champ, 2019 112 state third place — 122 … (7-0)
>> 3. Alicia Frank, senior (Lahainaluna) 2020 117 state runner-up, 2019 117 state fifth place — 127 … (15-0)
>> 4. Kaceylee Pua, senior (Baldwin) 2020 155 state runner-up — 155 … (11-0)
>> 5. Liana Ferreira, senior (Baldwin) 2020 97 state runner-up, 2019 97 state third place — 102 … (5-0)
>> 6. Nohea Moniz, senior (Kamehameha) 2020 107 state third place, 2019 107 state fourth place — 112 … (7-0)
>> 7. Rachel Oshita, senior (Moanalua) 2020 132 state third place — 132 … (9-0)
>> 8. Lilliane Toledo, senior (Hilo), 2020 184 state fourth place — 225 … (8-0)
>> 9. Isabelle Asuncion, junior (Moanalua) 2020 102 state third place — 112  … (9-0)
>> 10. Caelin Balansag, junior (Roosevelt) — 117 … (6-0)
OTHERS WITH STATE MEDALIST CREDENTIALS
>> Anissa Wright, senior (Campbell) 2020 145 state runner-up — 138 … (6-1)
>> Jacinta Fonoti, senior (Mililani) 2020 184 state third place, 2019 184 state fourth place — 184 … (8-1)
>> Lainey Eckart, junior (Kamehameha-Hawaii) 2020 127 state fourth place — 127 … (10-0)
>> Victoriana Kim, senior (Mililani) 2020 107 state fourth place — 117 … (12-2)
>> Naiomi Kulukulualani-Sales, junior (Lahainaluna) 2020 97 state fourth place — 107 … (8-3)
>> Zysha Pavao, junior (Keaau) 2020 132 state fourth place — 127 … (6-1)
>> Aliya Takano, senior (Kamehameha) 2020 117 state fourth place — 117 … (8-0)
>> Kivah Caballero, junior (Lahainaluna) 2020 112 state fifth place — 117 … (9-1)
>> Kianna Chargualaf, senior (Campbell) 2020 138 state third place — 138 … (8-1)
>> Atinaeleila Fonoti, senior (Mililani) 2020 225 state fifth place — 170 … (10-1)
>> Madison Kalamau (Moanalua) 2020 97 state sixth place — 107 … (3-3)
OTHERS UNDEFEATED (with at least five wins)
>> Nanci Nakagawa, junior (Punahou) — 97 … (5-0)
>> Tristan Nitta, junior (Mililani) — 102 … (11-0)
>> Jax Realin, freshman (Kamehameha) — 127 … (7-0)
>> Kalei Yasumura, freshman (Moanalua) — 127 … (10-0)
>> Aubrie Molina, sophomore (Pearl City — 122 (7-0)
>> Nohi Kukonu, freshman (Moanalua) — 145 … (8-0)
>> Charlotte Campbell, sophomore (Punahou) — 102 … (9-0)
>> Rylie Nishida, freshman (Kamehameha) — 132 … (8-0)
>> Mehana Kapoi, senior (Kamehameha) — 155 … (5-0)
>> Catherine Asami, sophomore (Lahainaluna) — 184 … (10-0)