—–
With wins on Saturday, Kahuku and Aiea became the latest teams to qualify for the First Hawaiian Bank/HHSAA State Football Championships in November.
The Red Raiders (9-2) did it by upending visiting Kapolei 44-7 in the OIA Open Division semifinals to set up the league's title game against Mililani (7-3) next Friday at the Farrington High field. The Trojans secured their spot at states one night earlier with a 39-29 semifinal home win over Campbell.
Those two losing teams — the Hurricanes (6-4) and Sabers (6-3) go at it for third place in the OIA Open with a state berth on the line Friday at the Nanakuli High field.
In anOIA DivisionI semifinal, Aiea made it into states for the second year in a row by tripping Kailua 41-0 at the Radford High field. Na Alii (8-2) will face Wailua (8-1) for the league's D-I crown at the Mililani High field on Friday. A night earlier, the Marauders qualified for states and made it into the league title game by topping Farrington 33-14.
Kapaa And Waimea Play Next Week For KIF Championship
On Kauai, Waimea (6-1, 4-1) got past Kauai 7-0 at Hanapepe Stadium to set up a winner-take-all showdown for the KIF title next Saturday against defending champion Kapaa (4-3, 4-1) at the Baptiste Sports Complex.
Both the Menehunes (D-II) and Warriors (D-I) have already qualified for states.
Pahoa Wins Significant BIIF D-II Game
In another Saturday game, visiting Pahoa tipped Ka'u 18-16 to finish in fourth place out of six teams in BIIF Division II. It's a significant accomplishment for the Daggers (3-8, 3-7) because a year ago, the first with Pahoa, Ka'u and Kohala moving up from 8-man football, those three squads finished in a three-way tie for fourth.
Bedrock Sports Hawaii's State Berth-O-Meter, all of the WEEK 12 scores and the WEEK 13 schedule follow.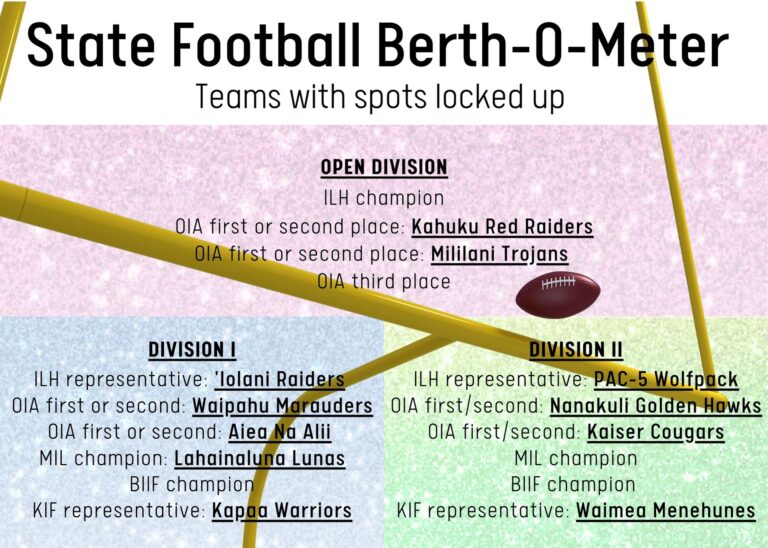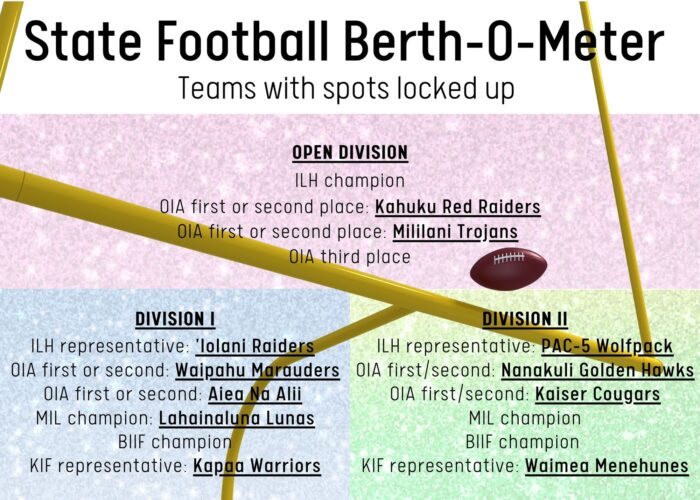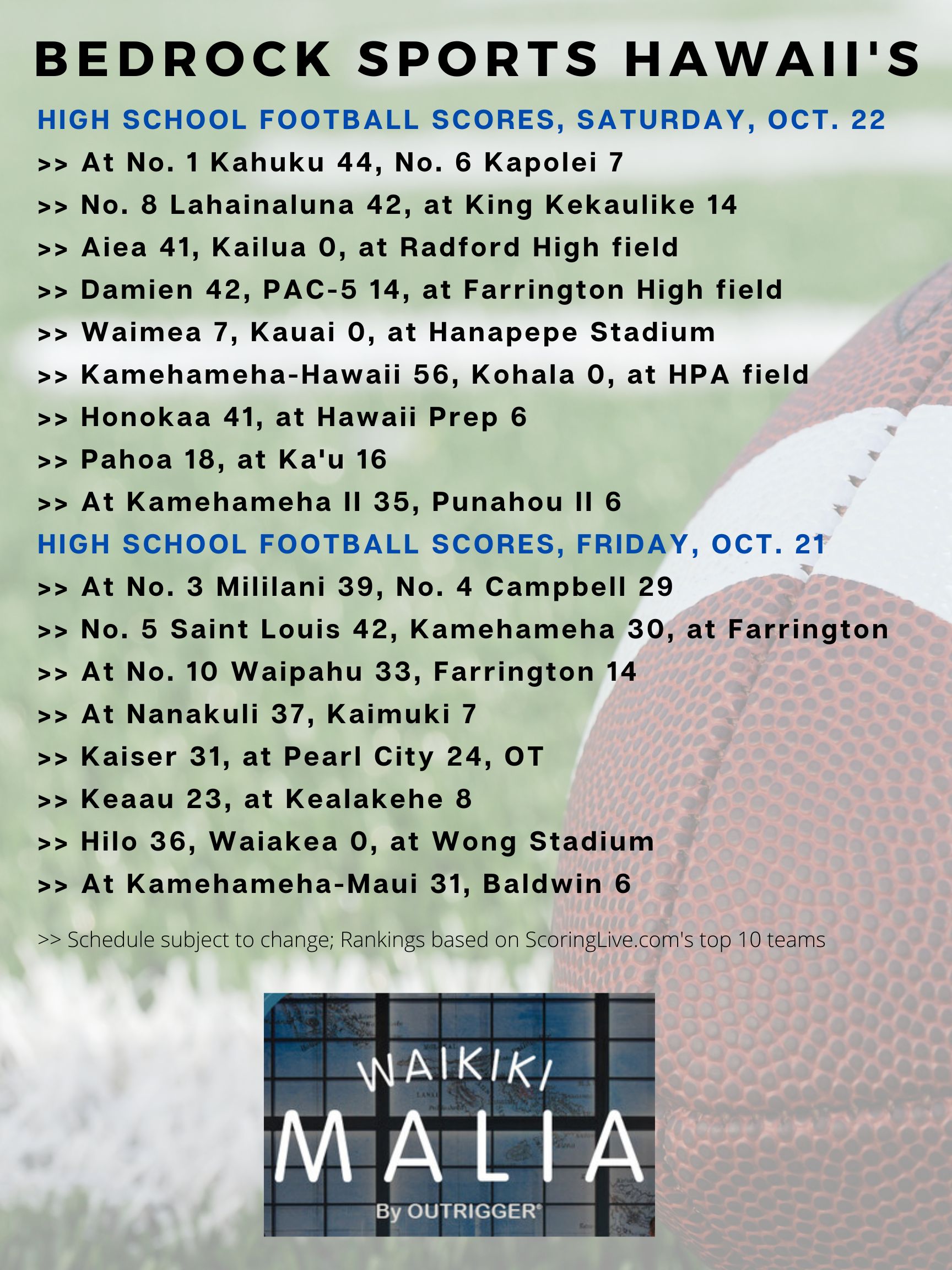 Hawaii High School Football WEEK 13 Schedule
(Subject to change)
FRIDAY, OCT. 28
OIA Open Division Championship Game
>> Mililani vs. Kahuku, at Farrington High field, 7:30 p.m.
OIA Open Third-Place Game
>> Kapolei vs. Campbell at Nanakuli High field, 6 p.m.
OIA Division I Championship Game
>> Waipahu vs. Aiea, at Mililani High field, 7 p.m.
ILH Division I/II
>> Saint Louis II at Kamehameha II, 6 p.m.
SATURDAY, OCT. 29
ILH Open Division Championship, Game 1
>> Saint Louis vs. Punahou, at Farrington High field, 6 p.m.
ILH Division I/II
>> Damien at Punahou II, 9 a.m.
OIA Division II Championship Game
>> Kaiser vs. Nanakuli, at Mililani High field, 4 p.m.
BIIF Division I Championship Game
>> Hilo at Konawaena, 6 p.m,
BIIF Division II Championship Game
>> Honokaa at Kamehameha-Hawai, 5 p.m.
MIL Division II Championship Game
>> Kamehameha-Maui vs. King Kekaulike, time and site TBA
KIF
>> Waimea vs. Kapaa, at Baptiste Sports Complex, 2:30 p.m.
—–
ALSO AT BedrockSportsHawaii.com:
FOCUS ON FOOTBALL: Fueled By Ezra And Elijah Nahoopii-Makakona, Aiea Storms Past Kailua 41-0 And Into OIA D-I Title Game
—–
The Season As It Unfolds: