—–
It was just a week ago when junior Elijah Nahoopii-Makakona made a big impression on the folks at Bedrock Sports Hawaii when he blocked not one, but two field goals in Aiea's regular season finale.
Nahoopii-Makakona was at it again Saturday night as Na Alii flattened Kailua 41-0 to move on to the OIA D-I championship game against Waipahu and secure a spot at the state tournament for the second straight year.
The beauty of it all, though, is that Nahpoopii-Makakona had some company in the spotlight at the Radford High field — his brother, freshman Ezra Nahoopii-Makakona.
—–

A catch-all place for the sights
and sounds, impressions and overheard
things from our colorful
world of football
—–
The younger brother, who by all accounts in Aiea-land has been a solid force at left guard on the offensive line all season, was called upon to run the ball in the heavy package. And when he got the call in the red zone, he didn't disappoint, scoring a 5-yard touchdown.
And it was quite a rush of adrenaline for the freshman varsity football player who lines up day-in and day-out next to towering 6-foot-5, 320-pounds junior left tackle Preston Taumua, the man with offers from a bunch of FBS D-I schools including Ohio State.
"It's crazy (scoring a TD in) high school football," said Ezra, who is 5-10 and 240. "The gap was there. It was a wide gap and the blocker knew who to block."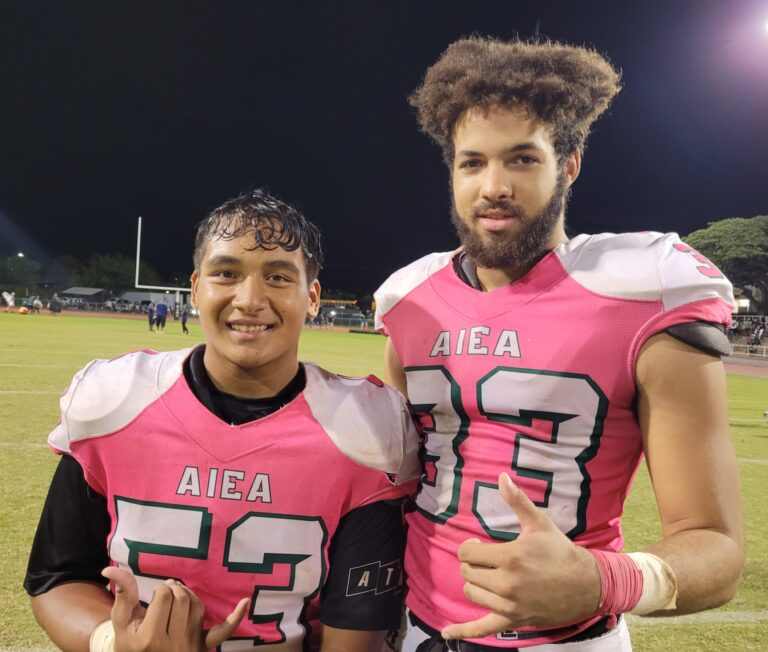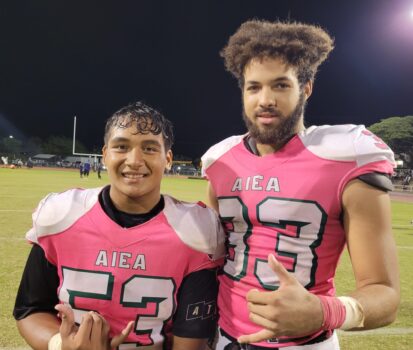 Added defensive end Logan Rouse, who was his usual disruptive self and pain the neck to the Kailua backfield all night long: "What, a freshman? He's a crucial part of our offense. He's not really big or tall, but he's sound on what he does. If you tell him to do something, he's definitely going to do it."
The older Nahoopii brother, Elijah, had quite a game, too, from his defensive back position, intercepting two passes and recovering a fumble.
And, just to show you that he's not a head case, he wrote "Humble and blessed" on Twitter:
#underrated just watch his highlights and you'll see🙏 https://t.co/iZfBdQOB8O

— A-Town Media (@atown_media) October 23, 2022
And note that there was a retweet from A-Town Media with this key message to any possible recruiters: "Underrated."
For Na Alii (8-2), the regular season OIA D-I winner Marauders (8-1) await for a Saturday 7 p.m. championship game at the Mililani field. Win or lose, both teams head to states in November.
"I think we might have an opportunity to repeat what we did last year, win the OIA two times in a row," Rouse said, "On defense, we've got studs like Aizik Mahuka and Sila (Unutoa) and all that and I think we can accomplish even more than what we did last year when we lost in states. I think we can go all the way."
Added Elijah Nahoopii-Makakona: "Waipahu is another tough team we've gotta beat. I'm looking forward to winning that and moving on to states and winning that because last season we didn't win it.
For anyone interested in reading about Elijah's big game against Farrington last weekend, you can scroll down a bit in this Bedrock Sports Hawaii story: Subplot: Aiea's Elijah Nahoopii-Makakaona Blocks Two Field Goal Attempts.
For the Surfriders (4-4-1), the season is over, but it was a successful one, compared to. year ago when they went 2-4.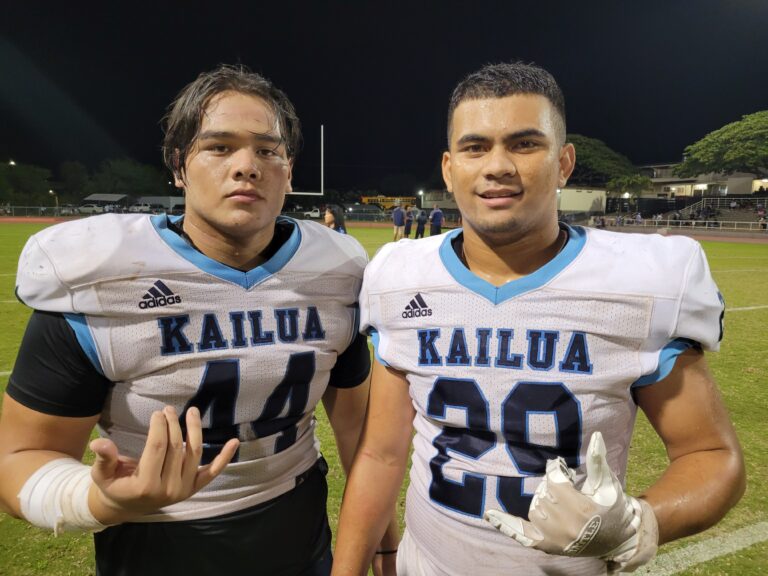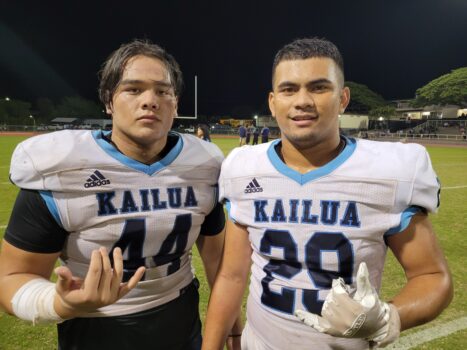 "We came out very short this game," Kailua defensive lineman Matt Malepeai said. "It was disappointing because we played 'em good last time (13-7 loss on Sept. 10). Aiea, they're a very good team, a very disciplined team and they capitalized on every turnover they had, which we didn't do, and that's why they came out victorious. It was one of our bad days, but we had a great season."
—–
ALSO AT BedrockSportsHawaii.com:
Implausible Rally Lifts Kaiser Over Pearl City 31-24 In OT And Into The OIA D-II Final And State Tournament
FOCUS ON FOOTBALL: Two Defensive Stops Were Crucial In Mililani's 39-29 OIA Semifinal Victory Over Campbell
—–
The season as it unfolds: