—–
It's a day for good cheer for Neighbor Island football teams, who are rising up the charts of the Bedrock Power 5s.
But one of the most notable moves after voting from media personnel across the state is a a team from the westside of Oahu — Nanakuli.
For the first time this year, the Golden Hawks (3-1) rose to No. 1 in the Division II Power 5. They entered the rankings two weeks ago at No. 4 and climbed to No. 2 last week.
Although it has three convincing wins — over league foes Waialua, Kaiser and Kalani — Nanakuli's only blemish was 16-0 nonleague loss to Maui, a Division I team, in the season opener on the Valley Isle.
After meeting winless Kalaheo this Friday, the Golden Hawks' next major test will be at Pearl City on Sept. 23.
Those Chargers (4-1) are up one spot to No. 3 this week in the D-II Power 5.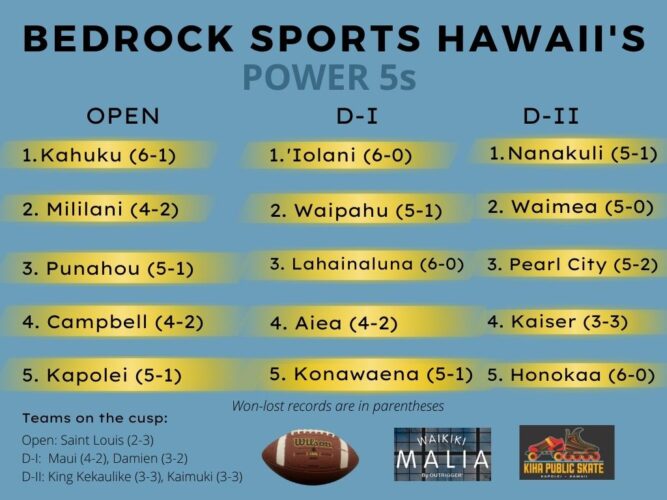 Neighbor Island Teams On The Rise In D-II
The Waimea Menehunes (4-0) made it into the rankings for the sixth straight week after a 7-3 slugfest against KIF foe Kapaa on the Warriors' home field on the Garden Isle.
What made the win more significant this year than it would have been last year is the fact that Kapaa is classified as Division I and the Menehunes are in D-II.
Due to the big win, Waimea moved up from No. 5 to No. 2 In the D-II rankings.
Those two KIF teams will meet two more times in games that will likely decide the league championship, but don't count out Kauai High, even though the Red Raiders so far are the third wheel.
Honokaa (4-0), after its 27-23 upset of Kamehameha-Hawaii (last week's No. 1 team in D-II) entered the D-II Power 5 for the first time at No. 4.
Despite a solid 4-1 record, those Big Isle Warriors dropped out of the rankings.
And the MIL's King Kekaulike (2-2) made it into the D-II No. 5 spot.
Konawaena Can No Longer Be Ignored
Konawaena made a big move up the Division I ladder — from unranked to No. 5.
The Wildcats (4-1) can no longer be ignored after their 66-0 win over Keaau. In four BIIF games, they've outscored league opponents 261-6.
Open Division Rankings Stay The Same
The five Open Division spots did not change from last week. One placing of note is that Mililani (4-1) retained its position ahead of Punahou (3-1) at No. 2, but just barely for the second straight week.
In several other media outlets' statewide rankings, Punahou has an edge over Mililani for that No. 2 spot.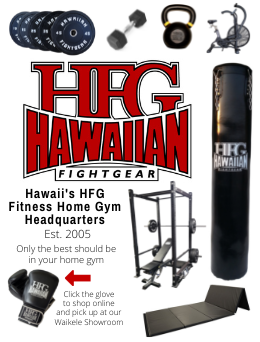 Below is a capsule look at Bedrock Sports Hawaii's Power 5s movement since last week. After that, at the bottom, you can check out the Hawaii high school football WEEK 6 schedule.
Last Week's Power 5s (And Movement This Week In Parentheses)
Open
>> 1. Kahuku (no movement)
>> 2. Mililani (no movement)
>> 3. Punahou (no movement)
>> 4. Campbell (no movement)
>> 5. Saint Louis (no movement)
D-I
>> 1. 'Iolani (no movement)
>> 2. Aiea (no movement)
>> 3. Lahainaluna (dropped one spot)
>> 4. Waipahu (climbed one spot)
>> 5. Damien (dropped out of rankings)
D-II
>> 1. Kamehameha-Hawaii (dropped out of rankings)
>> 2. Nanakuli (climbed one spot)
>> 3. PAC-5 (dropped out or rankings)
>> 4. Pearl City (climbed one spot
>> 5. Waimea (climbed three spots)
—–
Hawaii High School Football WEEK 7 Schedule
(Subject to change)
WEEK 7
FRIDAY, SEPT. 16
OIA Division I
>> Radford at Farrington, 7:30 p.m.
>> Castle at Roosevelt, 7:30 p.m.
ILH Division I/II
>> Saint Louis II at Punahou II, 3:15 p.m.
>> PAC-5 vs. Kamehameha II, 6 p.m.
OIA Division II
>> Kaimuki at Waialua, 7 p.m.
>> Pearl City at Kaiser, 7:30 p.m.
>> Kalaheo at Nanakuli, 7:30 p.m.
BIIF Division II
>> Kohala at Kamehameha-Hawaii, 5 p.m.
>> Hawaii Prep at Honokaa, 6 p.m.
MIL
>> Kamehameha-Maui vs. Baldwin, at War Memorial Stadium, 7 p.m.
Nonleague
>> Miliani vs. Mater Dei (Santa Ana, California), at St. John Bosco High field (Bellflower, California), 4 p.m. Hawaii time
>> Kamehameha at Liberty (Henderson, Nev.), 4 p.m. Hawaii time
SATURDAY, SEPT. 17
ILH Open Division
>> Punahou vs. Saint Louis, at Farrington High field, 7 p.m.
OIA Open
>> Kapolei at Moanalua, 6:30 p.m.
ILH Division I/II
>> 'Iolani vs. Damien, at Farrington High field, 4 p.m.
OIA Division I
>> Waipahu vs. Aiea, at Radford High field, 6:30 p.m.
OIA Division II
>> Kalani vs. McKinley, at Roosevelt High field, 6 p.m.
BIIF Division I
>> Hilo at Waiakea, 11 a.m.
>> Kealakehe at Keaau, 7 p.m.
BIIF Division II
>> Ka'u at Pahoa, 2 p.m.
KIF
>> Kauai vs. Kapaa, at Baptiste Sports Complex, 7:30 p.m.
MIL
>> King Kekaulike at Lahainaluna, 7 p.m.
Nonleague
>> Kahuku at St. John Bosco (Bellflower, Calif.), 4:30 p.m. Hawaii time
—–
UPDATED STANDINGS, ALL OF THE SEASON'S SCORES, A MASTER SCHEDULE, LINKS TO TEAM PAGES, THE POWER 5s AND MORE:
ALSO AT BedrockSportsHawaii.com:
Radford's Michael Hayslett Is Bedrock Sports Hawaii's Outstanding Player Of WEEK 6